Looking for fresh lunchbox ideas for kids?  Keep reading to find 8 dip recipes for fruit and veggies that are made with just 2 ingredients.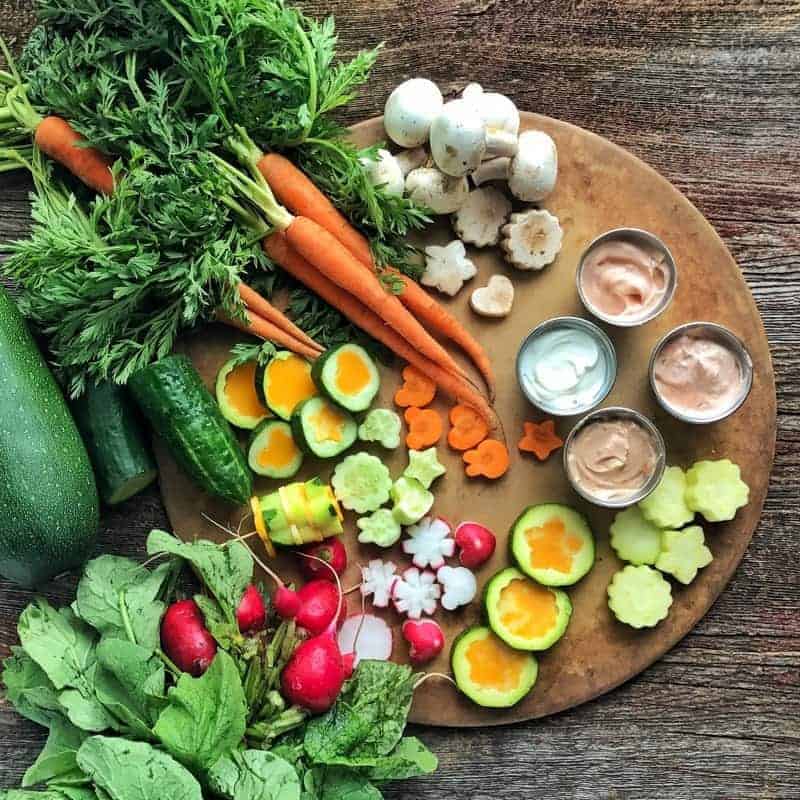 THIS POST IS SPONSORED BY PRODUCE FOR KIDS.  THIS POST ALSO CONTAINS AFFILIATE LINKS. AS ALWAYS, OPINIONS ARE MY OWN.
Do you search Pinterest looking for new lunchbox ideas for kids and end up overwhelmed?
I sure do.  Looking at picture after picture of perfectly crafted lunches in those cute little trays brings a smile to my face, and then dread to my heart.
The lunches I make look nothing like these. The picture in my head of what the lunch will look like compared to the actual lunch is a classic example of a Pinterest FAIL!
I had to take things down a notch.
I learned to simply make healthy foods a bit more fun.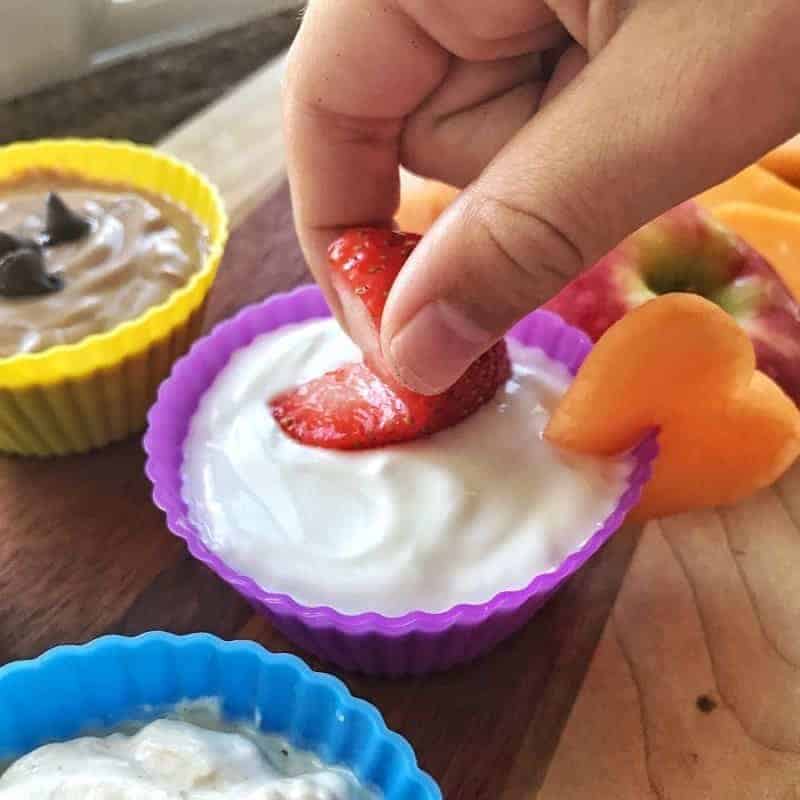 Making food fun for kids helps immensely in getting them to eat foods they may not normally like to eat.
Healthy Recipes Sent Weekly
Subscribe to get our latest content by email.
I find cookie cutters and dip work great.
For many families, this simple trick isn't enough.  For those looking for guidance with kiddos aged 3-8 years check out this great resource. For children ages 9-12 check out this article. 
I have used Ellyn Satter's division of responsibility in children with my family for years.  The gist is that parents provide foods offered to children and children choose which foods they eat.
I find making healthy foods fun goes a long way on the child's side.  Kids are more likely to eat foods that may get overlooked when they are presented in a fun way.
How does this relate to lunch box ideas?
It's something to consider as we pack lunches this year.  Parents pack the food that goes into children's lunch in the morning, then children choose what they are going to eat from those choices.  How do we sway children to eat the fruit and veggies on their own when the child does not really care for one or the other (or both)?
Some ideas that help me include offering small portions of the foods my kids don't love.  I find time and again if I pack 3 or 4 carrot sticks or tomatoes they get eaten, but when I pack a whole bag full, the whole bag comes back.
Check out what my daughter has to say on the topic eating more veggies when she doesn't really love veggies…yet.
While fruit doesn't usually need the coaxing that veggies may, watermelon still looks more appealing to kids when it's cut into fun shapes! While it might look like a lot of work, it takes only a minute to do.  No more Pinterest fails!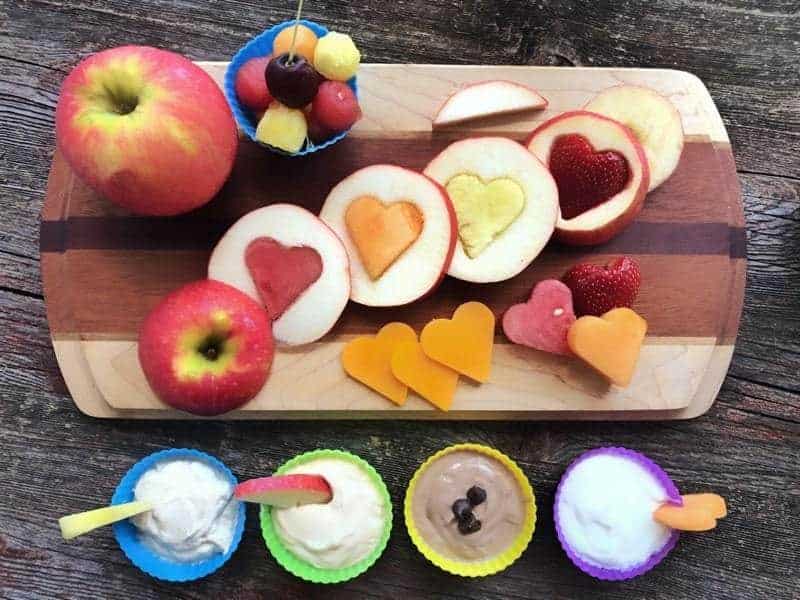 How To Easily Cut Fruit & Veggie Shapes
Fruits and veggies can be cut into shapes easily if you cut them horizontally into slices, like the apples above. Use small cookie cutters or look around for small containers or dishes that have shapes you could use to push through the fruit or softer veggies.  For those firm veggies like carrots and radishes, cookie cutters work best.  I have a few sets of small cookie cutters around my house, but my kids favorite are these:
Grab a cutting board, veggies or fruit, maybe some cheese, and you're ready to start.
Veggies that work well include cucumbers, carrots, zucchini, radishes, and mushrooms.  Fruits that are easy to work with include watermelon, cantaloupe, muskmelon, pineapple, apples (brush with a little lemon juice mixed with water to avoid them browning), and strawberries.  Get creative and try your kids favorites!
To cut strawberries into hearts cut a v-shape into the top when cutting the stem off.  Slice in half. Perfect hearts.
Cut shapes out of the fruit or veggie, then use the same cutter to cut a piece of cheese or other fruit or veggie and fill in the space left.  Mix and match or let your kids mix and match as part of the fun at lunch!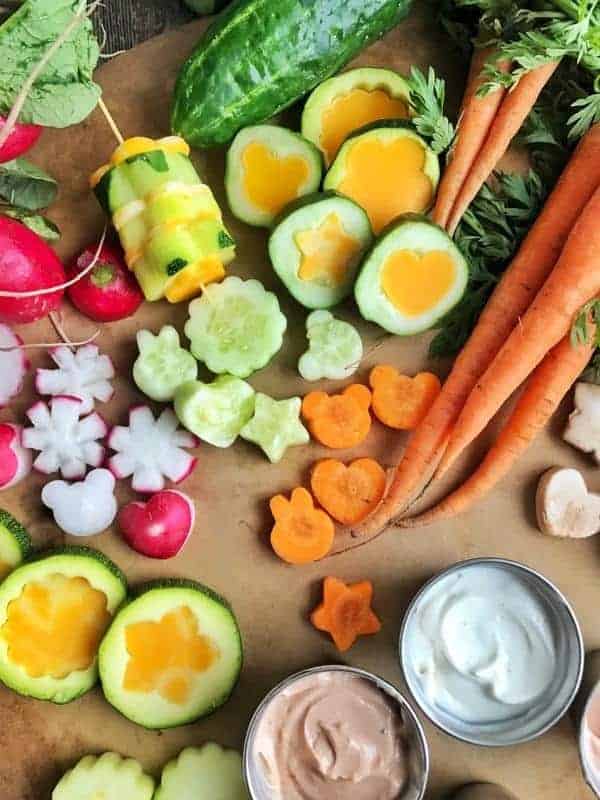 I like stacking fruit inside the fruit, but cheese works great too.
Kids love to dunk their food.
Take advantage of this fact and get more fruits and veggies into children in a tasty way.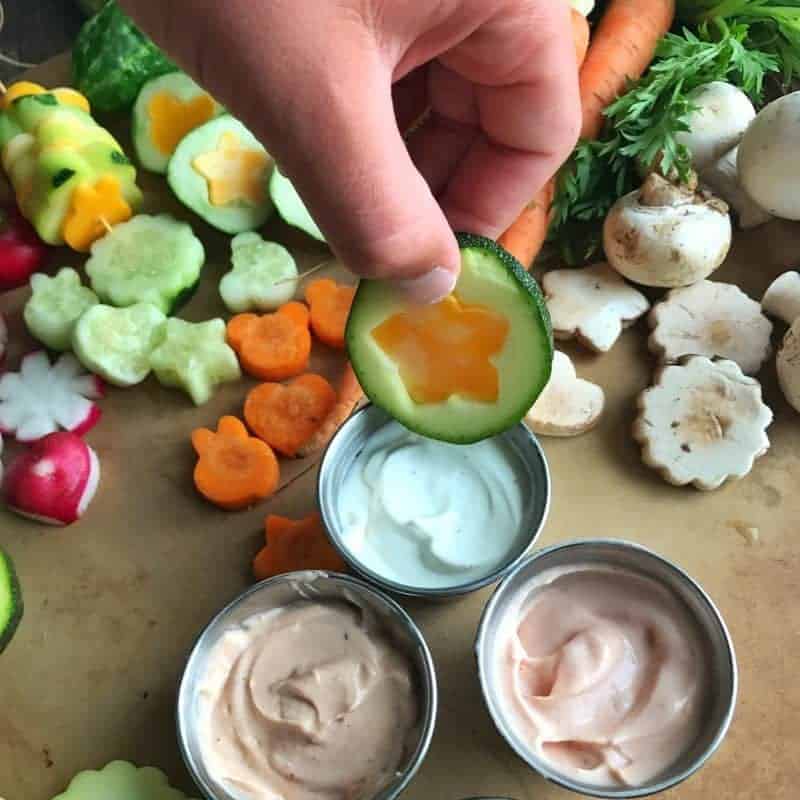 The following recipes are so simple and have just 2 ingredients!
The fruit dips have a yogurt base and the veggie dips have a sour cream base.  They can easily be made while packing lunches and all recipes make enough to put in several lunch boxes.
I'd love to hear what flavor combos you would add to this list in the comments below!
Kid Friendly Veggie Dips:
Print
4 Veggie Dip Recipes
Author:

Prep Time:

5 minutes

Total Time:

5 minutes

Yield:

2 people

Category:

Snack

Cuisine:

American
---
Description
These kid-friendly veggie dips are perfect for packing in lunch boxes.  With just two ingredients they are simple to make.
---
Ingredients
Sour cream
ketchup
ranch dressing
salsa
bbq sauce
---
Instructions
Ketch Me If You Can
2 tbsp. sour cream
1 tbsp. ketchup
Not So Hidden Ranch
2 tbsp. sour cream
1 tbsp. ranch dressing
South Of The Border
2 tbsp. sour cream
1-2  tbsp. salsa
Tangy BBQ
2 tbsp. sour cream
1 tbsp. bbq sauce
Blend ingredients together, serve with fresh veggies.
Fun Fruit Dips:
Use a base of vanilla or plain Greek yogurt.  Look for brands with the lowest added sugar.  If your kids are like mine, they want all the mix-ins used below in their lunchbox.  I like that these dips cut down on sugar, but still give the flavor that kids are looking for.  Which would be your children's favorite?  Mine liked caramel apple and marshmallow creme best.
Caramel Apple Dip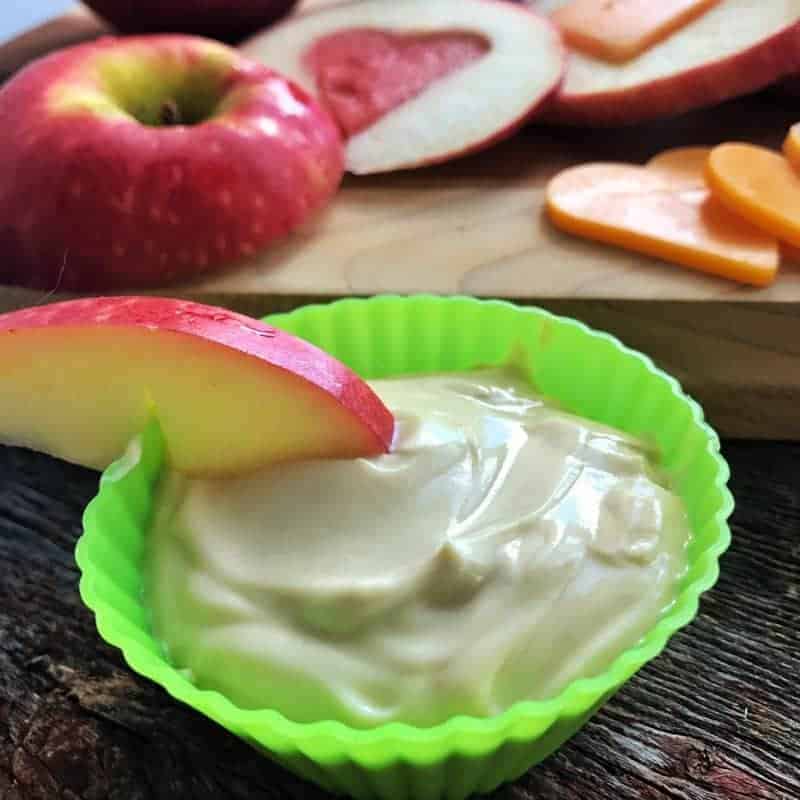 Peanut Butter Bliss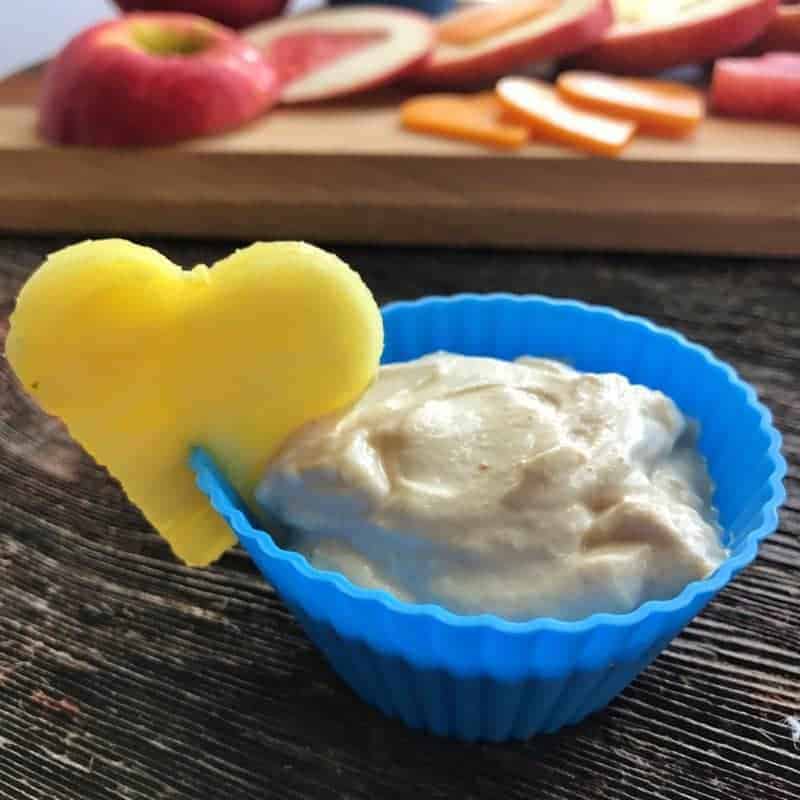 Hot Fudge Sundae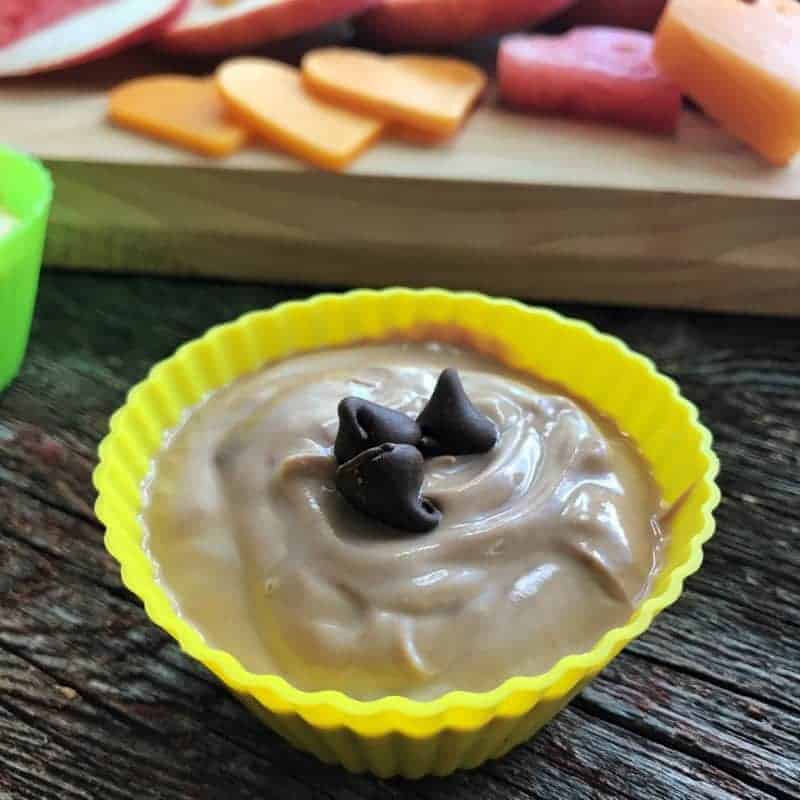 Marshmallow Creme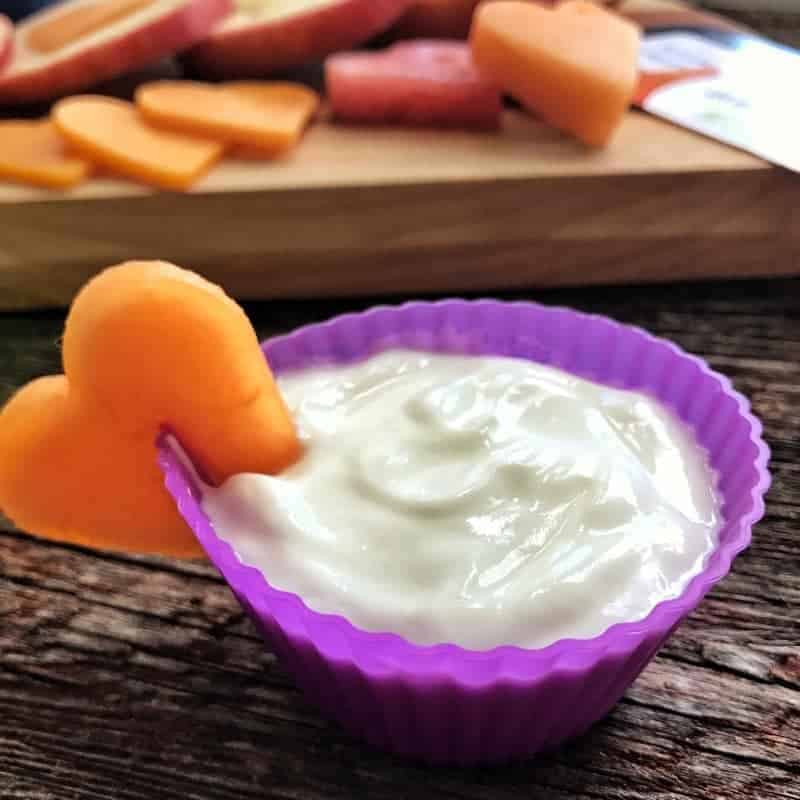 Print
4 Kid Friendly Fruit Dips
Author:

Prep Time:

5 minutes

Total Time:

5 minutes

Yield:

2 people

Category:

Snack

Cuisine:

American
---
Description
4 simple fruit dips made with Greek yogurt.
---
Ingredients
plain Greek yogurt
caramel dip
peanut butter
hot fudge sauce
marshmallow fluff
---
Instructions
Caramel Apple Dip
3-4 tbsp. Greek yogurt
1 tbsp. caramel sauce
Peanut Butter Bliss
3-4 tbsp. Greek yogurt
1 tbsp. peanut butter
Hot Fudge Sundae
3-4 tbsp. Greek yogurt
1 tbsp. hot fudge sauce
Marshmallow Creme
3-4 tbsp. Greek yogurt
1 tbsp. marshmallow fluff
Blend ingredients together, serve with fresh fruit.
---
Notes
Other add-in ideas include Nutella, jelly, honey, and maple syrup.
Each recipe above serves 2.
---
I hope these simple recipes and tips helped you with some fun lunch box ideas.  You don't have to spend lots of time coming up with Pinterest worthy lunches, you can take the easy route and get your children eating more fruit and veggies while you're at it!
Simple ideas that just might make packing lunches a bit more fun for both you and your kiddos!

PIN for Later!
FREE Kids Cooking eBook!
Do you want your children eating a more varied diet, but wonder how to get more fruit and veggies into their meals & snacks? This eBook is a fun filled way to get kids eating better while having age appropriate fun!