Turkey Rice Casserole is a great way to use leftover turkey of chicken, a family dinner idea any day of the week.  It's a simple turkey casserole with rice recipe that will have your family eating their veggies with no complaints!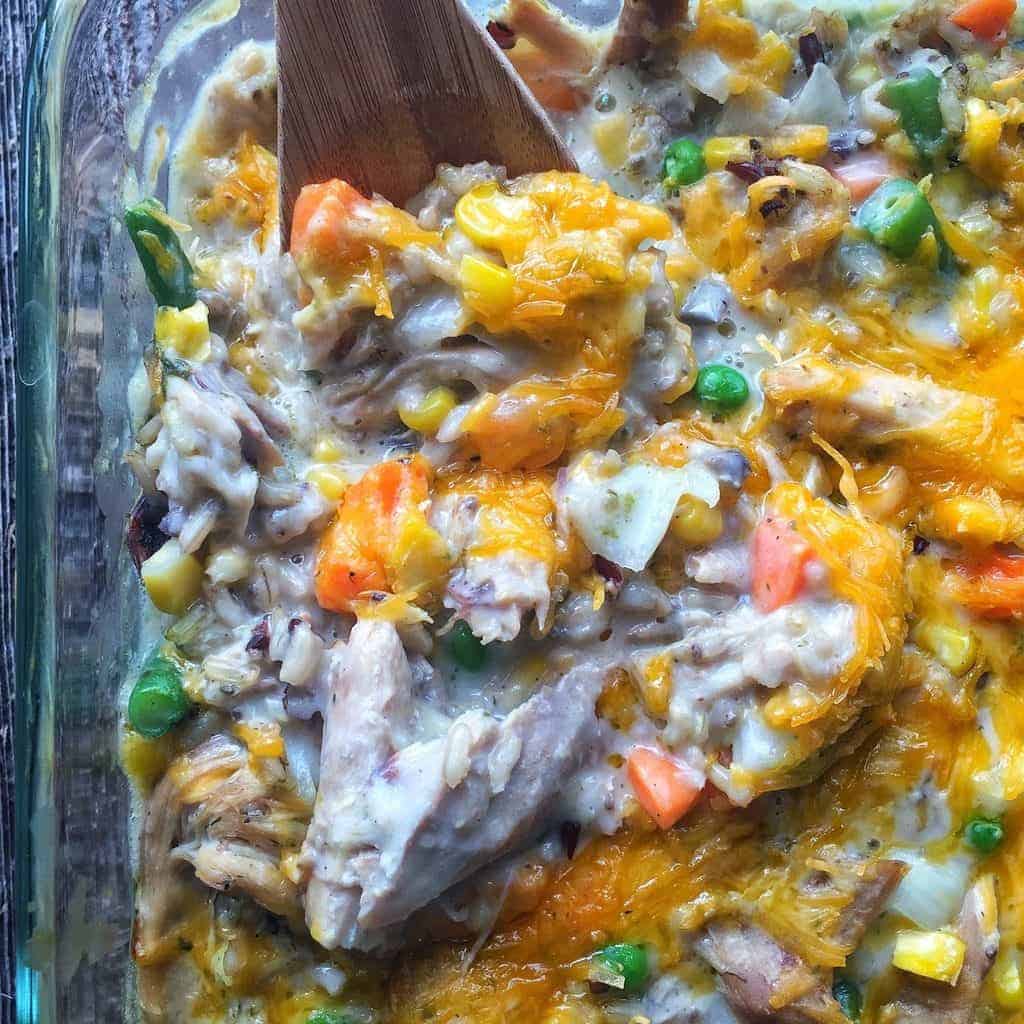 I was on the phone with my sister this week discussing all that had to be done to prepare for the upcoming Thanksgiving holiday.
She was determined to make a full turkey for her family of four and  two in-laws.
I suggested she make, gasp, a chicken instead – but she was having none of that.
As we discussed the leftovers, my sister revealed she planned to send it all home with her in-laws – because she would never use the turkey.  What?! I had to help change this.  
I talked about great uses for leftover turkey, like is used in this turkey rice casserole.
She was not having it.  It was all going to be sent home with the guests. I wanted to be a guest!
I was determined to show her that turkey makes great leftovers –  simply substitute it in recipes that call for cooked chicken.
Since she will be slaving over the bird come Thanksgiving day, she should really get her moneys worth.  🙂
The following healthy turkey rice casserole is the prefect way to use leftover turkey.
I created specifically with my sister in mind, however, my kids are pretty thankful as well.  They each had a second helping.
Watch to see how easy it is to make this turkey casserole with rice recipe is:
This dish is super easy, uses foods that are probably already in your house and bakes into the most creamy, delicious turkey rice casserole that will have the house smelling wonderful.
[bctt tweet="Have leftover Turkey? This is the perfect day after Thanksgiving recipe the whole family will want seconds of! #leftoverturkey #casserole @seedsofchange" username="createkidsclub"]
The added bonus? A nutritious whole grain rice is used which blends perfectly with the other ingredients – your kids will never notice!
In fact, my oldest commented that this was "really good rice!" Note: This is the same child who has looked at this whole grain rice blend in disgust many times over.
I am not getting paid by them, I just love these packets because they are precooked, can be added quickly to dishes, used as a side dish, and provide good quality nutrition.
So use up that leftover turkey, and for goodness sakes (yes, I now sound like my mother), don't give it ALL away!
Print
Turkey Rice Casserole
Author:

Yield:

6
---
Description
The perfect dinner recipe for leftover turkey or chicken. This dish blends rice, turkey, and veggies in a delicious creamy baked casserole. It is so good your children won't even notice they are eating whole grain rice and veggies!
---
Ingredients
2 cups precooked turkey or chicken, shredded or diced
2 cups frozen mixed veggies (could use chopped fresh as well)
2 cups whole grain rice (such as Seeds of Change Brown & Red Rice with Chia & Kale ready to use packet)
1 can cream of mushroom soup (such as Campbell's Low Sodium Ready To Serve Condensed Soup)
1 cup chicken broth
1/2 tsp. sea salt
1/2 tsp. ground black pepper
1/2 cup sharp cheddar cheese, shredded
---
Instructions
Preheat oven to 350 degrees
In medium size bowl, mix together chicken, veggies, rice, soup, chicken broth, salt and pepper.
Pour into 9 x 9 caserole baking dish.
Top with shredded cheese.
Bake 30 minutes, uncovered.
---
Notes
Recipe was updated to omit onions, cutting cooking time to 30 minutes.
If you enjoy the flavor of onions, add 1/2 cup onions, chopped, and increase cooking time to 1 hour to allow onions to cook through.
 Tell me – what do YOU do with all that leftover turkey?!

Don't Forget To PIN for Later:
SaveSave
FREE Kids Cooking eBook!
Do you want your children eating a more varied diet, but wonder how to get more fruit and veggies into their meals & snacks? This eBook is a fun filled way to get kids eating better while having age appropriate fun!