August is Kids Eat Right Month, my favorite of all themed months! Here at Create Kids Club, it is our belief that healthy eating habits are formed in the kitchen at young ages.
Children love cooking. Children love cooking with their parents. This month, make an effort to set aside time to dedicate to each child and make something fun and healthy in the kitchen. I promise you will have fun too.

Kids learn so much from hands on experience in the kitchen and they have tons of fun in the process.
The pride on their face when they have completed their creation is priceless. It's the secret I use to get my kids eating foods they don't necessarily like. If children get to make the food and get their hands dirty in the process, they are much more likely to give it a try.
Recently, I talked about this topic at length with Jill Castle, MS, RDN on her podcast, The Nourished Child. If you'd like to take a listen you can find it HERE.
Here are 4 great reasons to get your kids in the kitchen
1. Getting kids in the kitchen cooking doesn't need to be complicated.
One of my kids favorite things to make is individual pizzas. It's a fun, simple meal idea for kids. We recently made these pizzas for lunch with my daughter and her friend. I later heard from her friends mom, just how much fun her friend had making her own lunch that day. It's the simple things.
You can find the recipe for naan pizzas HERE.
2. Kids in the kitchen can be quite helpful.
Below is my daughter making a Muffuletta Sandwich for dinner. I encourage you to set out the ingredients for simple recipes that your kids can make and let them create! Or help them with easy ideas that can be served as dinner! Check out some easy dinner ideas kids can make HERE.
My daughter got full control over this sandwich. She added spinach in two different layers. Yes, spinach – twice. 🙂 The bonus? I didn't have to make dinner for several nights due to this big sandwich!
3. Cook foods you kids want to cook along with those the healthy snacks and meals.
Everyone needs to make homemade cookies with their kids 🙂 When making those less healthful treats, take the opportunity to talk about including all foods in moderation and keeping treats just that, treats.
I had just as much fun making these birthday treats as my son did. The time we spent together laughing and figuring out how we wanted to serve the "cupcakes" is time I cherish!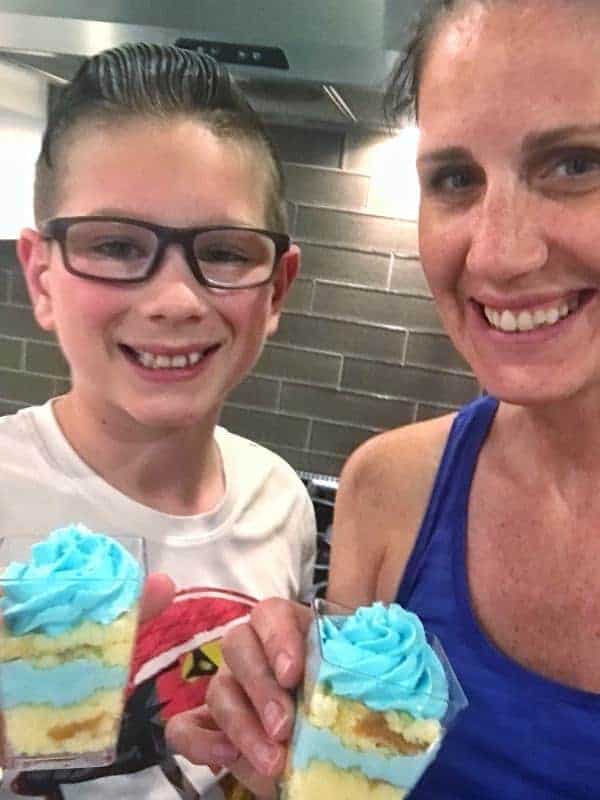 4. Let children pick out veggies at the grocery store or farmers market. Then get them in the kitchen helping prepare these veggies.
They will have fun peeling, chopping, or shredding the veggies. Every time I have my kids help with the veggies, they always eat just a bit more than they would have otherwise. Even if they won't eat the veggies, they are getting expose to the texture, colors, smells etc. Over time they just might take a bite – if they don't eat it while chopping already!
Consider planting a garden.
Veggies from the garden to the table is a great way for kids to learn how food is grown, and it's pretty fun to!
Kids love helping grow vegetables. It is a great way to teach them where food comes from and get them involved in the care of the plants. Even if you don't have space for a large garden, you probably have space for a potted planter. Try growing a tomato plant, green beans, or pea pods.
Don't want to garden? Take your kids to the local farmers market.
Pick up a zucchini and try these amazing Mini Zucchini Muffins. Your kids will love making them, and love eating them even more!
In honor of Kids Eat Right Month, my daughter and I head out to our garden.
Gabby shows you how veggies are grown and we talk about how this non-veggie loving girl prefers to eat her veggies. You might learn some tricks to get your kids eating veggies a bit easier too!
Watch the video below:
Here is one of the sauces Gabby mentioned – Green Bean Satay. Maybe your family would like it too.
Wondering how to cook spaghetti squash? Here are 2 ways of simply cooking this versatile veggie. I usually serve it to my kiddos with a bit of butter, salt and pepper. Yum!
I'd love for you to share with me here in the comments, or over on social media how you cook with your kids. Bonus points for sharing pictures of your kids cooking!