Learn how to shred chicken in Kitchenaid. If you're wondering how to make shredded chicken you're in the right spot. We have the quickest way to easily make shredded chicken. Using your Kitchenaid you can take cooked chicken and shred it perfectly in under a minute.
Have you ever spent way too much time shredding chicken with two forks or pulling it apart with your hands? If so, try shredding chicken in your KitchenAid. You are going to be very surprised (and a little frustrated you didn't do this before)!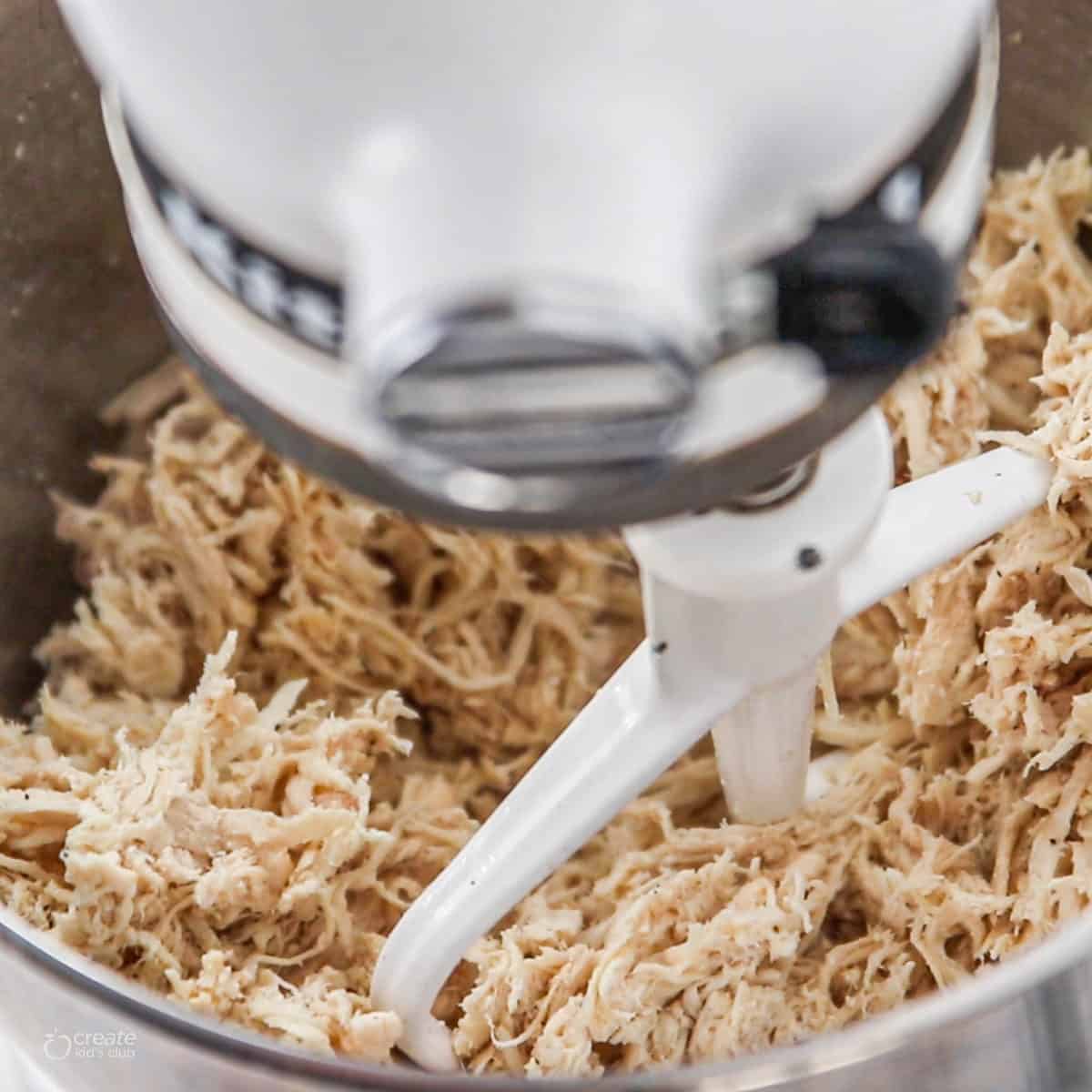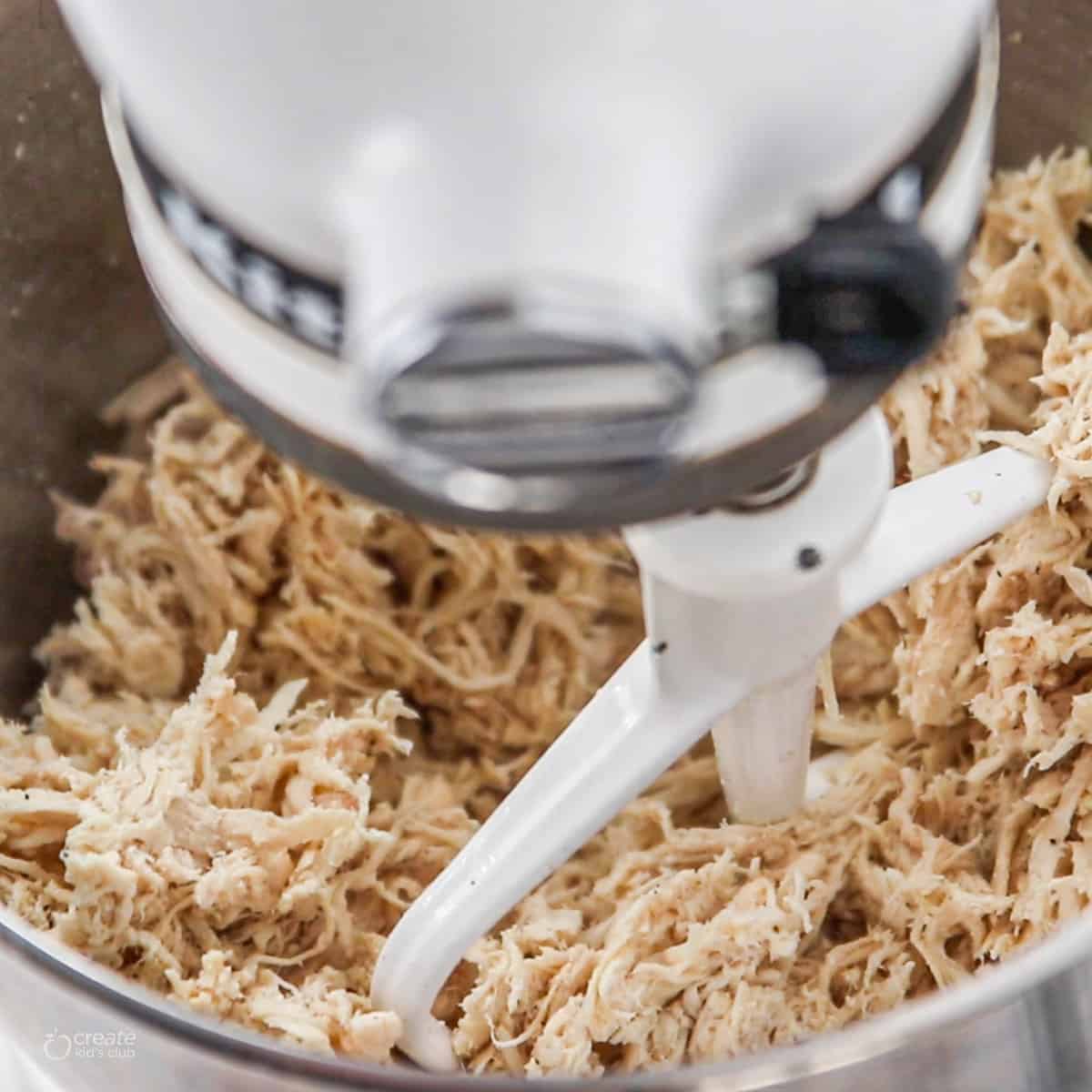 Since chicken dishes are a weekly staple at my house, I decided I needed a new way to shred chicken. Shredding chicken with a mixer has saved me SO much time.
Knowing how to shred chicken in KitchenAid mixers is going to be one of your best tricks. All you have left to do is learn How to Cook Frozen Chicken Breasts in the Instant Pot and your dinner routine is set 🙂
Best Ways To Cook Chicken
When it comes to achieving perfectly moist and delicious chicken, there are several effective cooking methods to choose from. Among our top favorites are boiled chicken and the technique of poaching frozen chicken breasts in an Instant Pot.
Boiled chicken delivers a simple and straightforward approach, once you learn how long to boil chicken breasts it ensures tenderness and succulence while allowing you to infuse the meat with flavors of your choice.
On the other hand, the Instant Pot's innovation takes poaching to new heights by enabling you to cook frozen chicken breasts to perfection in a short span of time. This method retains the chicken's natural juices and preserves its moistness, resulting in a convenient and flavorsome outcome.
Whether you opt for the traditional simplicity of boiling or embrace the modern convenience of Instant Pot poaching, both methods promise to elevate your chicken-cooking game to new heights of taste and texture.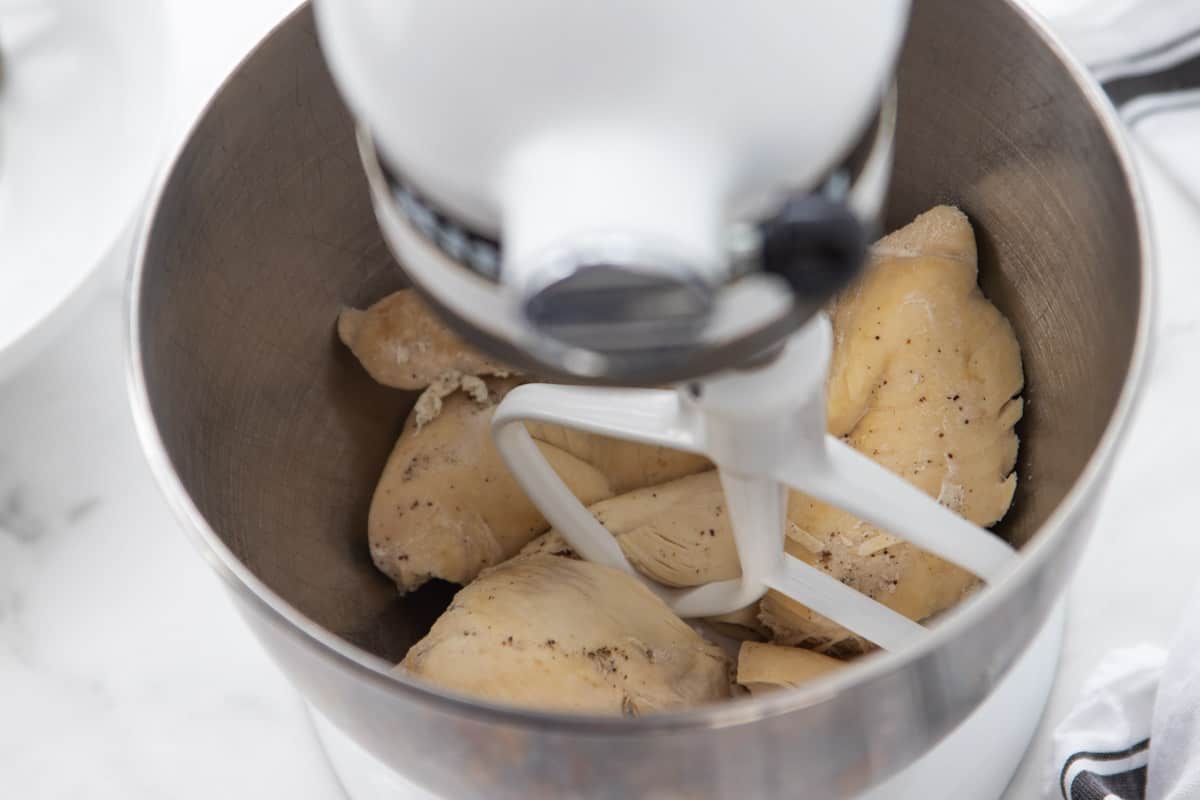 How To Make Shredded Chicken
To prepare the chicken, start by placing the four cooked chicken breasts into the bowl of your KitchenAid mixer. Once they're in the bowl, attach the paddle attachment to the mixer.
With the mixer turned to its lowest setting, begin the process of shredding the chicken. Let the paddle attachment work its magic, gradually breaking down the chicken breasts into shreds. This step might take a few minutes, so be patient as the mixer transforms the chicken's texture.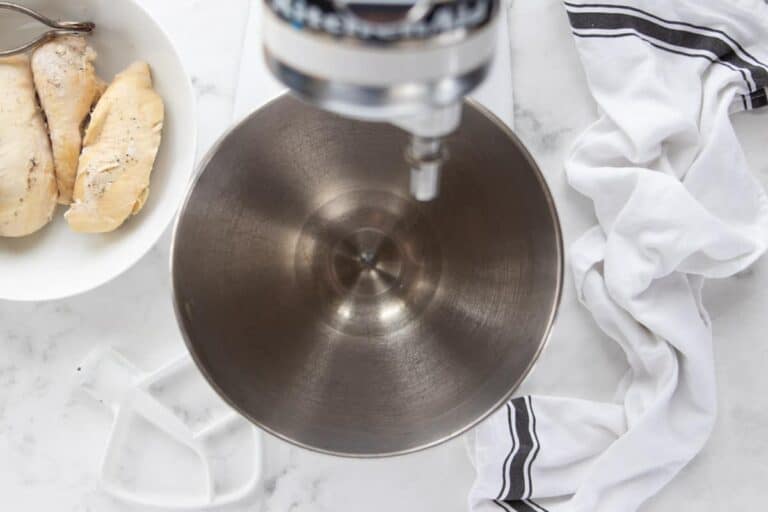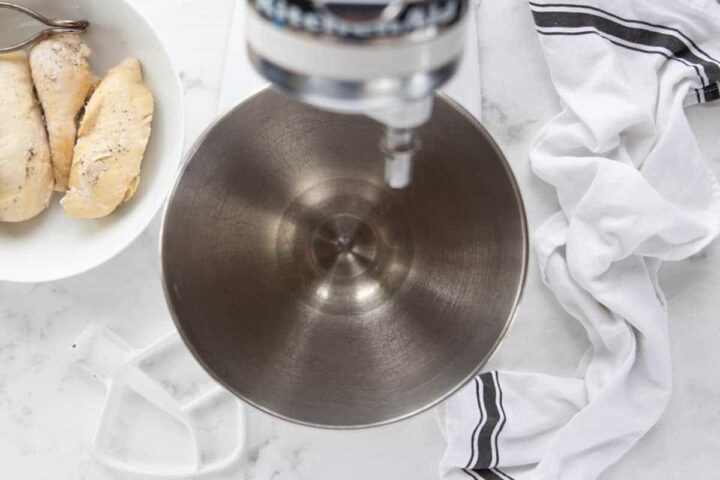 After the chicken is appropriately shredded, you have two options: serving or storing. If you're planning to use the shredded chicken immediately, go ahead and incorporate it into your desired recipes. However, if you want to save some for later use, consider refrigerating or freezing it.
For short-term storage, place the shredded chicken in an airtight container and keep it in the refrigerator. If you're looking to extend its shelf life, seal the shredded chicken tightly in a freezer-safe container and store it in the freezer. This way, you'll have readily accessible shredded chicken to use in a variety of dishes whenever you need it.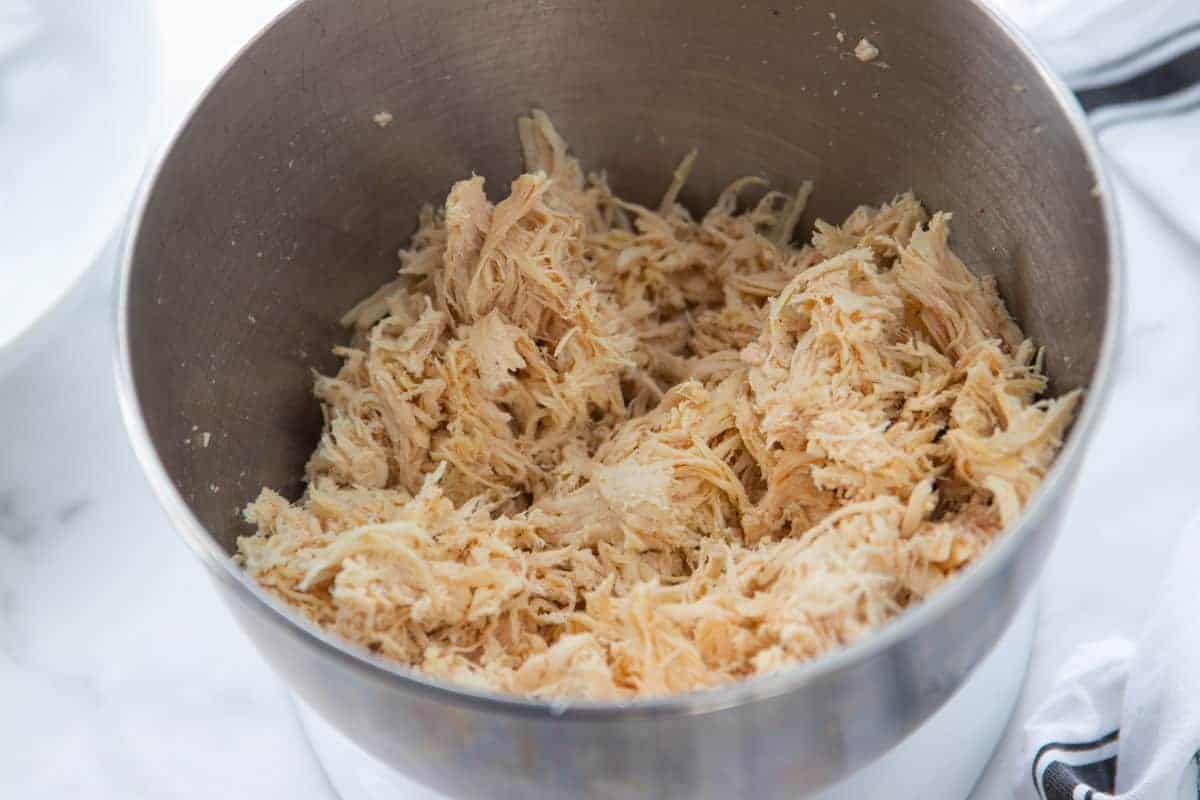 Tips and Tricks
Cooked and Cooled Chicken: Use fully cooked chicken that has been allowed to cool slightly. Warm chicken might be too tender and result in an undesired consistency.
Breast vs. Thighs: Chicken breasts are typically easier to shred due to their lean nature. However, you can also shred cooked chicken thighs for a richer flavor and tenderness.
Paddle Attachment: Attach the paddle attachment to your KitchenAid mixer. The paddle attachment's design is optimized for shredding chicken and similar tasks.
Low Speed: Start the mixer on the lowest speed setting. This prevents the chicken from being pulverized and ensures a shredded texture.
Batch Size: Shred chicken in smaller batches rather than overloading the bowl. This allows for even shredding and prevents strain on the mixer.
Slow and Steady: Add the chicken chunks gradually to the mixing bowl while the mixer is running on low. This prevents sudden overloading and ensures even shredding.
Monitor Texture: Keep an eye on the chicken's texture as it shreds. Stop the mixer once the chicken reaches your desired shredded consistency. Be careful not to over-shred.
Manual Assistance: If you have any large pieces of chicken that the mixer isn't shredding effectively, you can gently break them apart using your hands.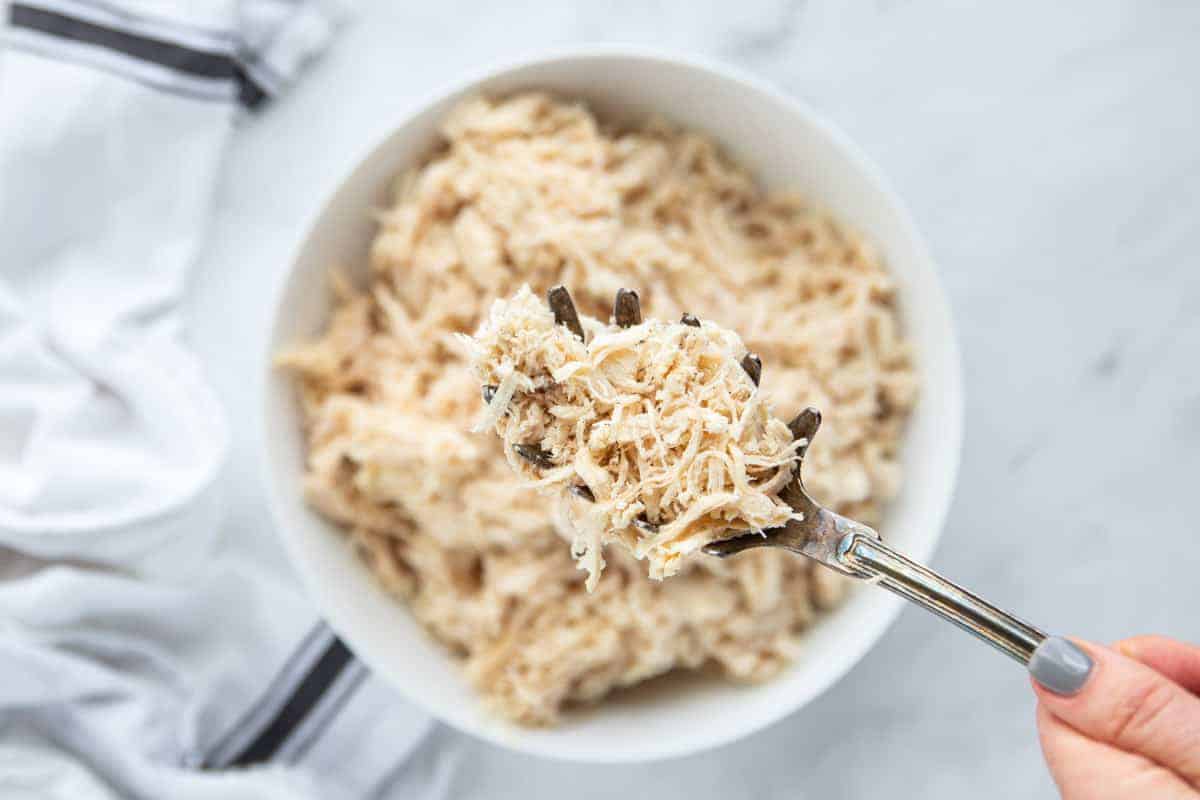 CAN YOU SHRED CHICKEN WITH A HAND BLENDER?
Yes. In my experience, it will take a little longer & make a larger mess but is still quicker than shredding by hand.
PRO TIP: If using a hand blender, shred 1 chicken breast at a time to minimize the mess and maximize the shredding.
CAN I SHRED CHICKEN IN A FOOD PROCESSOR?
Yes, you can. The technique and blade are important when using a food processor. Otherwise, you will end up with crumbled or pureed chicken.
You will want to use the "slicer blade" that came with your food processor.
PRO TIP: Instead of pushing the chicken onto the blade, pulse your processor and let the chicken shred through the blade with gravity. If you push, the chicken will end up sliced – not shredded.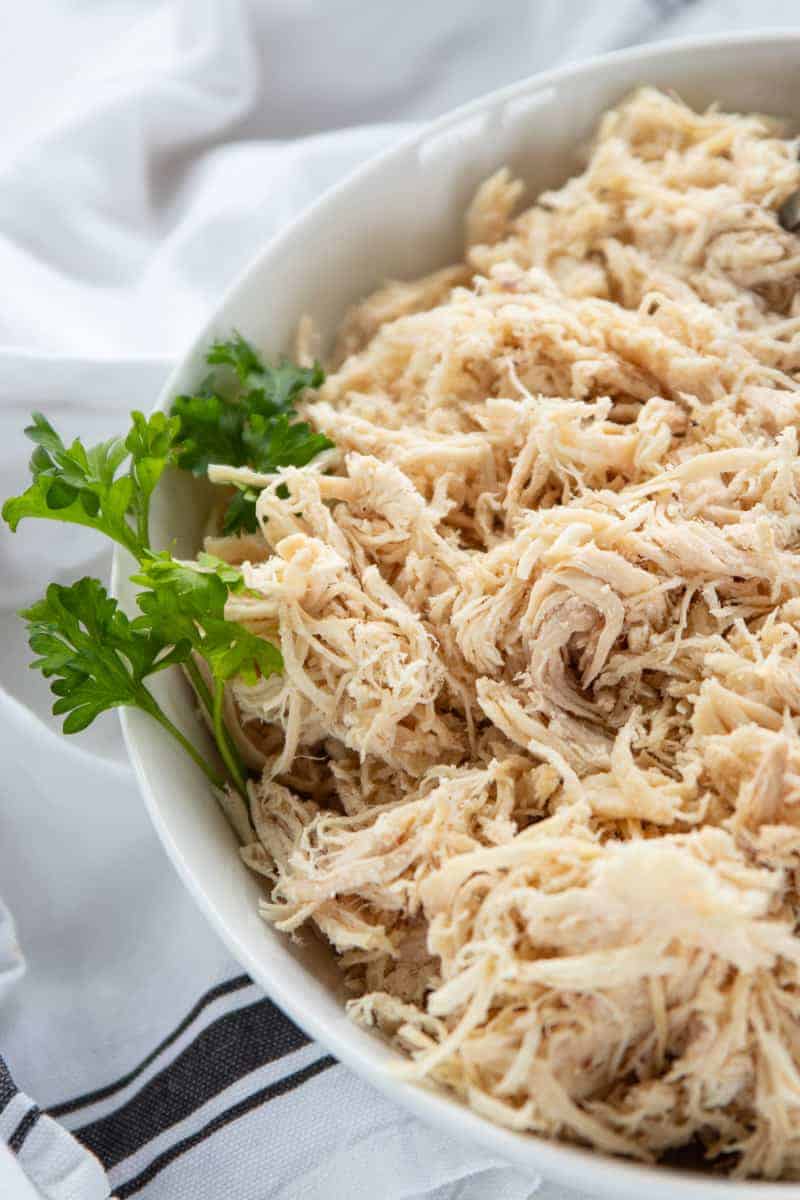 Storage Instructions
Cool Before Storing: Allow the shredded chicken to cool down to room temperature before storing. Hot or warm chicken can create condensation inside containers, leading to moisture buildup and potential spoilage.
Airtight Containers: Place the shredded chicken in airtight containers to prevent air exposure and moisture absorption. Use containers that are suitable for the fridge or freezer.
Portion Sizes: Consider dividing the shredded chicken into smaller portions before storing. This way, you can thaw and use only what you need without repeatedly exposing the entire batch to temperature changes.
Labeling: Label the containers with the date of storage. This helps you keep track of how long the shredded chicken has been stored and ensures you use it within a safe timeframe.
Refrigeration: If you plan to use the shredded chicken within a few days, store it in the refrigerator. Keep it on a shelf rather than the door, as the door is often subjected to temperature fluctuations.
Freezing: If you want to store shredded chicken for a longer period (up to a few months), freezing is the best option. Portion the shredded chicken into freezer-safe containers or sealable freezer bags. Squeeze out as much air as possible before sealing to prevent freezer burn.
Removing Excess Air: If using freezer bags, you can employ the water displacement method: place the chicken in a bag, seal it most of the way, then slowly lower the bag into a container of water until the air is pushed out. Finish sealing the bag once the air is removed.
Flat Freezing: Lay the bags flat in the freezer, allowing them to freeze in a thin, stackable shape. This method makes it easier to thaw individual portions quickly.
Thawing: When you're ready to use the frozen shredded chicken, transfer it to the refrigerator and let it thaw overnight. For a quicker thaw, you can use the defrost function on your microwave or immerse the sealed bag in cold water.
Safe Storage Time: Shredded chicken can be safely stored in the refrigerator for 3-4 days and in the freezer for 2-3 months. After these periods, the quality may degrade, although the chicken might still be safe to eat if handled and cooked properl
SHREDDED CHICKEN RECIPES:
Shredded Chicken
Want to learn how to quickly shred chicken? Using your KitchenAid you can take cooked chicken and shred it perfectly in under a minute.
Pin Recipe
Print Recipe
Instructions
Prep the chicken. Place chicken into the bowl of your KitchenAid. Using the paddle attachment, turn the mixer to low. Mix until the chicken is shredded.

Serve or store. Refrigerate or freeze for use in your favorite shredded chicken recipes.
Notes
Refrigerate for up to 4 days or place into a ziplock freezer bag and freezer for 2 to 6 months.
Nutrition
Calories:
284
kcal
|
Protein:
53
g
|
Fat:
6
g
|
Saturated Fat:
2
g
|
Polyunsaturated Fat:
1
g
|
Monounsaturated Fat:
2
g
|
Cholesterol:
146
mg
|
Sodium:
127
mg
|
Potassium:
440
mg
|
Vitamin A:
36
IU
|
Calcium:
26
mg
|
Iron:
2
mg
If you enjoyed these recipes make sure to leave a comment and a star rating below!
Then follow us on social media and tag #createkidsclub if you make the recipe. We love seeing what you come up with!