This how-to guide is the best way to roll sugar cookie dough – so this year's Christmas cookie day is filled with memories, not frustration!
I still remember decorating Christmas cookies with my mom and siblings when I was young.
It was always such a fun time spent together. As we got older, my sister and I would try to come up with the most "creative" ways to decorate those cookies. Now I really treasure spending this time with my kids. I hope they look back on our cookie days with as fond of memories as I had with my mom.
Rolling sugar cookies is easy to make if you follow a few simple tips.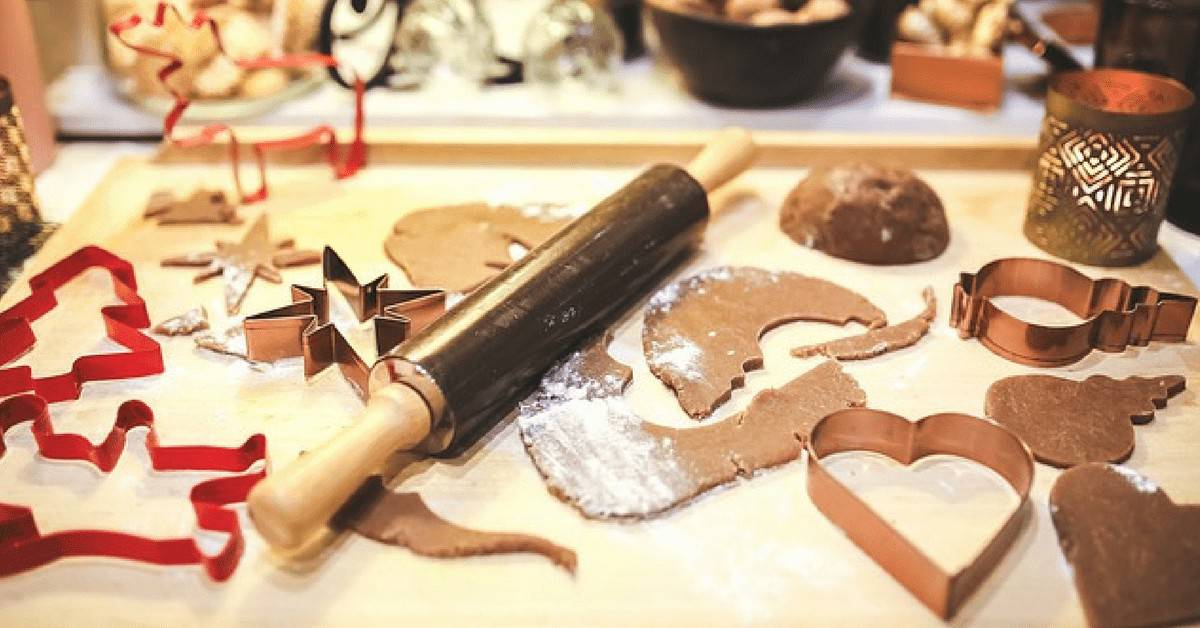 Rolling Sugar Cookie Tips
1. Make the cut-out sugar cookie dough the night before.
The dough must be very cold. This also saves time the next day.
Sanitize a large workspace. Kitchen island's work great, but your kitchen table works as well.
2. Keep the dough cold.
Do not let the dough sit on the counter before you're ready to use it.
Start by giving everyone a pile of flour.
3. Use lots of flour.
4. Knead a hand-sized scoop of dough to warm it slightly just until it is warm enough to roll out.
The perfect job for kids. This warms the dough and gets it ready to roll out easily.
5. Lightly flour your rolling-pin, workspace, and dough. Then start to roll out the sugar cookie dough.
Rolling small dough balls makes it easy to pick up the rolled dough and pass it to the kiddos to cut out into cookies.
6. After rolling out the dough, use your fingers to rub away any stuck dough on your workspace. Do the same to the rolling pin. Re-flour both.
Have your children do the same to their work area after they have cut the cookies out and removed the extra dough. Keeping all areas clean and well-floured is key!
Continue rolling, cutting, and cleaning up your space until you have all the sugar cookies cut out.
7. Do not overcook the sugar cookies.
Take them out of the oven when you think they are not quite done. Cool for a couple of minutes on the cookie sheet and then further cool on a wire rack.
Ta-da! Perfect sugar cookies!
8. Use condiment bottles to decorate cookies.
These bottles help contain the icing, but what about all those sprinkles?
9. Give each child their own baking sheet to decorate cookies on.
Do your little ones use the whole contents of the sprinkles and sugar bottles? Let the cookie sheet contain the mess.
At my house, we make a lot of cookies. My kids love cutting them out and decorating them. The kids deliver some to the neighbors, some to friends and family, and far too many go straight into their bellies. It's a Christmas treat we all look forward to!
May these tips help you enjoy your memories a bit more this year!
Merry Christmas!!
Did you get encouraged to make cut out cookies with your kiddos? I would love to hear how it went!
SaveSave
SaveSave
SaveSave
SaveSave
SaveSave