Learn how to roast garlic on the grill in just a few simple steps. Use roasted garlic for garlic butter, in salad dressings, add to mashed potatoes, or in your favorite recipes. Freezes well.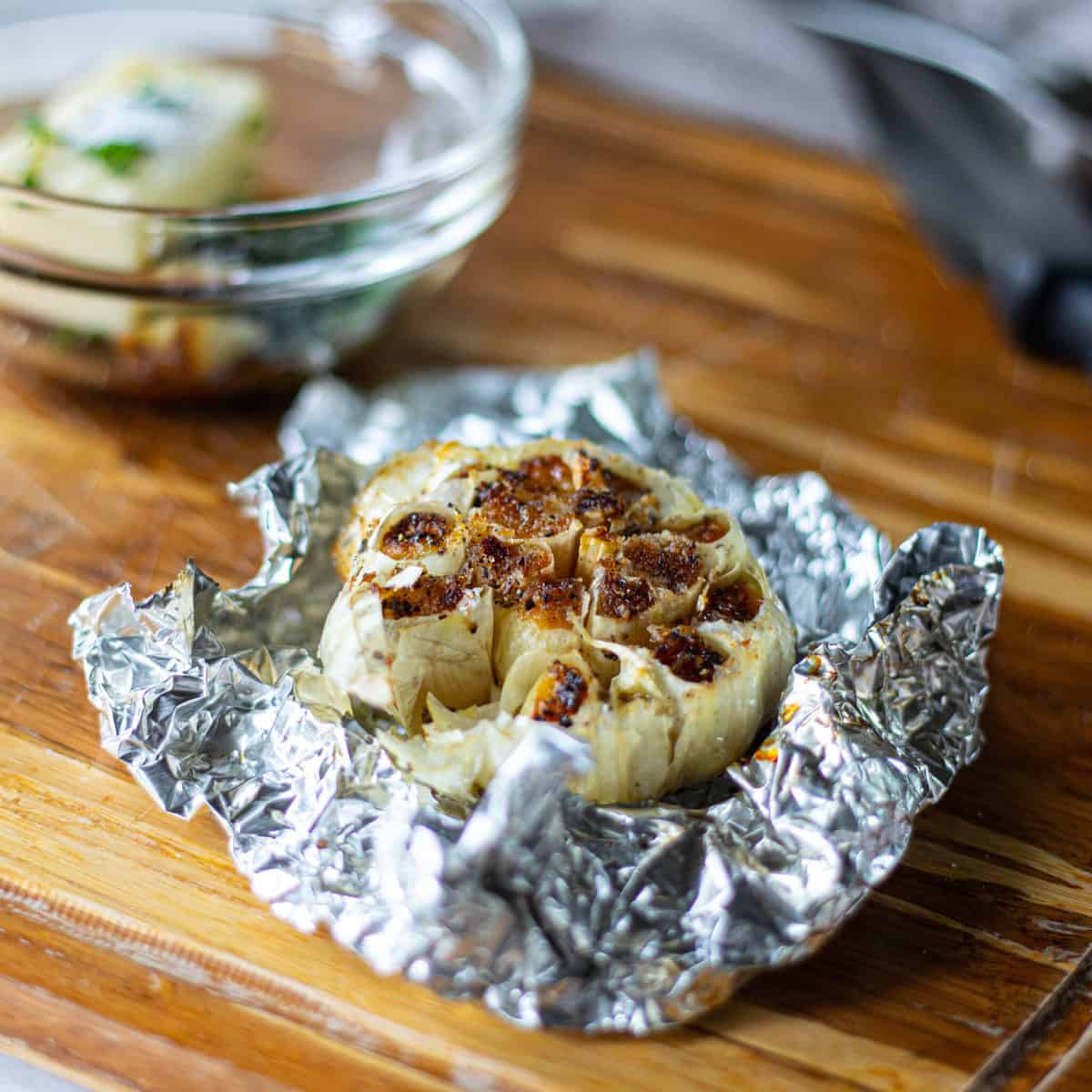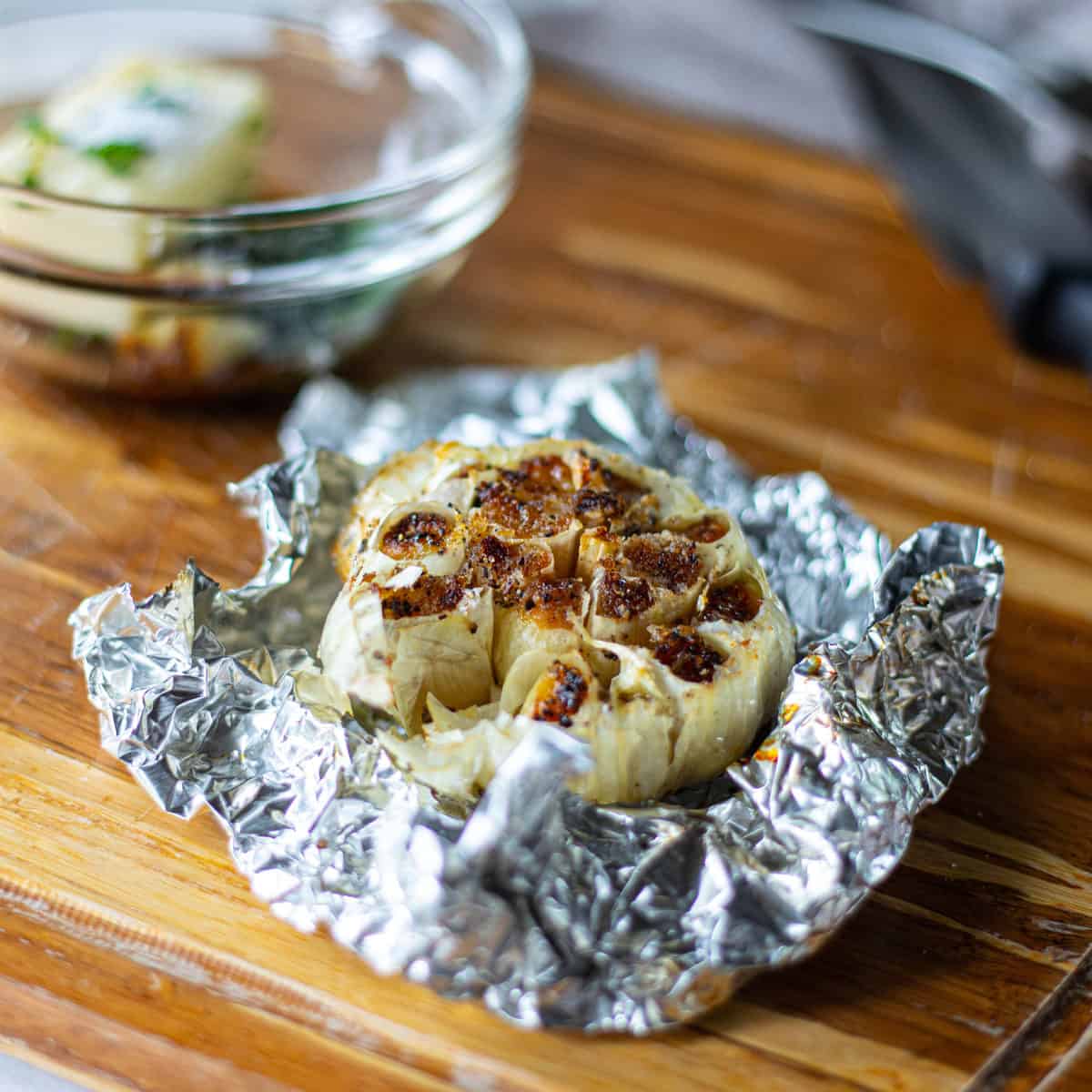 With warm weather comes grilling season.
I have a fresh idea that's super easy to do the next time you're firing up the grill for burgers, chicken, or steak. Grilled garlic.
Roasting garlic turns hard garlic cloves into spreadable garlic that works great on bread, steaks, chicken, mashed into potatoes, or in salad dressings.
I grill one head of garlic at a time, but you certainly can do multiple heads of you'd like.
How much is one clove of garlic vs. one head of garlic?
One head of garlic is a bunch of cloves that grow together as shown below. One clove can be broken away from the head of garlic.
How To Roast Garlic On The Grill
To grill a head of garlic, start by slicing off the top portion of the garlic head.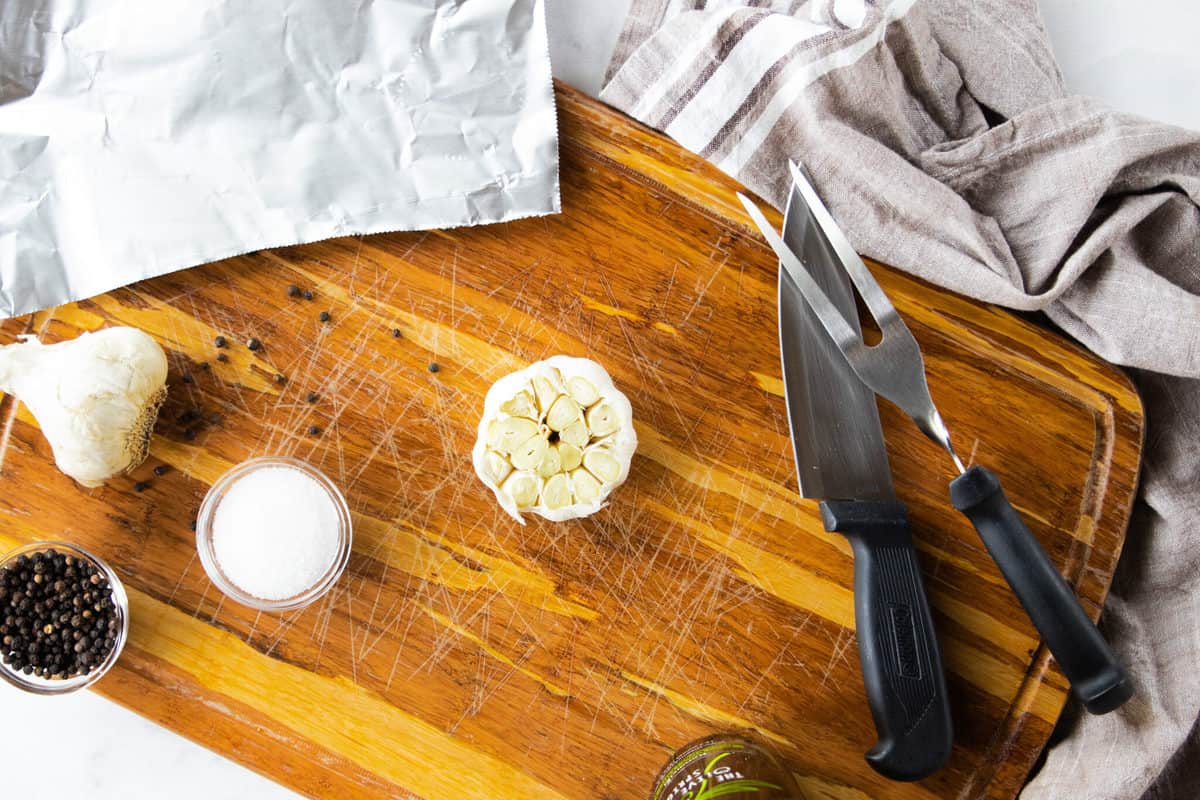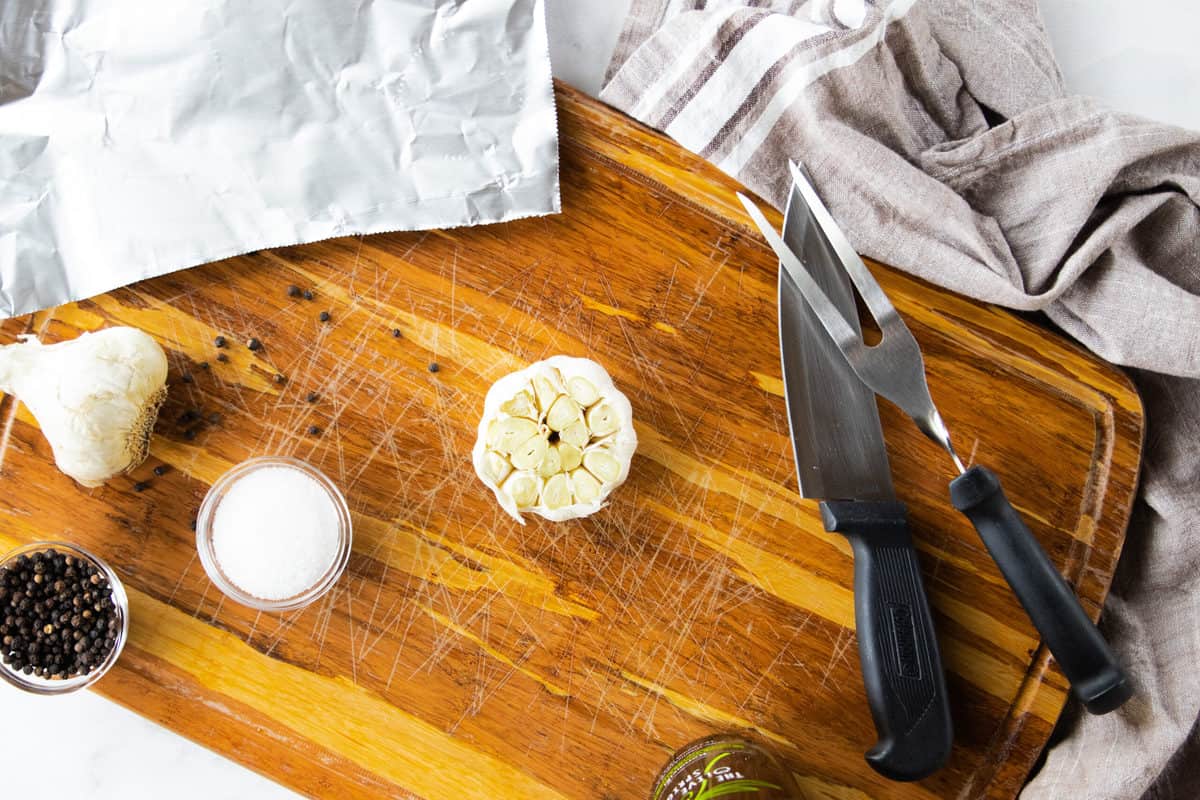 Turn your grill to medium-high heat. Let it get warm before putting your garlic onto the grill.
You'll need the following to prepare your garlic for roasting:
tin foil
high-quality olive oil
coarse salt
fresh cracked pepper
Start by placing the head of garlic (with the top sliced off) onto a square of tin foil. I use heavy-duty foil, it holds up well on the grill.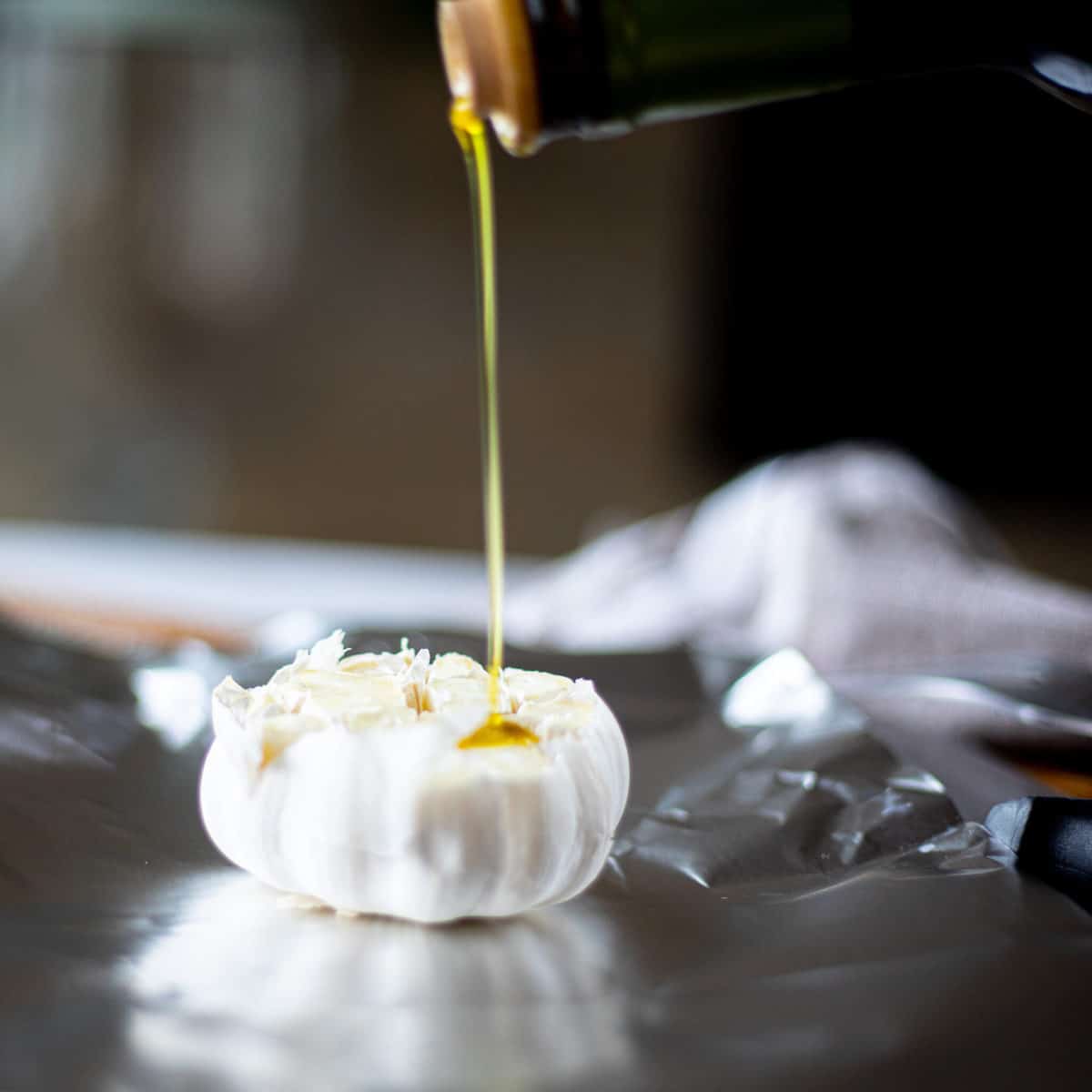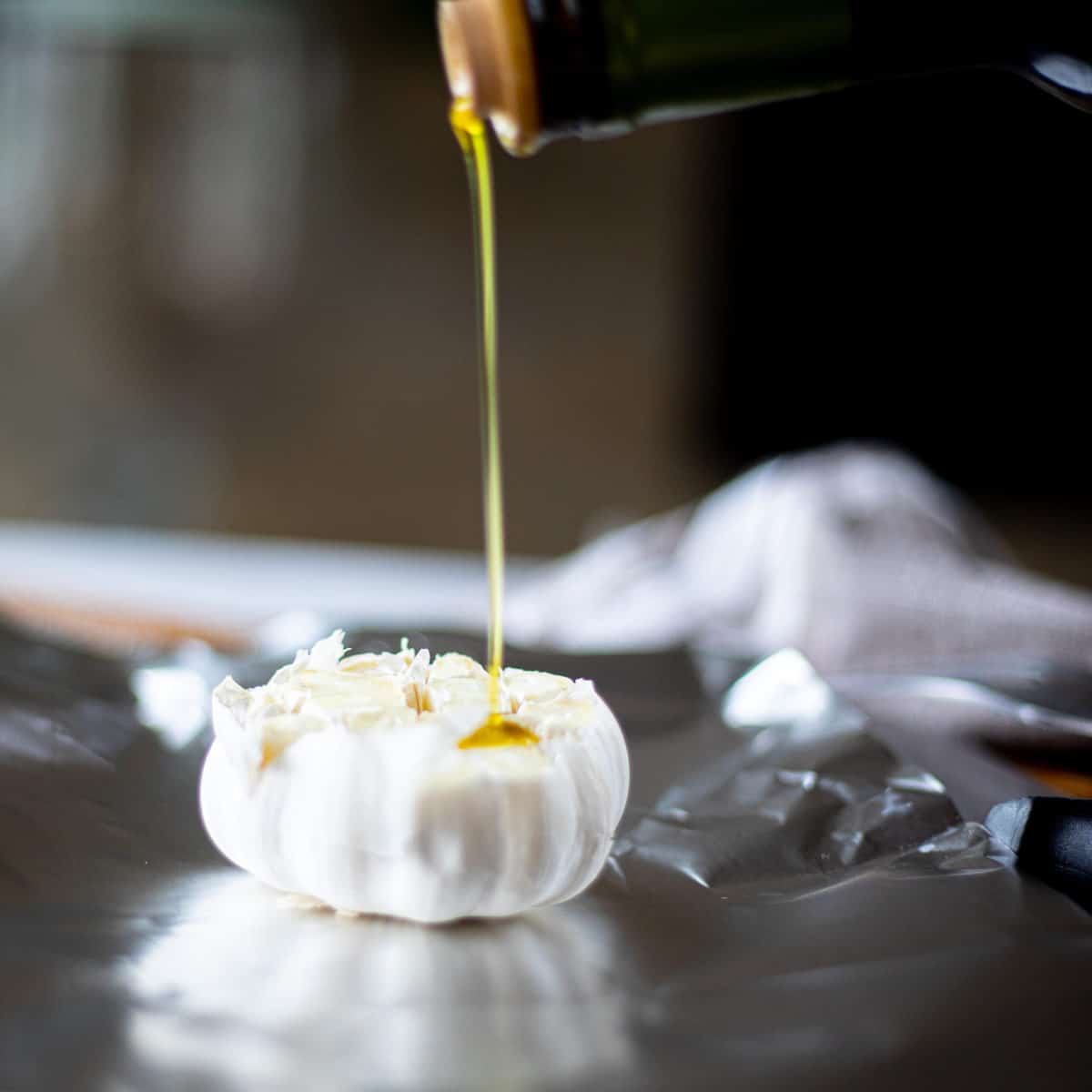 Drizzle the garlic with olive oil. I use about 2 teaspoons to 1 tablespoon of oil. Next, give it a good sprinkle with salt.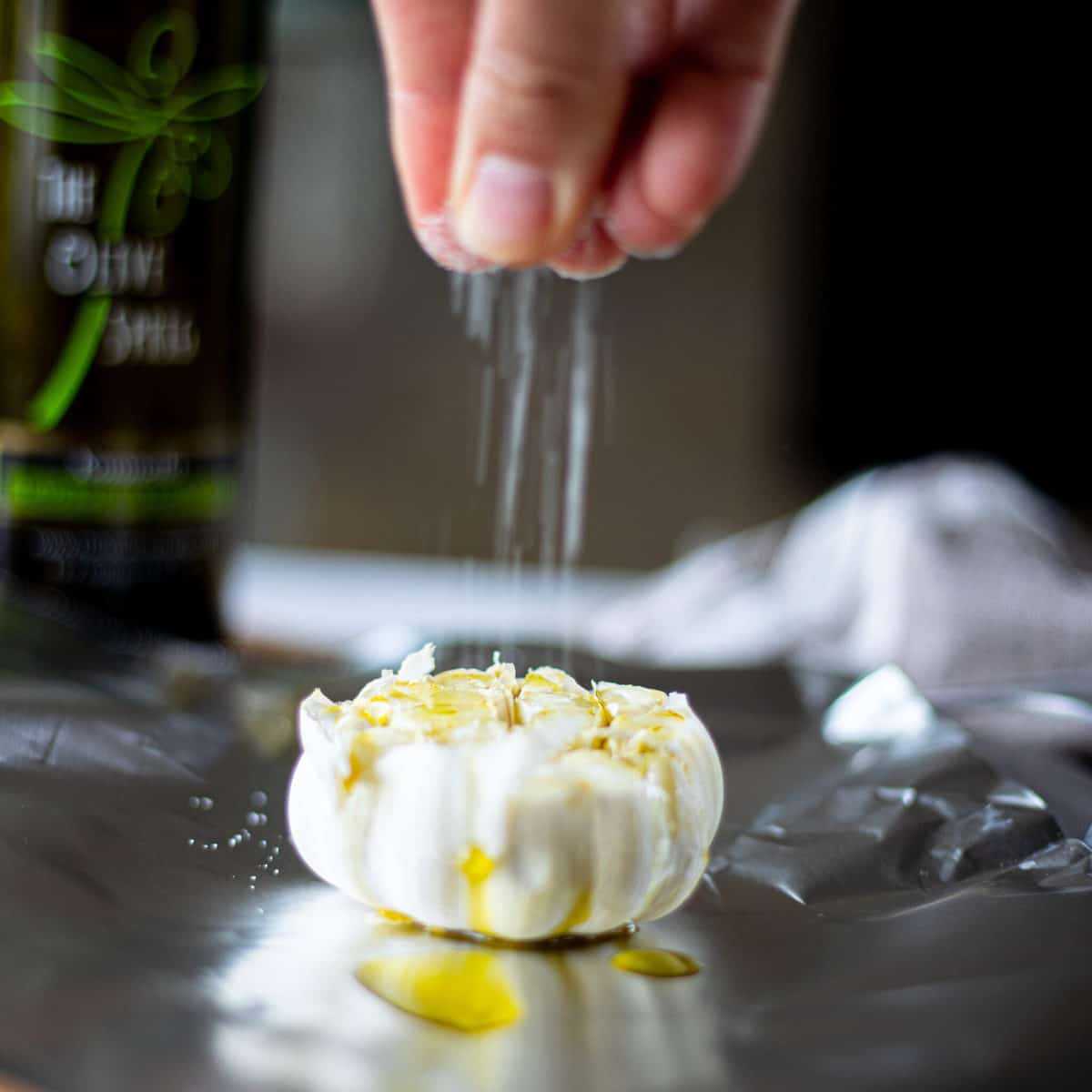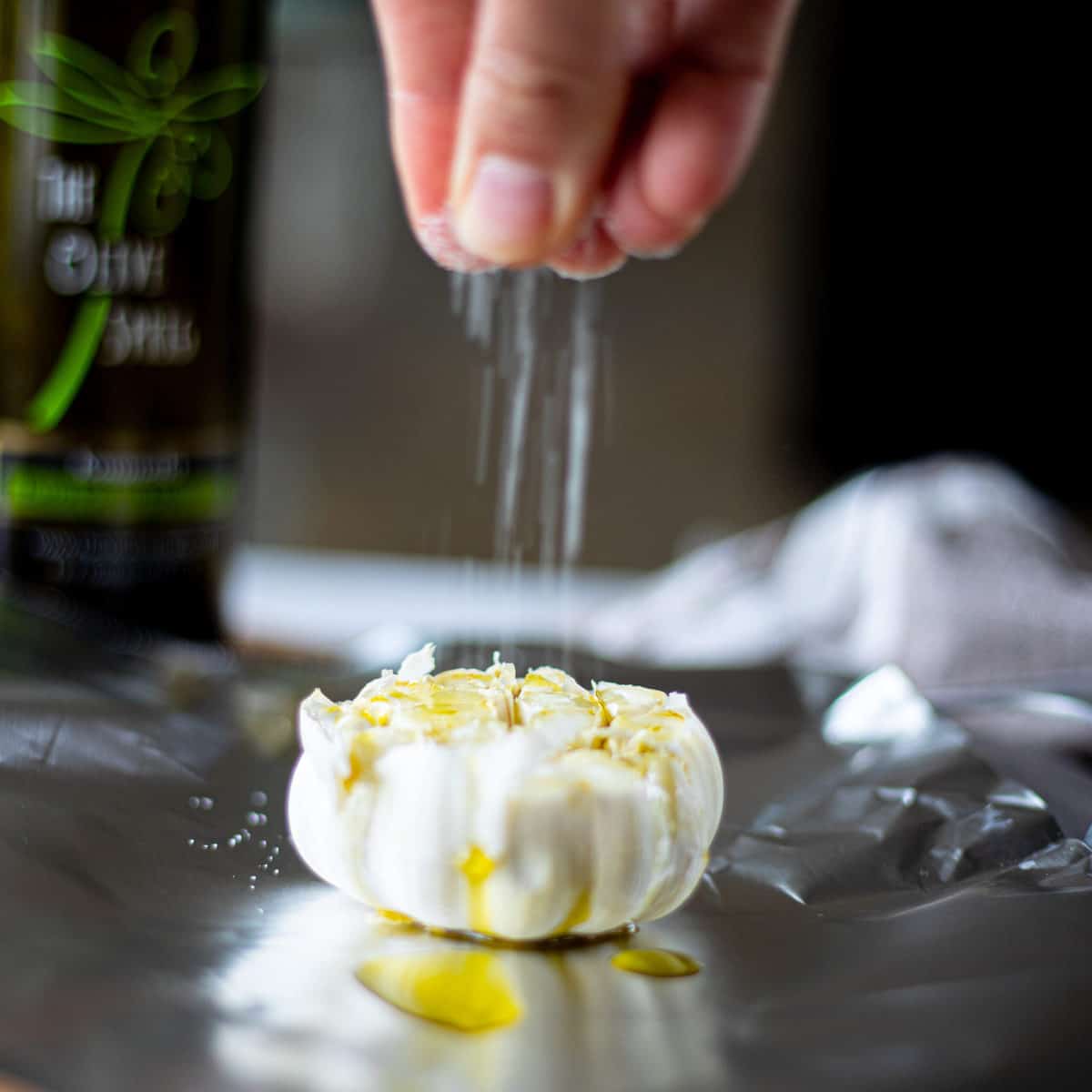 After the salt, add your freshly cracked pepper. You can skip the pepper if you'd like but I think it gives it a wonderful flavor.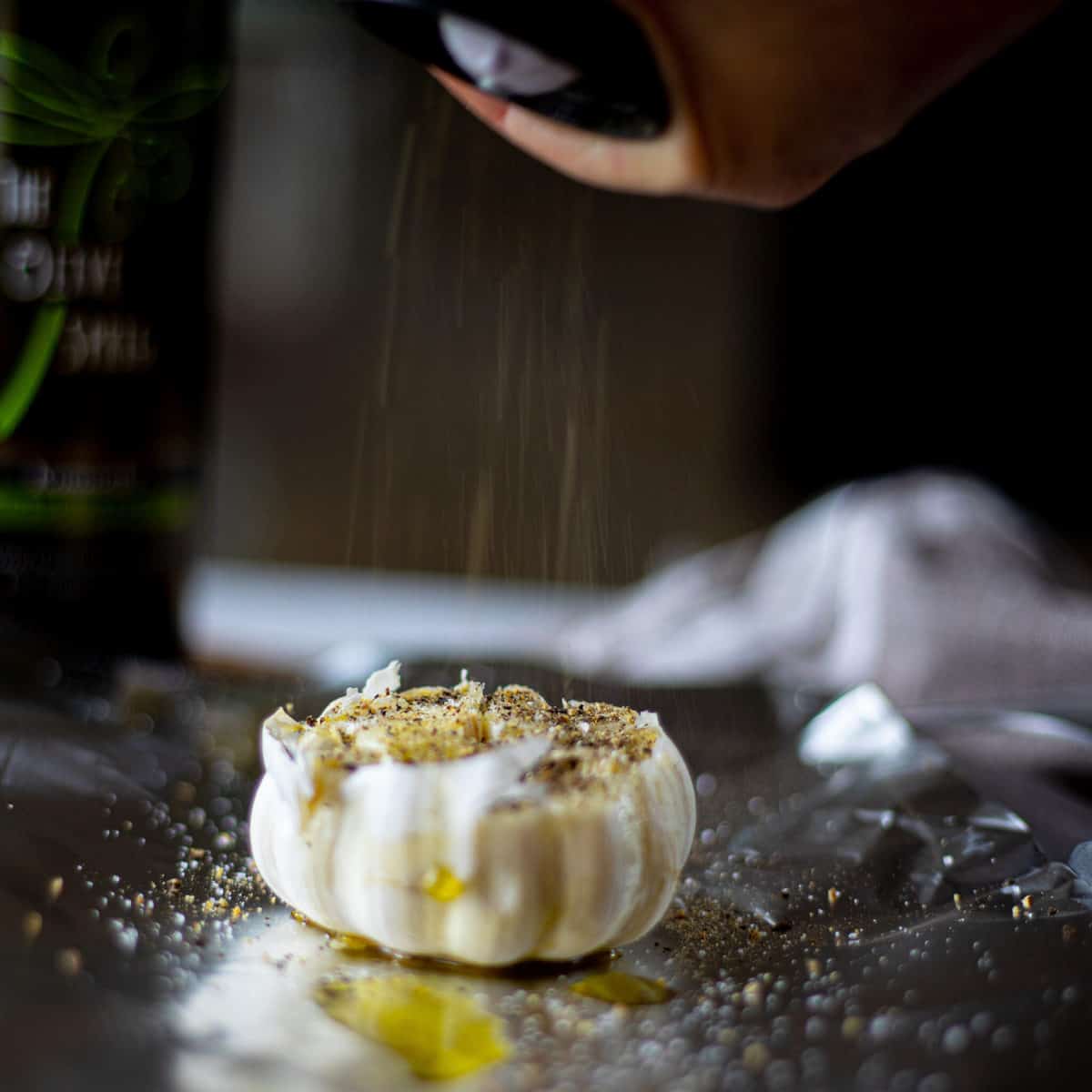 Turn the garlic head over the cut side is now facing down. This helps get the top portion of the garlic nicely browned on the grill.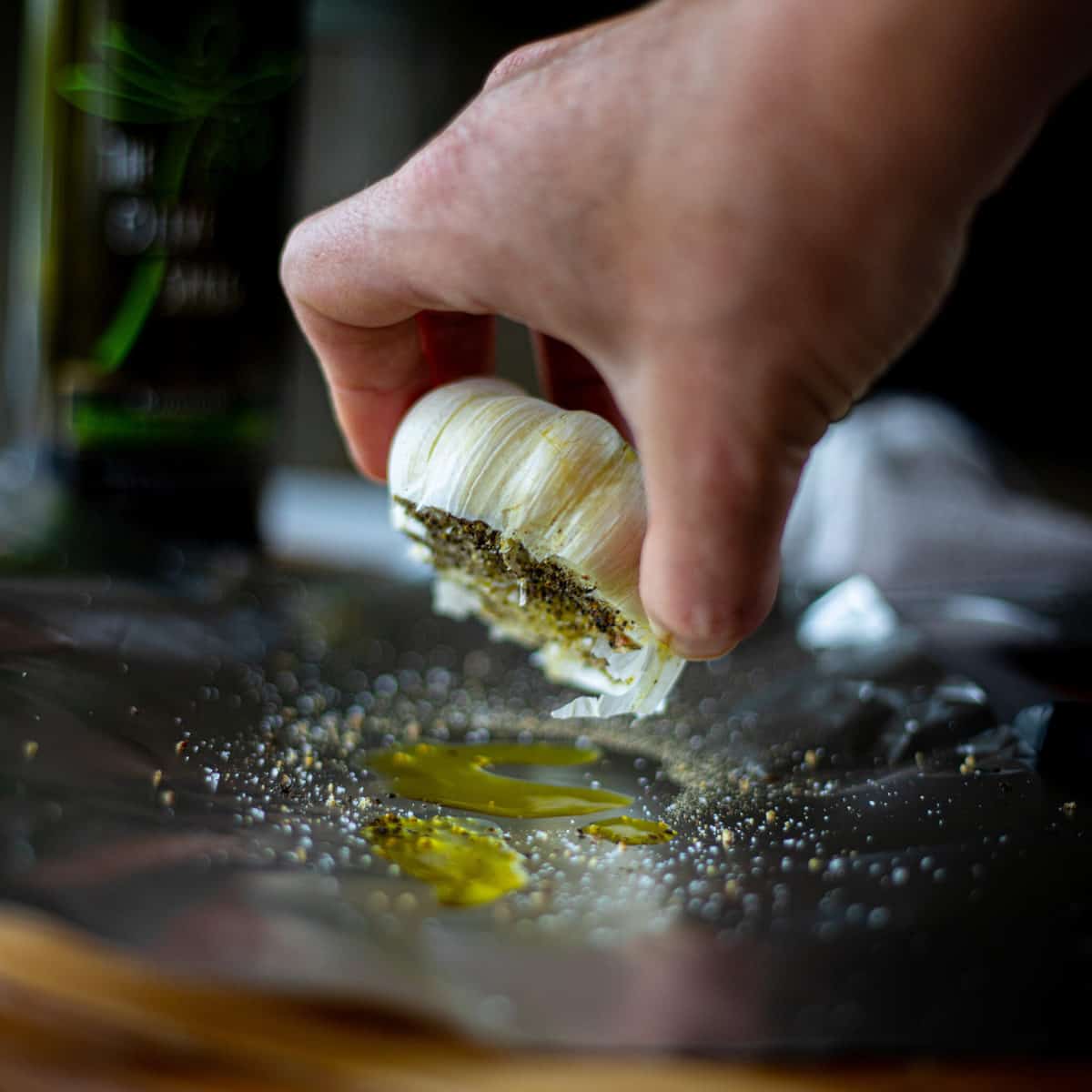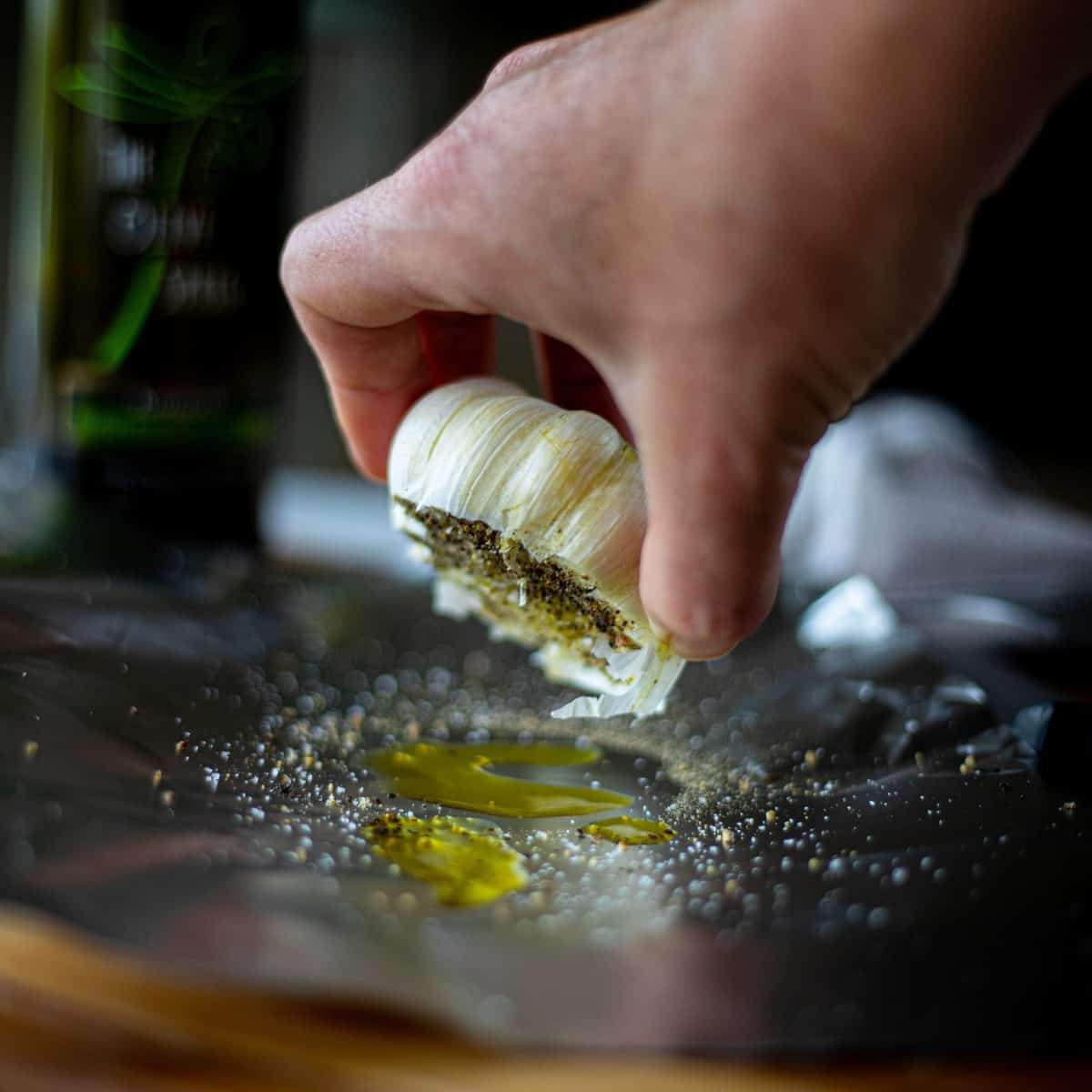 Wrap the foil around the garlic.
I like to fold the sides in a tuck then on top (which is not the bottom of the garlic). This way I know which side is the top of the garlic for placing it on the grill.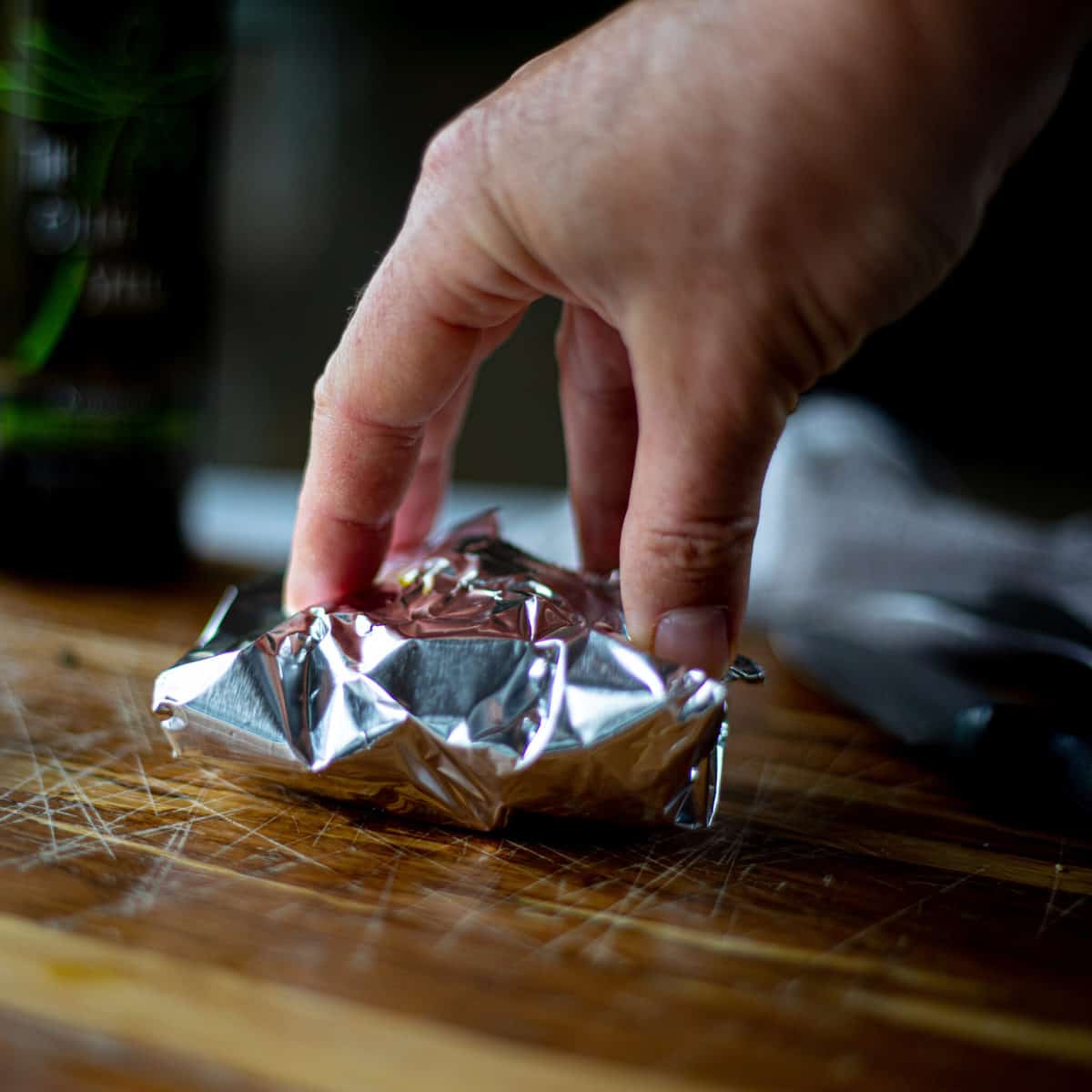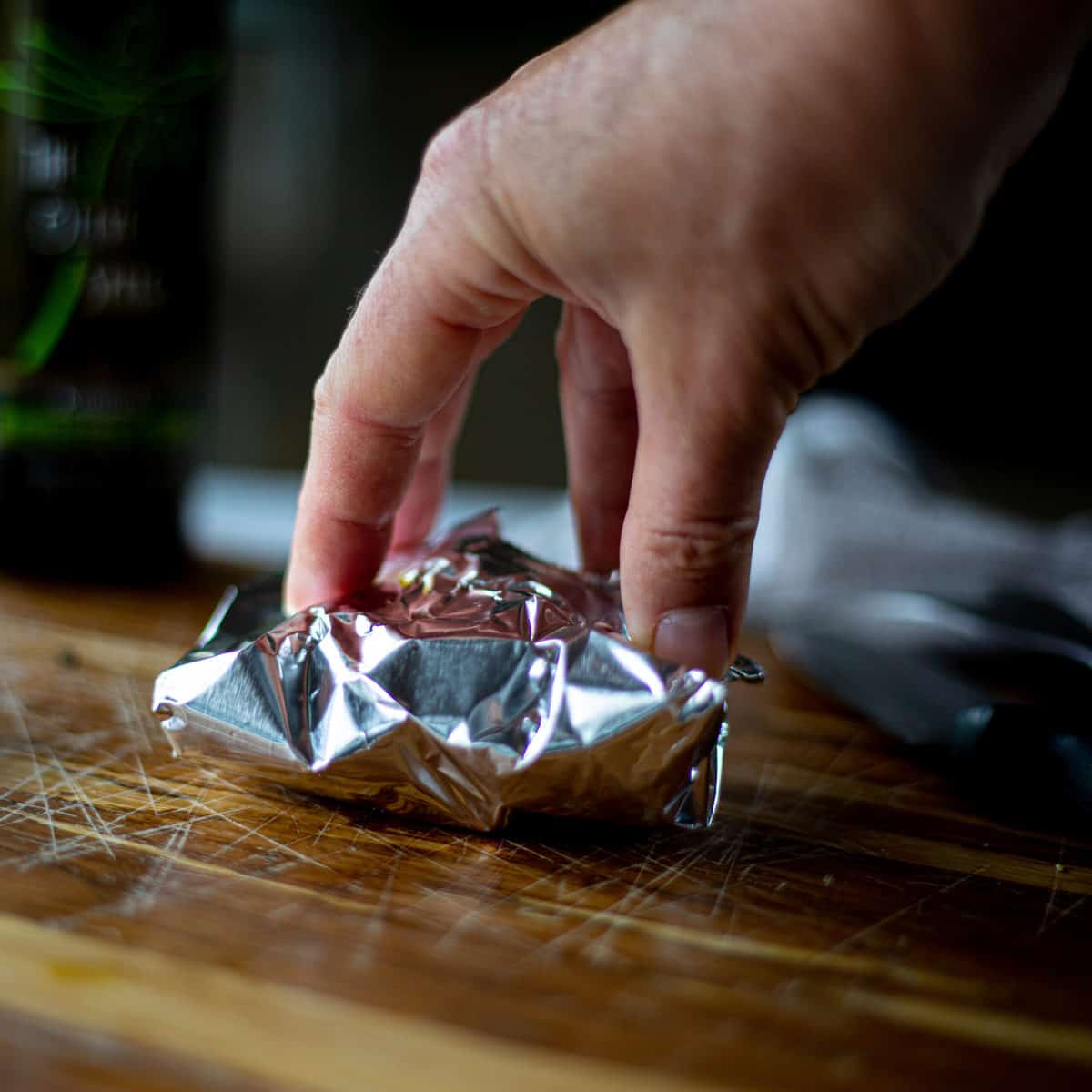 Carefully place the garlic cut side down and let cook for 10 minutes.
Flip the foil packet over and cook another 10 minutes.
Rotate once more, let cook another 10 minutes. Remove from the grill, carefully open, and use the roasted garlic as you please.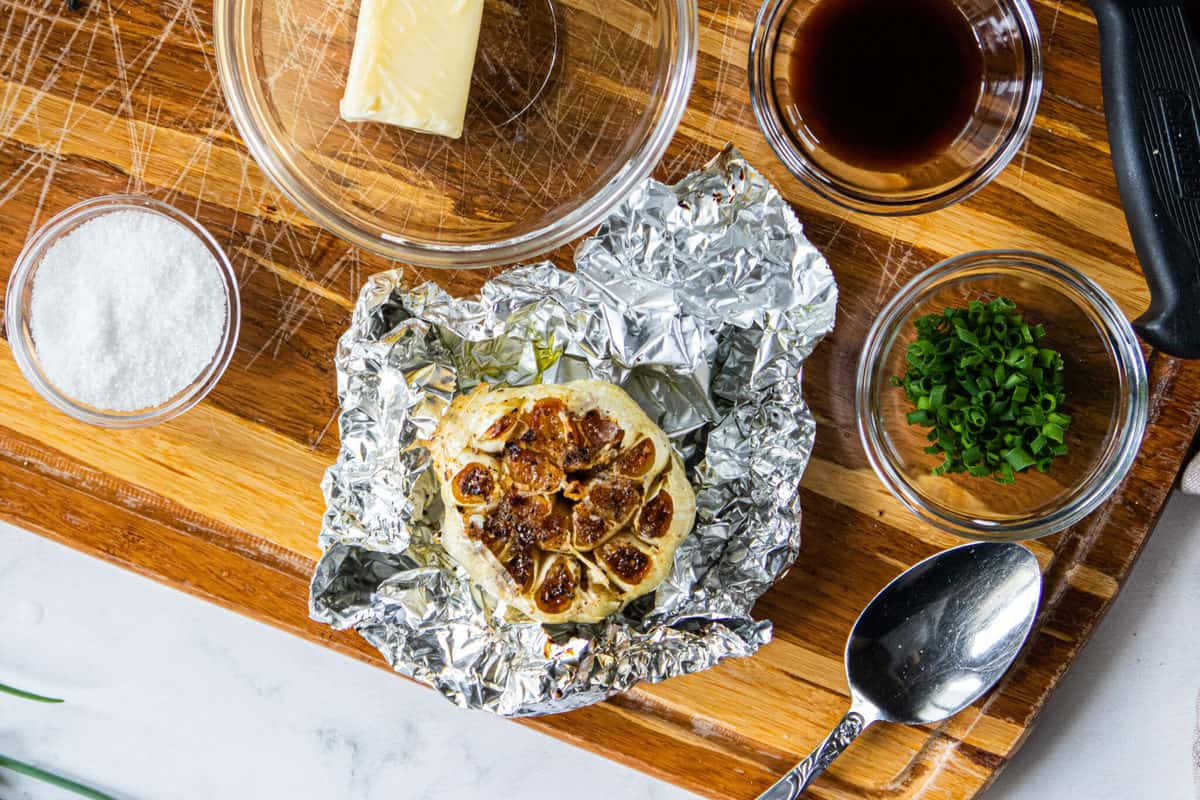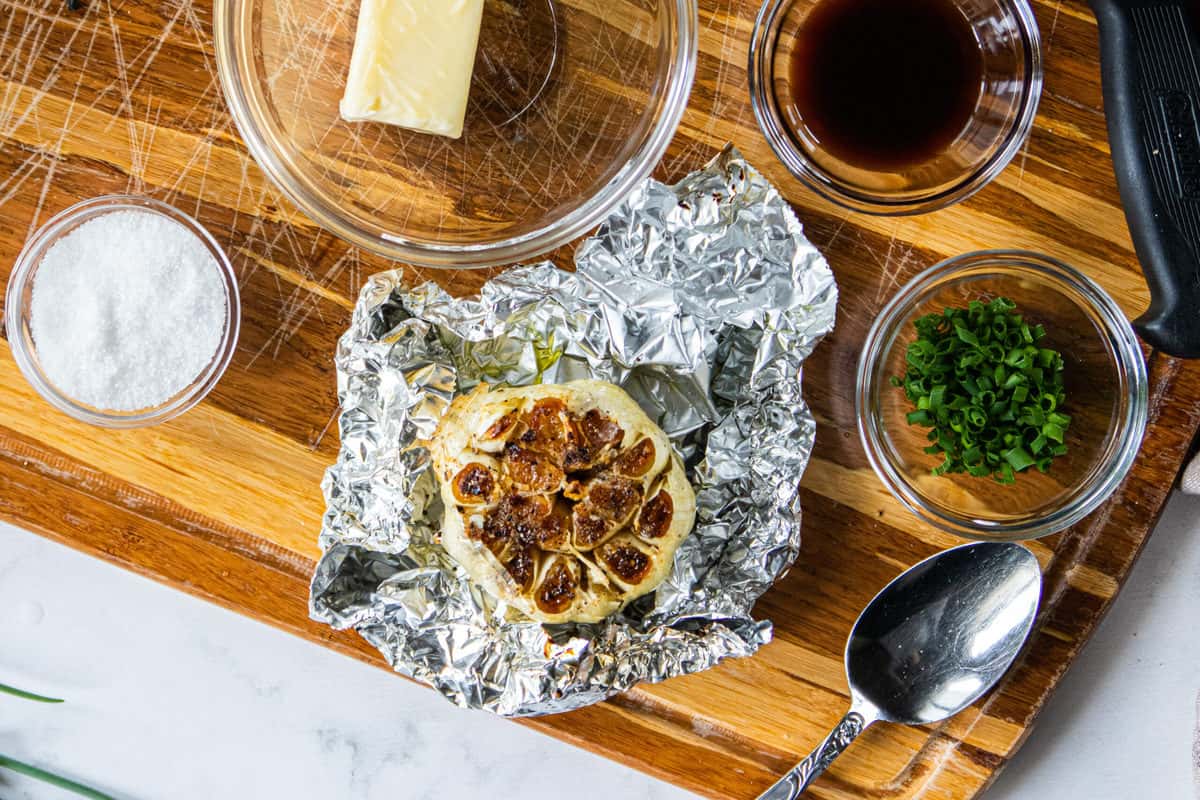 To remove a garlic clove from the head you can use a spoon as shown below or you can hold the head around the bottom and gently squeeze. This will force all the garlic cloves out.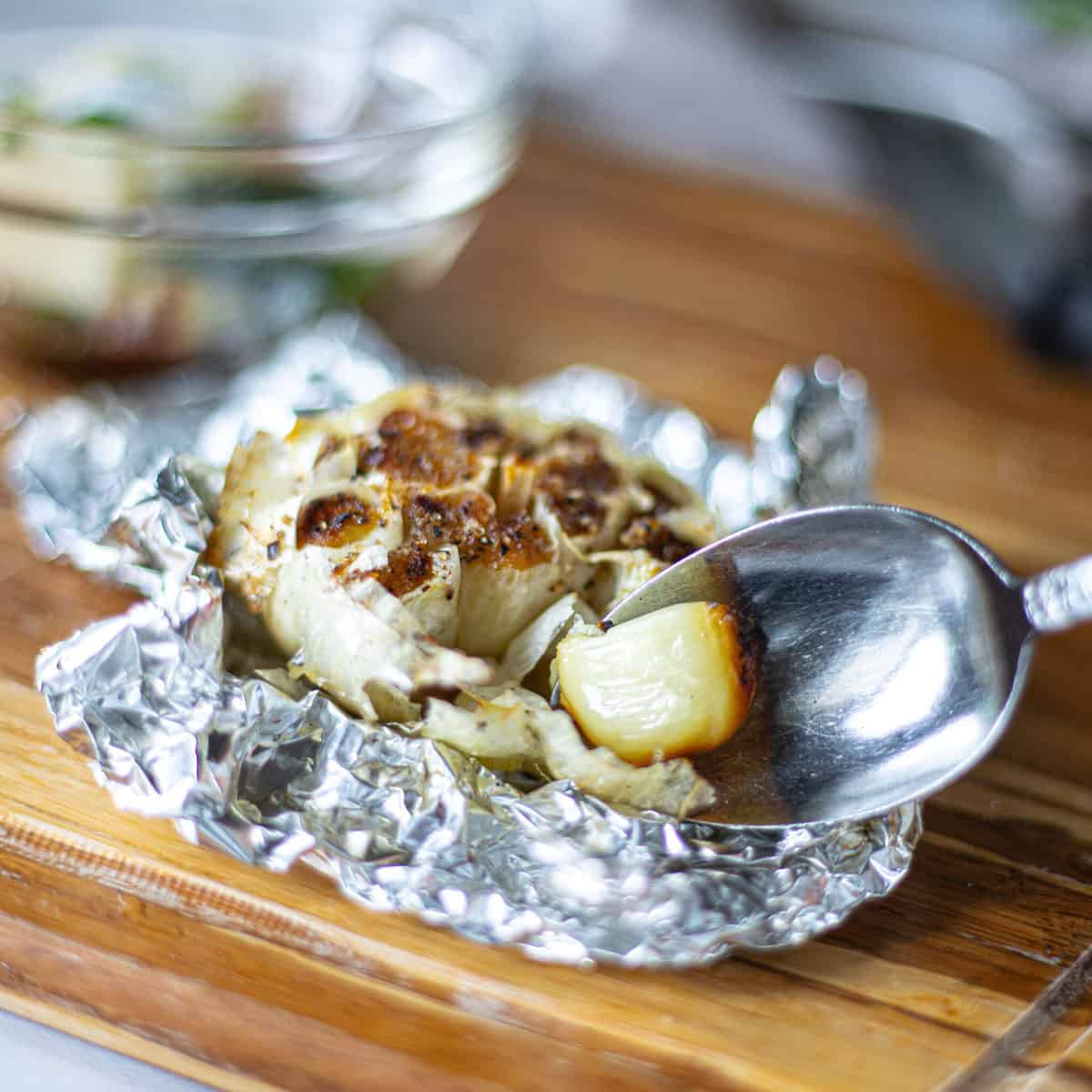 How To Store Roasted Garlic
You can store the garlic cloves in a ziplock bag or container with a lid in the fridge. They will last for about a week in the fridge.
You can freeze roasted garlic as well. Either place it into a ziplock bag or put the individual cloves onto a baking sheet for about 30 minutes to harden. Remove then place into a ziplock bag so they don't get stuck together.
How To Roast Garlic in the Oven
Roasting in the oven will be much the same as it is on the grill. Prepare your garlic exactly as if it were going on the grill, but put the head of garlic wrapped in tinfoil into a preheated oven at 350°F. Bake for 30 minutes.
How To Use Roasted Garlic?
Here are some recipes in which you can use roasted garlic:
If you enjoyed the recipe make sure to leave a comment and a star rating below! Then follow me on social media and tag #createkidsclub if you make the recipe. I love seeing what you come up with!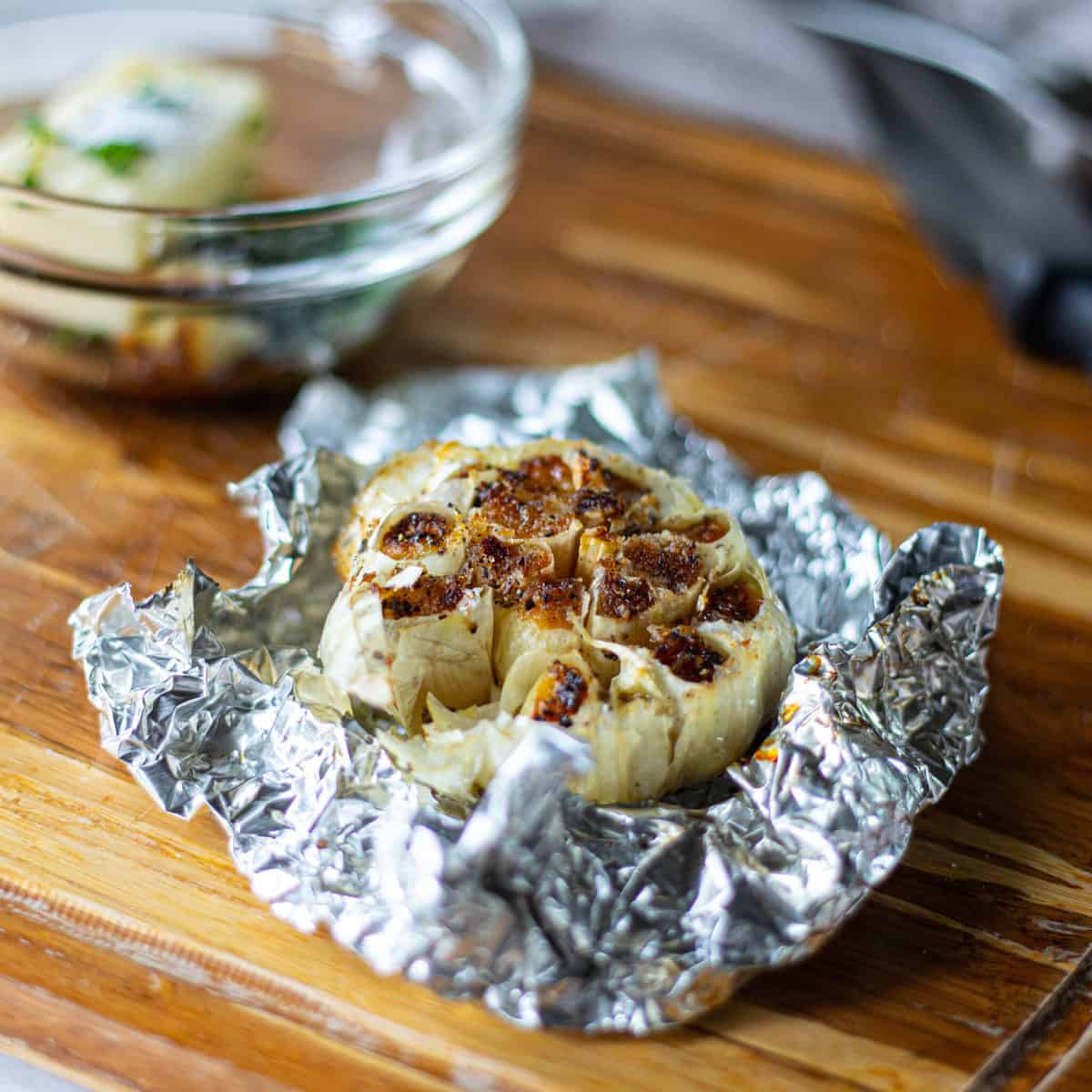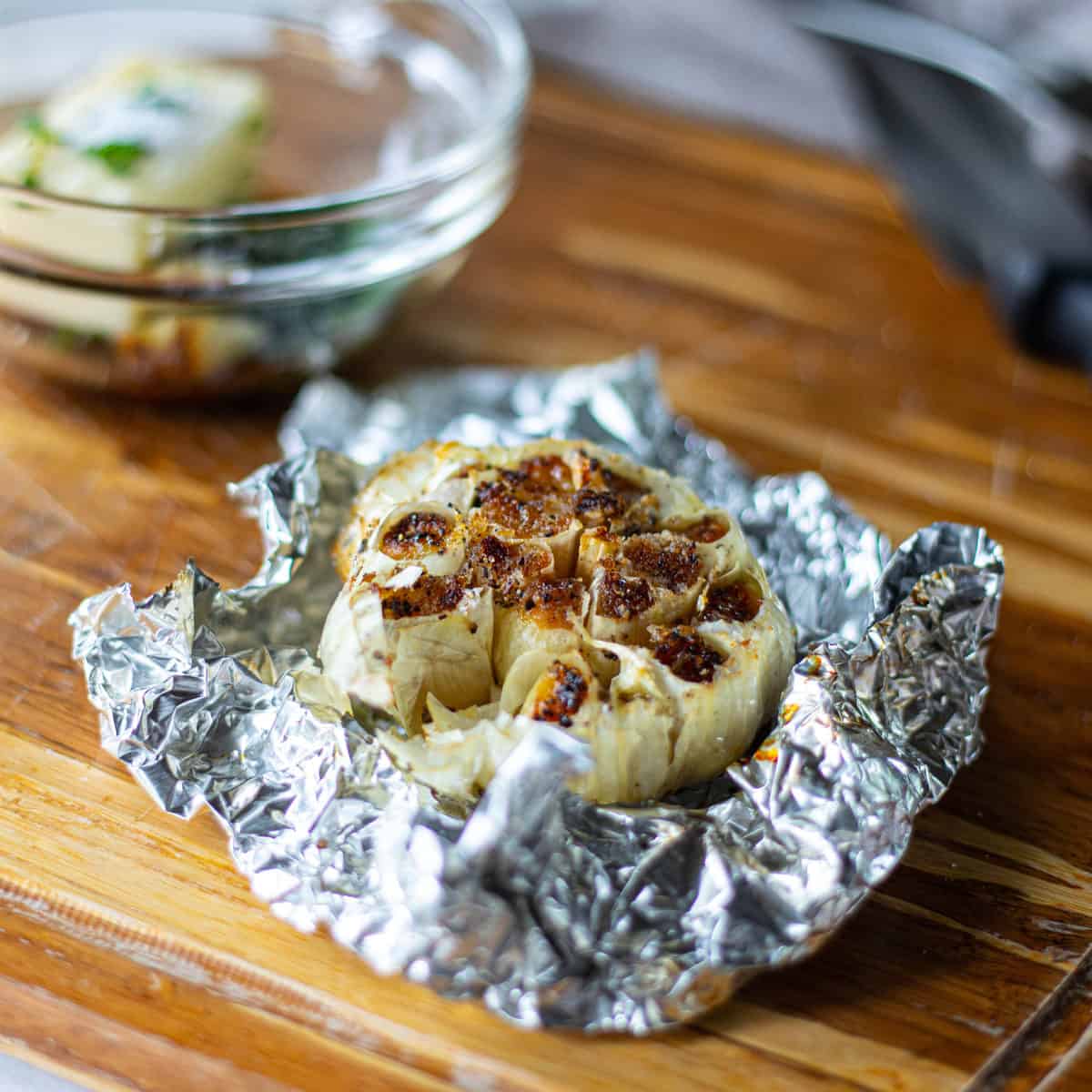 Ingredients
1

head garlic

1

tablespoon

olive oil

1/4

teaspoon

salt

1/8

teaspoon

pepper
Instructions
Preheat grill to medium-high heat.

Slice the top off of the head of garlic.

Place the sliced garlic head onto a square of heavy-duty tin foil.

Drizzle with olive oil, season with salt and pepper. Wrap in the tin-foil.

Place garlic cut side down in tin-foil onto the grill. Cook 10 minutes, flip then cook another 10 minutes.  Rotate once more, cook another 10 minutes.

Remove from grill and use it in your favorite recipe or store for later.
Nutrition
Calories:
16
kcal
|
Carbohydrates:
1
g
|
Protein:
1
g
|
Fat:
2
g
|
Saturated Fat:
1
g
|
Sodium:
73
mg
|
Sugar:
1
g
|
Vitamin C:
1
mg