Summer is the time to take advantage of kids being off school to plan a family vacation. Looking for a family-friendly vacation idea? Consider an RV trip to Yellowstone National Park!
Heading out on a Yellowstone RV family vacation will be one of the best decisions you'll make as a family this year. It was always on the top of our bucket list. We were drawn to the idea of packing everything and just driving – stopping only when and where we wanted.
After our travel experience, we are excited to share the tips for planning a memorable and stress-free RV vacation. Keep reading to learn how to successfully make the 3,000-mile journey to Yellowstone from the Midwest!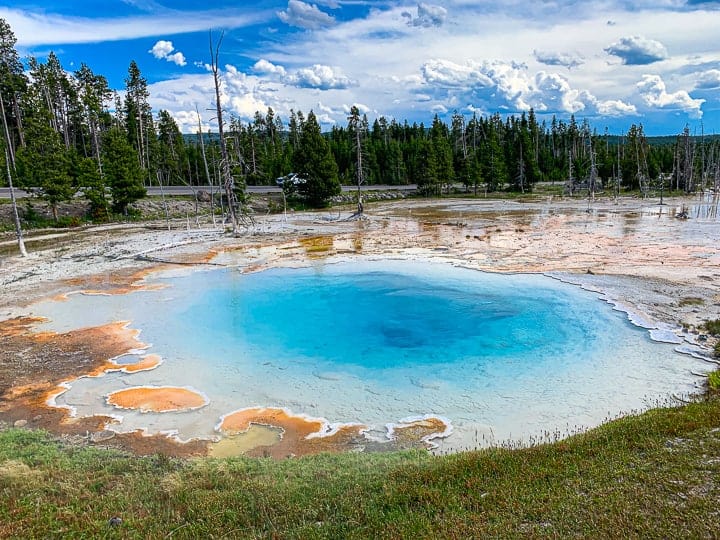 Our RV rental was possible through our partnership with Hilltop Camper & RV. As always, all opinions are my own.
Our trip to Yellowstone in an RV became an opportunity through a partnership with Hilltop Camper & RV. As a family owned and operated business, they set our family up for success before we hit the road.
We started off the trip by picking our RV up at the Twin Cities location where we were given all the information we needed to know about our RV rental. We felt confident traveling in our "home on wheels" before leaving the lot.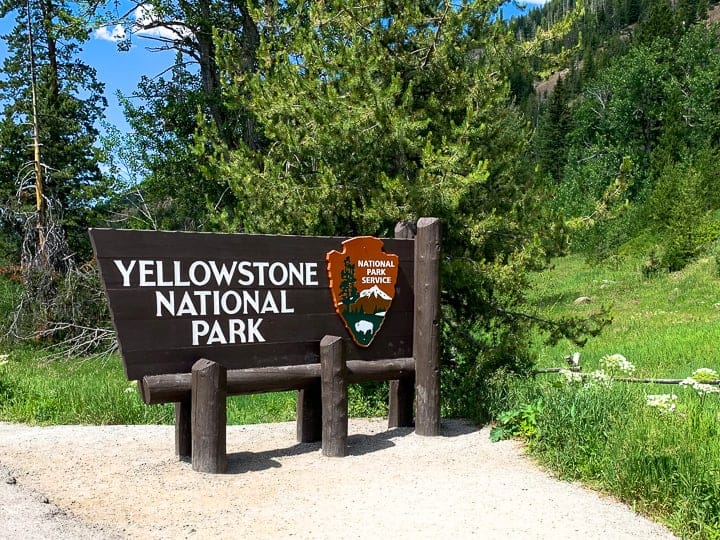 Driving An RV Through Yellowstone
If you were like us and researching all the fun and exciting ways to travel to Yellowstone, you were likely disappointed with all the negative reviews. All the more reason for us to share our positive experience with you to provide encouragement that driving an RV through Yellowstone in peak season is possible!
Through our experience of driving an RV through the park, it is not a big deal as long as you're comfortable driving the RV. That said, if you're not comfortable driving the RV, you shouldn't be headed anywhere – just sayin'.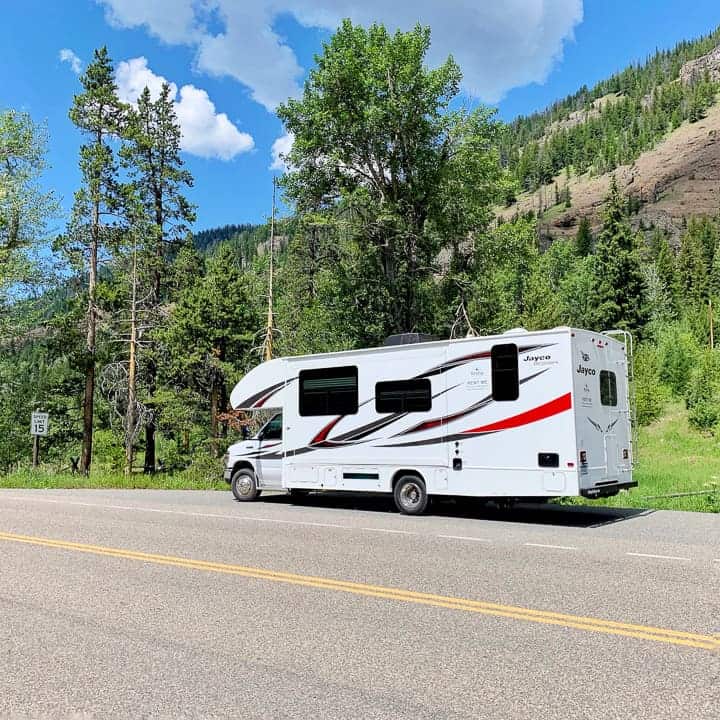 If this is your first time to Yellowstone, you should know that the lodging is very spaced out. Whether you are staying at a campground or in a hotel, you will frequently be on the move. One benefit of driving an RV is you have your own private kitchen, bathroom and bedroom in some of the most remote areas.
PRO TIP: Campgrounds are hard to come by so make reservations months, if not a year, ahead of time.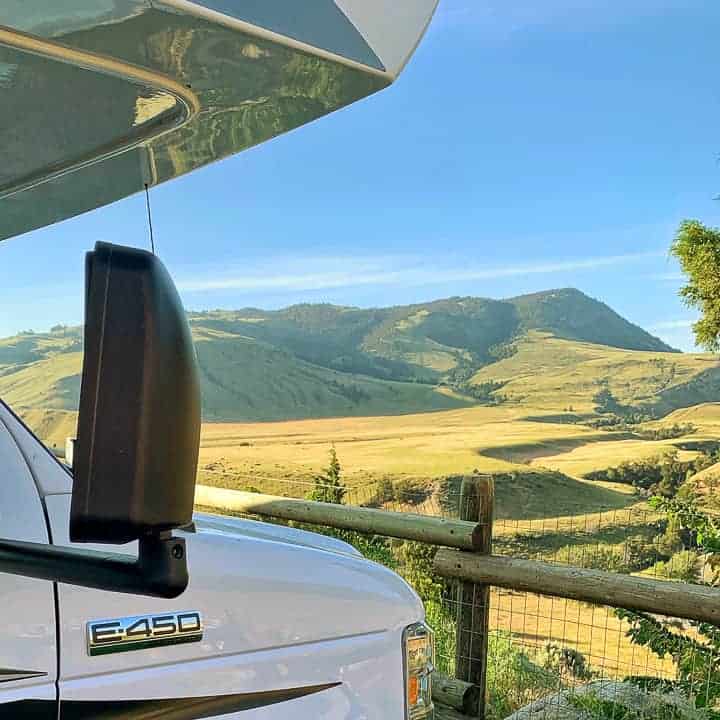 But before we get too excited and tell you everything there is to do at Yellowstone, let's rewind and start from the beginning!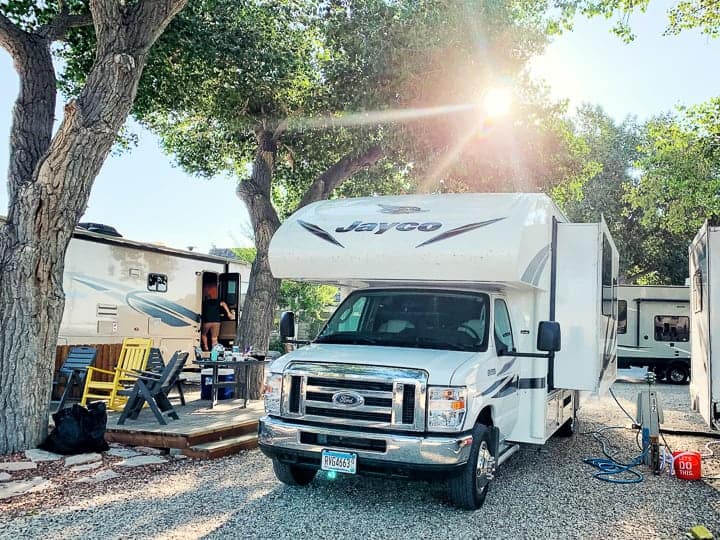 RV Trip To Yellowstone
After picking up the RV in Minneapolis, MN at Hilltop Camper & RV in Fridley, we made it to Mitchell, SD then on to Cody, Wyoming.
In Cody, we stayed at KOA campground – the kids could swim in the heated pool and play in the hot tub. We were even able to take a free shuttle to the Cody Nite Rodeo, which is offered every evening in the summer. Before heading out the next morning, we took advantage of the free pancake breakfast.
From Cody, we headed into the park. We chose to take the southern most entrance. We wanted to avoid the Beartooth Highway, routes 14 and 14A. Going the less daunting route of Hwy 16 through the Bighorn Mountains.
Now, we definitely wanted to go around those mountains after everything we read, especially heading from the flat state of Wisconsin. We do not have any driving conditions remotely close to driving through mountains. With the added factor of the RV, we stuck with the safer plan.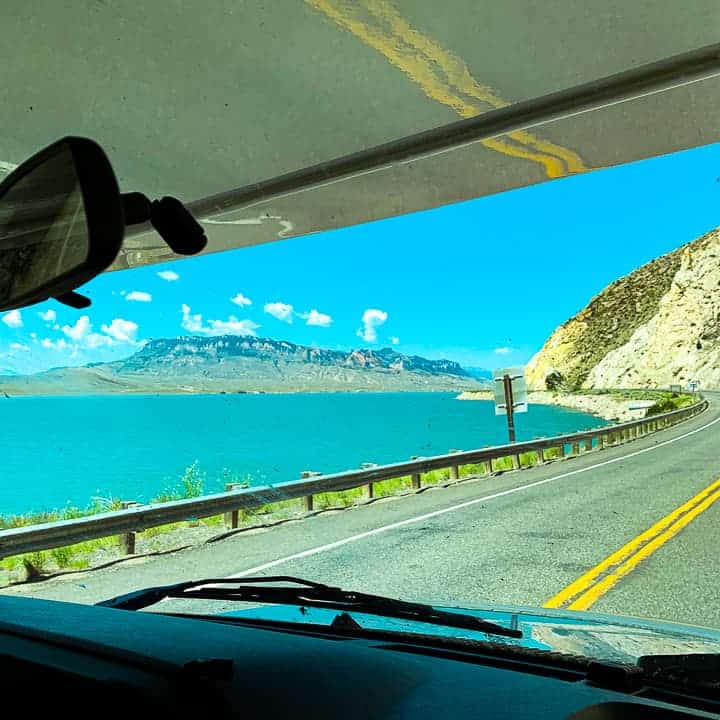 Yellowstone National Park East Entrance
The stretch of road between Cody and the East Entrance of Yellowstone has been deemed the 'most scenic 52 miles in the United States' by Teddy Roosevelt. Buffalo Bill Scenic Byway traces Wapiti Valley and the North Fork of the Shoshone River.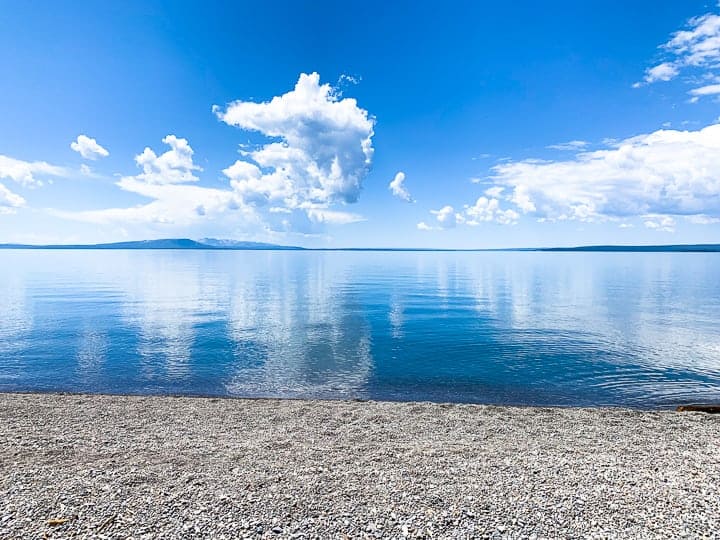 Yellowstone Lake
Once you enter the East entrance, you'll find Yellowstone Lake. Because we had the RV, lunch was prepped at the lake while the kids skipped rocks and enjoyed running around outside.
Related: Camping Meal Plan & RV Meal Planning, Vacation Meal Planning Template
Another benefit of being in an RV is that we always had a table to eat at, a sink to wash our hands, and water to clean up dishes afterward. We were back on the road in no time with everyone happy and fed.
Enjoying meals in the RV saves time and money and eliminates the stress of everyone agreeing on the same restaurant – or in the case of Yellowstone, finding a restaurant to eat at.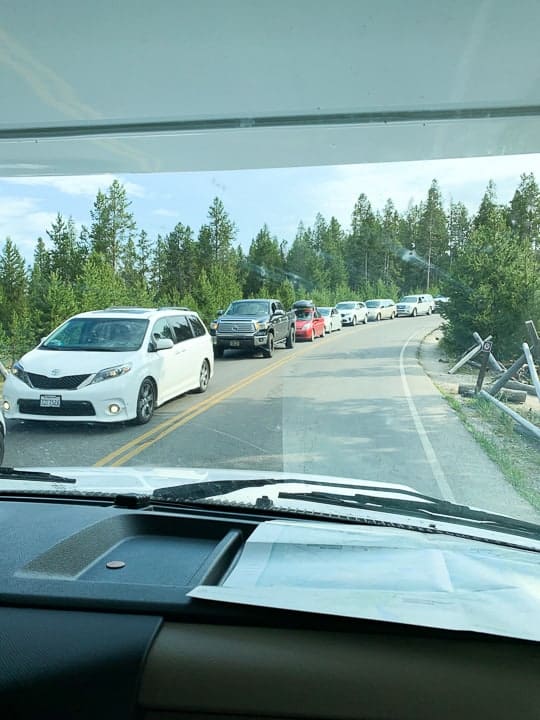 Prismatic Falls
During our research, we had read that July is peak season in Yellowstone. They are not kidding! In some areas, traffic got quite bad but will a little bit of planning, you can avoid running into much of it, or at least not letting it stop you from seeing what you really want to see.
The photo above was taken on our way out of the Prismatic Falls parking lot. All those cars? They were heading into the parking lot, so make sure to get there early!
At Prismatic Falls, the parking situation can be a bit tricky. When we first arrived at the park, an employee reported that RV's were not allowed in the parking lot, but what she actually meant was that RVs were not allowed by the trailhead for the hike to the top of Prismatic Falls. That parking lot by the trailhead did have a sign that RVs were not permitted, but right after that, there is a large parking lot with plenty of RV parking spaces.
Even with the traffic, Prismatic Falls is one of our top recommendations of things to do at Yellowstone. The views are incredible!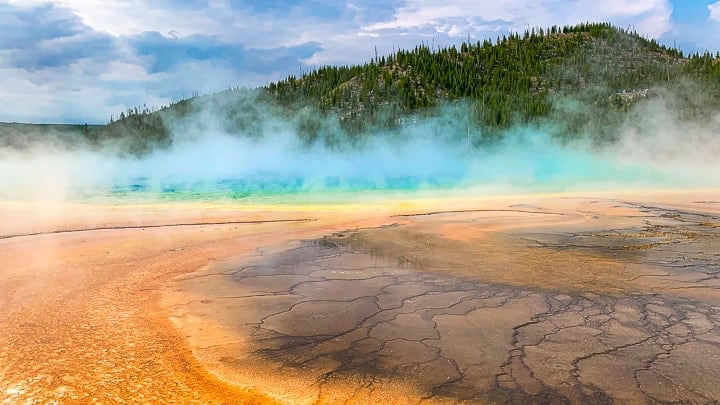 PRO TIP: Get to the Prismatic Falls parking area by 8:00 am (or earlier) in order to get parking for your RV.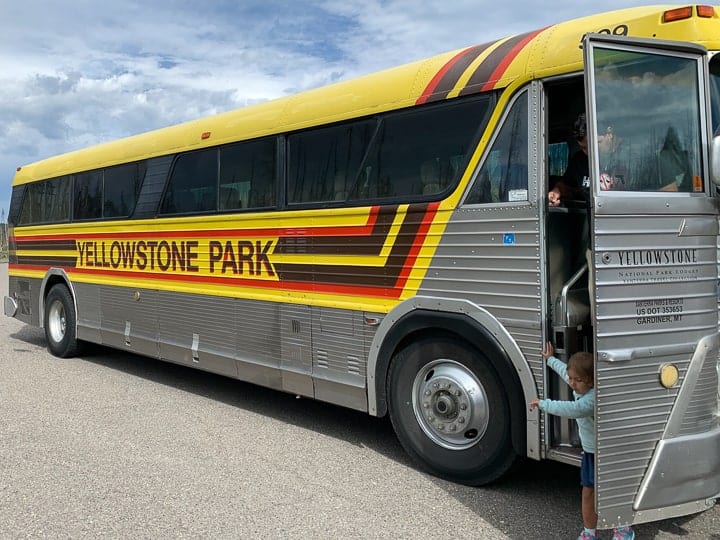 Yellowstone Tours
Wondering what to do in Yellowstone? Yellowstone Tours are a great option! Especially if you're concerned about trying to park your RV throughout Yellowstone. You will be able to see most of the park on the all-day tour. There are opportunities to get out, enjoy the views and take as many photos as possible!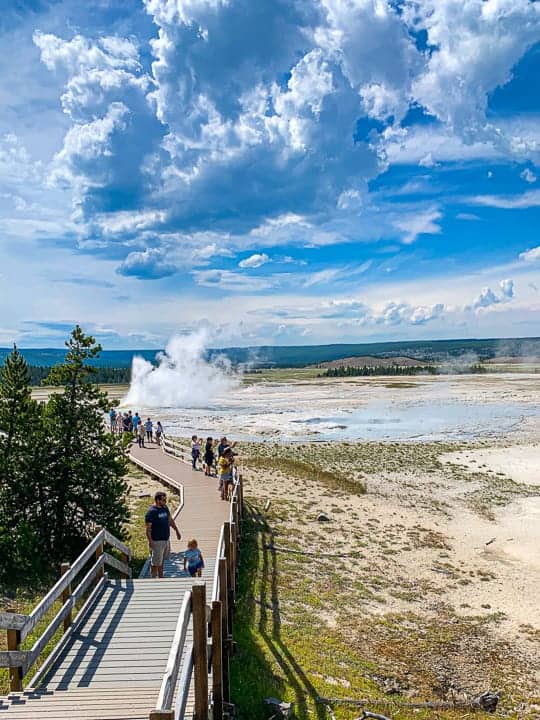 The Yellowstone Tours are also very family friendly. Our 11 and 13-year-old both enjoyed the day and didn't seem to find it too long. There were plenty of families with younger children on the bus as well, and there were no meltdowns or antsy kids.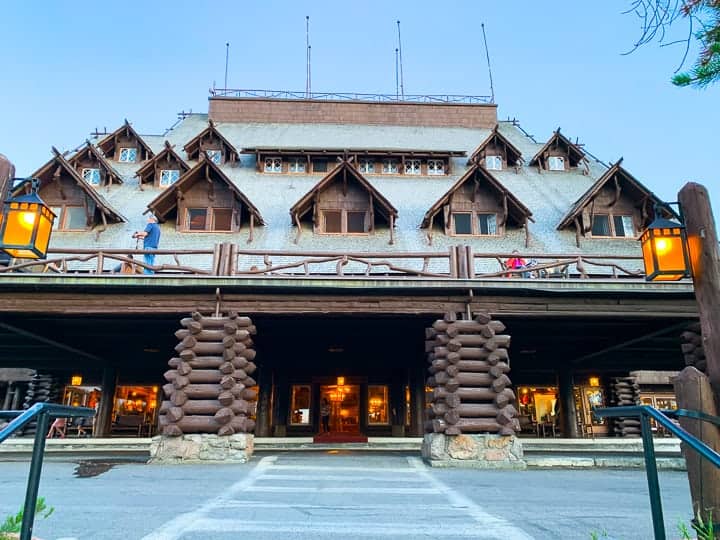 Old Faithful Inn
Old Faithful Inn is one of the most requested lodging options to stay in Yellowstone National Park. Near this area of the park, there are no campgrounds close by. Consider booking a night at the Inn for a change of scenery and to take a long hot shower after many days of showering in an RV.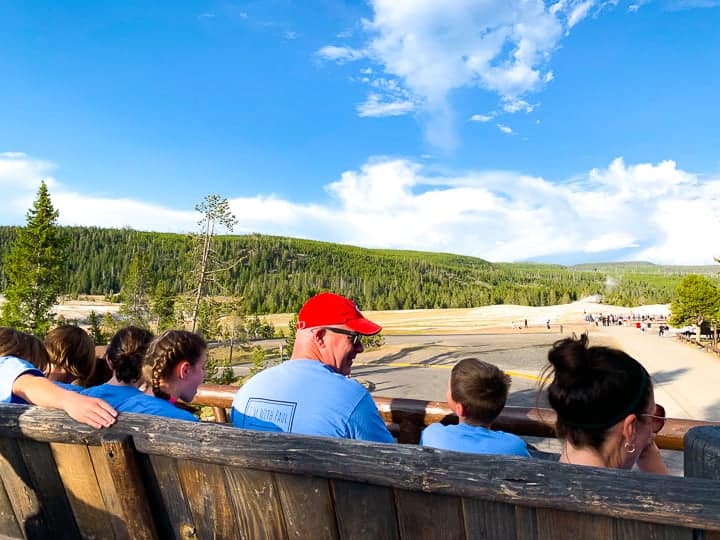 PRO TIP: When viewing Old Faithful take the free tour of the Inn. It's pretty short but you get to see this historic Inn and learn about how it was built over 100 years ago.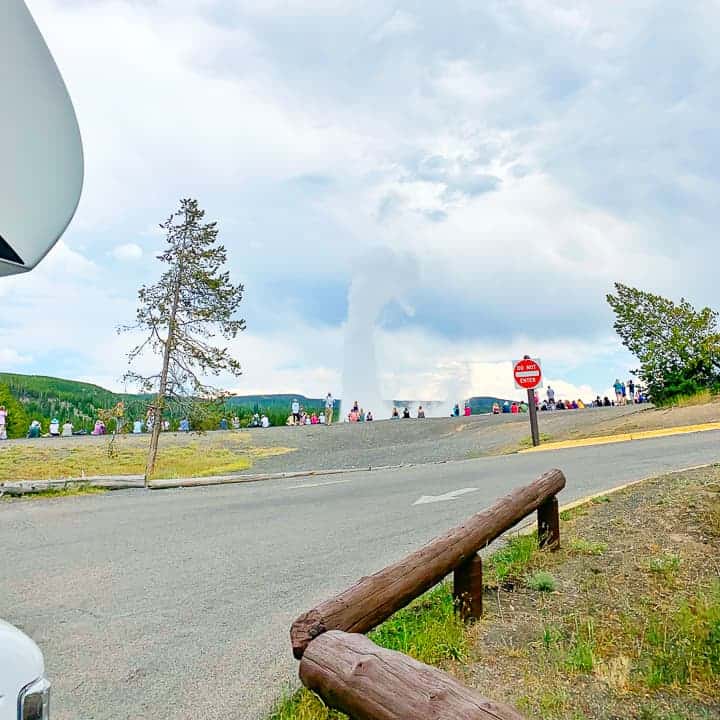 If you prefer to keep with the same sleeping accommodations in the RV, consider driving further and making a reservation at one of the RV parks just outside of Yellowstone. Two popular campgrounds include an RV park in West Yellowstone, which is just outside the west entrance of the park. The other campground is in Gardiner, MT, which is just outside the northern exit.
We made the decision to stay at Rocky Mountain RV Park + Cabins, which we highly recommend. You can park the RV then walk into the nearby town for do some shopping.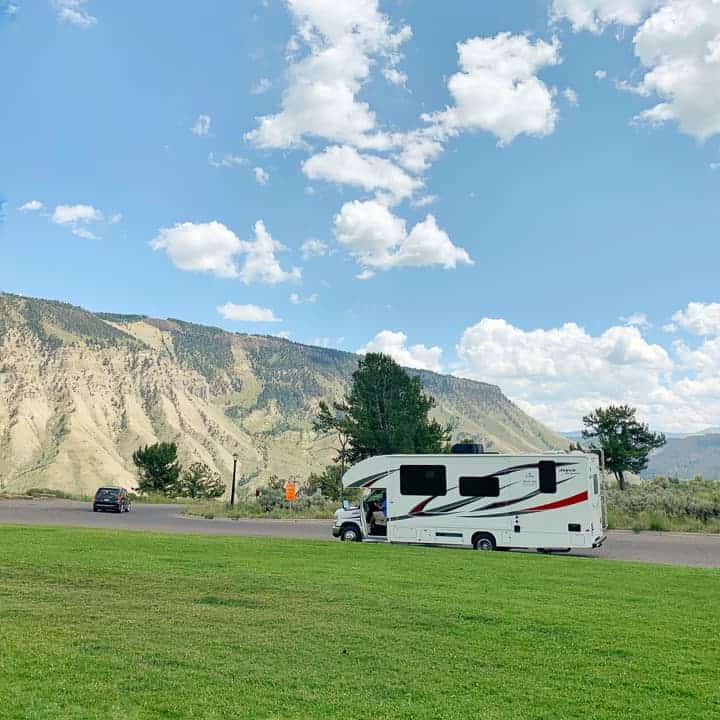 Mammoth Hot Springs
From the Old Faithful area, you can head to the Mammoth Hot Springs area. Driving through the city (from the south) and heading to the visitor center area is the best bet to find RV parking. This town was very busy and we didn't find any other areas that would accommodate RV parking.
Unfortunately you are not able to soak in the hot springs, but you can see plenty of wildlife. A resident Elk population roams Mammoth Hot Springs and often hang out by the Mammoth clinic. This area is also an excellent place for watching cranes, ducks, and other birds. Tell your kids to keep a close eye for bison, bighorn sheep or wolves as they do make appearances in the hot springs.
Lamar Valley
If you're up for more driving, don't leave Yellowstone without checking out the Lamar Valley. Like the Hot Springs, the Valley has wildlife roaming everywhere. Known for being able to view buffalo, you might get lucky and see a bear or two! It is recommended to go very early in the morning but in our experience, you will still have luck in the later morning.
PRO TIP: You won't be able to pull over just anywhere on road through the Lamar Valley (as cars do) with an RV, but there are pull-outs where you will have the opportunity to park for better viewing.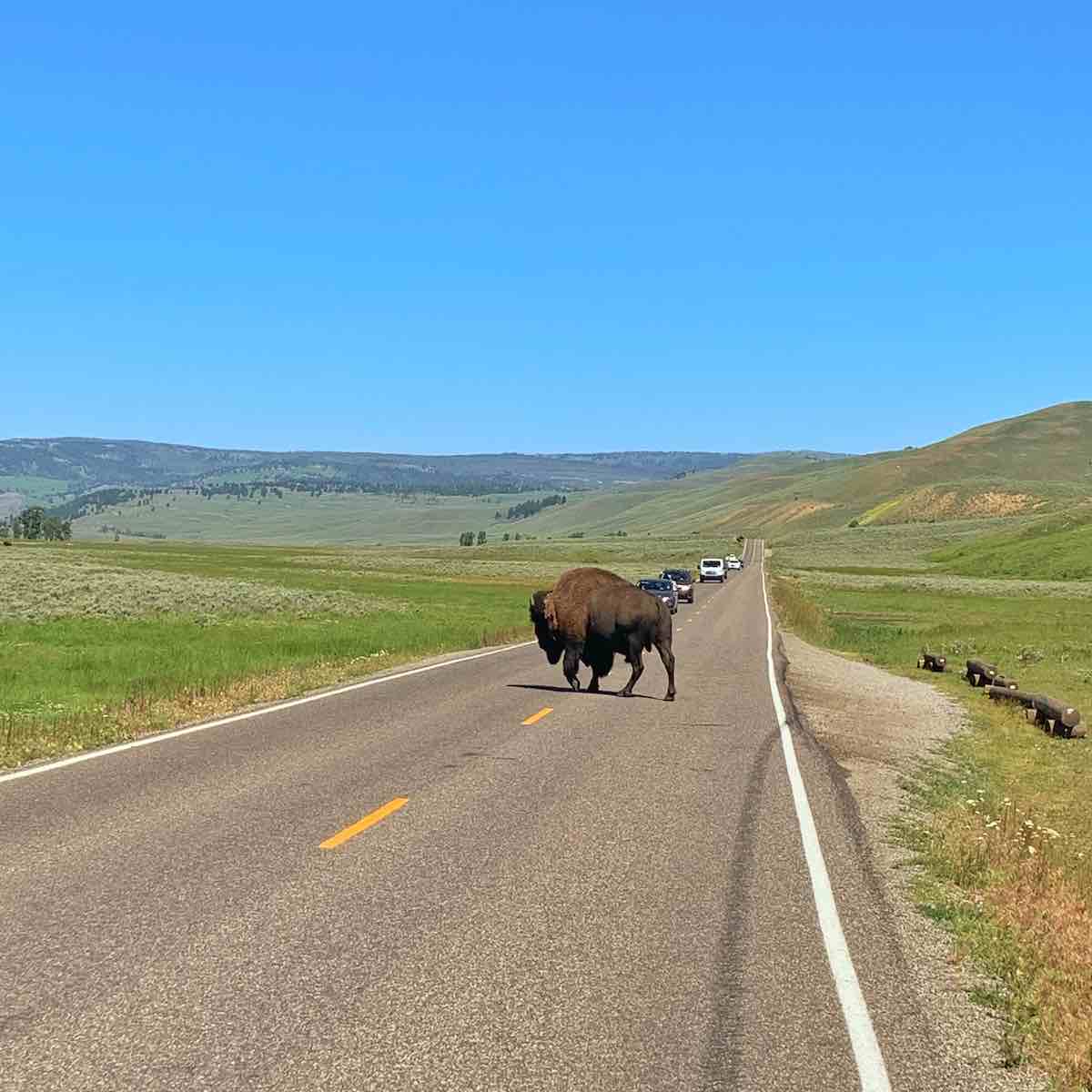 Petrified Tree
One well-known site in Yellowstone is the Petrified Tree. It is basically a really old tree. Our family did not take the opportunity to view this site because RVs are not permitted.
Boiling River
Just north of Mammoth Hot Springs, you will find Yellowstone's Boiling River. A great stopping point if looking for things to do with kids – you are able to sightsee and even swim in the water.
PRO TIP: If you want to visit Boiling River, get there early to grab a parking spot. Parking is very limited here.
If planning to take younger children or elderly grandparents to the swimming area, be aware it is about a half-mile off the road.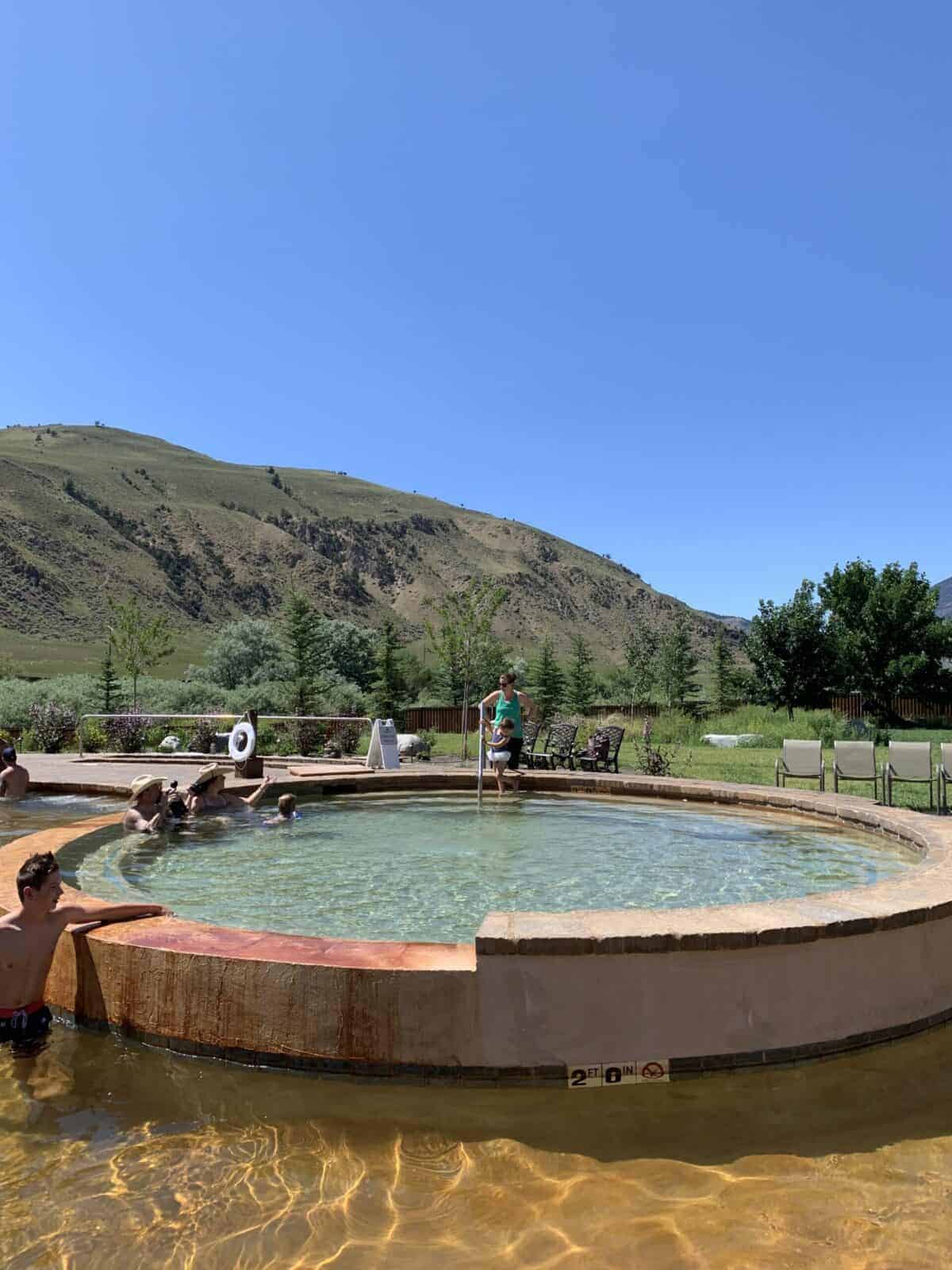 Yellowstone Hot Springs
Yellowstone Hot Springs is definitely a location to visit. The hot springs are the water source at this relaxing pool area providing the heat and rich minerals in the water. Located just 10 minutes north of Mammoth Hot Spring, outside of Yellowstone National Park.
At the hot springs, you'll find both warm and cool areas of the pools. You will even know the water temperatures before dipping your toes in the pools. Temperatures are posted every hour or so, as they change throughout the day.
As a heads up, there is an entrance fee but kids have a blast to make it worth every penny.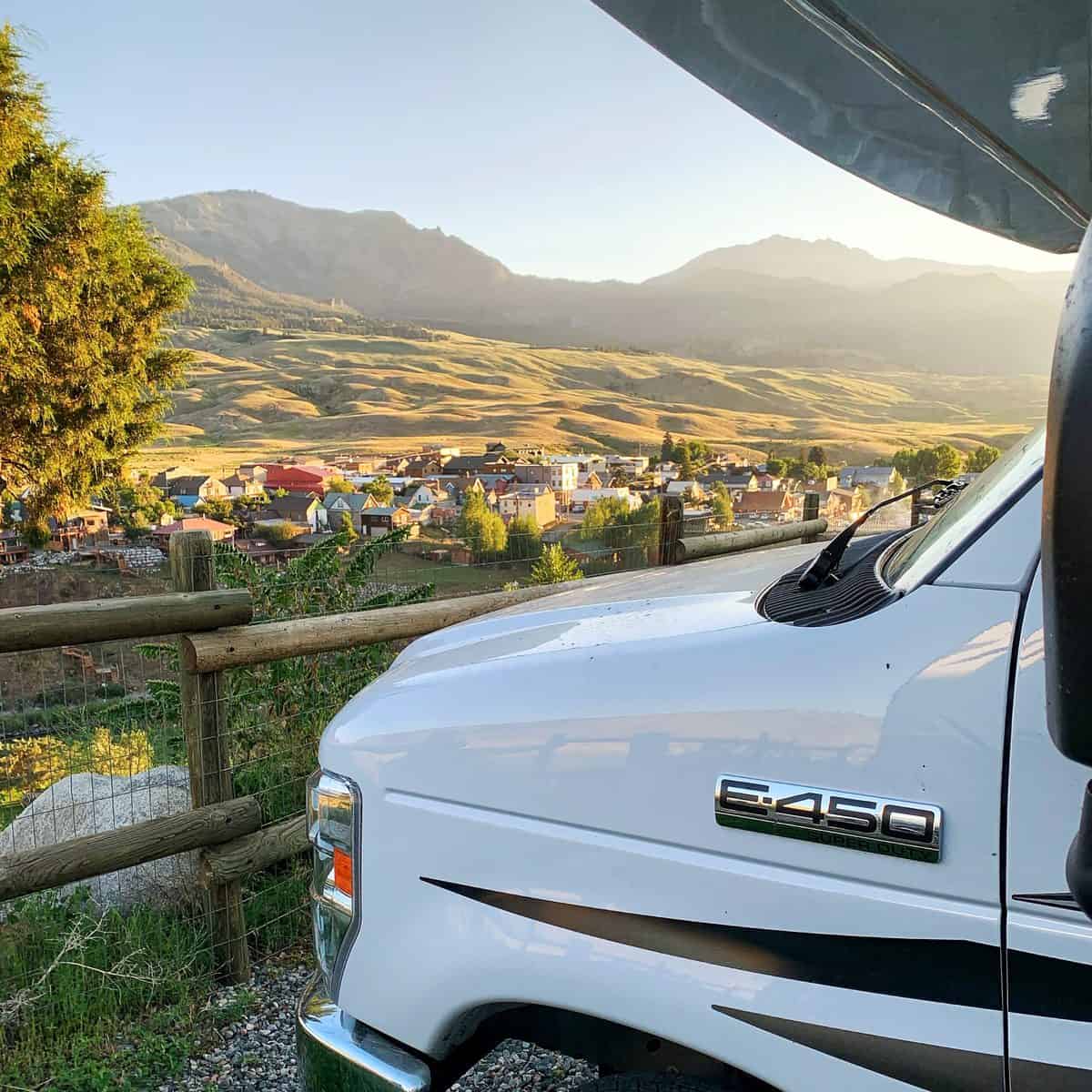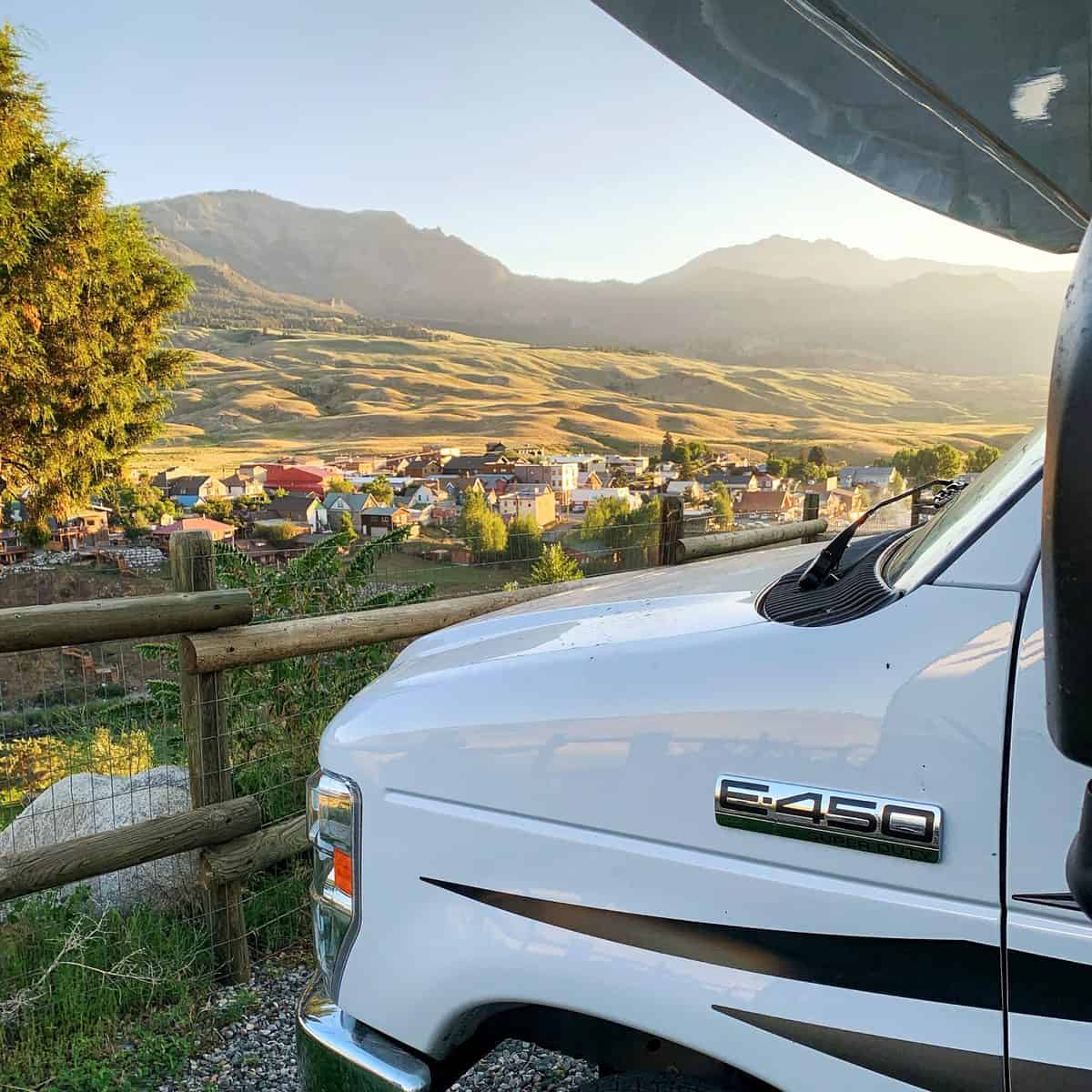 The Yellowstone Hot Springs was the last place to visit to wrap up our summer vacation. From there, we hit the road to head back to the Midwest.
There is not much that beats the views in Yellowstone National Park, especially when enjoyed from the comfort of your own RV. You will have the time of your life, making memories with your family that will last a lifetime.
More Family Vacations Ideas
For even more family-friendly travel spots, check out a few of our top favorite places to visit!