Making homemade applesauce is a fun fall activity to do with your children. Simple to make, even better to eat. Keep reading to learn step by step how to make homemade applesauce this weekend.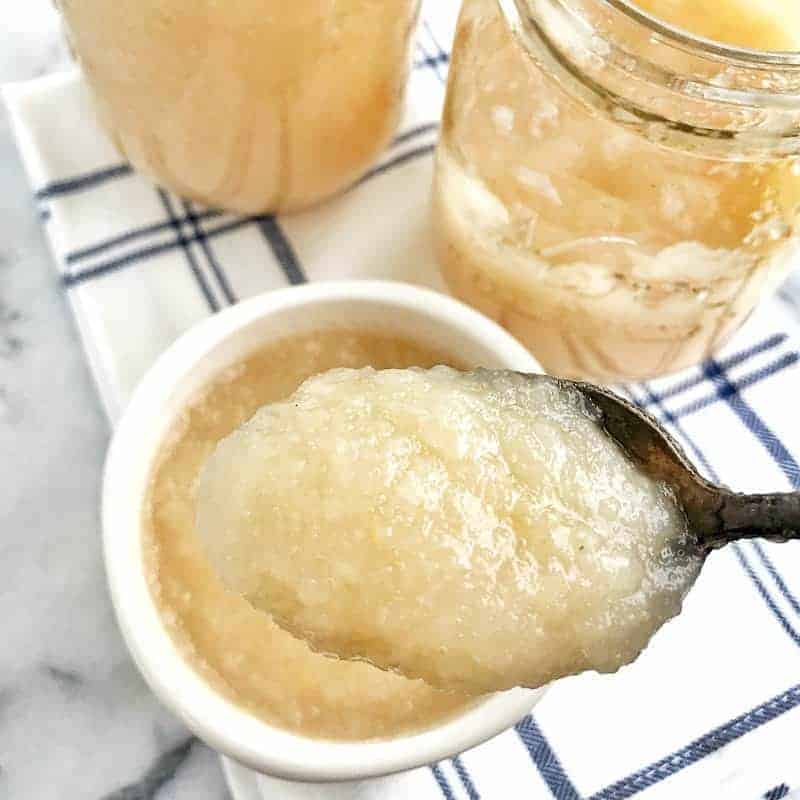 When fall rolls around, my favorite fun family activity is apple picking and making homemade applesauce. What child can resist the fresh fruit hanging from trees right in their reach?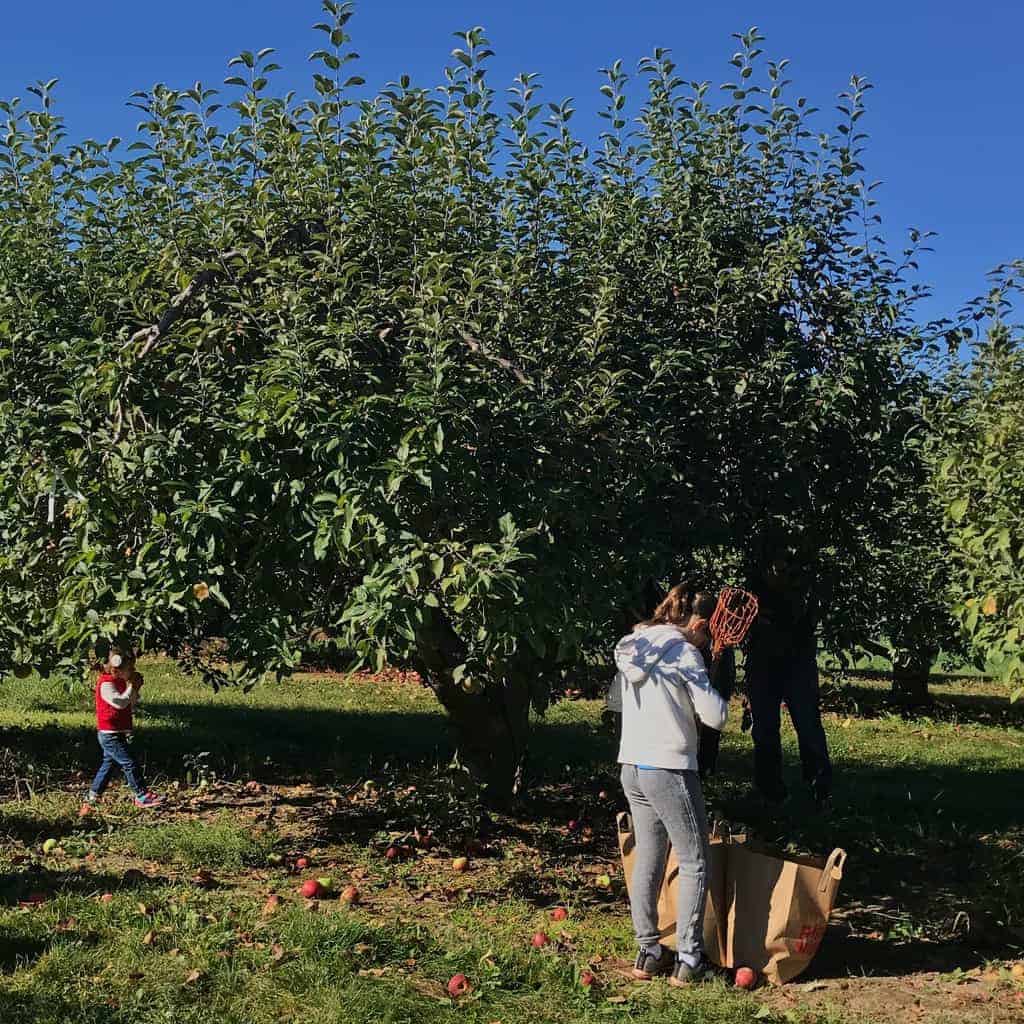 There isn't a September that goes by without my children requesting a visit to the apple orchard.
While they love running between the trees and climbing the trees, I think the best memories are made once we get home. We spend the rest of the day together in the kitchen with…. surprise… Apples!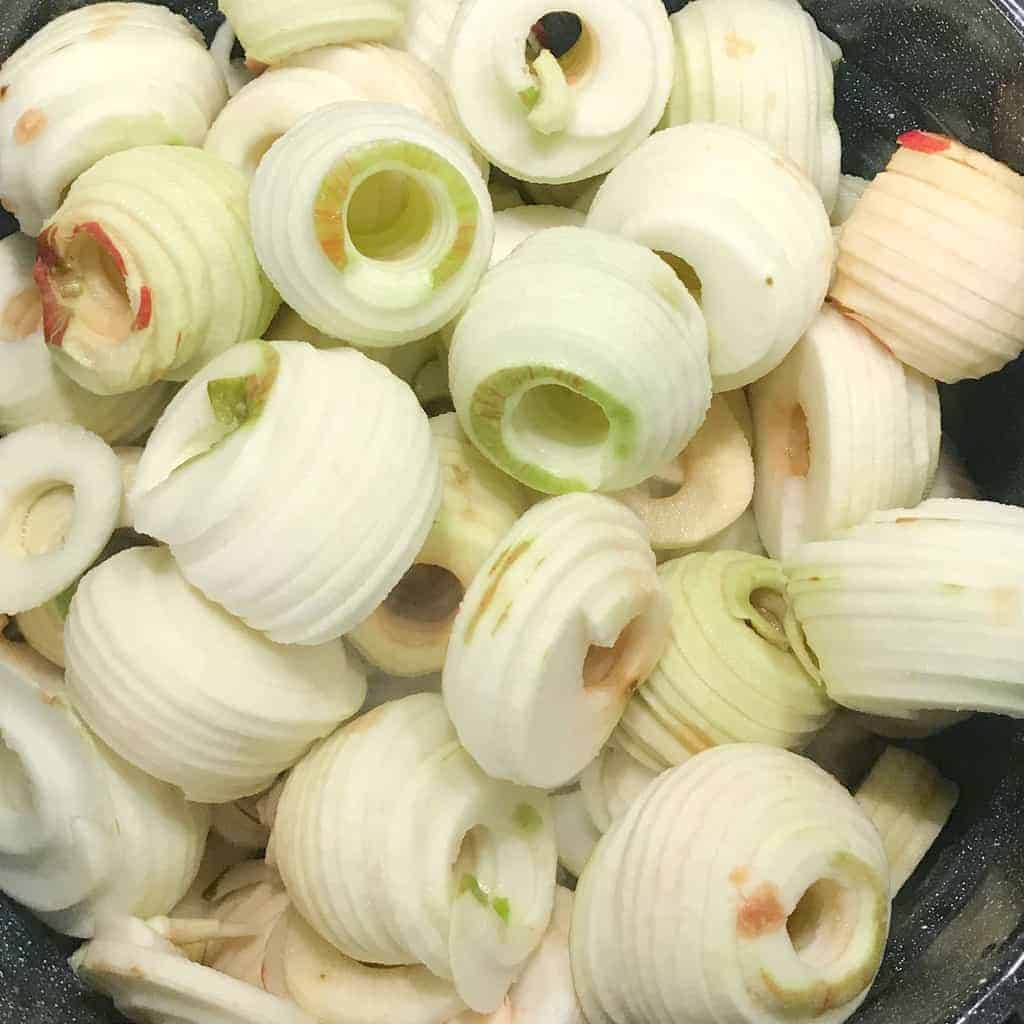 Could you go to the store and buy applesauce for less money, and certainly less effort?
Of course. But we are talking memories here and teaching life long skills, and grocery store applesauce just can't do that. Going from tree in the morning to applesauce by afternoon, kids learn how food is made – farm to table right before their eyes.
Kids of all ages can help with this activity. At my house, my kiddos have been chopping apples for applesauce since they were 3 years old, with the use of my favorite children's knives. If you want your little one involved in chopping, you might want to check them out:
At young ages, the apples are mainly played with and nibbled on, but that's half the fun.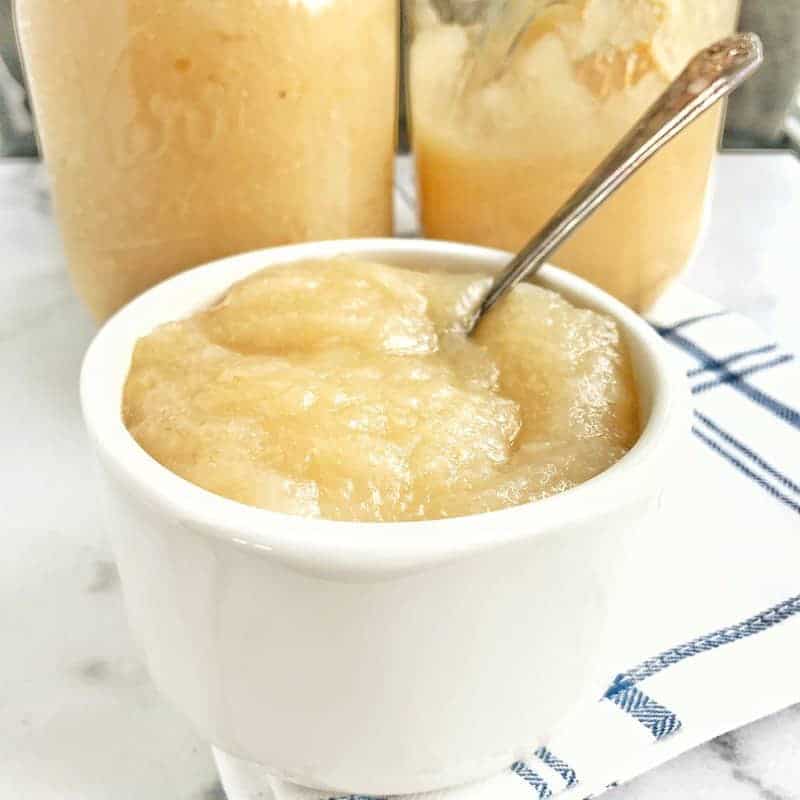 So how do you make homemade applesauce?
All you need are several pounds of apples, a cutting board, knife, and pot or crockpot.
Peel and core apples
Toss them into the large stock pot
Add 1 cup water to the pot, cover
Cook for about 30 minutes, stirring every so often so the bottom doesn't stick or burn
Continue cooking apples until they are the consistency you desire
Add more water if needed
You can refrigerate this applesauce for 7-10 days, or freeze it for later. Make sure not to fill the containers too full, the sauce will expand as it freezes.
Another option is canning the applesauce. Canning may sound overwhelming, but it's really not hard to do – and it's fun to do with your children, especially the older ones!
If you are interested in canning homemade applesauce, you'll need a few tools.
*These are affiliate links – if you were to purchase one of the items, I would get a small amount of money – it would not cost you anymore. Thanks in advance for helping support the Create Kids Club website.
I recommend a larger apple peeler. My children love to peel apples for about the first 5 minutes, but then they get bored. I decided to bite the bullet last year and buy one of these guys. Wow. I should have done that sooner.
You'll need a canning kettle with an insert.
I suggest pint size jars for applesauce. Make sure the jars have lids and bands, or you can purchase these separately.
You only need these if you have jars without lids.
If you would like to make smooth applesauce you'll need a sieve. They last forever. I have my great uncles sieve, he just passed away earlier this year at the age of 100.
You'll need a wide mouth funnel to get the applesauce from the pan into the jar.
That's it! Each year the only replacement piece you'll need are the lids. Once you open a jar you need to toss those out.
Canning Homemade Applesauce
Now that you have all the tools you need, let's get started! First up is washing and peeling the apples. The peeler above also cores the apples, which is AMAZING.
We canned about 110 lbs of apples this year so we had stations. Most people peeled, some cleaned, others stirred, and one baked a pumpkin pie. Random, I know, but my niece wanted to make her first pumpkin pie – who were we to argue?!
First, make the applesauce by following the steps above.
Canning Applesauce:
Fill canner 3/4 full with water, bring to boil
Run canning jars through the dishwasher, to sanitize and keep them hot
Place lids into boiling water to sanitize, remove with tongs
Place applesauce into hot jar using funnel, leaving 1/2 inch space at top
Wipe top of jar with wet cloth to ensure it's clean for proper seal
Place lip onto jar, screw on ring
Place jars onto rack, carefully lower into boiling water
Boil 15 min for pints, 20 minutes for quarts
Carefull remove and let cool. Lids should start making a popping noise as they seal.
Press tops of lids – they should not give once sealed. If some did not seal properly, boil again, or keep in refrigerator for 7-10 days.
While canning is a lot of work, the end results are worth it. Make a day of it with family or friends, the memories are priceless.
Besides eating the homemade applesauce plain, try using it in baked goods as a substitute for oil and butter in baked goods in a 1:1 ratio.
The recipes below use applesauce rather than oil and are great snack ideas for kids!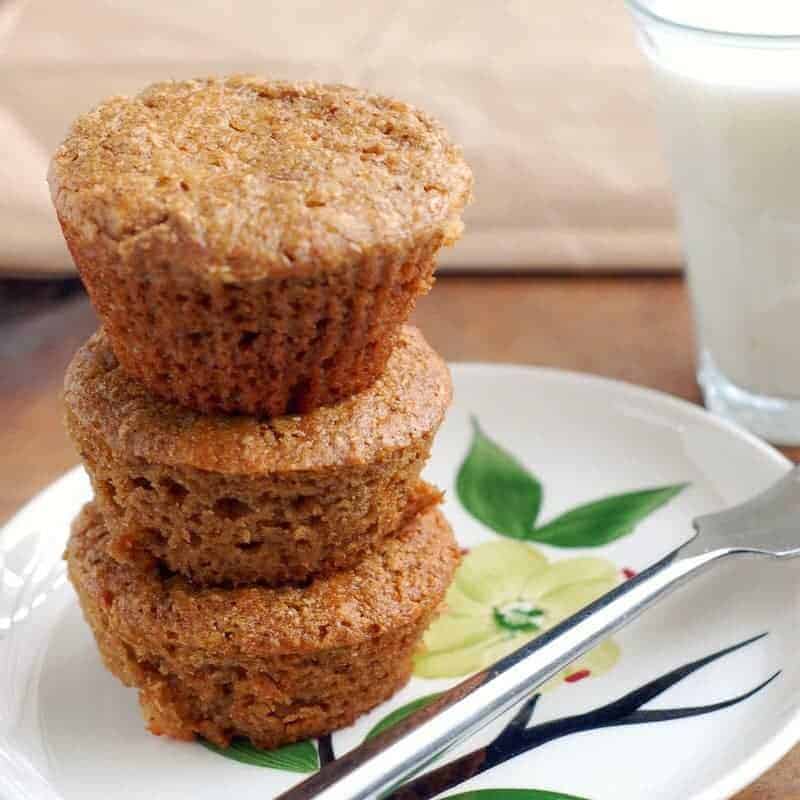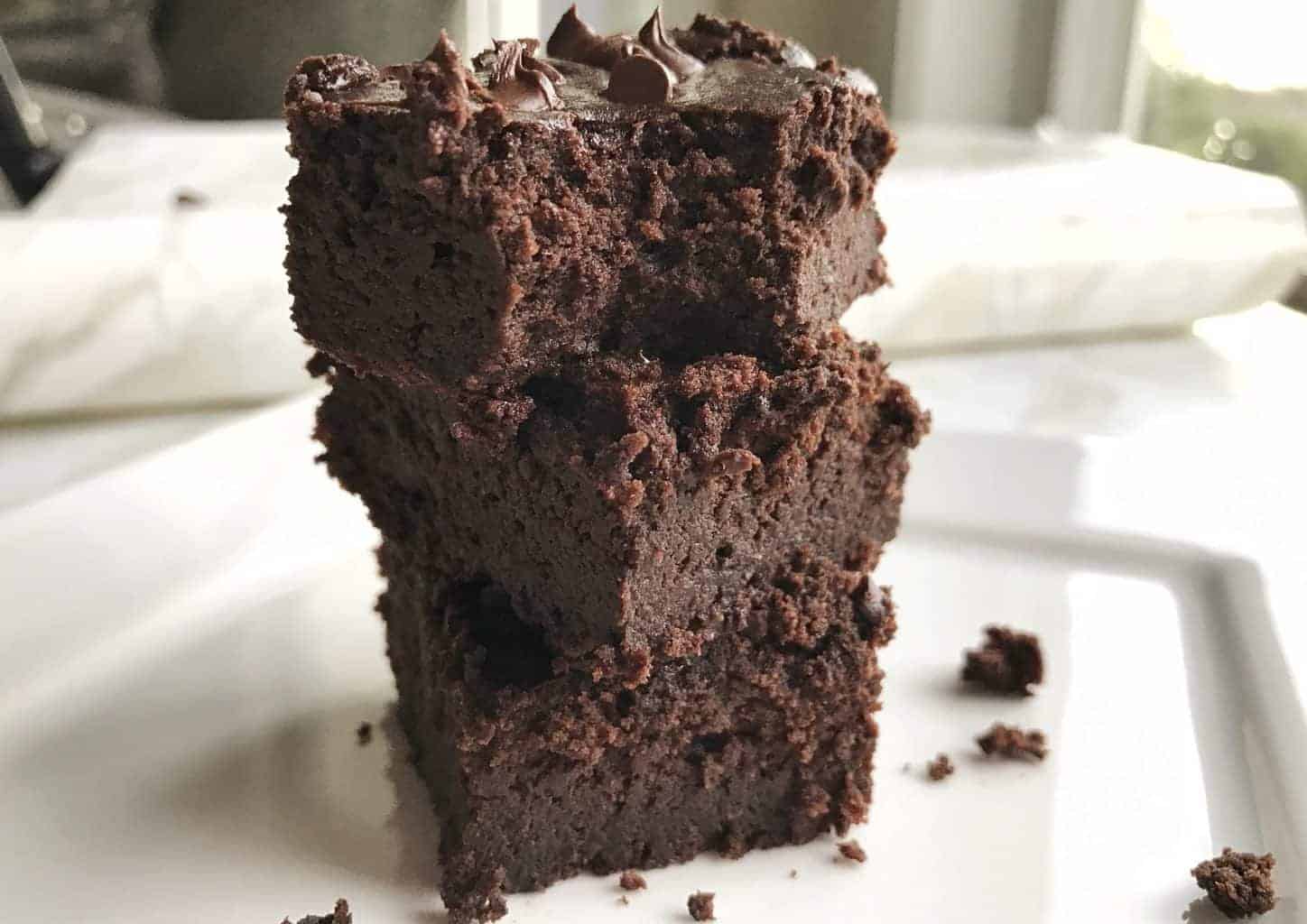 By replacing the fat with homemade applesauce, you save both calories and fat, along with adding more nutrients to these delicious treats.
Print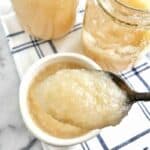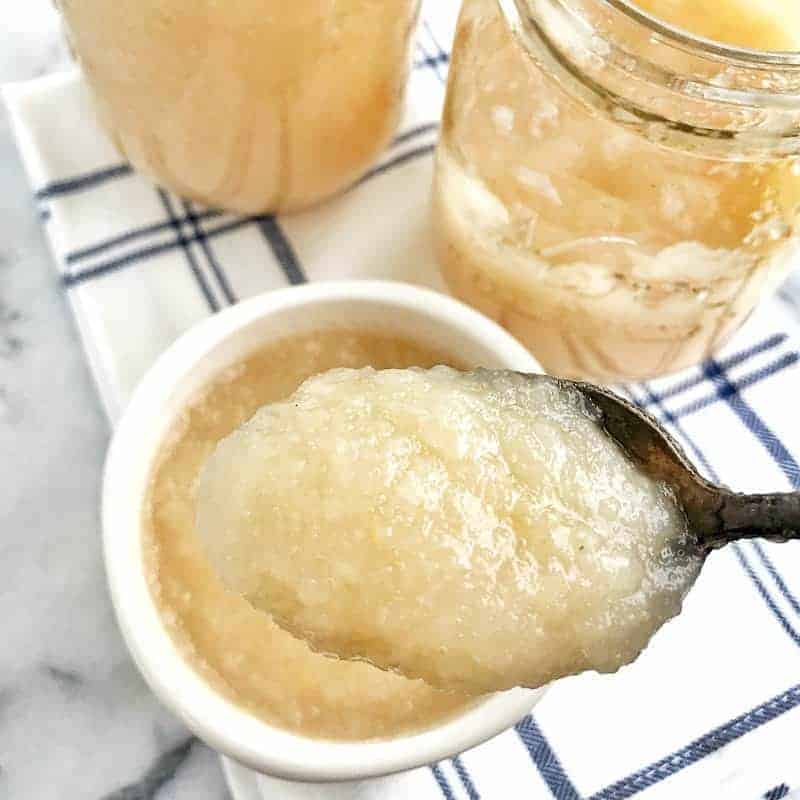 Homemade Applesauce
Author:

Yield:

12 servings
---
Description
Homemade applesauce is easy to make. Requiring only apples, it's a fun family activity to make together.
---
Ingredients
6 lbs. apples, peeled & cored
1 cup water
---
Instructions
Place peeled apples into large stock pot with water.

Cook over medium heat, stirring occasionally, for 30 minutes.
Add more water if needed to get desired consistancy.

Do you make homemade applesauce at your home? Have you ever canned it before?!
More Recipes Like Canning Homemade Applesauce: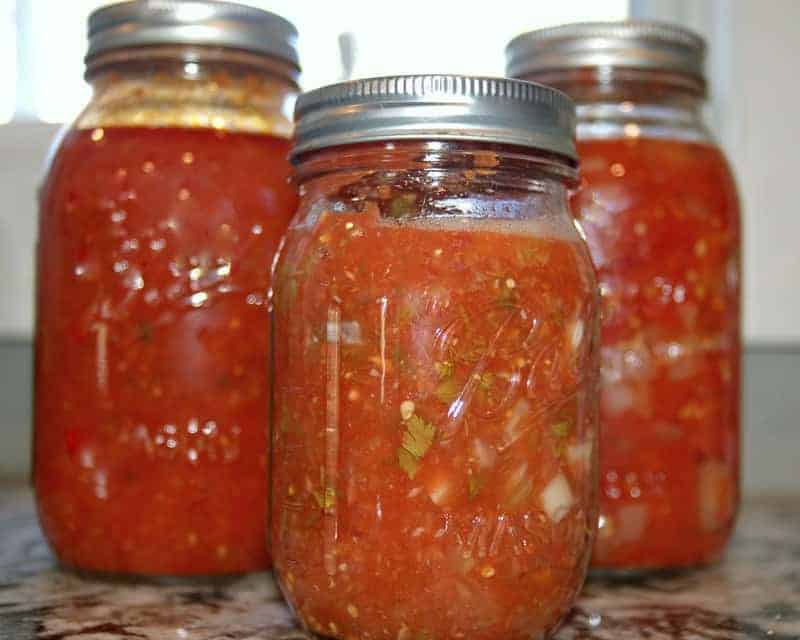 PIN FOR LATER!
FREE Kids Cooking eBook!
Do you want your children eating a more varied diet, but wonder how to get more fruit and veggies into their meals & snacks? This eBook is a fun filled way to get kids eating better while having age appropriate fun!