Freezing Mac and Cheese is a great way to keep leftovers, saving them for a busy night when there's no time to cook. Simply thaw and heat!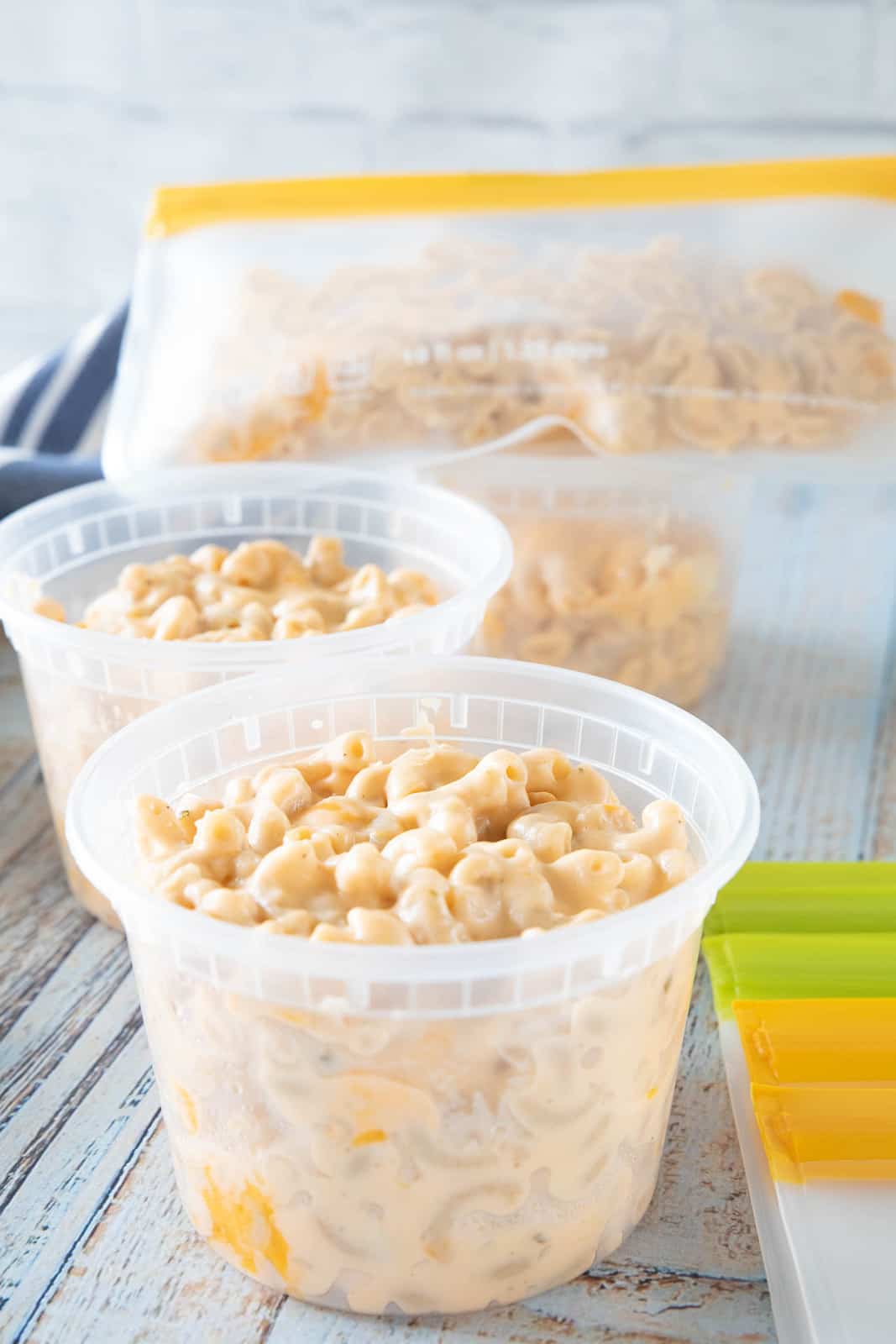 Whether you make Mac and cheese from a box or a homemade recipe, you can freeze any leftovers. Learning to freeze Mac and cheese is one of the best how-to tutorials – it is super simple.
You are going to be SO happy to find frozen Mac and cheese in your freezer the next time you are crunched for time. It is the perfect freezer meal when you need to pull together a quick dinner for the family. Simply reheat and enjoy!
How to Freeze Mac and Cheese:
Step 1: Cool.
Let the Mac and Cheese recipe completely cool.
Looking for a tasty homemade Mac and cheese recipe to freeze? Check out our favorites! Veggie Mac and Cheese, Chili Mac Casserole, Crockpot Mac and Cheese, Whole Wheat Mac and Cheese (Low Sodium) and The BEST Stovetop Mac and Cheese.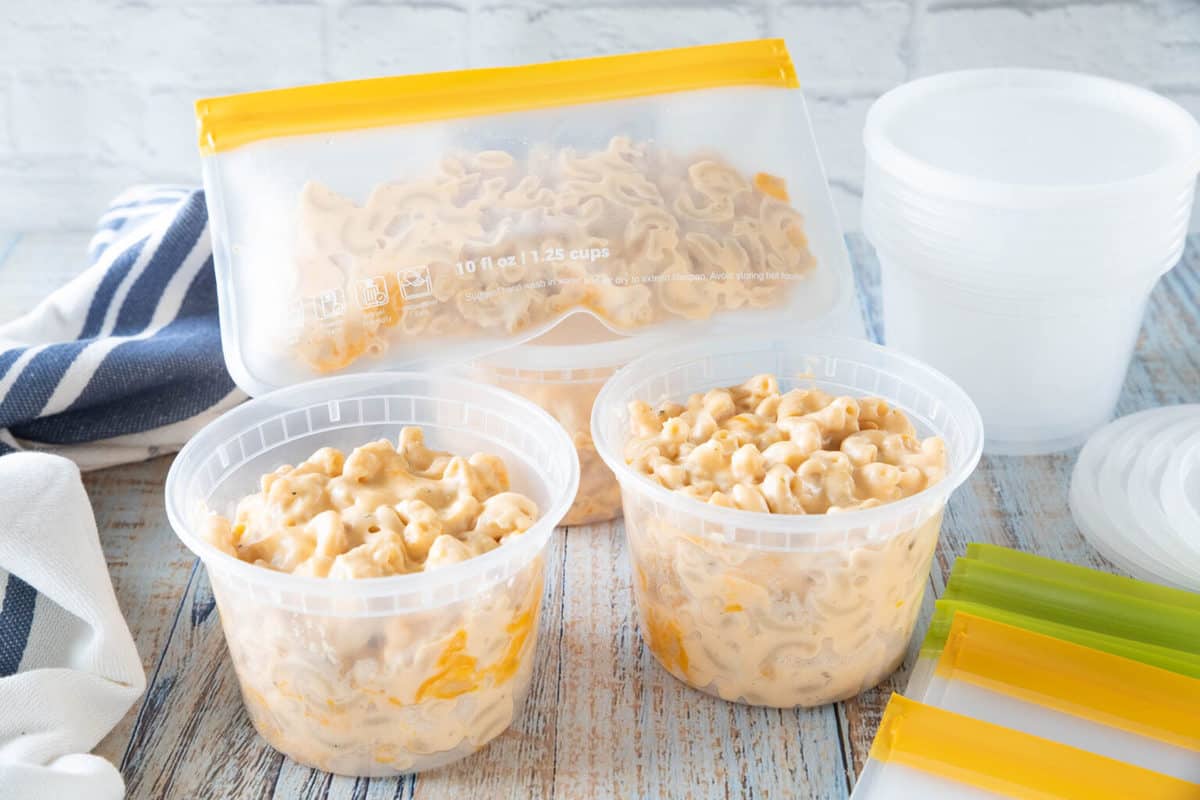 Step 2: Seal
Add the cooked and cooled Mac and cheese to a freezer-safe container, stasher bag, or ziplock bag and seal.
When deciding which container works best for your family, consider the amount you want to freeze and the size of your freezer. Containers are great for single or double servings while a larger ziplock bag or stasher bag is perfect for a family-sized portion.
We used these 16 ounce containers that are freezer safe, dishwasher safe, and microwavable. They are the perfect portion for my tween and teen.
PRO TIP: If you're freezing Mac and cheese to pack for lunches for a younger child, we suggest the 8-ounce option. These 16-ounce cartons are perfect for older kids who need larger portions.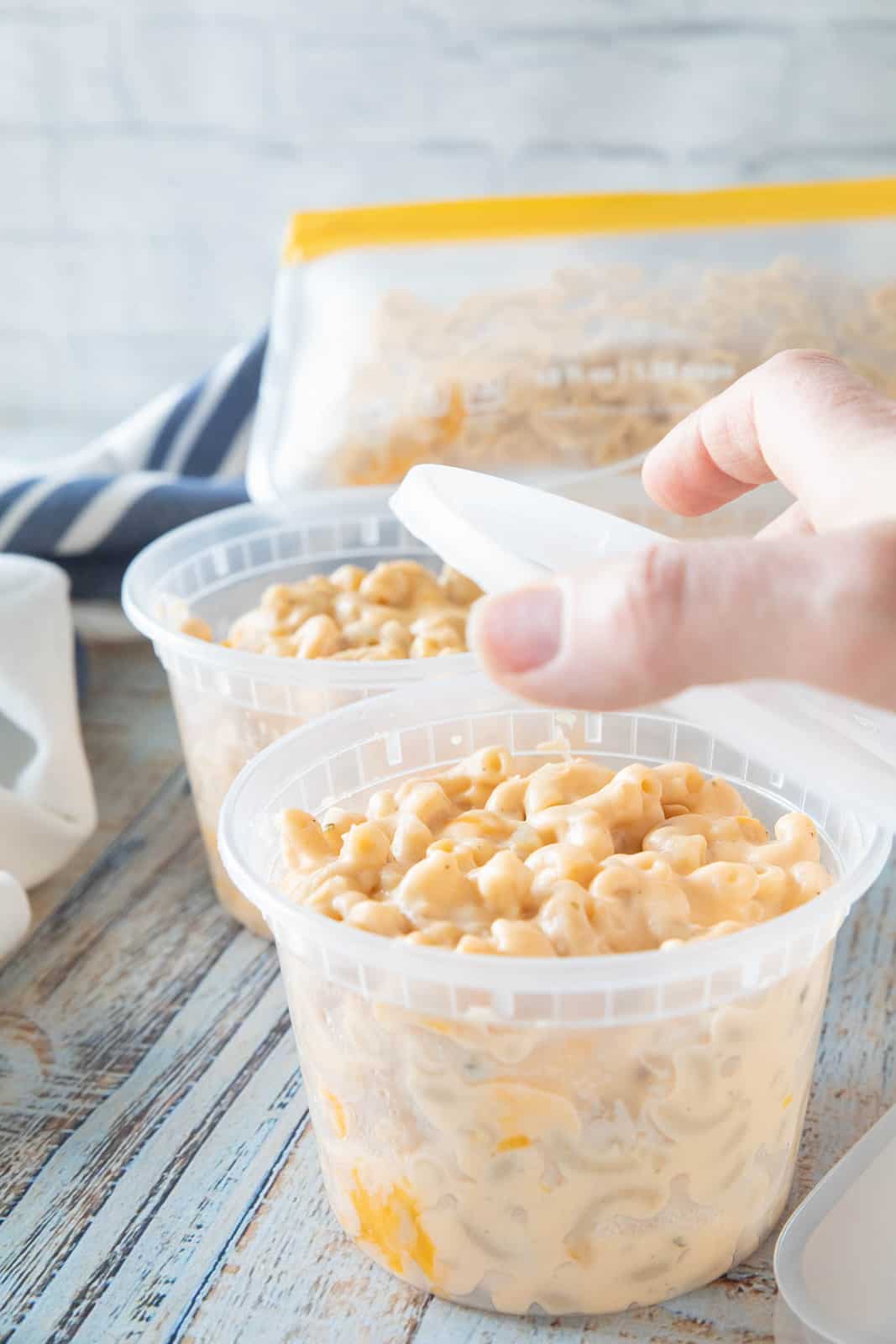 Step 3: Label
Label the top of the freezer-safe container. We suggest adding what's in the container (you think you'll remember but then months go by and it's a mystery!), the date, along with quick reheating instructions. We like dry erase markers as you can wipe it off once you're done with the container. Once it's labeled, place the container(s) into the freezer.
How long can you freeze Mac and cheese?
It can be kept in the freezer for up to 3 months. We recommend writing a "reheat-by date" on the container lid for 3 months after the date it was made.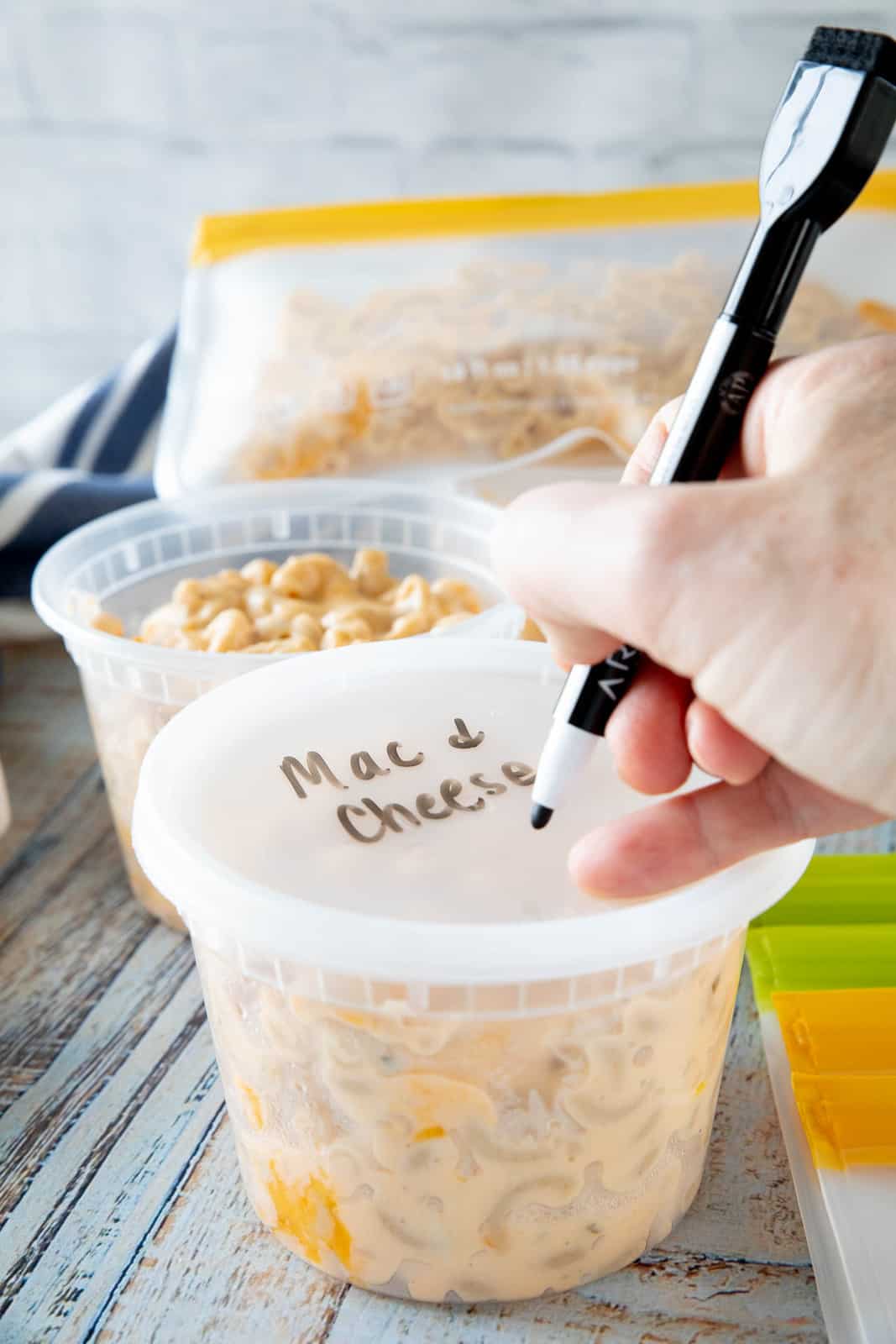 FAQs:
Can you freeze Mac and Cheese?
Sure can. In three easy steps – cool, seal, label – you are set with a freezer meal that can be reheated any night of the week.
Does Mac and cheese freeze well?
It does, we were a bit skeptical at first but it does freeze well. We recommend freezing in portions that work best for your family.
Does frozen Mac and cheese reheat easily?
Yes. Our best piece of advice? Freeze a creamy Mac and cheese recipe. The more cheesy the sauce, the better. The extra sauce helps the dish to reheat back to its original consistency.

PRO TIP: For dryer Mac and cheese recipes, add 2-3 TBPS of milk or broth during the reheating process.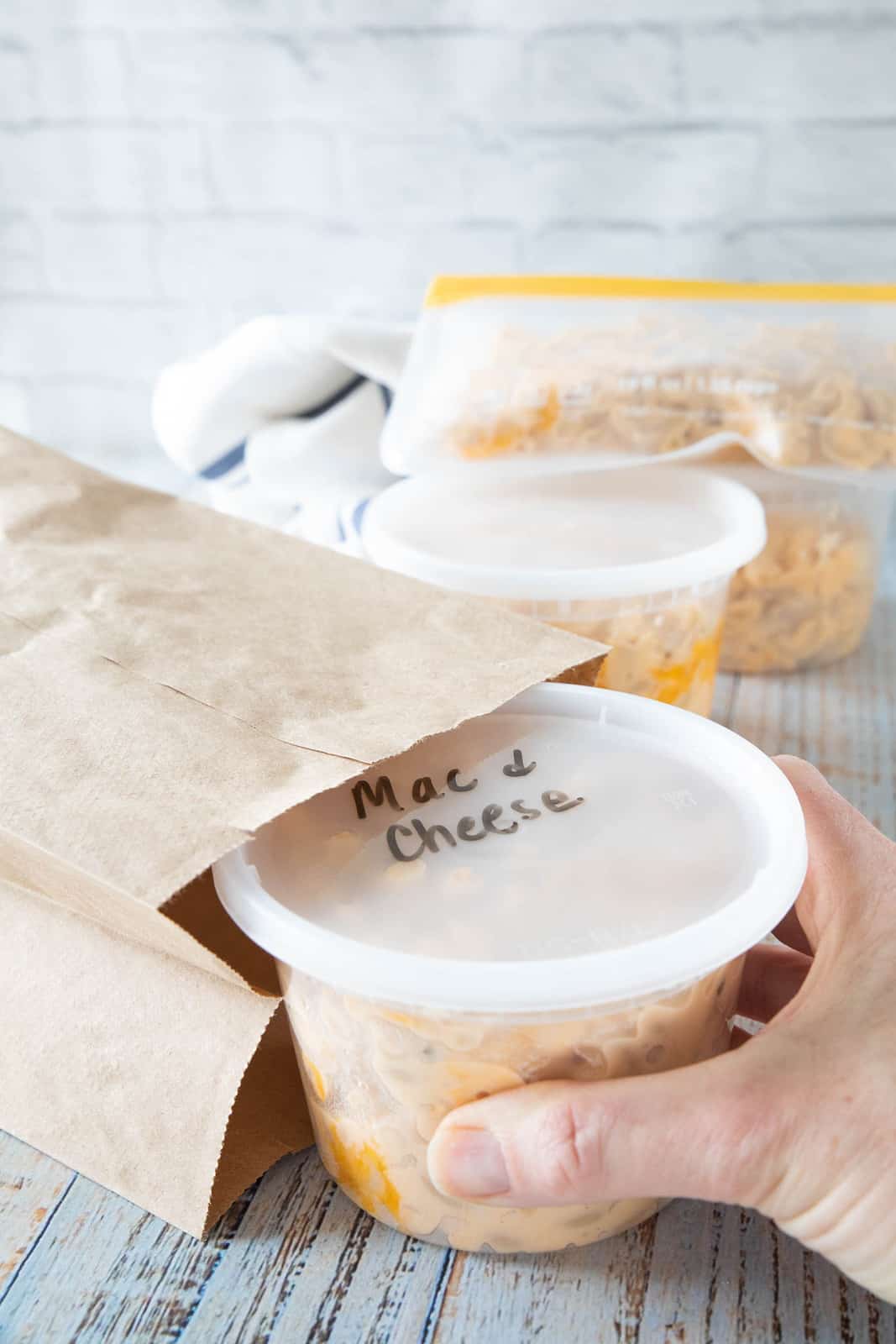 How to reheat Mac and cheese:
Microwave or stovetop are the two best ways to reheat.
Microwave: From frozen – heat the microwave-safe container for 3-4 minutes for a 16-ounce portion. If frozen in a ziplock bag, dump the pasta into a microwave-safe bowl to reheat for 3-4 minutes. From thawed: reheat for 1-2 minutes.
Stovetop: if completely frozen, heat over medium-low in a covered small pan for about 15 minutes. Stir occasionally – over stirring can cause the pasta to become mushy. The other option is to thaw overnight in the refrigerator and reheat on the stovetop the next day for about 5 minutes.
Both versions resulted in the same creamy texture as it had before being frozen.
More How-To Tutorials:
How To Freeze Mac and Cheese (& reheat it too!)
Pin Recipe
Print Recipe
Equipment
freezer safe container

dry erase marker
Instructions
Cool. Let the mac and cheese cool completely.

Portion. Portion the cooled mac and cheese into your desired servings. Small containers for lunches or larger containers for dinner.

Label. Make sure to label with the food item and date 3 months from the packaging date along with reheating instructions if you'd like the reminder.
Delicious Simple Family Recipes
Join Create Kids Club & get our 10 Favorite Crockpot Recipes ebook!