Learn how to quickly & easily cut a pineapple without a corer. All you need is a clean cutting surface and a sharp chef's knife!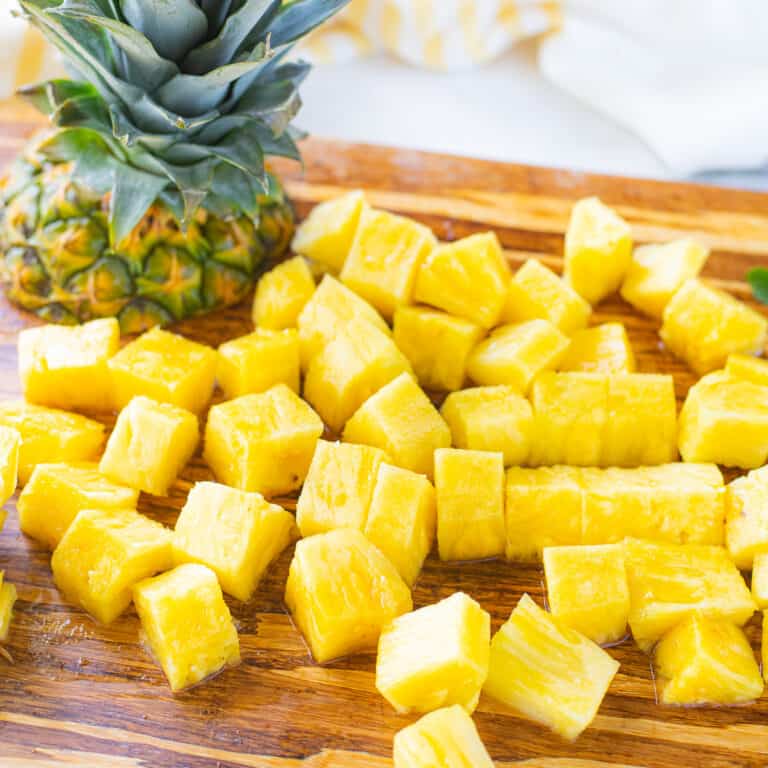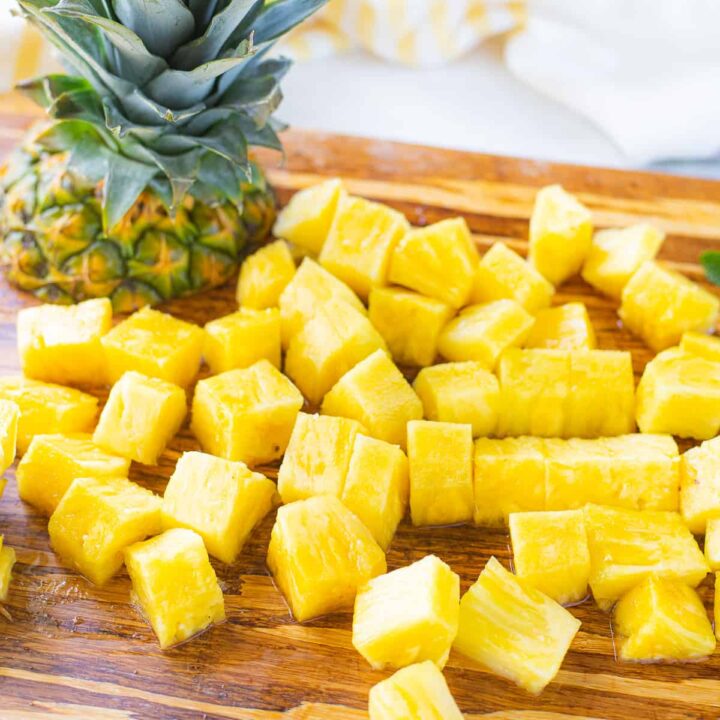 If you're not sure how to cut a whole pineapple, you're not alone. This sweet-tasting, beautiful fruit is a bit overwhelming to know what to do with it. Here are step by step instructions for tackling this favorite tropical fruit.
This is the easiest way to cut a pineapple. You can have it cubed in under 5 minutes!
Related: How To Cut Watermelon Sticks, How To Cut A Mango, & How To Cube a Watermelon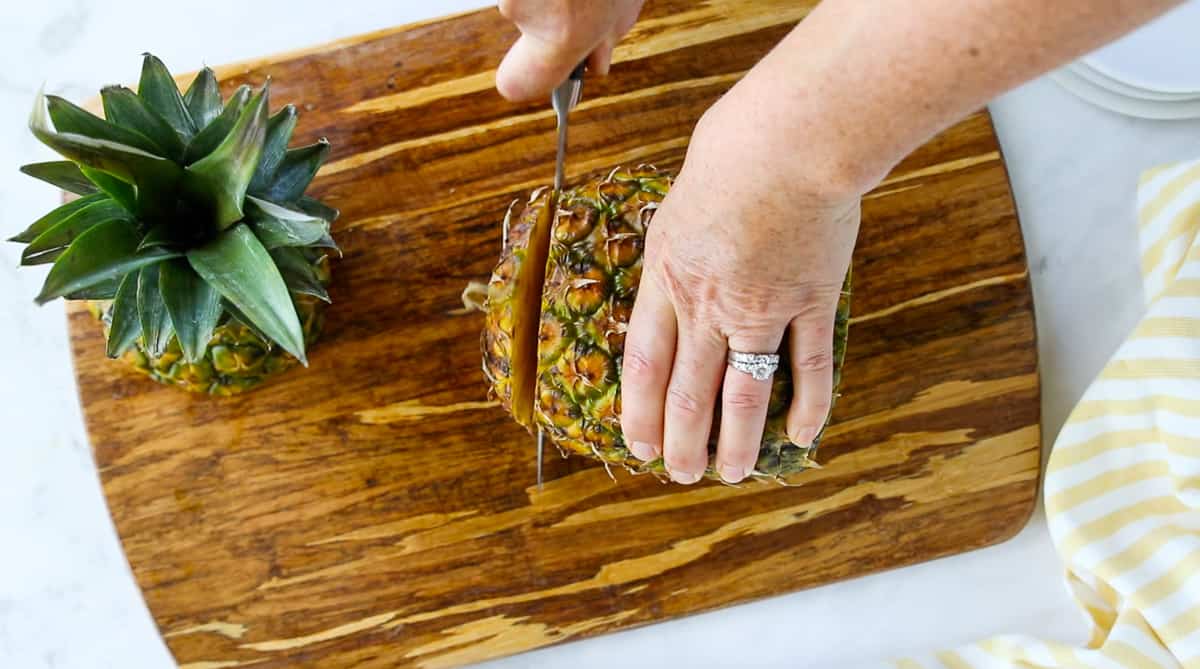 To get started, make sure to rinse your pineapple under running water. Place it onto a cutting board and using a sharp chef's knife, slice off the top and the bottom.
PRO TIP: If you're having a party, save the top to use as a garnish on your fruit tray. It looks beautiful surrounded by fruit and adds great appeal to this simple appetizer.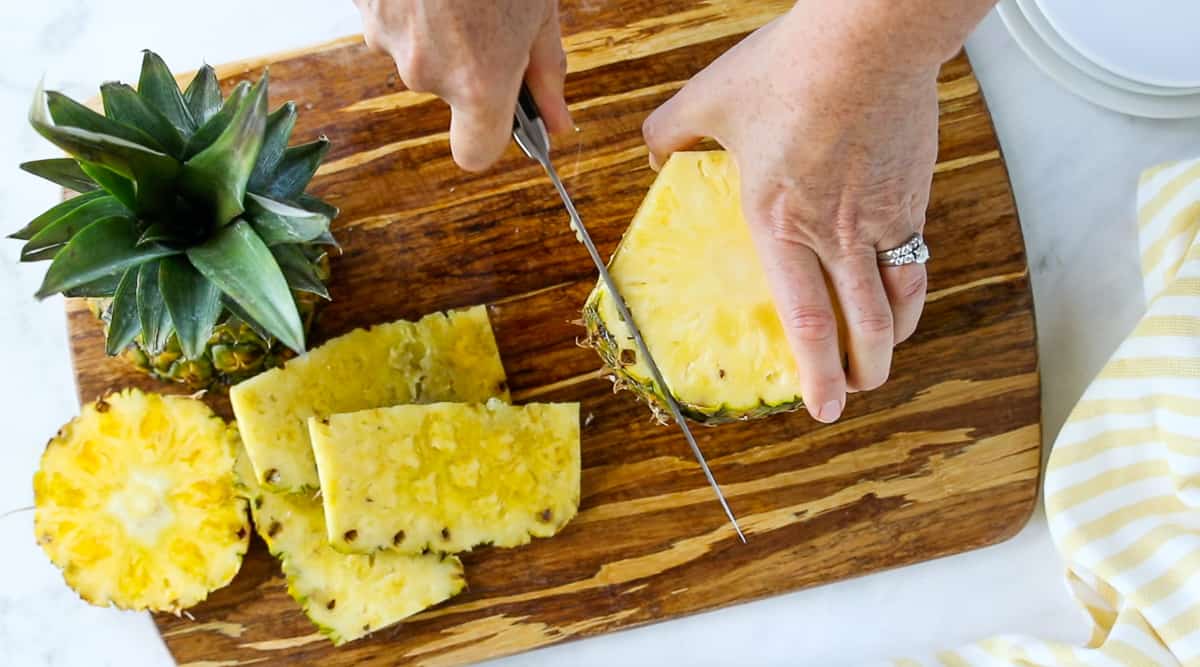 Place the pineapple upright onto the cutting board. Using your knife, slice off the outside layer then cut in half.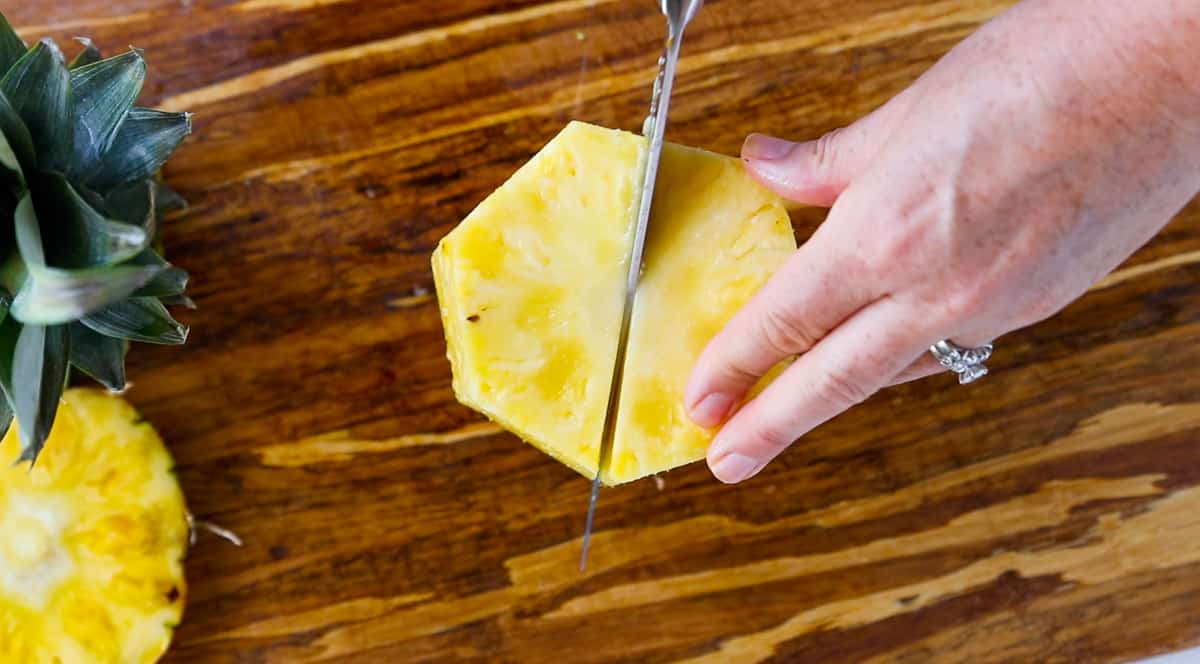 Cut each side into three strips. You'll need to cut the core out of each slice. I find the easiest way to two so is at an angle as shown below.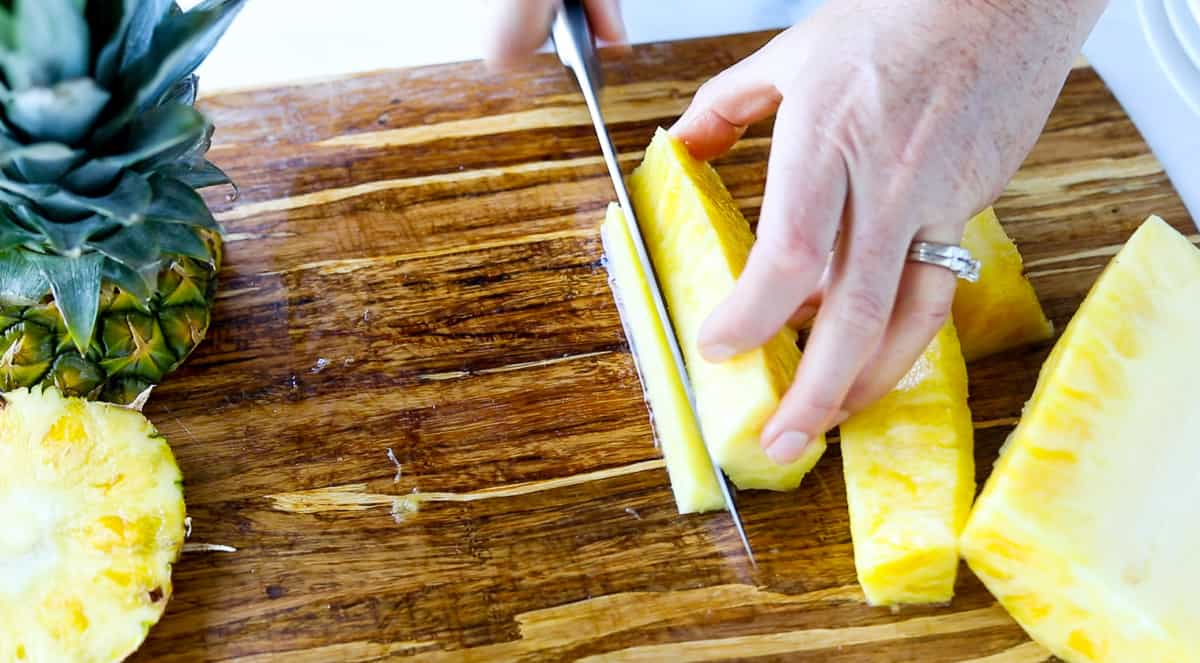 Once you have the core cut out of each piece you can dispose of it or save it to make infused pineapple water! You can find the instructions for infused water in the notes section of the recipe below.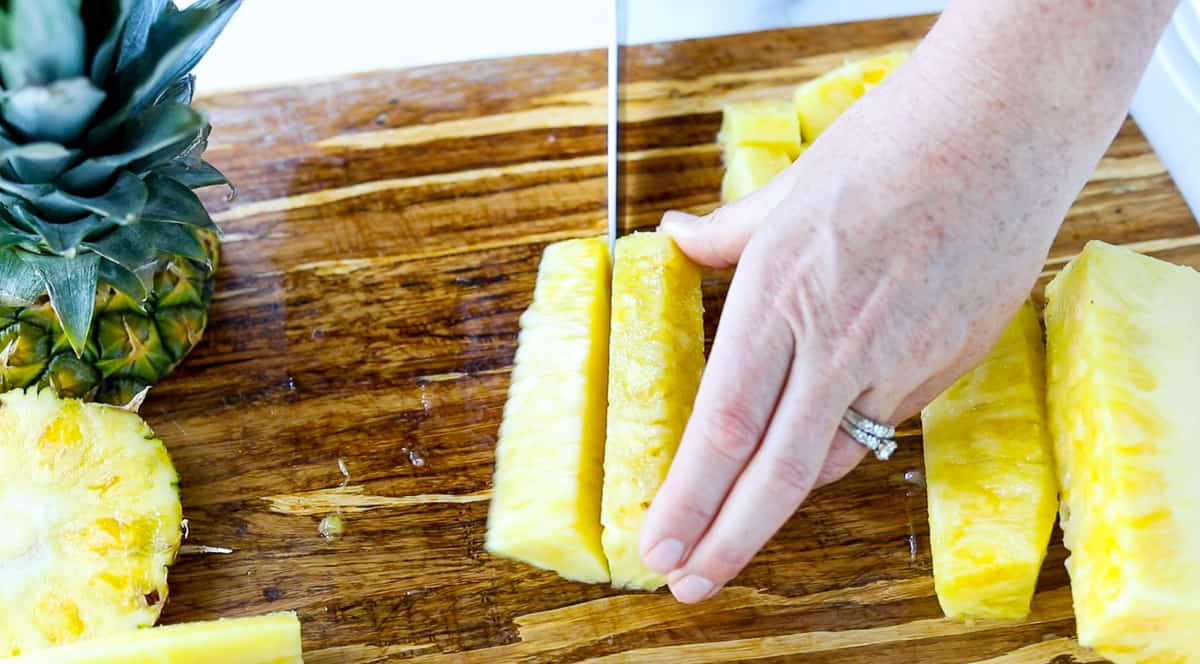 Cut each slice of pineapple in half, then turn it and cut into cubes as shown below.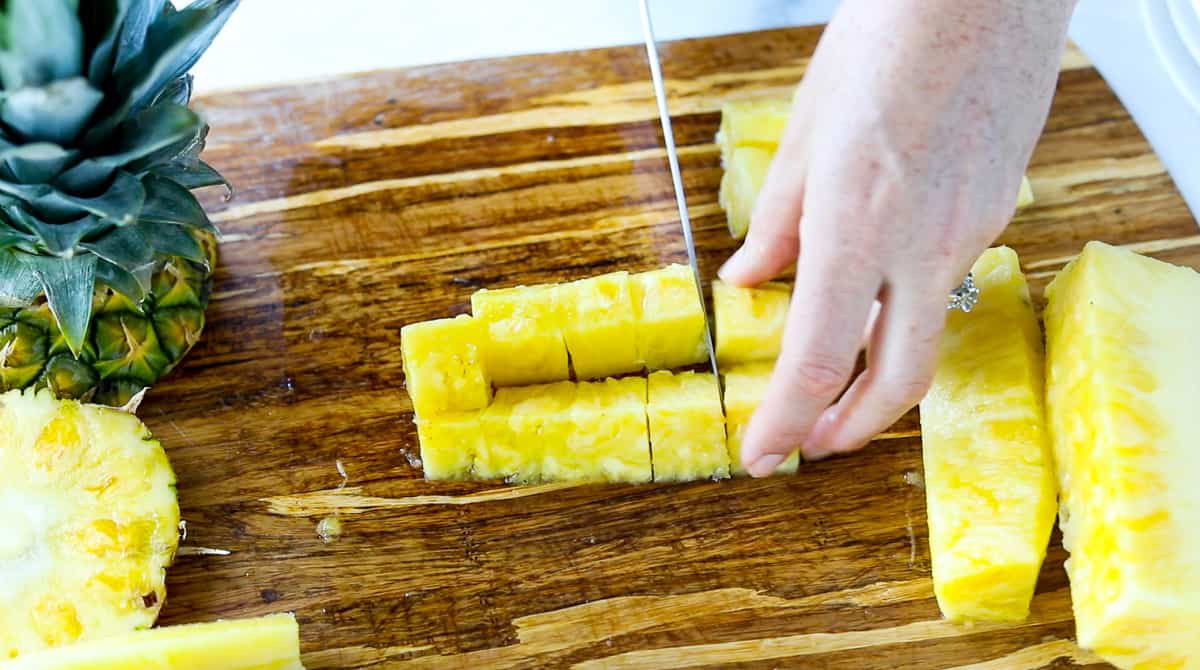 You can eat these pineapple cubes plain or on fruit trays or in recipes.
Recipes Using Pineapple
Here are some delicious ideas for how to use pineapple.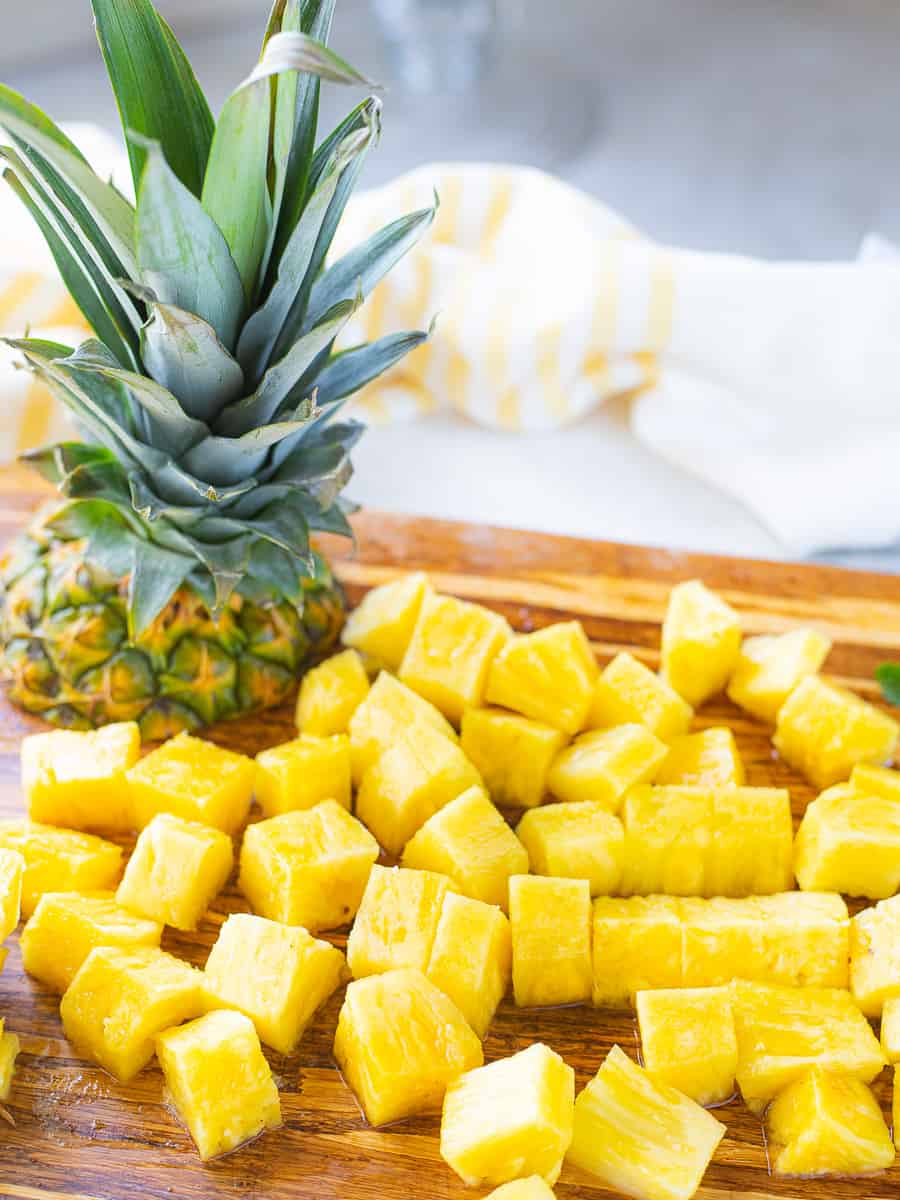 How Can You Tell if A Pineapple is Ripe?
When selecting a pineapple, look for those with a slightly yellow bottom and green top. The more green a pineapple, the less ripe. Make sure it's not squishy when you gently press on it which would mean it's overripe.
How To Tell If A Pineapple Is Bad?
An overripe pineapple still tastes fine unless it's to the point where it is starting to rot. If the pineapple still tastes good, but doesn't look great to eat fresh, it works great in recipes such as a cake or smoothie. You will know it's time to throw a pineapple away when you see signs of mold or it's super squishy.
How Long Does A Pineapple Last?
Fresh pineapples have a pretty short shelf life if left on the counter – about 2-3 days. If you refrigerate them you can get 4-5 days.
My pineapple has brown spots on the inside, can I still eat it?
As long as it's just a few brown spots you can simply cut them out and throw them away. If the majority of the pineapple is brown go ahead and toss the whole pineapple.
Try these fruit dips, perfect for fruit trays:
If you enjoyed the recipe make sure to leave a comment and a star rating below!  Then follow me on social media and tag #createkidsclub if you make the recipe.  I love seeing what you come up with! 
How To Cut a Pineapple
Learn how to quickly & easily cut a pineapple without a corer. All you need is a clean cutting surface and a sharp chef's knife!
Pin Recipe
Print Recipe
Instructions
Prep the pineapple. Rinse your pineapple under running water, then place it on a cutting board.

Cut top and bottom. With a sharp chef's knife, cut the top and bottom off of the pineapple. 

Cut in half. Place the pineapple on one end and slice through the middle. 

Divide into sections. Place one side onto the cutting board, flat side down. Cut into three strips. 

Remove the core. Cutting at an angle, slice the core from the pineapple slice. Discard (or save for infused water found below).

Cut into cubes. Cut each strip of pineapple in half then cut into cubes.  Repeat for the rest of the pineapple.
Notes
Infused Pineapple Water
Use the core of the pineapple to flavor water.  
Place core into a pitcher. Add about 3-4 cups of water. 
Add extra flavor by adding fresh herbs such as mint. 
Let refrigerate for at least 30 minutes. 
Nutrition
Calories:
113
kcal
|
Carbohydrates:
30
g
|
Protein:
1
g
|
Fat:
1
g
|
Saturated Fat:
1
g
|
Sodium:
2
mg
|
Potassium:
247
mg
|
Fiber:
3
g
|
Sugar:
22
g
|
Vitamin A:
131
IU
|
Vitamin C:
108
mg
|
Calcium:
29
mg
|
Iron:
1
mg
Delicious Simple Family Recipes
Join Create Kids Club & get our 10 Favorite Crockpot Recipes ebook!