Looking for hot lunch ideas for school? We've gathered 20 delicious hot recipes that keep well in a lunchbox until lunchtime rolls around. All simple, tasty and kid friendly! From homemade chicken nuggets to low sodium ramen noodles, there is a recipe for every kid to pick from.
As kids head back to school, we know that there are so many exciting yet overwhelming tasks to tackle. From registration to bus schedules, school supplies to new clothes or uniforms, the list goes on and on. Which is why we are here to help keep lunch stress free!
We pulled together our top hot school lunch ideas that have all been tested and are officially kid-approved. Easily packed in a kids thermos, any of these recipes will be a huge hit around the lunch table!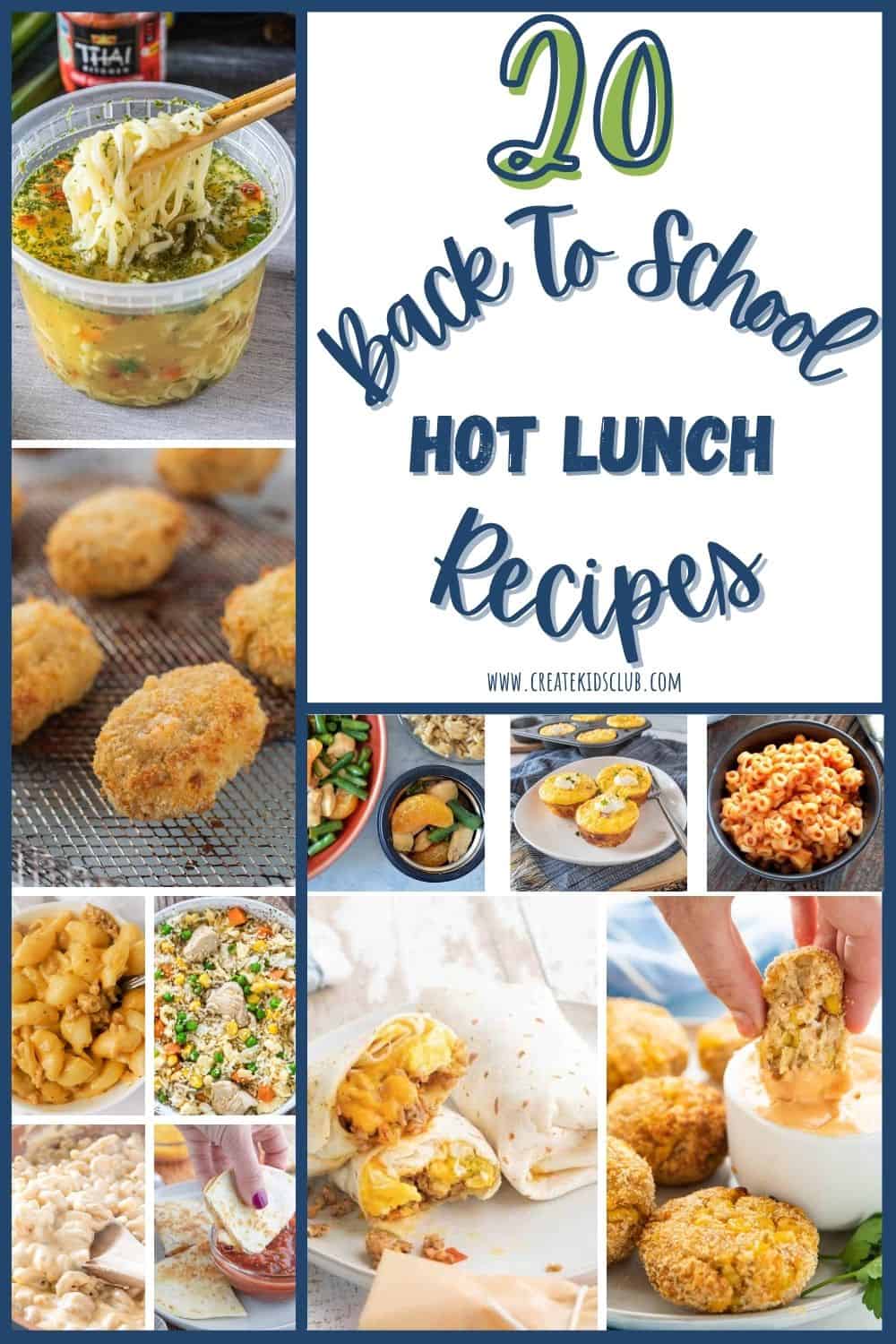 How To Fill A Thermos
Depending on the age of your child, they might be at the age to start packing their own lunch. As parents, we can help show our kids how to safely fill a thermos. Follow these easy step by step directions to guide your kids.
Fill with boiling water. Heat water in a microwave-safe container until boiling. Let your kids watch for bubbles to start forming then use a hot pad to carefully remove from the microwave. Slowly pour the boiling water into the thermos. You can also try using really hot tap water and see if that keeps the food hot enough in your thermos.
Place the lid on. After the water has been added, place the lid on and let the thermos sit for 2-5 minutes. During this time, instruct your kids to heat up the food in the microwave they are planning to pack.
Pour out water. Pour out all the water from the thermos after the food is heated then and add the hot food to the thermos.
Pack. Tightly secure the lid onto the thermos and pack in a lunchbox.
Back to School Hot Lunch Ideas
Looking for hot lunch ideas for school? We've gathered 20 delicious hot recipes that keep well in a lunchbox until lunchtime rolls around.
We hope your kids have a successful transition back to school and have a great year. Keep all of these recipes in mind and don't forget to share your favorite lunch ideas with us! If your kids are enjoying lunch at home this school year, check out our Healthy Lunch Ideas for Kids at Home and Lunch Ideas for Picky Eaters round ups.
Cold Lunch Ideas
Now while we all love a good PB&J sandwich for lunch, there is always room in the lunchbox to change things up. Here are kid-friendly cold lunch ideas! Chicken & Cheese Pinwheel Recipe, Homemade Uncrustables, How To Make Tuna Sushi Rolls, Kids Protein Shake, Greek Yogurt Spinach Dip, Rainbow Bento Lunchbox for Kids Fruit & Yogurt Parfait. Let your kiddos pick a new cold lunch meal idea each week to keep lunch time fun and tasty!
If you enjoyed any of the recipes make sure to leave a comment below! Then follow me on social media and tag #createkidsclub if you make the recipe. I love seeing what you come up with!