Horseback riding vacations are perfect for families who enjoy horses. Dude ranches are a wonderful blend of adventure, the great outdoors, and relaxation. Spend your days on horseback taking in amazing scenery. You'll make memories with your family to last a lifetime.
Sundance Trail Guest Ranch offers something for everyone including mountain trail riding, rock climbing, archery, trap shooting, whitewater rafting (offered on the horse's day off), and a highly ranked disk golf course right on the property – to name a few.
My family of four recently visited this Colorado guest ranch, it was the third dude ranch we've visited over the past couple of years.
Through our stays, I've quickly learned that while all guest ranches focus on providing amazing horse vacations to their guests, they are each completely unique in their own way.
Keep reading for my review of Sundance Trail Guest Ranch and be sure to check out my reviews on Bar Lazy J Guest Ranch in Parshall, Colorado, and White Stallion Ranch in Tucson, Arizona.
Feel free to reach out with any questions you may have – I love talking about dude ranch vacations!
A huge thank you to Sundance Trail Guest Ranch and The Dude Ranchers' Association for hosting my family. As always, all opinions are my own.
If you're interested in taking your family on a horseback riding vacation, I'd highly recommend you spend some time on the Dude Ranchers' Association's new website's Find a Ranch page. Dude ranches are a safe and easy vacation this summer in the current climate and the great folks over at the DRA are there to help you find the perfect ranch for your family.
On their site you can pick the state(s) you're interested in visiting, sort by activities offered, food options (such as western meals or gourmet), and riding options including beginners, fast rides, and kids programs. You'll be able to click on preferred lodging accommodations, amenities, along with the capacity of the ranch.
I suggest reading up on each ranch to better understand the feel of the ranch before making up your mind. Staying at a dude ranch is not just a vacation, it's an experience. It may be a once-in-a-lifetime experience so you'll want to make sure you pick a ranch that's perfect for your family.
In my opinion, ranch vacations are the best all-inclusive vacation in the USA and are the best family vacation you'll ever experience.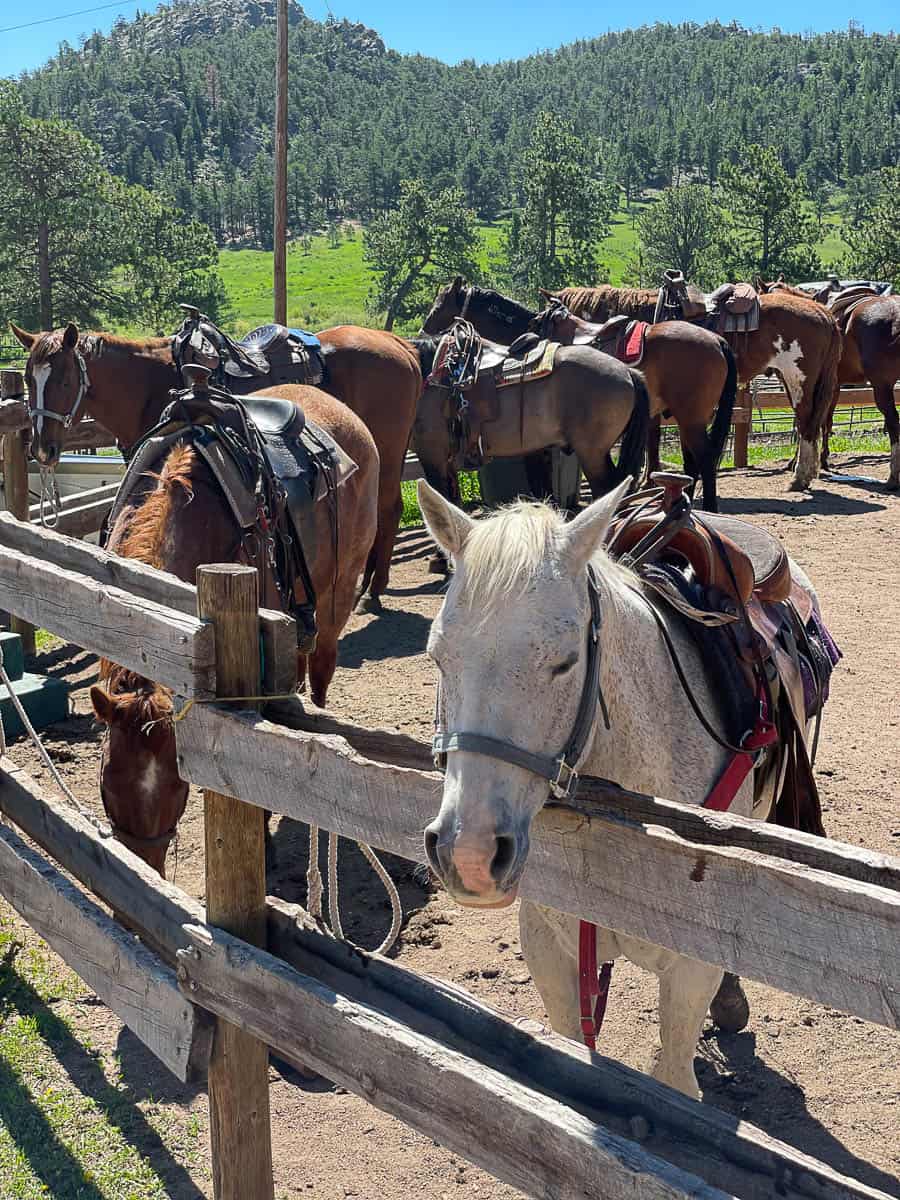 A Week At Sundance Trail Guest Ranch
Let's take a look at what a week spent at this Colorado horse ranch is like.
Sundance Trail Guest Ranch is located in Red Feathers Lake, Colorado.
Guests can fly into Denver International Airport (114-mile drive) or Laramie Regional Airport (71-mile drive).
If you fly into Denver you'll have an exceptional view of the Rocky Mountains to your left the entire drive from Denver to Fort Collins. Then you'll head into the mountains until you reach the ranch. It's about a 2-hour drive from Denver.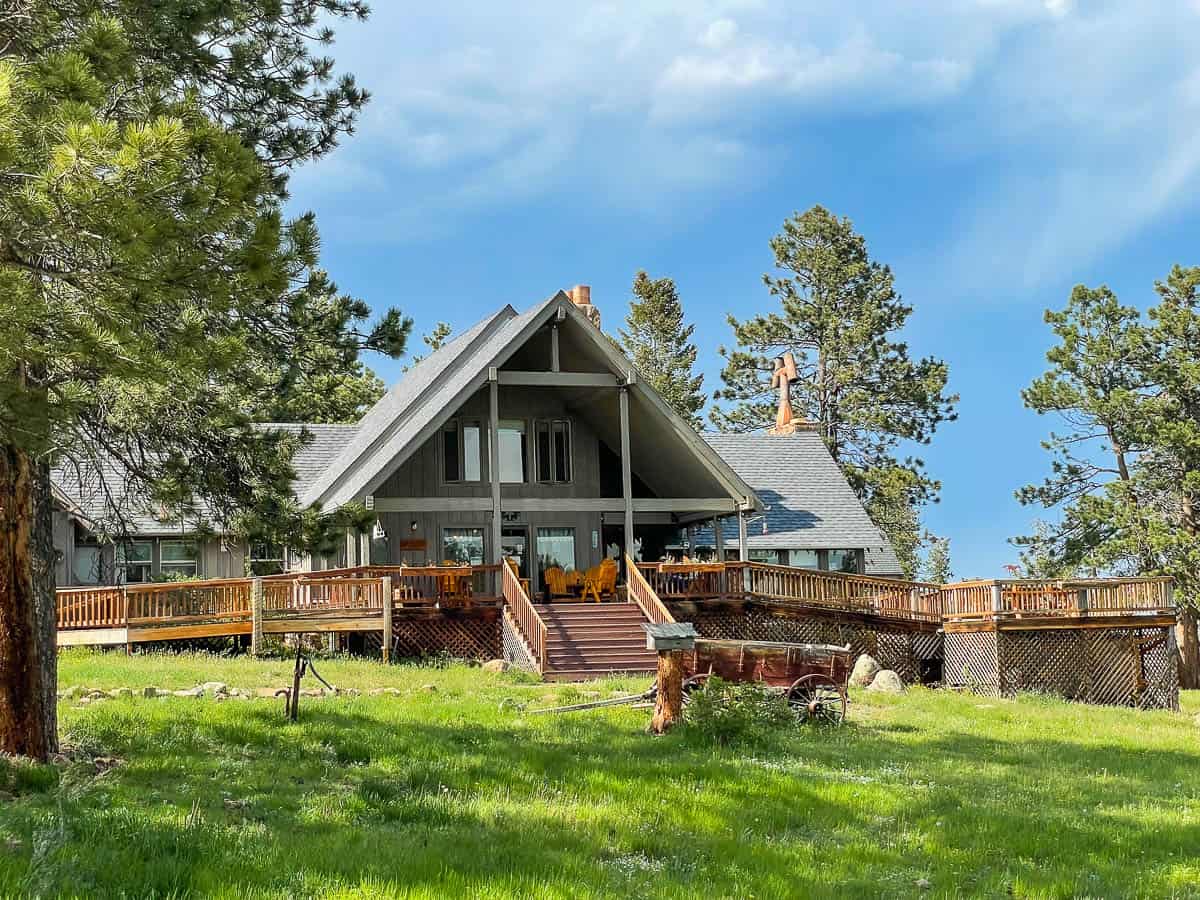 I found one of the best parts of this ranch to be its small capacity.
Sundance Trail can welcome 24 guests each week in its 7 suites and cabins. The suites are located in the charming main lodge.
A huge part of the charm of this ranch is its small size. You definitely feel like you are a part of the family for the week. You'll find staff along with the owners, Ellen and Dan, and guests mingling on the porch whenever there is downtime. Sitting on the front porch, getting to know the guests and their families, was a highlight of the trip.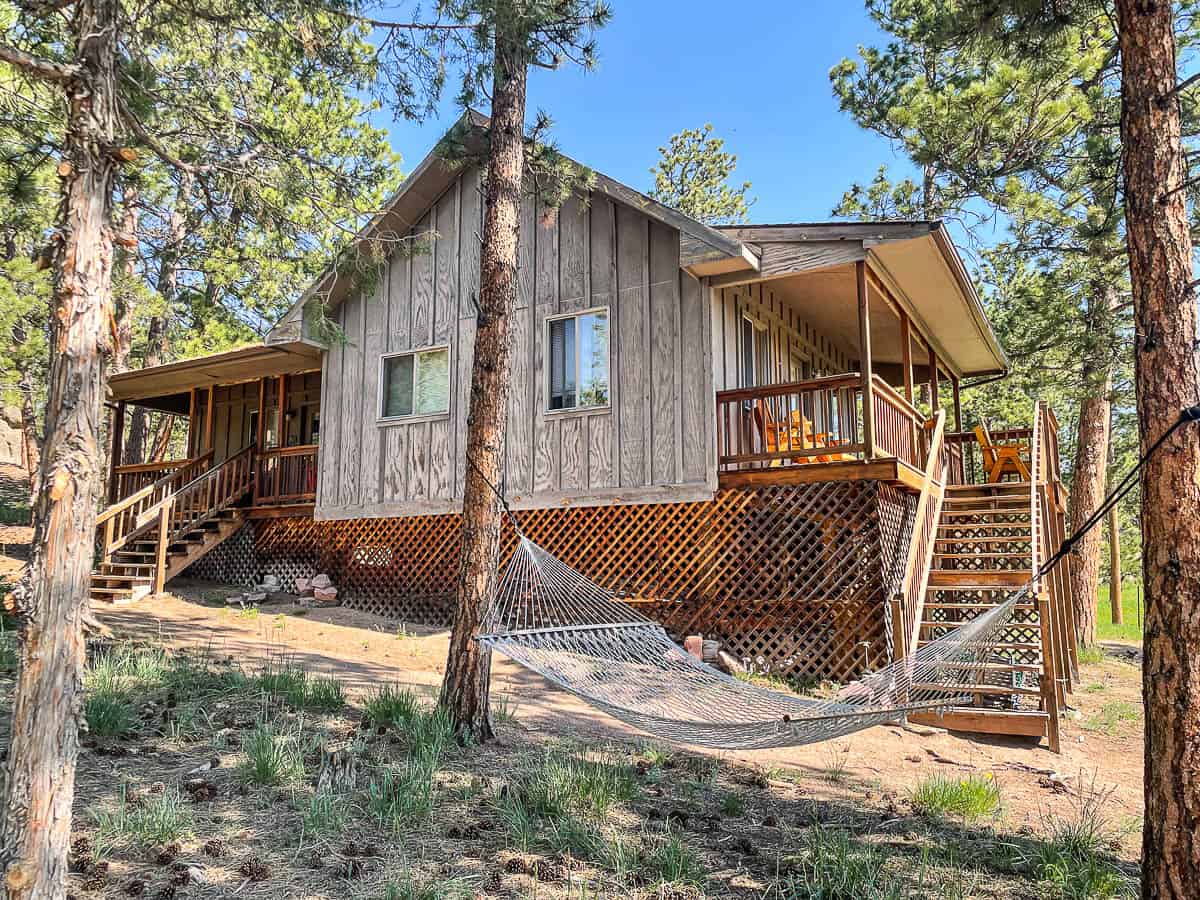 Accommodations
We stayed in the Woodside Cabin which is connected to the Wyoming Cabin.
This cozy cabin sleeps 4 guests with a queen-size bed, a twin bunk bed, and a full bath. The cabin was very charming and had everything we needed to enjoy the week.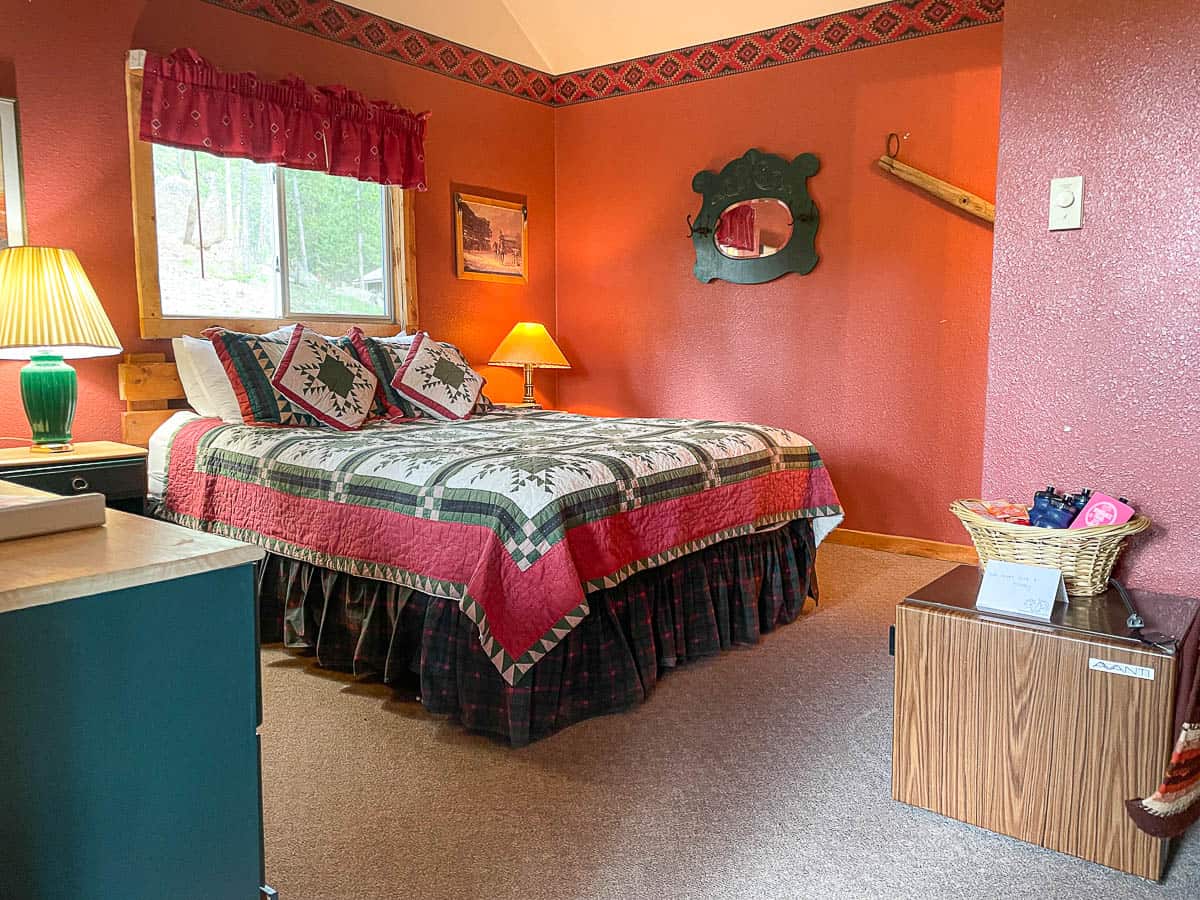 This cabin shares the building with the Wyoming Cabin. Once inside you would never know it though as we didn't hear any noise from the other guests.
Dining At Sundance Trail Ranch
You won't go hungry at Sundance Trail. Food is served family-style and guests dine at tables with other guests.
While at first this might seem intimidating, it's really wonderful. We met amazing families during our time on the ranch which started by breaking the ice while dining together. We shared stories, learned new things, a enjoyed a ton of laughter together by the end of the week.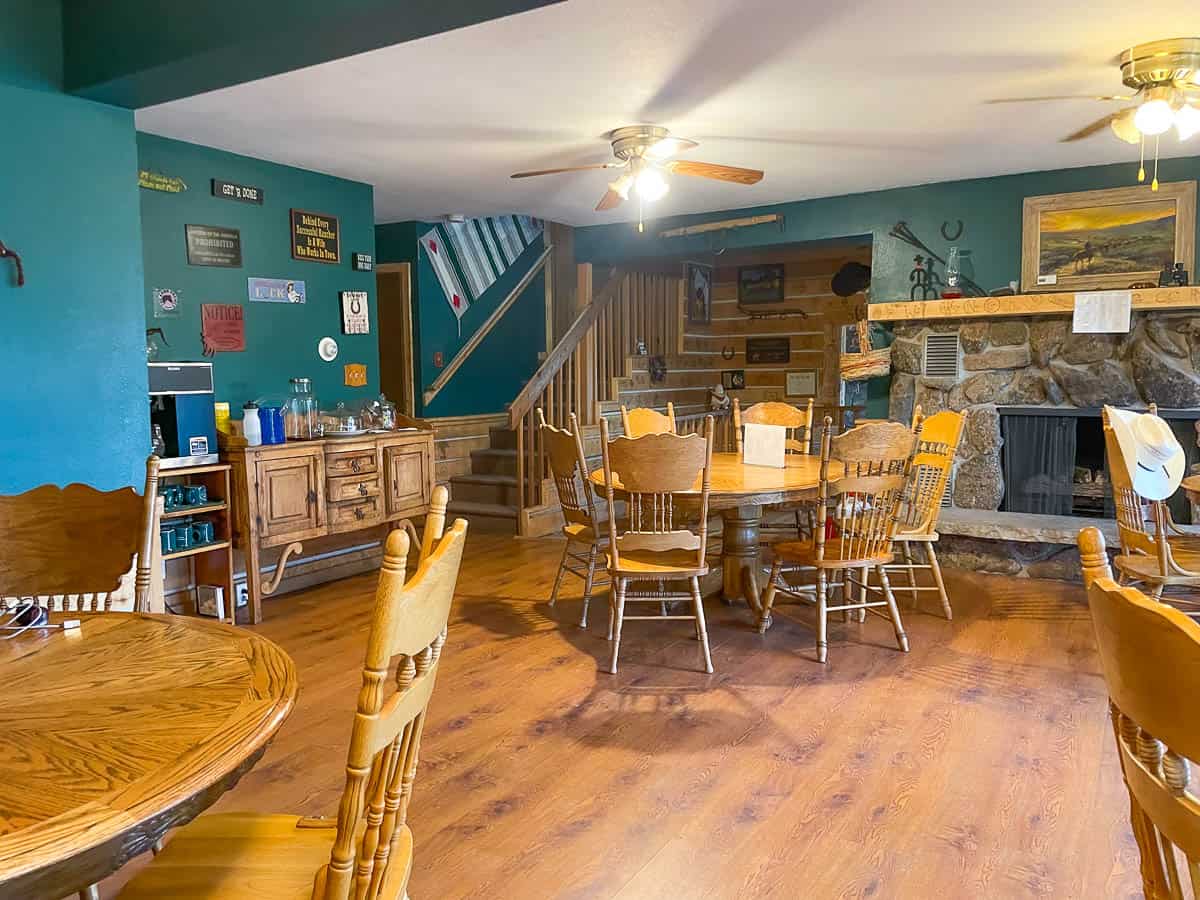 This summer all meals are being enjoyed outdoors rather than in the dining room utilizing the fresh air and extra spacing for guests and staff.
It was very refreshing to spend the extra time outdoors and we were lucky with amazing weather for all meals but one. Thankfully, Sundance Trail has a backup plan for rain, guests are protected in a tent that's set up outside.
We quickly appreciated the tent on our first dinner at the ranch when it began to downpour. Luckily, the covered tent kept guests dry and gave everyone something to talk about while getting to know each other!
Sundance Trail Guest Ranch can accommodate food intolerance or allergies along with fussy eaters. Just talk with them upon booking and they will make sure your stay goes smoothly.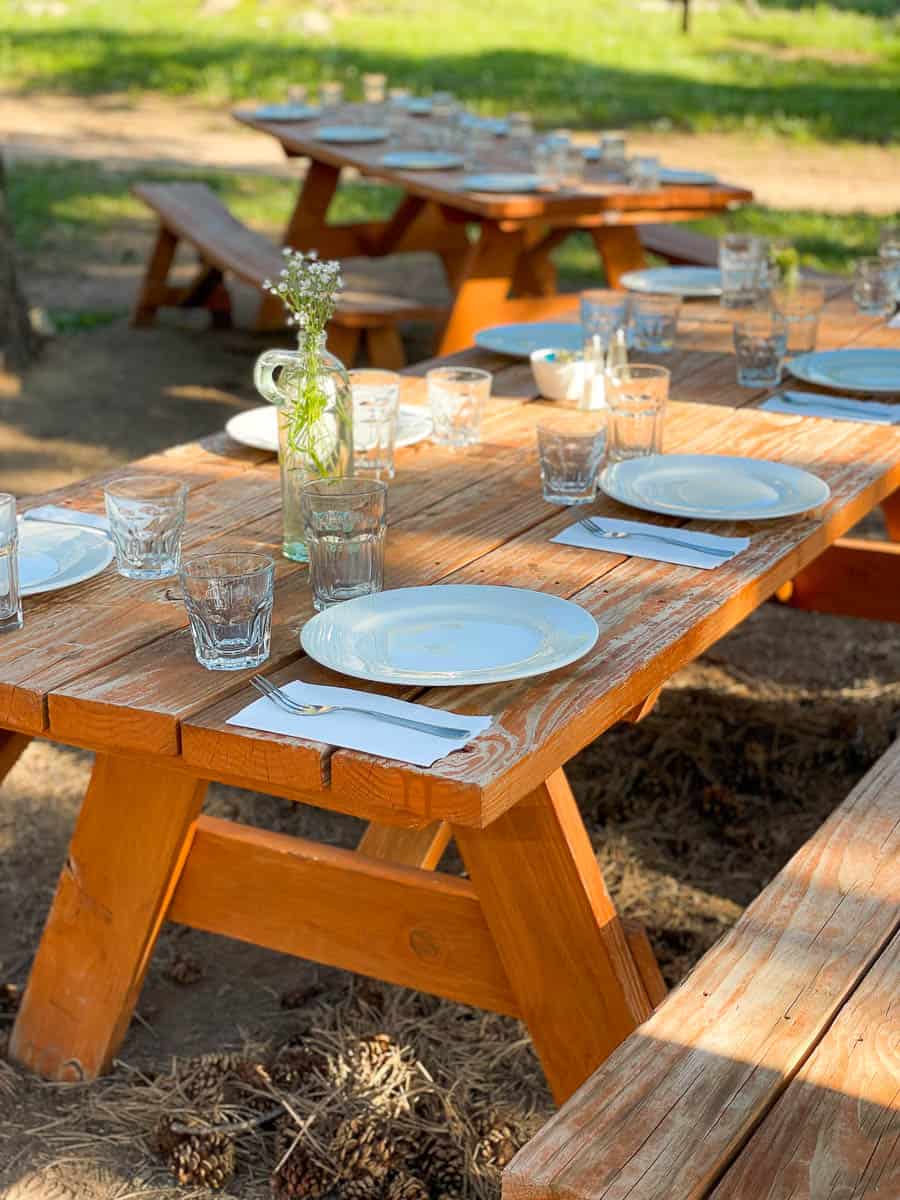 During the week there are several special meals. Tuesday night is an adults-only dinner served under the tent while the kids have a cookout at the campfire. The brisket served was just amazing.
Wednesday guests have the option of taking a long horseback ride. Wranglers gather the group then head out on the 2-hour ride through quite rocky yet very beautiful terrain. The group stops to eat a sack lunch, then rides the 2 hours back. It was an adventure that tested my limitations on those rocks, to say the least – and lunch sure tasted amazing after two hours of riding through the Rocky Mountains!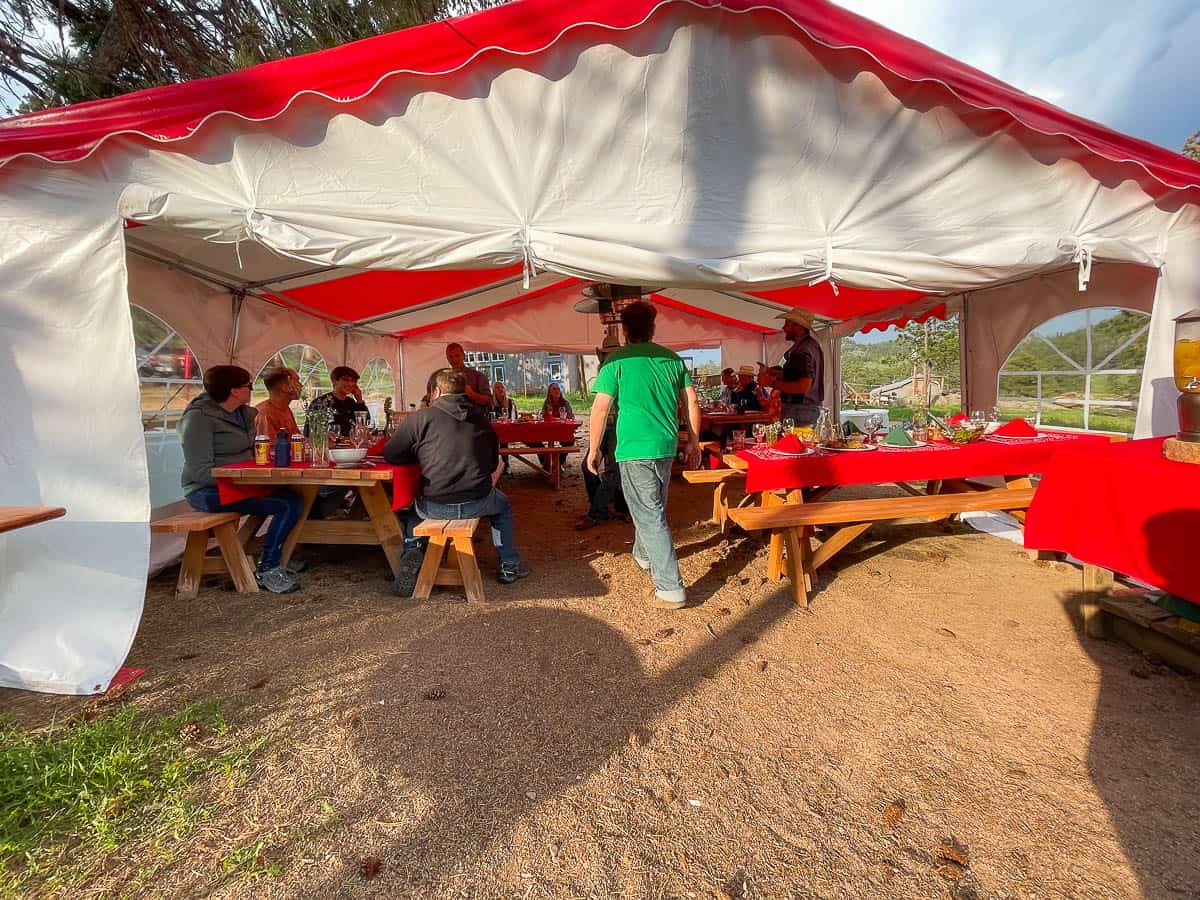 Downtime at the ranch
The great thing about dude ranches is that you are never, ever bored – unless you want to be! There are a ton of activities to chose from, or you can simply sit in a hammock and take a nap, or soak in the jacuzzi, it's up to you.
Sundance Trail features a sitting room with lots of books or games that I'm sure is well used in the winter months or when it's raining. During our time on the ranch, guests sat on the front porch of the lodge recapping the day and learning more about each other.
When you're not riding, there are always a lot of options to keep busy. The rec barn is where the kids enjoyed hanging out. It's filled with books and games along with cozy seating to sit and chat. It's sure fun to watch all the kids on the ranch quickly become friends.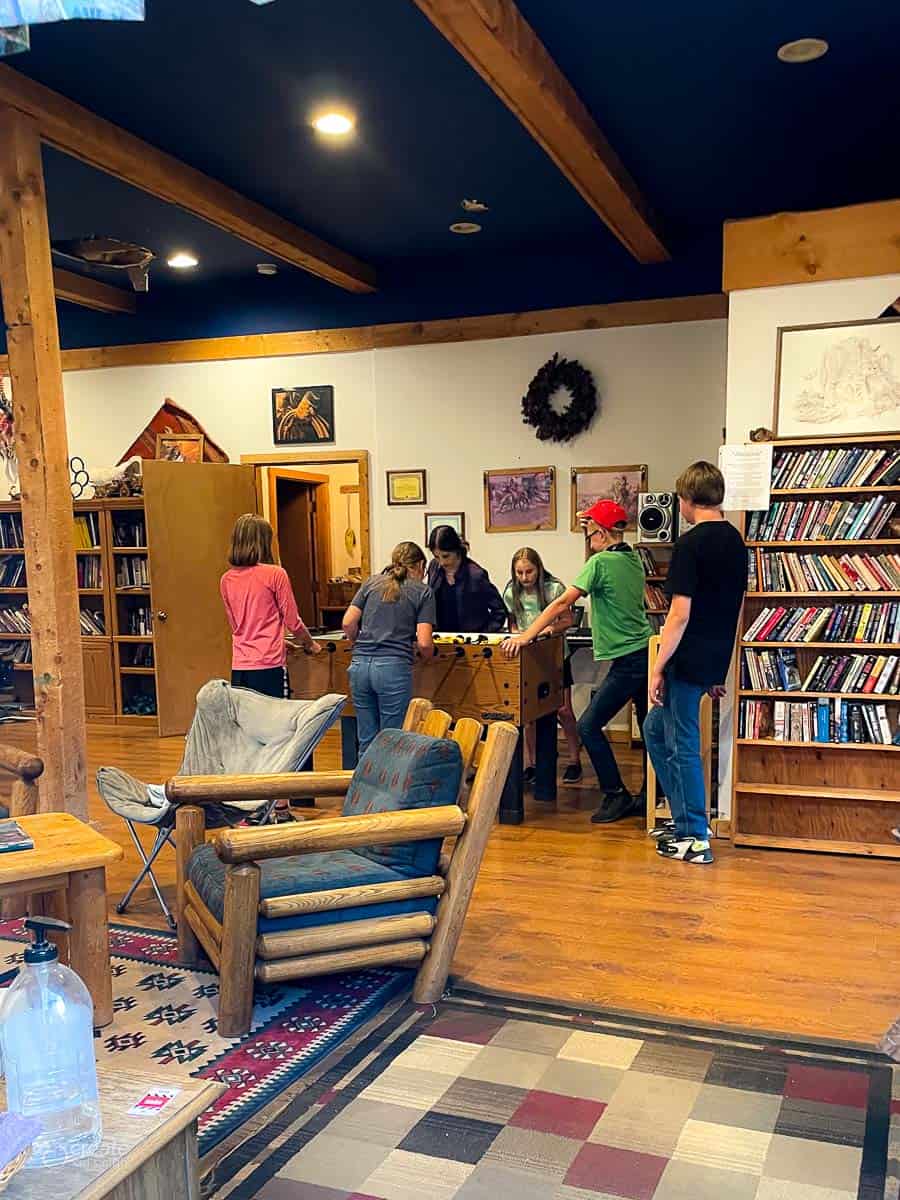 Activities
When you visit a dude ranch you're there for the horses.
Sundance Trail will not disappoint. Each guest is assigned their own horse for the week. You're able to do as much or as little with your horse as you'd like.
Unique to this ranch, you are able to feed your horse (and help feed all the ranch horses if you want!) along with grooming and saddling if you're interested.
After each ride, you can help take the saddle off, walk your horse to the barn, take their lead rope off, and let them free in the pasture.
If you want to help with ranch chores you can simply let the staff know or just show up. If you want to sleep in and show up to ride, that's great too. They make it clear that it's your vacation to spend as you please. Staff goes above and beyond to meet any requests guests have.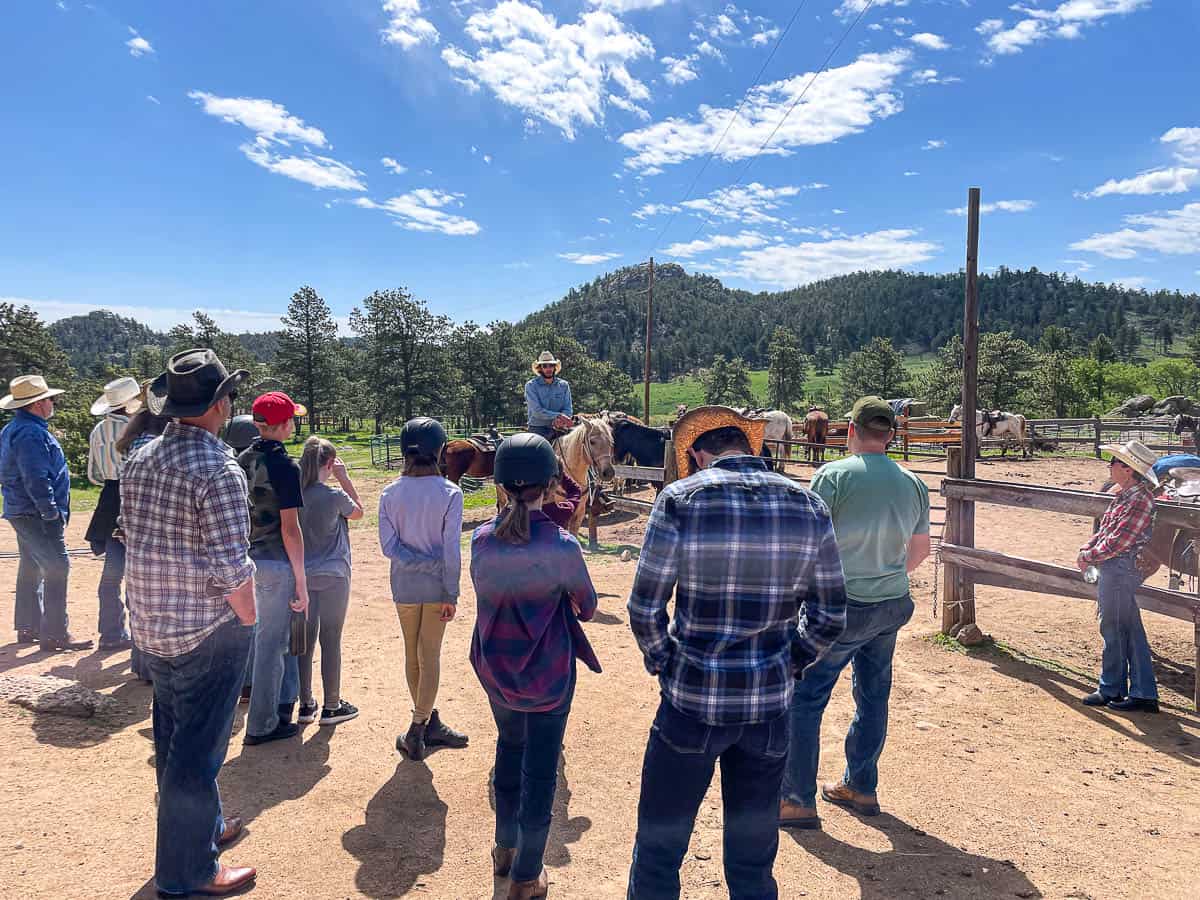 Sundance Trail owner, Dan, has a session each guest needs to attend on horse safety the morning of the first ride. He keeps it light and entertaining while making sure each guest understands the signs of an angry or scared horse and what to do if or when that may happen. The Barn manager reviews more safety before the guests saddle up and head out for the first ride.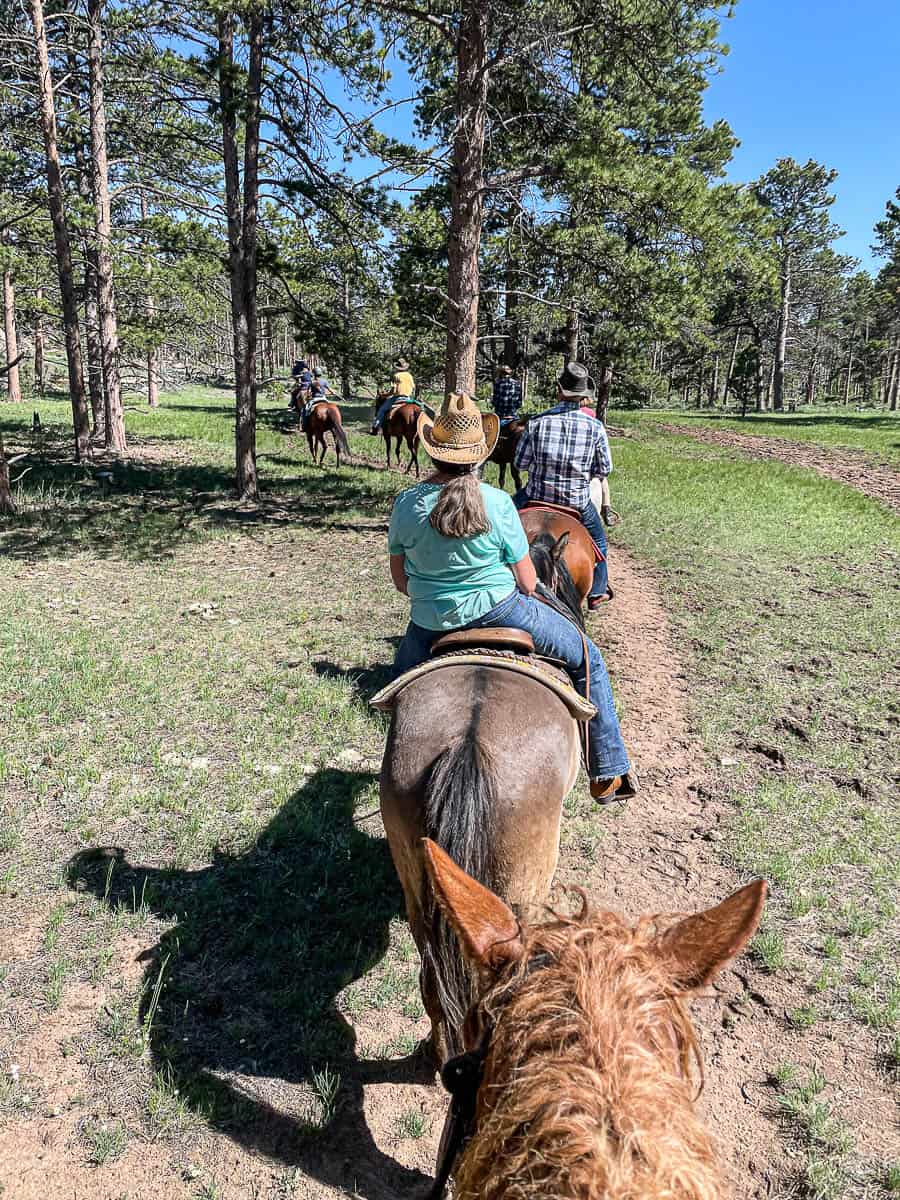 Sundance Trail is adjacent to Roosevelt National Forest where you'll enjoy riding through the amazing sights that surround the area.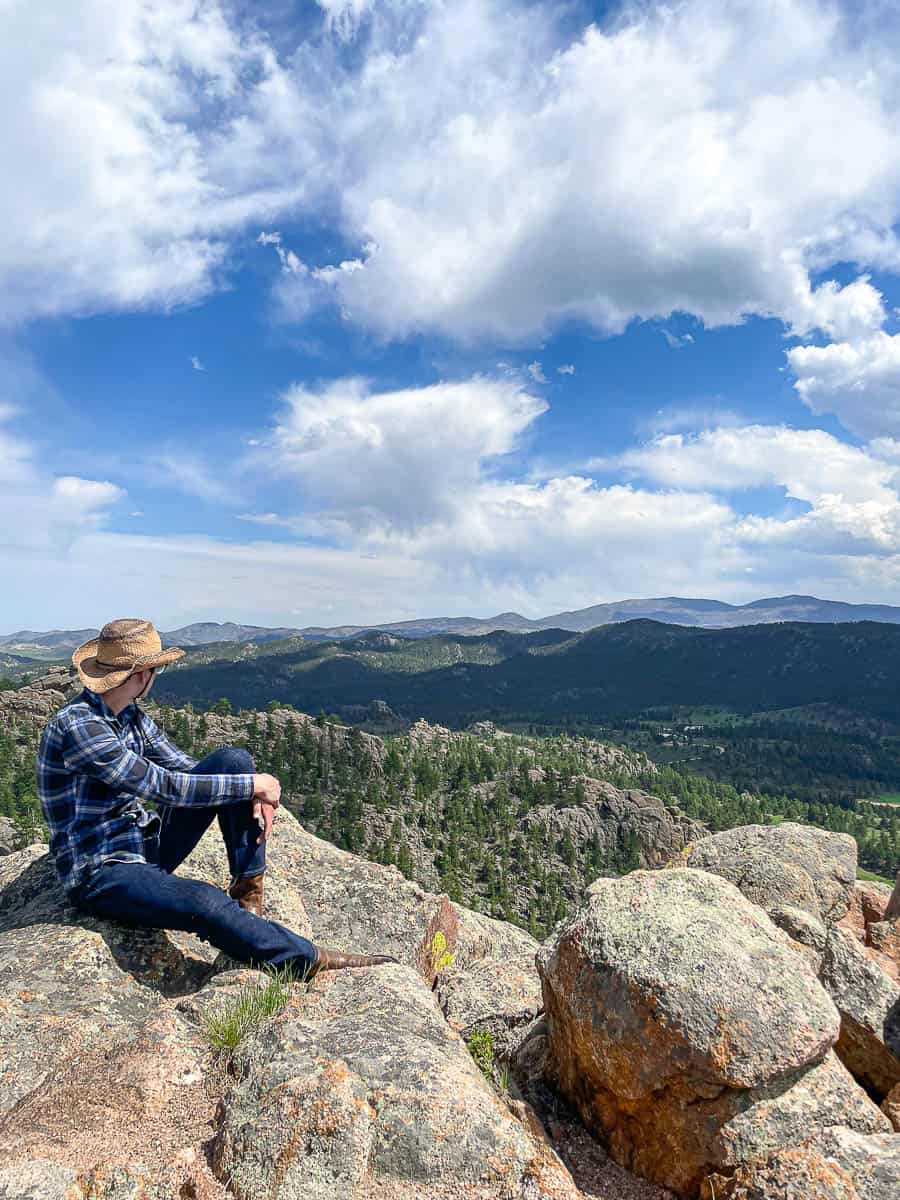 There are plenty of opportunities to hike during the week if that's of interest to you. The photo above showcases a location one of the wranglers brought us to that was reached by riding the horse halfway up the mountain then hiking to the top. Breathtaking.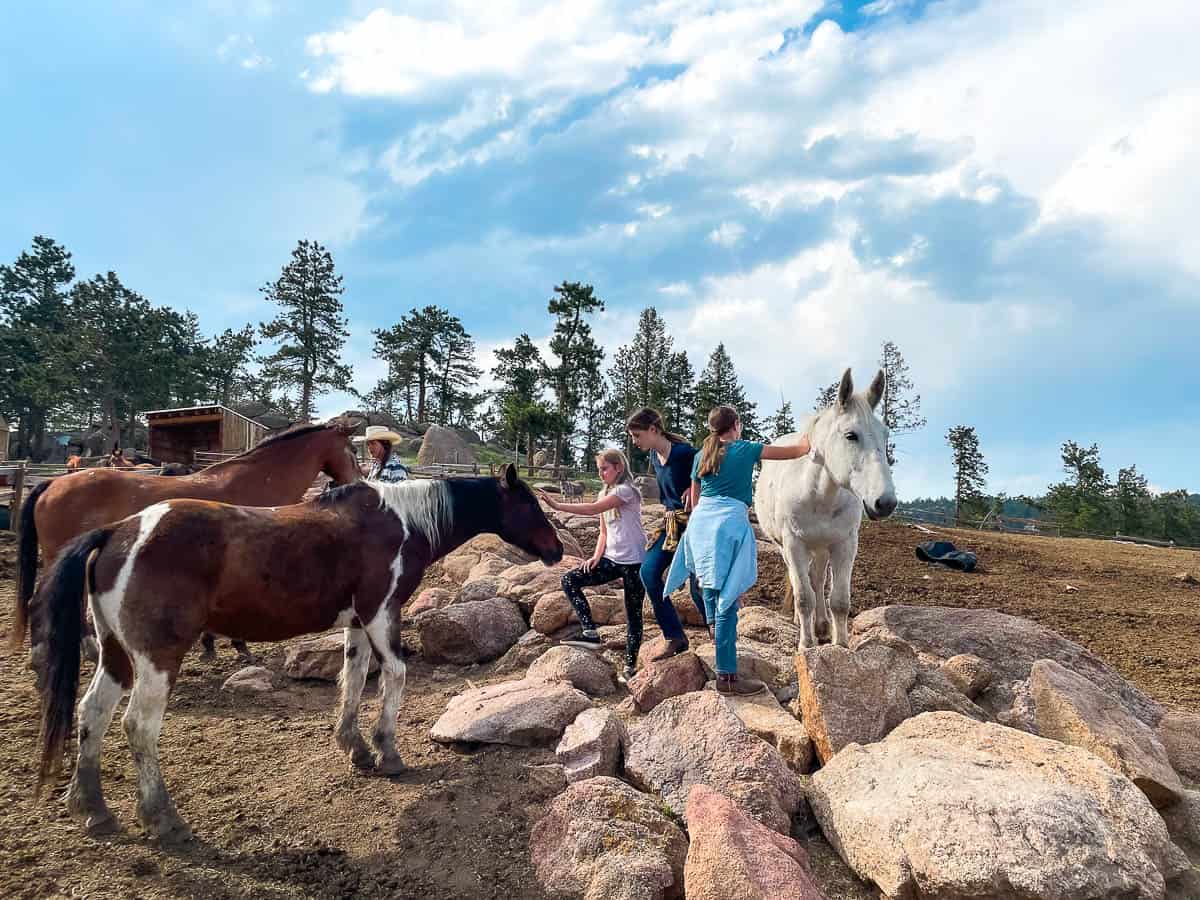 There is no shortage of time spent with horses – which is pretty great if you have a horse-crazy daughter as I do. She quickly met friends (who were also crazy for horses) and they spent their time in the pastures petting, brushing, and feeding horses.
Another really unique feature of this ranch is where the horses graze. The ranch is fenced in so the horses graze all over the ranch. It's pretty spectacular to have a herd of horses right outside your cabin door.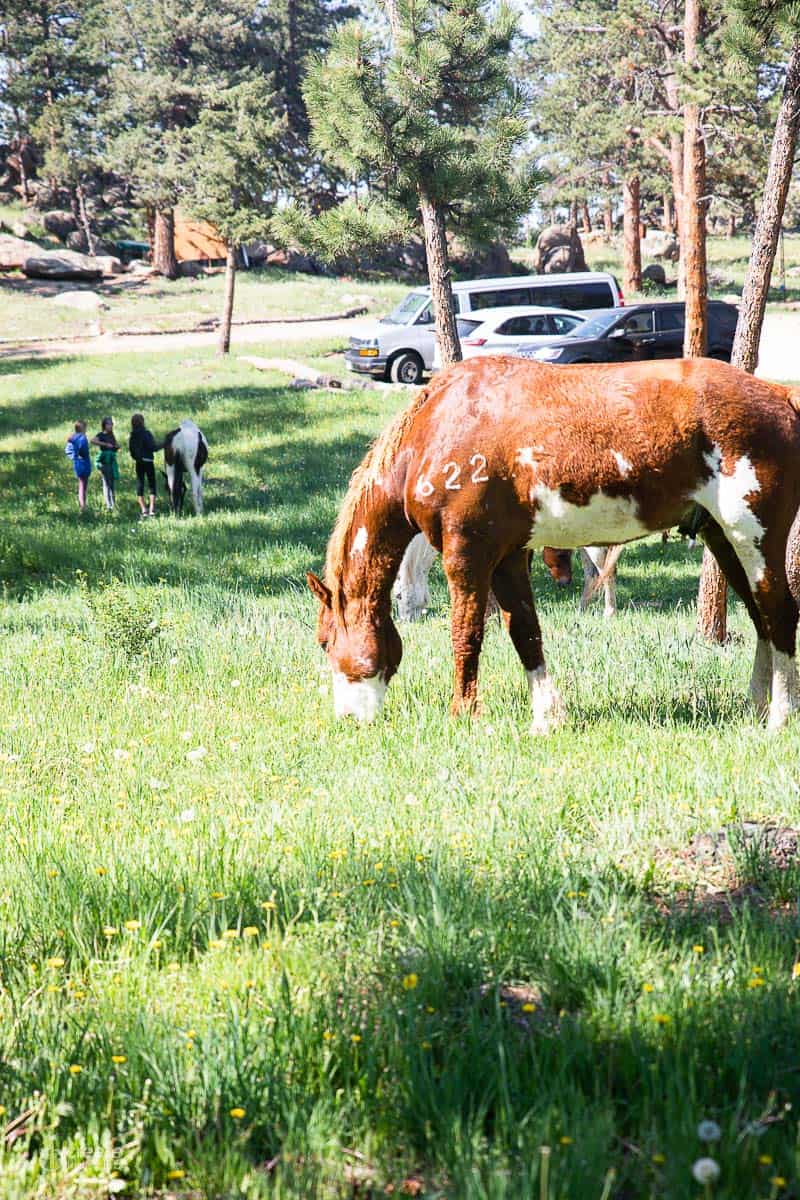 Night Time Activities
Nighttime on the ranch is a pretty fun time. From the Sunday evening guided hikes to Cowboy Songs around the campfire, to a game of baseball in the front of the lodge, if you're looking for something to do, you have lots of options.
Check out an example of what a Summer Weekly Schedule looks like on the ranch.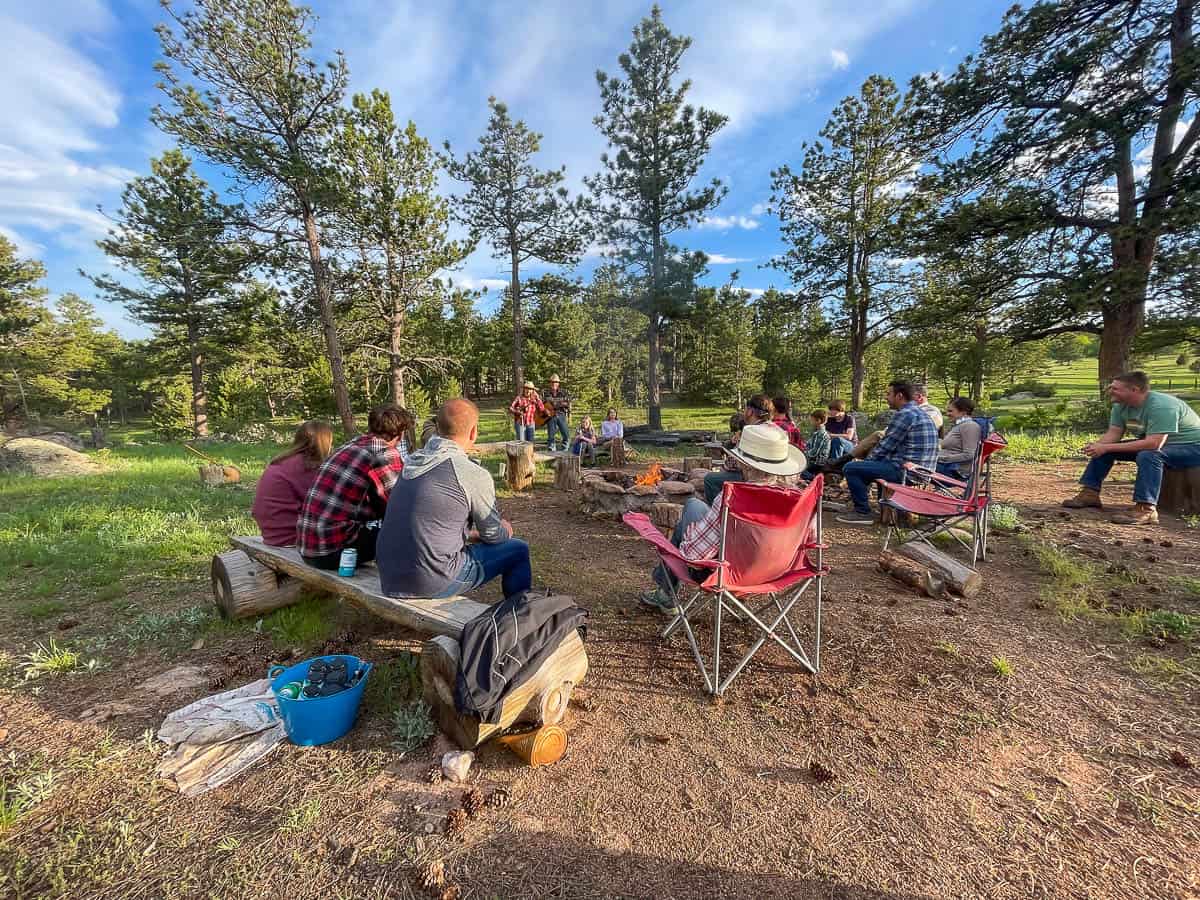 Rock Climbing
One of my 15-year-old son's favorite activities was rock climbing. Not only did climbers learn climbing etiquette and appropriate rules, but they were also able to choose from easy, intermediate, or difficult climbs – then climb them as many times as they'd like.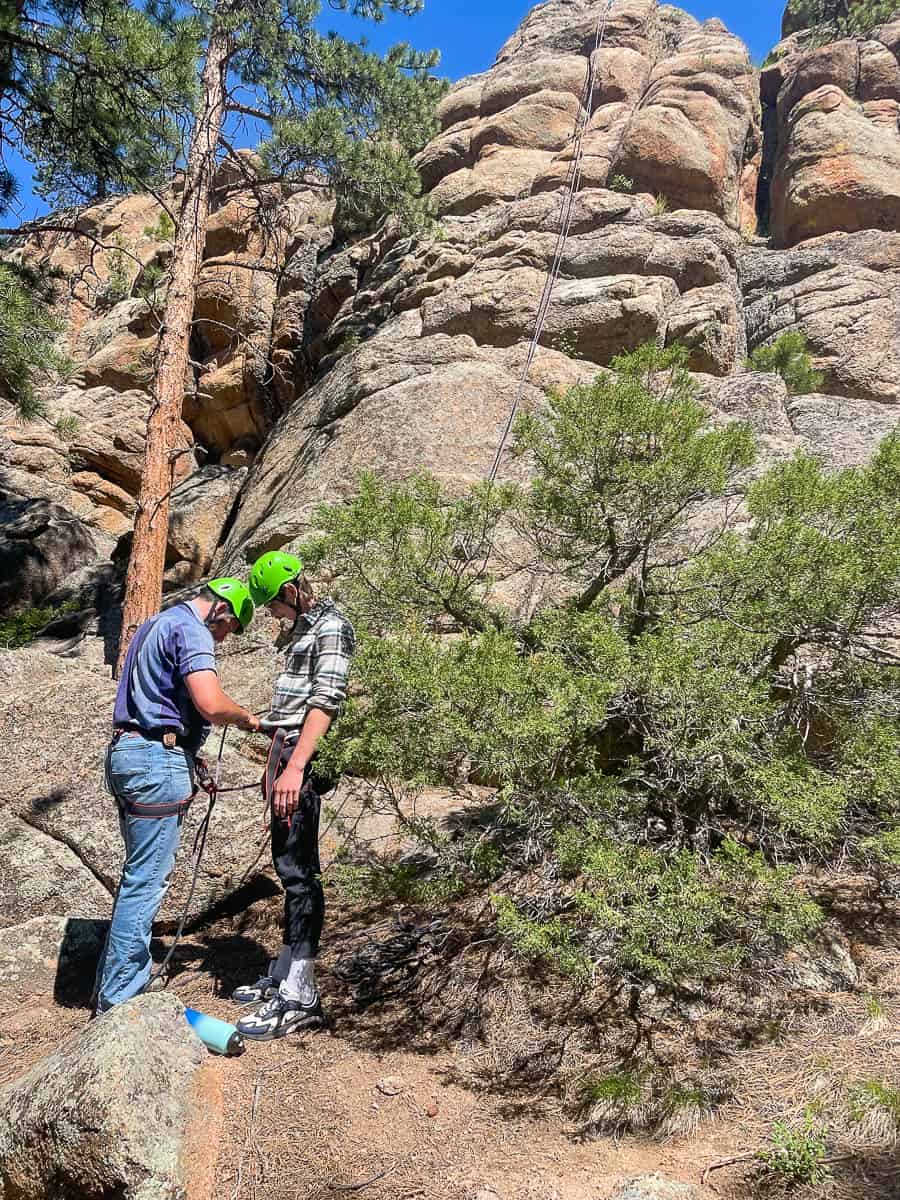 The wranglers even upped the climbing game and had those interested try climbing blindfolded! Now that was both highly entertaining to watch, and a ton of fun (along with being a huge challenge) for the climbers.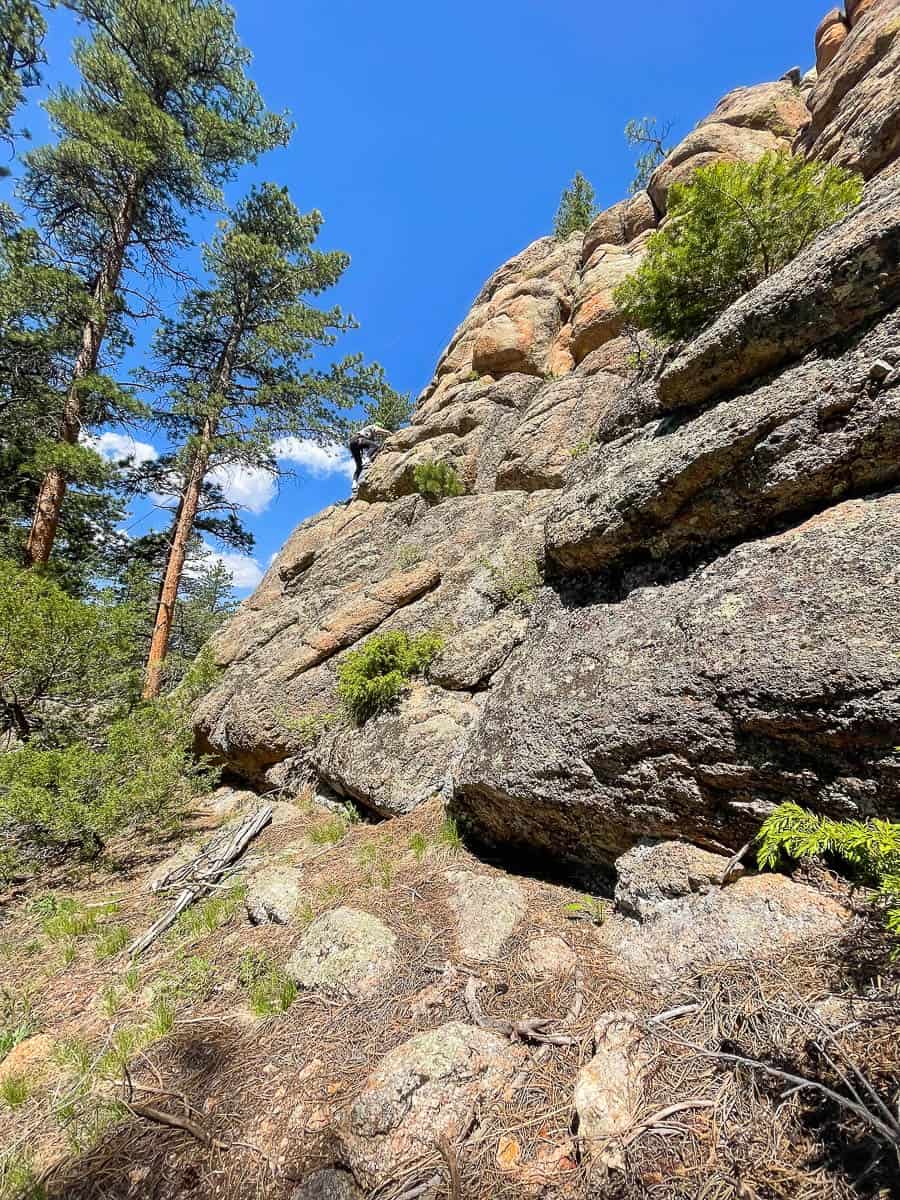 Due to its small size, guests were always interacting with each other and had great fun doing so. Being in the great outdoors brings creativity that we don't always get to use at home. This is showcased below when one of the guests picked up a pinecone, a sturdy stick, and started playing pinecone baseball. It was a fun way of passing time waiting for their next turn rock climbing. Soon many kids were in on the fun!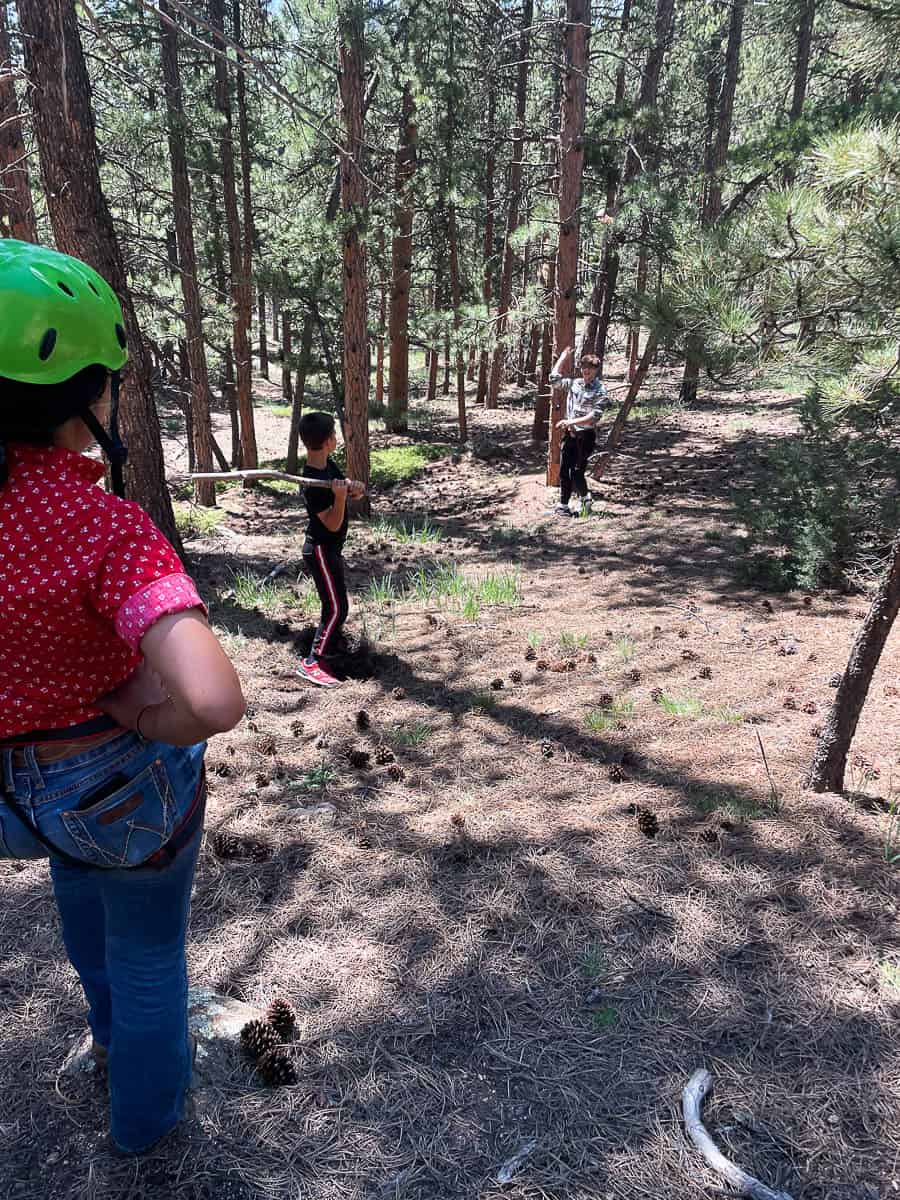 Shooting Range
My son and husband had a blast every afternoon with a bunch of other guests and staff down at the shooting range. They were able to target shoot and trap shoot – having a blast doing an activity that they don't have the opportunity to do very often.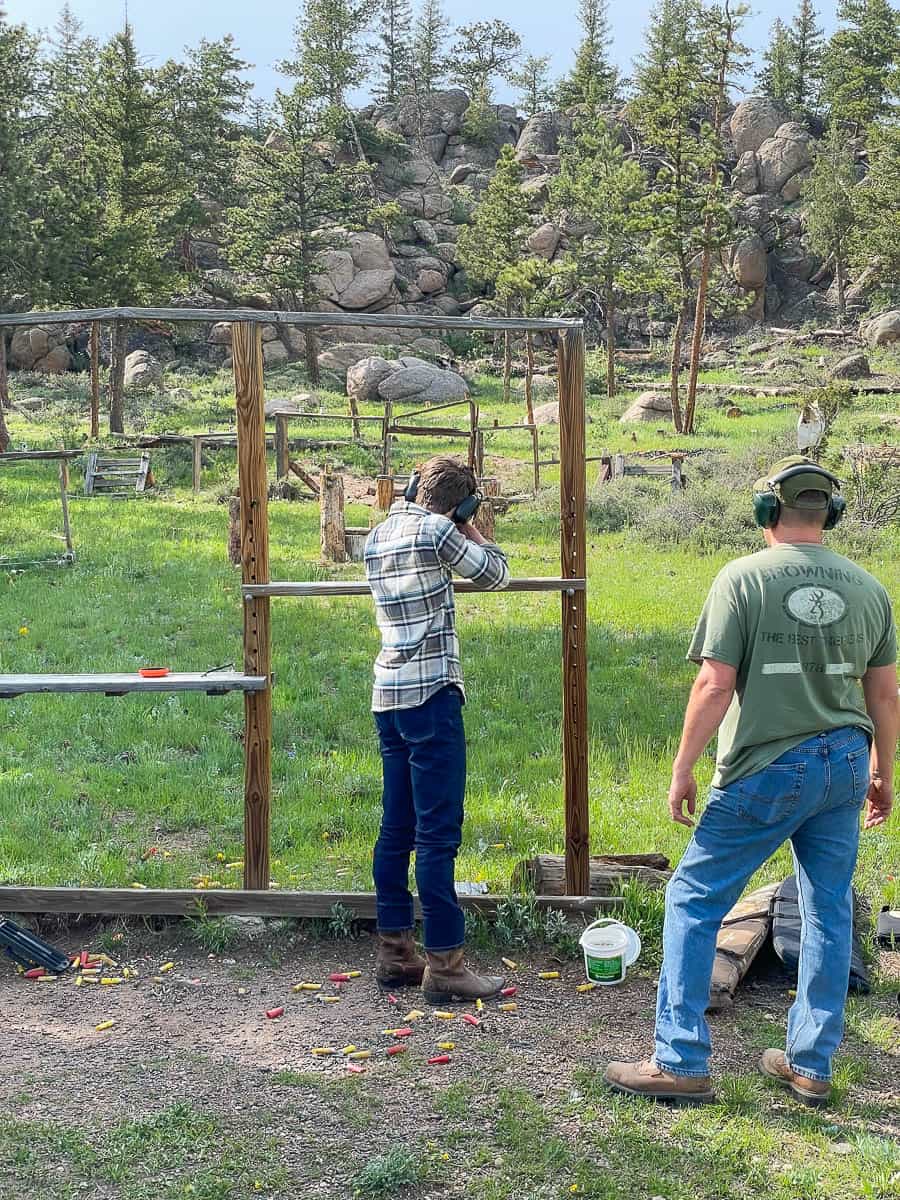 Whitewater Rafting
Thursdays are the horses' day off. After climbing the Rocky Mountains for days with your horse you'll understand why they need a break!
Guests have the option of whitewater rafting, visiting Fort Collins or Red Feather Lake, going fishing, playing round of disk golf, or anything else they're interested in doing.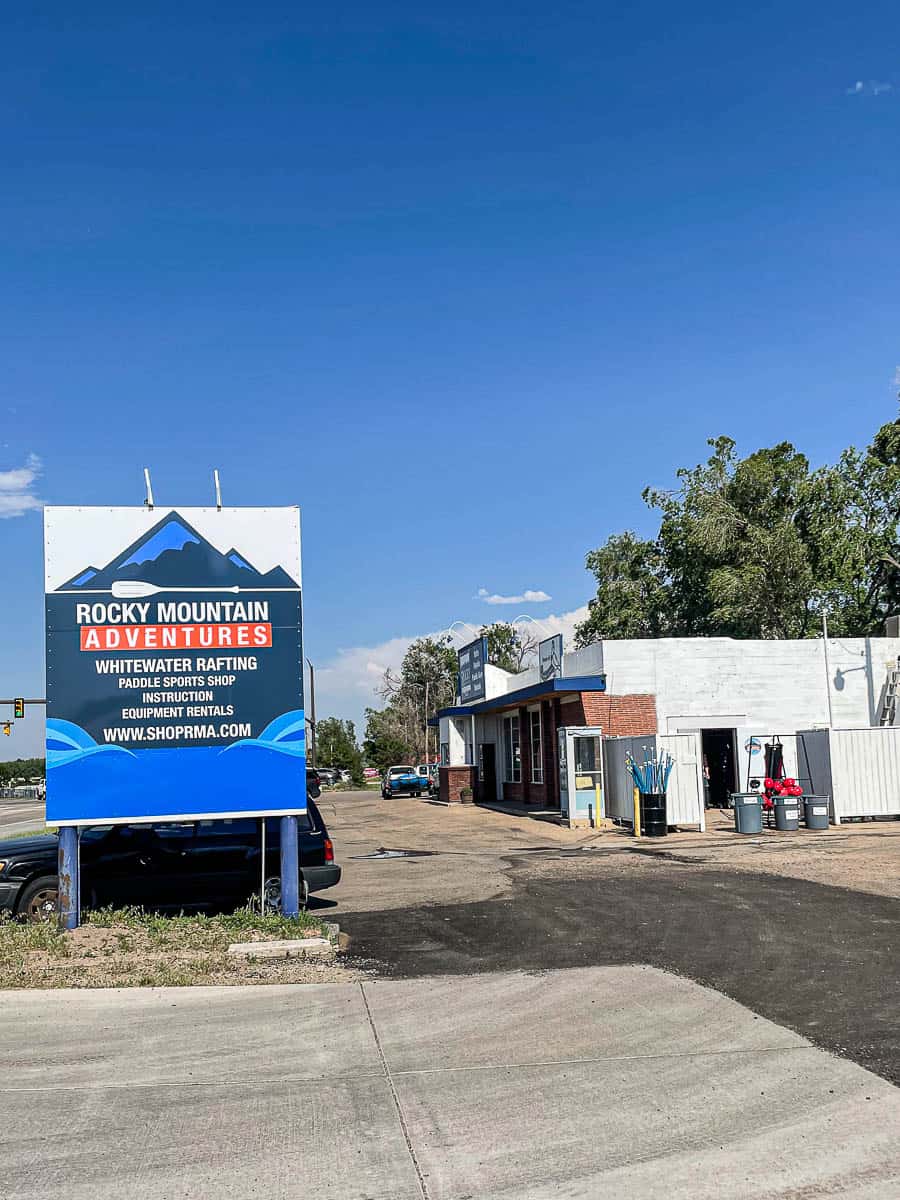 I'll be the first to admit I was nervous as we drove up the mountain heading whitewater rafting on the Cache La Poudre River. All the way up you watch the rapids you'll shortly be coming down.
I'll also be the first to admit it was one of the most fun adventures I've done to date! The water was high, cold, and fast as the snow was still melting from the top of the mountain in early June. I highly recommend taking advantage of this adventure that's included in your stay.
Swimming with the Horses
If you asked any of the kids, I'm pretty sure they would all agree the highlight of the week was swimming with the horses. This unique opportunity was the one my 13-year-old daughter was most excited for – and it did not disappoint.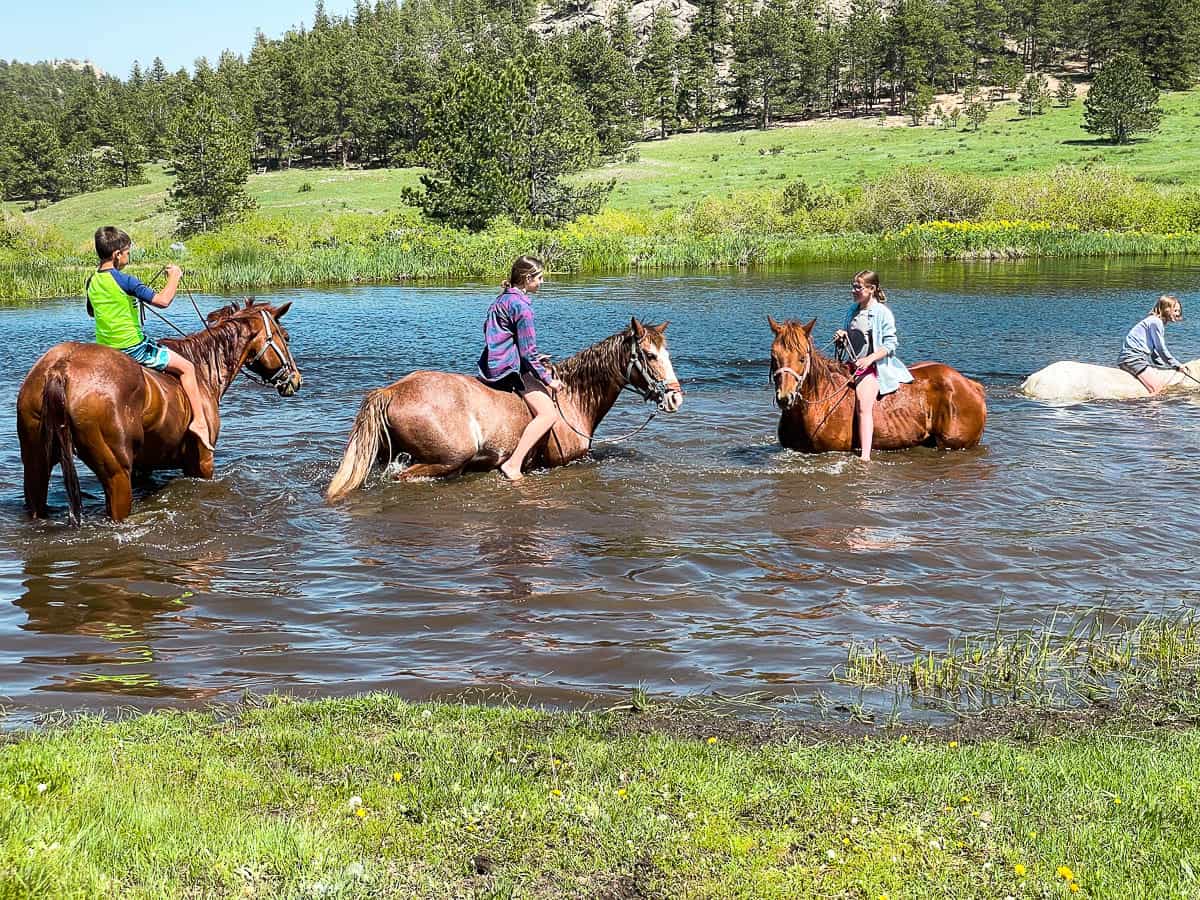 Wranglers organize everyone interested in swimming with the horses (adults can do it too!) and gets them ready for the short bareback ride to the pond. Some horses love the water and fully submerge themselves while others wade in just a little to test it out. It is such a fun experience to witness.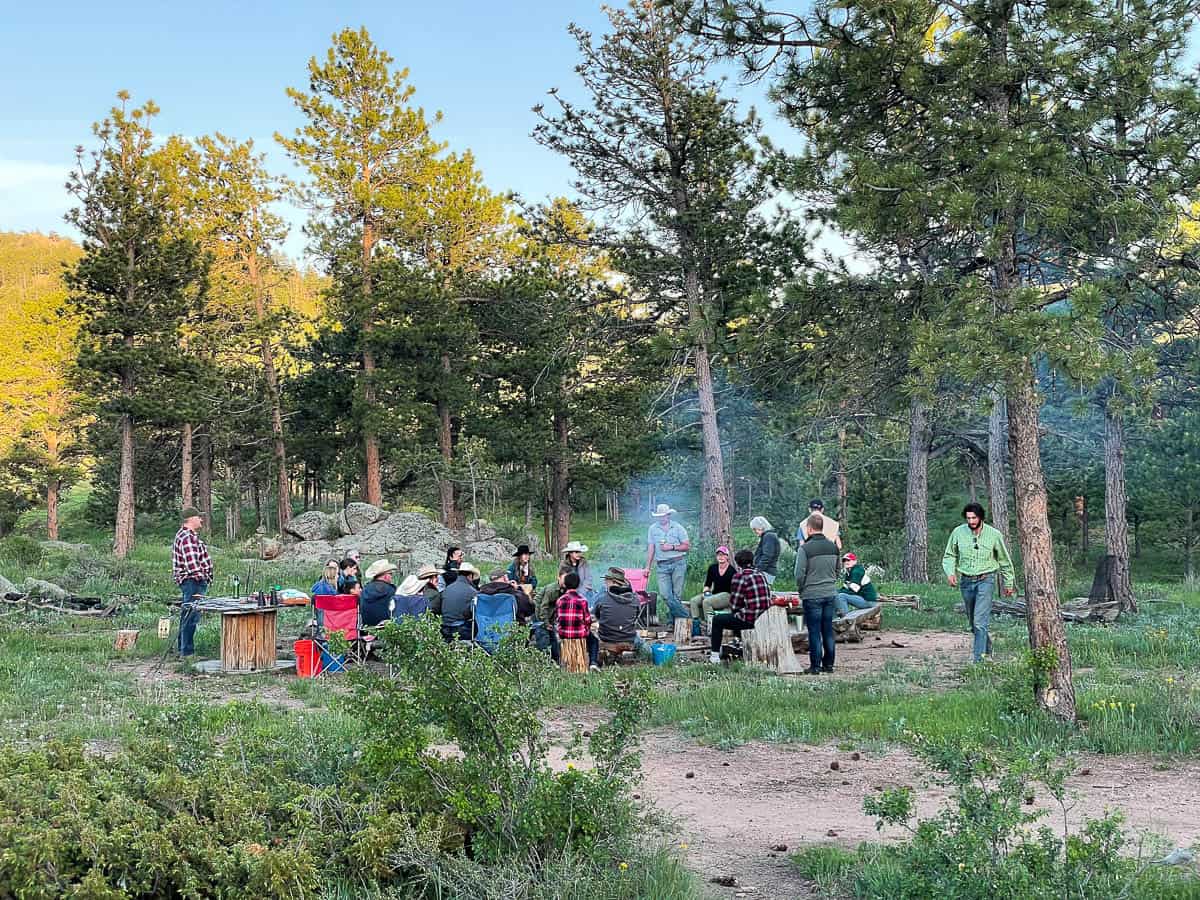 The last night of the week guests get to gather once again around the campfire and share cowboy poetry. Some poems are uplifing, some hilarious. Each guest (all ages included!) gets to participate and share if they'd like. It's a fun night to hang out, share stories from the week, and start planning ways to keep in touch as everyone starts to leave the next day.
The next morning brings Ranch Awards where the kids are awarded a horseshoe with a personalized award chosen based on what happened that week. I was lucky enough to get an honorary award for "Extreme Bravery". Yes, word got back on my trepidation about the rafting and my fear of climbing the steep rocky mountain climbs earlier in the week.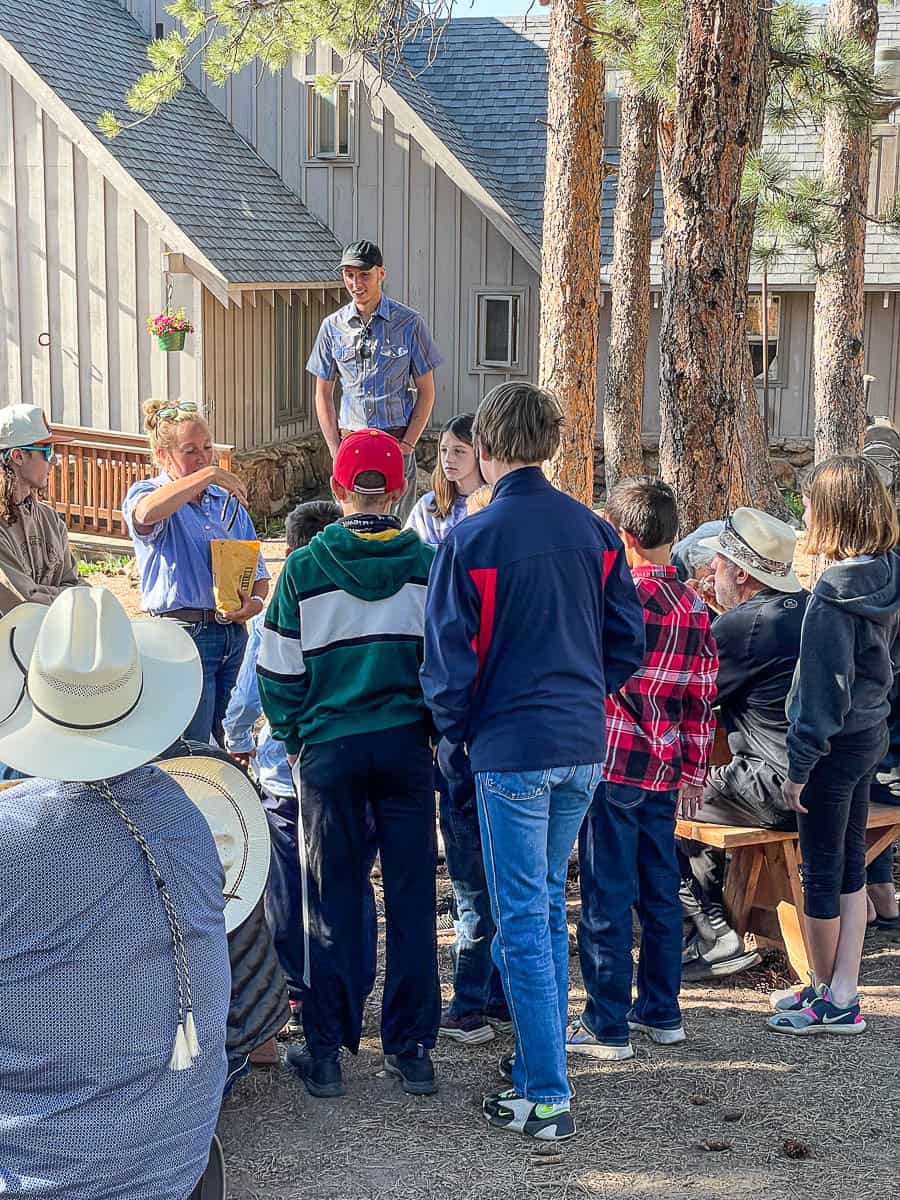 This ranch certainly pushed my semi-adventurous spirit into keeping up with my families love of new adventures. I'm grateful I went out of my comfort zone to try new things that I might not otherwise have done.
If you're an adventure-seeking family you won't be disappointed with a stay at Sundance Trail Guest Ranch. They go above and beyond to make their guests happy and help ensure your vacation is the best possible.
I wouldn't trade these memories for the world. And my kids wouldn't either.