A 20 minute, budget-friendly, dinner recipe.  This is the first review in our new Cook The Book Series.  First Up is Quick Green Chicken Chili from Cooking Light Magazine.  Keep reading for my review on this dinner recipe.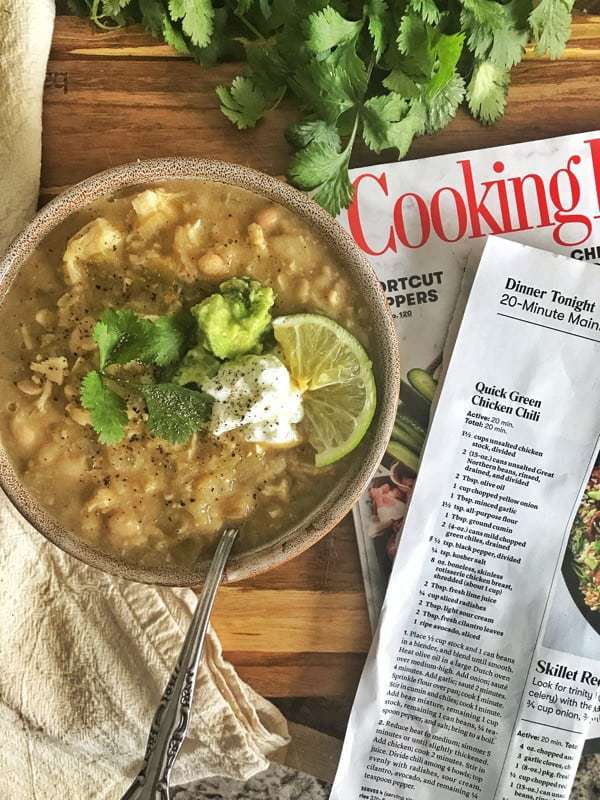 If you're like me, you get a lot of magazines delivered to your door every month.  I try my best to get through them, but if I'm honest, a lot go unread.
I wanted to change this and to test out some of the amazing recipes that come into my house month after month that go ignored.  So I came up with the new series I call:  Cook The Book.  I will be taking recipes from magazines in my home, try one recipe a week, then share it with you – complete with honest feedback on what my family thought of the recipe.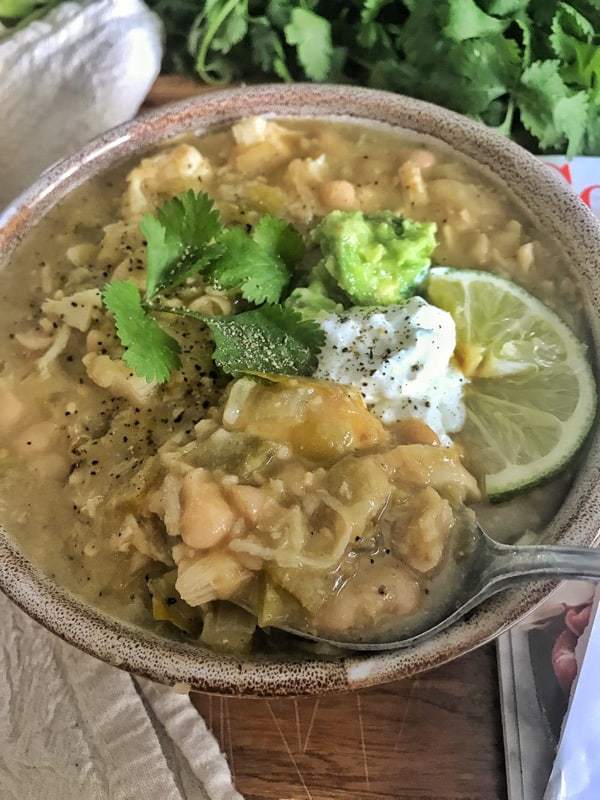 A healthy easy chicken chili recipe?
I was in! The recipe said it took just 20 minutes and the ingredients contained many pantry staples. If you want to check out my recommended pantry staples, you can print a copy here.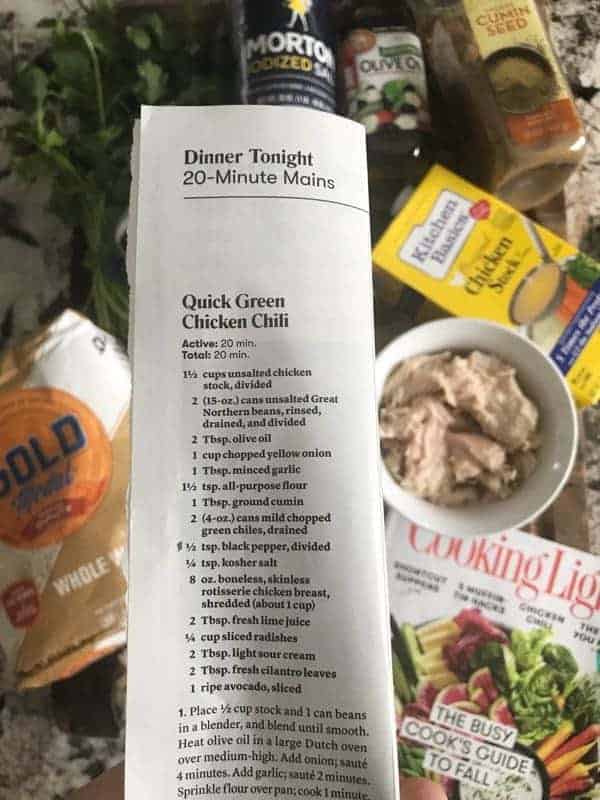 I set the timer and got to work.  I'm happy to report that 20 minutes was spot on -a true 20-minute dinner.  This recipe was already winning in my book.
Next up, I figured the price per serving to see if it was an economical meal option.  This healthy easy chicken chili came in at $2.26 per serving.  Not so bad.
The next test was dinner.  This recipe, with 2 cans of green chilis, has a bit a zip to it.  I loved the spicy flavor, but I was curious if my not so spicy son would like it.  We sat down at the dinner table, my husband was impressed by the fancy garnishes. My kids picked them off.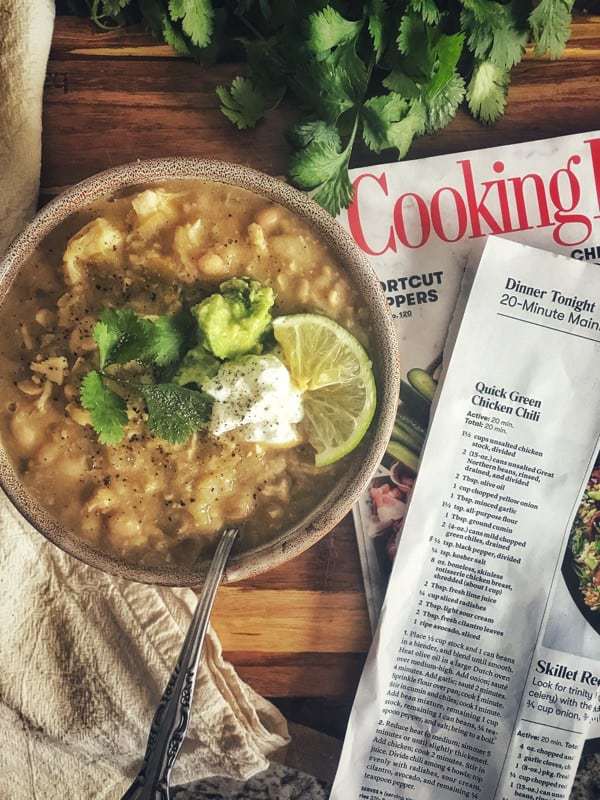 The conclusion?
My husband and daughter loved this healthy easy chicken chili, my son – not so much.  We were at 3 out of 4 with a glowing review.   Next time I'll cut back to 1 can of green chilis and puree ALL the beans. My not so spicy child is also the just say no to beans kid…but he eats them anyway, all the while grumbling.
Would I recommend the recipe?
Yes. I would recommend the recipe with the changes I mentioned above for families who aren't fans of spicy foods.  I would also double the recipe next time – at just 4 servings there were no leftovers.
Looking for quick, healthy dinner ideas?  Check out the following: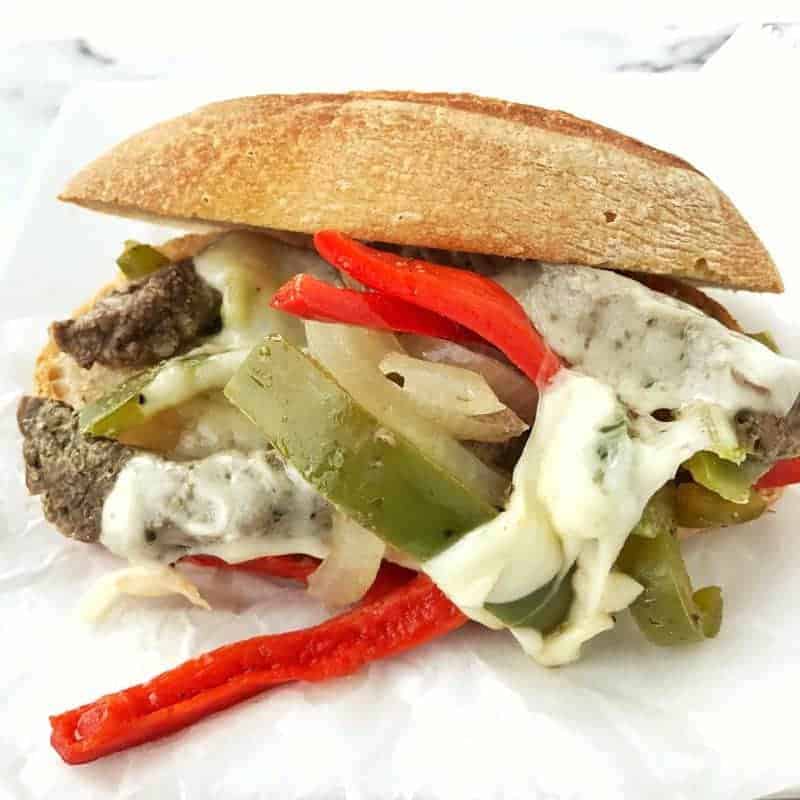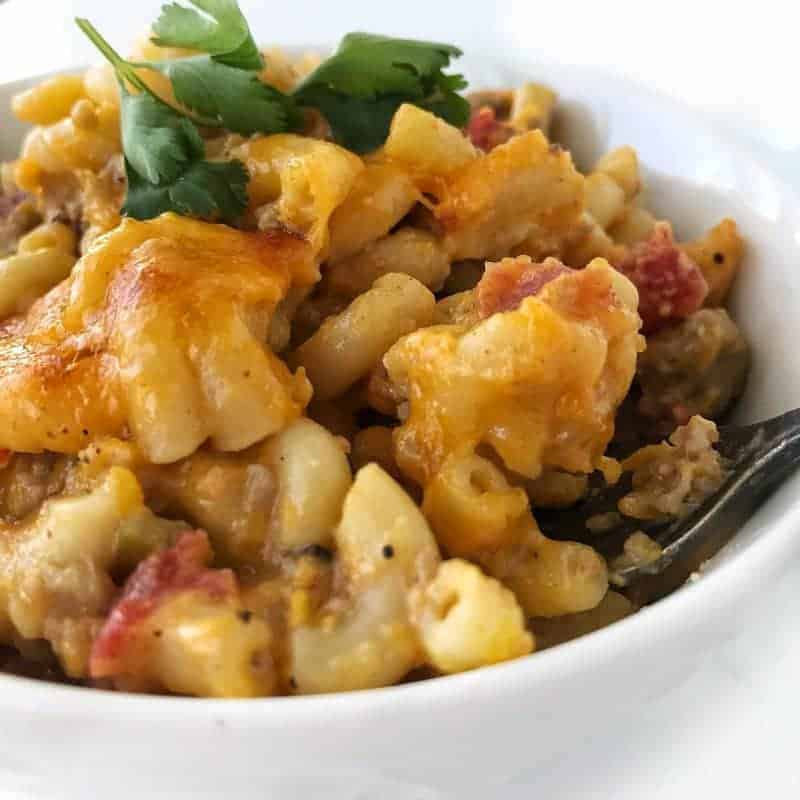 What's your favorite cooking magazine?  Do you regularly make the recipes?  I'd love to hear your thoughts!
What's your conclusion – will you be trying this healthy easy chicken chili recipe?

SaveSave
SaveSaveSaveSave
SaveSave
SaveSave
SaveSave
FREE Kids Cooking eBook!
Do you want your children eating a more varied diet, but wonder how to get more fruit and veggies into their meals & snacks? This eBook is a fun filled way to get kids eating better while having age appropriate fun!