10 healthful food swaps that provide healthy alternatives for improving your family's health.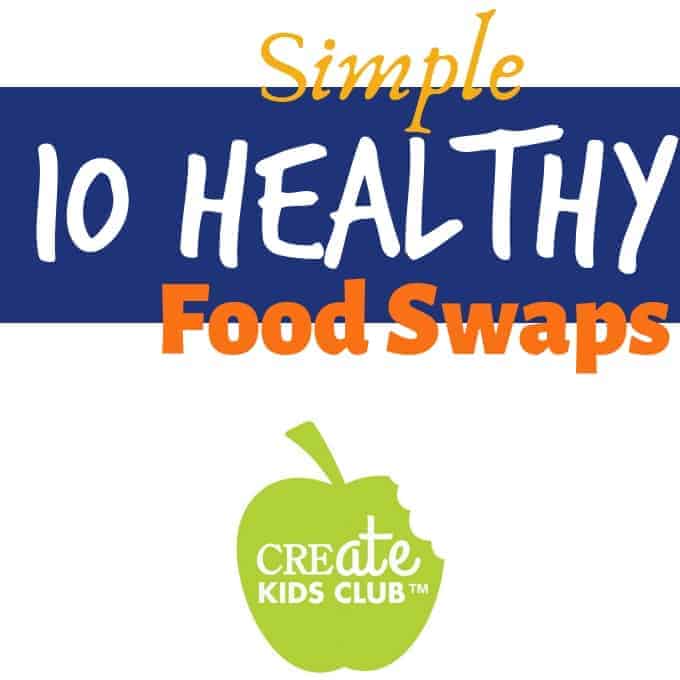 We all want a healthy family, but as a mother of 2 and a registered dietitian, I know how hard it is to feed our families the foods we want them eating, versus the foods they want to be eating. As my kids enter their tween years, I am realizing this job only gets harder.
What I've found to work with kids (and spouses) of all ages are the following 10 tips for Healthy Alternative food swaps.
I hope they help you too!
1. Swap fruit purées for butter or oil in baked goods.
A fruit purée adds more nutrients and cuts the calories and fat. Applesauce is a great option.
Recipes to try:
Pro Tip: Fruit Purees are substituted 1:1 in your recipes.
2. Add healthful alternatives to pancake mix.
Often times kids refuse to eat the whole grain varieties of pancake mixes, both store-bought and homemade.
Pro Tip: Stick with your child's favorite brand then try adding some healthy additions to the mix to boost the nutritional content.
Try these healthy alternatives:
Add applesauce or mashed bananas
Add pumpkin puree
Try shredded zucchini
Blend half of a whole grain mix with half of the regular mix
Recipe To Try: Animal Pancakes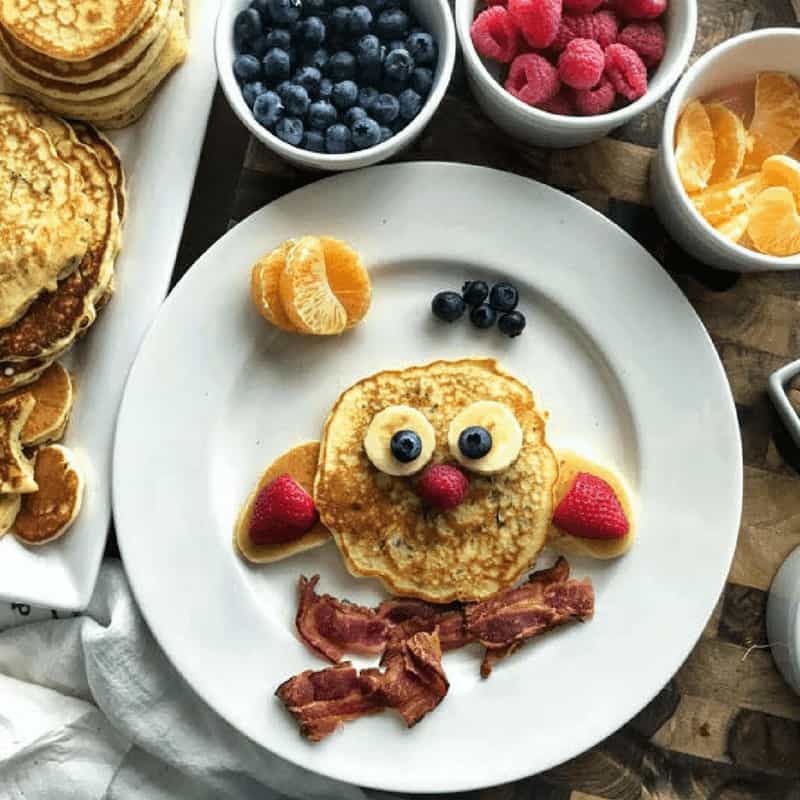 3. Add puréed vegetables to sauces and soups.
Veggies like squash and carrots also blend in well. Don't want to purée veggies yourself? Try using baby food- already puréed and full of nutrition.
Ideas To Try:
Pumpkin puree blended into spaghetti sauce
Mashed squash blended into chili
Add creamed corn to a creamy potato soup
Diced tomatoes or tomato paste added to taco meat
Pureed carrots blended into your favorite soup
Recipes To Try: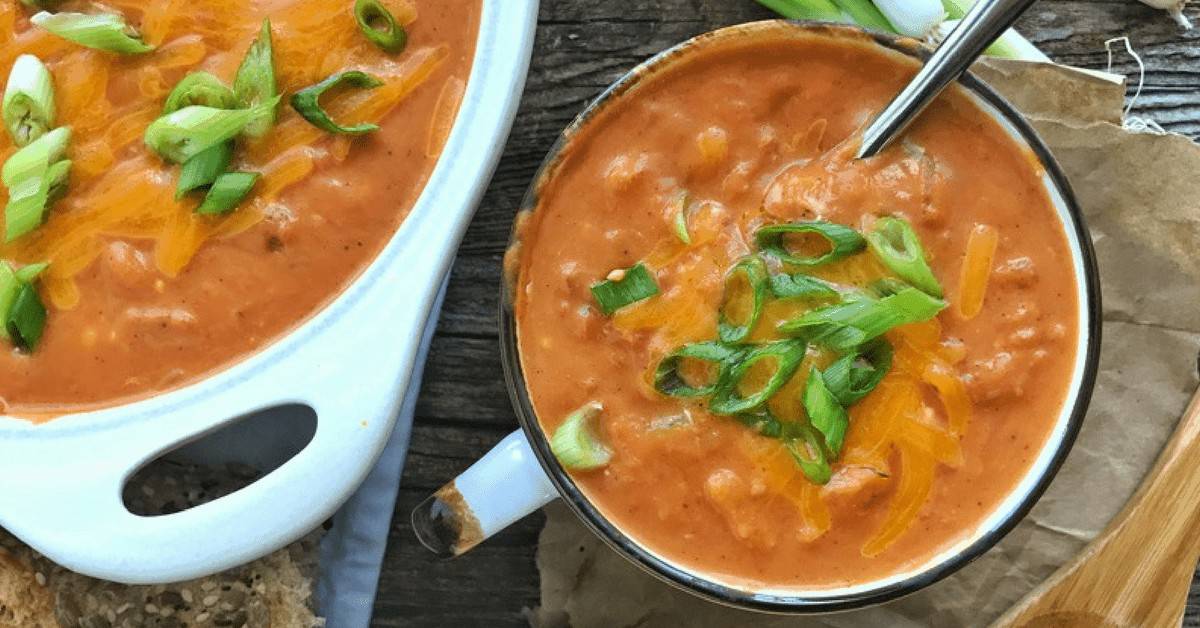 4. Swap crackers for fruit or veggie-based muffins at snack time.
Find little swaps that add additional fruit and veggies to your family's day. Muffins make delicious after-school snacks, packed in a school lunch, or as dessert.
Recipes To Try: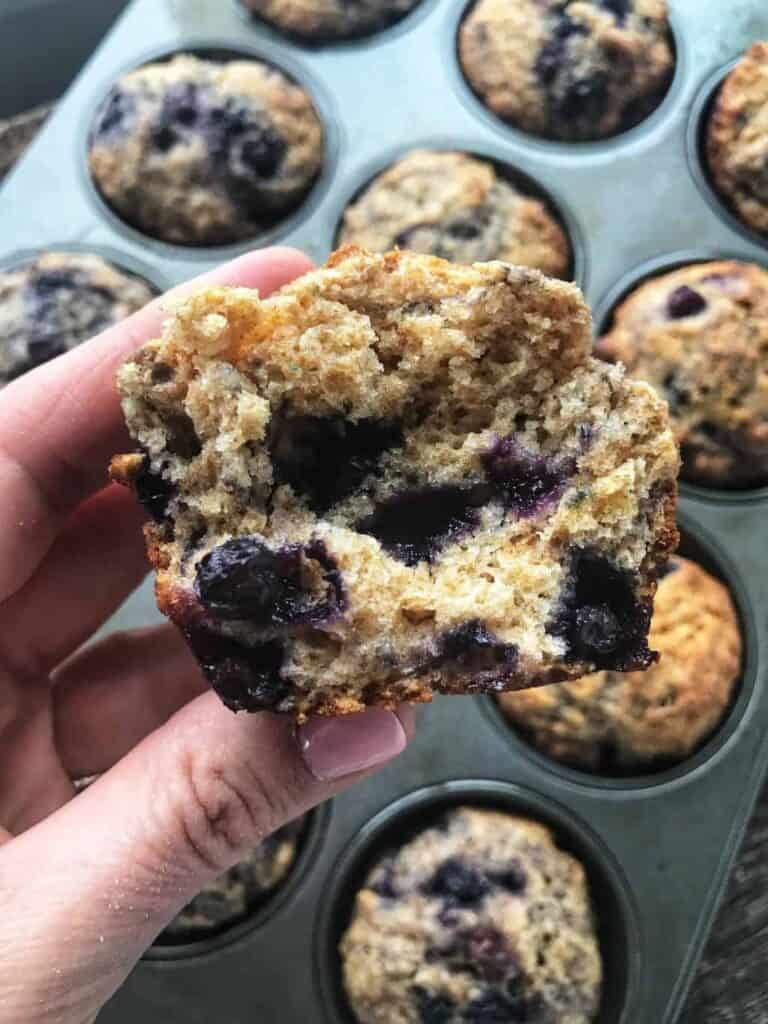 5. Prepackage healthy options and offer them at eye level in the refrigerator.
When healthy alternatives are easy to grab and go we are all more inclined to eat them – and kids are no different.
Break items down into snack-sized bags and keep them in an easy area for everyone to see on a refrigerator shelf your child can reach on their own.
Ideas To Include:
Yogurt
Cottage cheese
Sliced fresh fruit
Sliced fresh veggies
Veggie dip
Cheese chunks or string cheese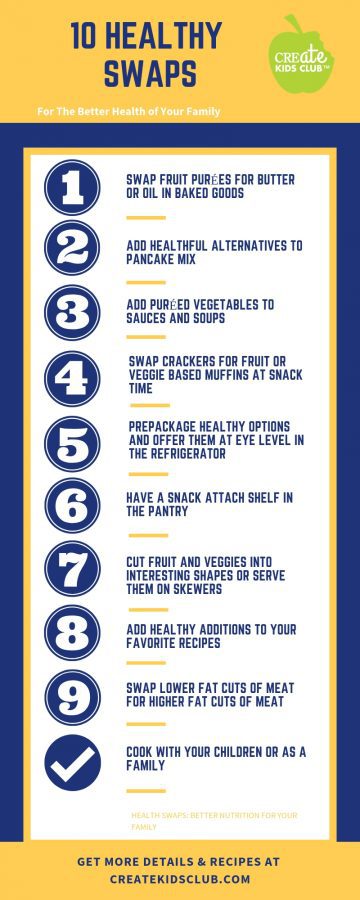 6. Have a snack attach shelf in the pantry.
Just like in the refrigerator, offer foods in snack-sized bags for portion control in the pantry too.
Things to include:
Popcorn
Pretzels
Raisins
Dry Cereal
Canned fruit
Canned vegetables
Nuts and seeds
Whole-grain crackers
Pro Tip: Offer chips and sweets this way too. Serve treats in snack-sized bags for portion control.
Having pre-portioned shelf-stable snacks makes for a great grab and go healthy options and saves money in the process by pre-portioning yourself.
7. Cut fruit and veggies into interesting shapes or serve them on skewers.
Making fruits and veggies seem more exciting helps encourage kids (and adults) to eat them. Offer low-fat dressings to dip the veggies in. Place these veggies out before dinner when your family is hungry. Hunger also helps the acceptance of foods that are sometimes neglected.
Recipes To Try:
8. Add healthy additions to your favorite recipes.
This is simply done by adding fresh, frozen, or canned vegetables to recipes you are already making.
Ideas Include:
Adding shredded carrots to meatloaf
Adding chopped peppers to ground beef when making tacos
Adding an extra can of diced tomatoes to chili
Pro Tip: Chop extra peppers, carrots, celery, onions, etc. then a recipe calls for then freeze to use later.
Recipes to Try: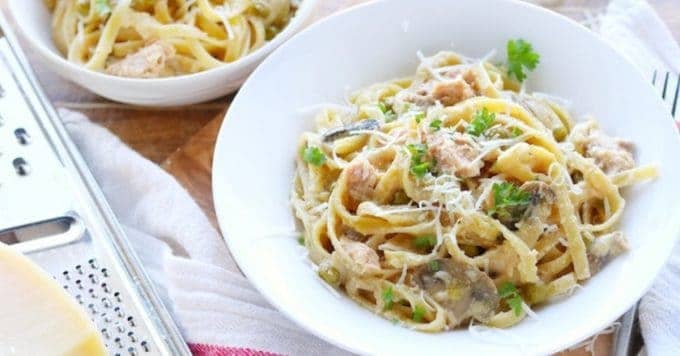 9. Swap lower-fat cuts of meat for higher-fat cuts of meat.
While some of the tastiest cuts of meat are often the ones with more fat and therefore less healthy for you, you don't necessarily have to sacrifice flavor by choosing lean cuts of beef. Simply made smart choices when selecting lower-fat options.
Tips for choosing cuts:
Choose cuts that are graded "Choice" or "Select" instead of "Prime," which usually has more fat
Choose cuts with the least amount of visible fat
When selecting ground meats, opt for the lowest percentage of fat
Lean cuts of meat include:
Eye of round roast and steak
Sirloin tip side steak
Top round roast and steak
Bottom round roast and steak
Top sirloin steak
10. Cook with your children or as a family.
Kids need to learn how to cook, and what better way than working beside their parents? The added benefit is that when a child helps prepare food, they are more likely to eat it.
Ideas To Get Started:
If you enjoyed this post or made any of the recipes, make sure to leave a comment below! Then follow me on social media and tag #createkidsclub. I love seeing what you come up with!
Delicious Simple Family Recipes
Join Create Kids Club & get our 10 Favorite Crockpot Recipes ebook!