Our Gluten-Free Thanksgiving Menu provides delicious menu ideas for your whole Thanksgiving meal. Whether you're hosting a gluten-free Thanksgiving dinner for the first time or you've been doing it for years, putting the holiday menu together can be a chore. Save yourself the hassle and check out our planned menu ideas to simplify your holiday meal.
Kicking it off with potato ideas, we share all the favorites with a gluten-free twist. Cheesy potatoes, mashed sweet potatoes, and the very so popular scalloped potatoes. Up next, you will find gluten-free side dishes to add to the menu. Everything from savory green bean casserole made with canned or fresh green beans to caramelized butternut squash.
Following, you'll find soup recipes incorporating all the fall flavors and more. Our creamy pumpkin chili is a crowd favorite year after year. Of course, turkey recipes are listed next with traditional flavors or ways to spice up Thanksgiving dinner with the main entrée. And last but definitely not least, dessert! The holiday wouldn't be complete without a slice of pumpkin pie and all the other treats.
We bring this Thanksgiving recipe collection to you with your family in mind. Keeping ingredients affordable, recipes simple, and every menu idea kid-approved. Now all you have left is to be thankful for every recipe shared and every memory created around your family table this Thanksgiving!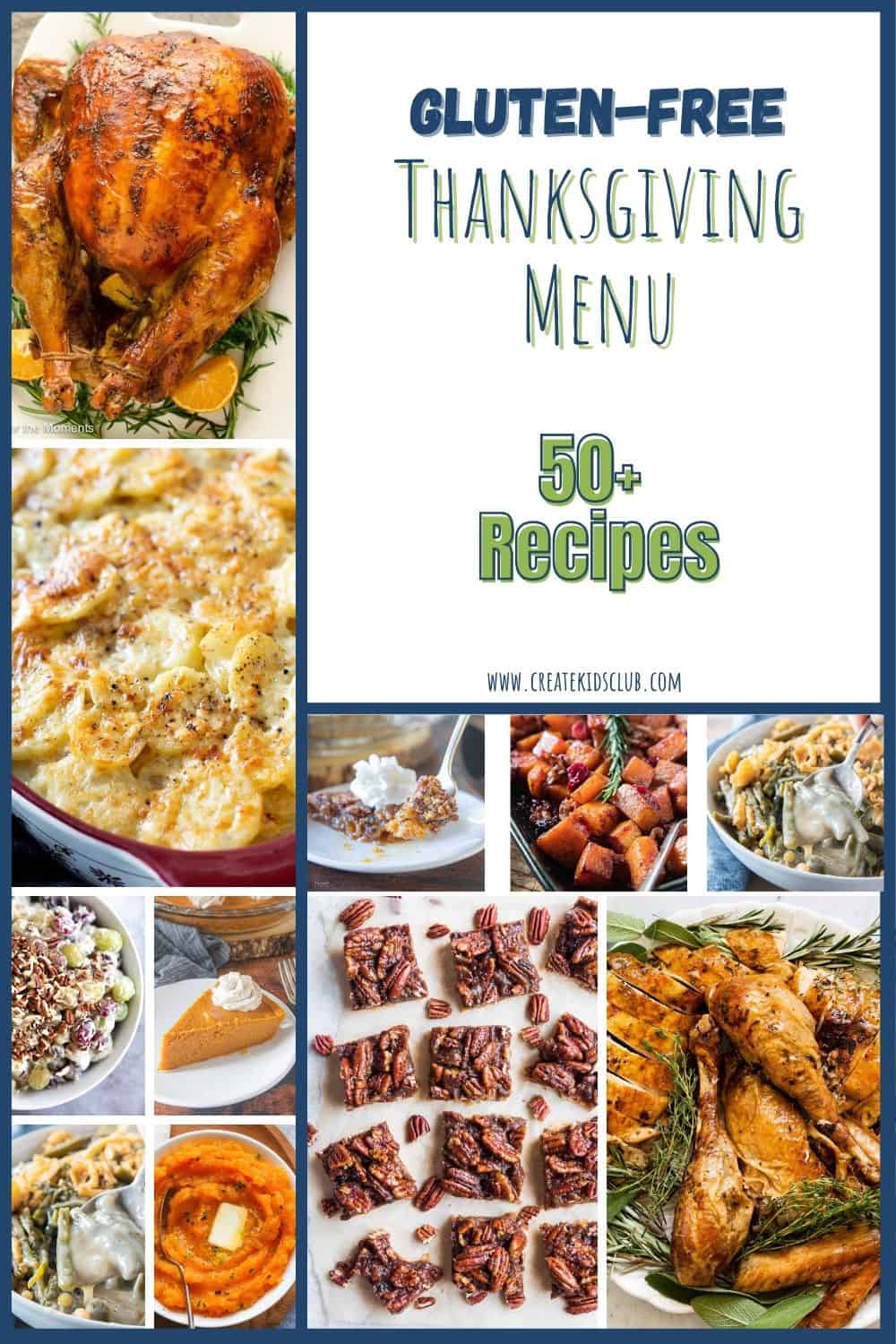 Tips for Hosting A Gluten Free Meal
If you're new to hosting gluten-free family or friends and you don't have a gluten-free kitchen it's always a good idea to check in on their comfort level with the meal.
People with celiac can be very sensitive to the slightest cross-contamination in a regular kitchen, even if you are trying super hard to make safe meals.
Don't be offended if your guests feel more comfortable bringing their own dishes or plate to eat during the holidays. It's an uncomfortable spot to be in bringing your own food – believe me, they don't want to have to do this, but sometimes need to in order to be able to visit with family without being nervous of the possibility of being sick for days after. Some people with celiac are not as sensitive and may be more open to having family prepare safe meals for them. Just ask first.
It may be a nice gesture to provide foods labeled certified gluten-free if you find anything labeled as such to add to the meal. Guests will feel comfortable with this certification knowing it's a safe food for them to enjoy.
Thanksgiving Breakfast Ideas
Jumpstart Thanksgiving morning with a quick and easy breakfast recipe. Check out our top picks for the holidays! Gluten-Free Pumpkin Pancakes, Gluten-Free Pumpkin Muffins, Make-Ahead French Toast Casserole, Hash Brown Egg Cups, Vegetable Strata Recipe, Gluten Free Breakfast Casserole, Blueberry Spinach Smoothie Kids Will Love, Cowboy Breakfast Skillet, Apple Cinnamon Pancake Recipe, Healthy Apple Muffins, and Sweet Potato Egg Cups.
If you enjoyed any of the recipes make sure to leave a comment below! Then follow me on social media and tag #createkidsclub if you make the recipe. I love seeing what you come up with!