We've gathered 30 Gluten-free Thanksgiving Desserts making it easy to find recipes that are celiac safe and taste delicious! Everything from a gluten-free pumpkin roll to apple cider doughnuts, you'll be sure to find the perfect dessert for your holiday table.
The days of skipping the dessert table wishing for a gluten-free dessert option are officially over. With these easy dessert recipes, everyone can enjoy something sweet after Thanksgiving dinner. Pies, cakes, chocolate bark, ice cream and so much more to choose from this holiday season.
You definitely won't be settling on just one dessert after checking out this list. Good thing everyone makes room for dessert even if stuffed full of roasted turkey, dressing, and green bean casserole! We hope you enjoy baking this season and turning many of these favorites into family traditions for years to come.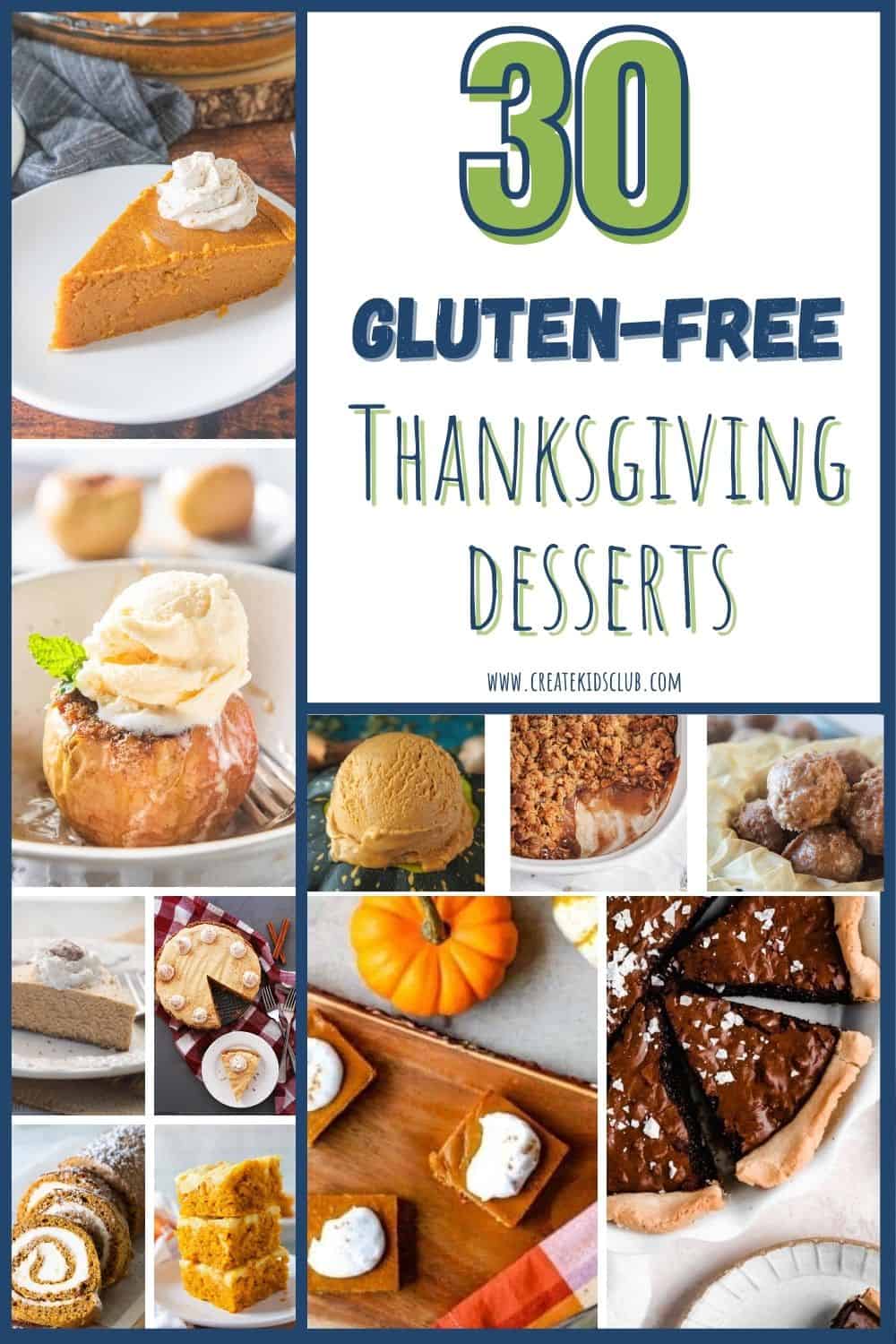 Holiday Desserts
Wondering what to plan on the menu for Christmas, New Years, and all upcoming holidays? Our holiday recipes collection is here for you!
Gluten Free Recipes
Along with this Thanksgiving dessert list, our Gluten Free Cheesy Potatoes, Gluten Free Scalloped Potatoes, Gluten Free Cornbread Dressing, Buffalo Chicken Drumsticks, Gluten-Free Baked Ziti with Sausage and Healthy Chicken and Rice Crockpot Recipe, Gluten-Free Farmer's Dinner Casserole, Gluten-Free French Dip Sandwiches (Instant Pot or Crock Pot), Baked Chicken and Brown Rice Casserole, Turkey Burgers in the Oven, Kid-Friendly Tater Tot Casserole, Healthy Sloppy Joes (Turkey) and Pork Chop Sheet Pan Dinner are must try gluten-free recipes.
If you enjoyed any of the recipes make sure to leave a comment below! Then follow me on social media and tag #createkidsclub if you make the recipe. I love seeing what you come up with!