Oatmeal doesn't need to be boring. Check out these 13 delicious gluten-free oatmeal recipes that are sure to make breakfasts more interesting. If you have celiac disease, make sure to use only certified gluten-free oats for any oatmeal recipe you choose.
These oatmeal recipes will keep you full until lunch, making each one a great option for any morning. You could even pack any of these oat recipes for lunch if desired, they make a great lunchbox meal.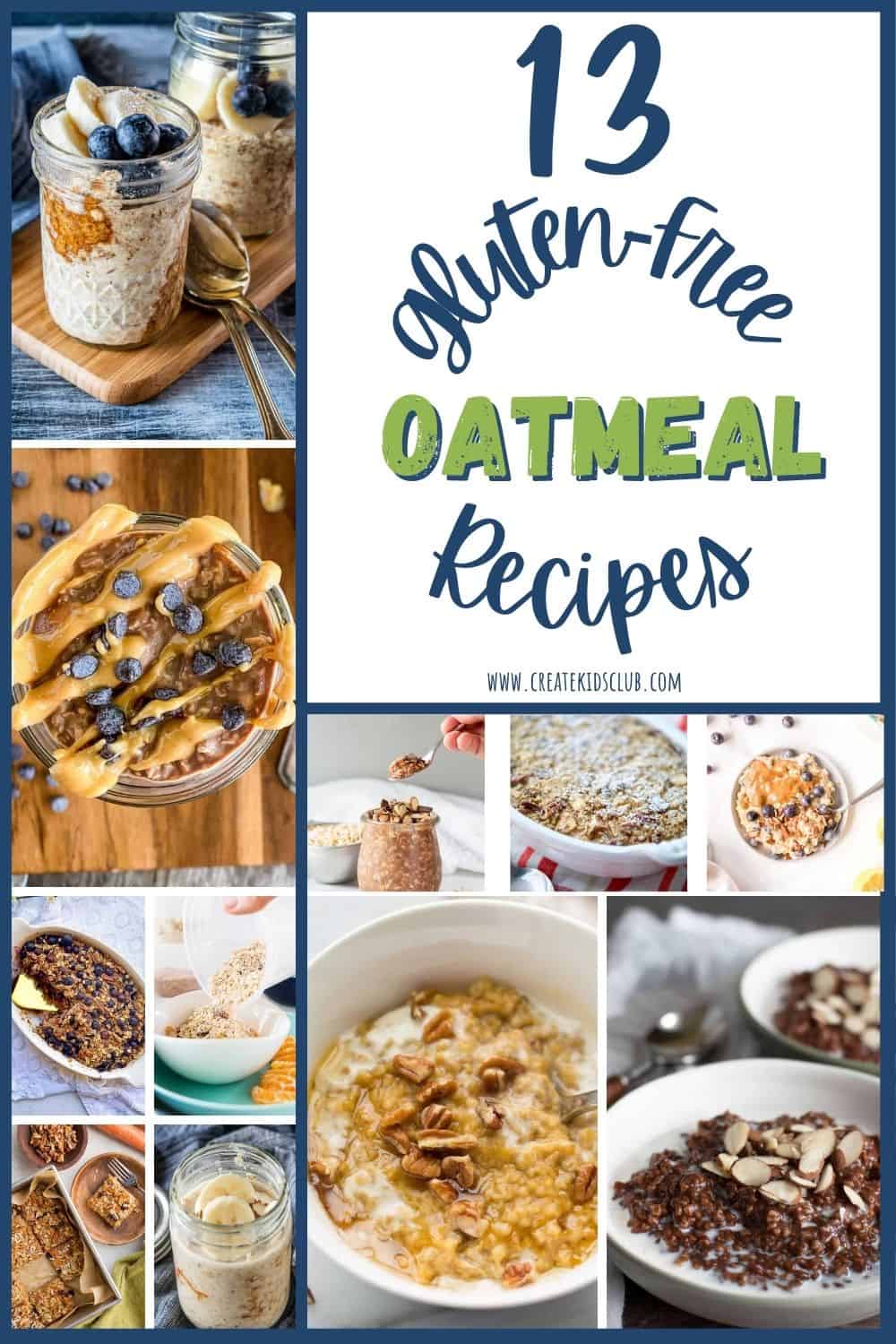 Not only are these oat recipes satisfying but they are quick, easy and family-friendly. Scroll through the round-up below to change up your breakfast routine for this week & beyond!
Gluten-Free Oatmeal Recipes
Peanut butter overnight oats are a deliciously amazing grab-and-go, protein-packed breakfast filled with fiber. A must-try recipe overnight oats for kids!
DIY Instant Oatmeal Packets are quick and easy. Homemade instant oatmeal is simple to make and you get full control over the flavors (along with the sugar content), and only need hot water to turn into a hot breakfast perfect for on-the-go, lunch boxes, or add milk and refrigerate for overnight oats.
Photo Credit: www.fearlessdining.com
You will feel like a kid again when you grab a spoonful of gluten free chocolate steel cut oats. Plus, eating a bowl of stovetop steel cut oats is a fantastic way to warm up on a chilly winter day. Even my kids will ask me to make this recipe time and time again because it has become a household favorite.
Mashed bananas, peanut butter, oats, and sweetened almond milk are the base of this kid-friendly overnight oats recipe. Packed with fiber, this is a go-to breakfast recipe the whole family will love.
Photo Credit: watchlearneat.com
These chocolate peanut butter overnight oats are packed with protein and fiber for a filling and flavorful make-ahead breakfast. Gluten-free, vegan, oil-free and just 5 minutes of prep time!
Photo Credit: www.cleaneatingkitchen.com
This quick and simple recipe for Blueberry Overnight Protein Oats tastes like a blueberry muffin. It is rich in protein and will keep you full and satisfied for several hours. Make it the night before and then just stir and serve.
Photo Credit: www.glutenfreepalate.com
Wholesome, healthy, and delicious – these Chocolate Overnight Oats using oats, milk, and rich cocoa will be a new favorite breakfast option in your house.
Photo Credit: goodfoodbaddie.com
Blueberry Baked Oatmeal is perfect for an easy meal prep breakfast. Combine all the ingredients in one dish, bake, and enjoy throughout the week! This recipe is vegan, gluten-free, and super easy to make!
Photo Credit: beamingbaker.com
Gluten Free Overnight Oats: we leave out the cow's milk and instead use dairy-free almond milk to make satisfying dairy free overnight oats with just a few simple ingredients. Overnight oats no milk.
Photo Credit: 2cookinmamas.com
Healthy Oatmeal Breakfast Cookies take just 30 minutes and taste like you're having dessert for breakfast! They're chewy, crunchy, and packed full of flavor. Mom will definitely say yes to these cookies for breakfast! Naturally gluten-free, dairy-free, and low in sugar.
Do Oats Have Gluten?
This is a VERY common question that we see pop up in the celiac community. Oats are naturally gluten-free; however, conventional oats can be contaminated during processing by gluten-containing grains. Certified gluten-free oats are a celiac safe option that are processed with measures in place to prevent cross-contamination. If enjoying oats as part of a gluten-free diet, selecting only certified gf oats is going to be the best practice.
We hope this clarifies the question of whether oatmeal is gluten-free. If you have a specific question related to celiac disease, gluten-free cooking, or the best ways to successfully feed your family, reach out directly or post the question below! We are happy to hear from you and help you navigate the wild world of gluten-free living.
More Gluten Free Breakfast Recipes
From sweet to savory, you'll find all you need to kick start any morning! Dairy Free Breakfast Casserole, Gluten Free Breakfast Sandwich, Dairy Free Rice Pudding, Hash Brown Egg Cups, Peanut Butter Powder Smoothie, Dairy Free Waffles, Almond Milk Pancakes, Gluten Free Cinnamon Roll Recipe and Gluten Free Monkey Bread.
If you enjoyed any of the recipes make sure to leave a comment below! Then follow me on social media and tag #createkidsclub if you make the recipe. I love seeing what you come up with!