We've gathered 11 gluten-free lunchbox ideas (that are not sandwiches!) that are kid favorites. These fun and tasty ideas make packing lunches quick and simple.
Included are both hot and cold lunch ideas for kids that incorporate fruits and vegetables to keep your kids fed and full through the school day. The ideas even make delicious gluten-free snacks for kids to enjoy at home in the afternoon!
In honor of the back-to-school season, we are once again partnering with Healthy Family Project for their Back to School Campaign. This year's companies partnering in their Back To School Campaign are giving $14,000 back to the Foundation For Fresh Produce, which works to increase accessibility to fruits and vegetables in schools. A huge thank you to all of the sponsors!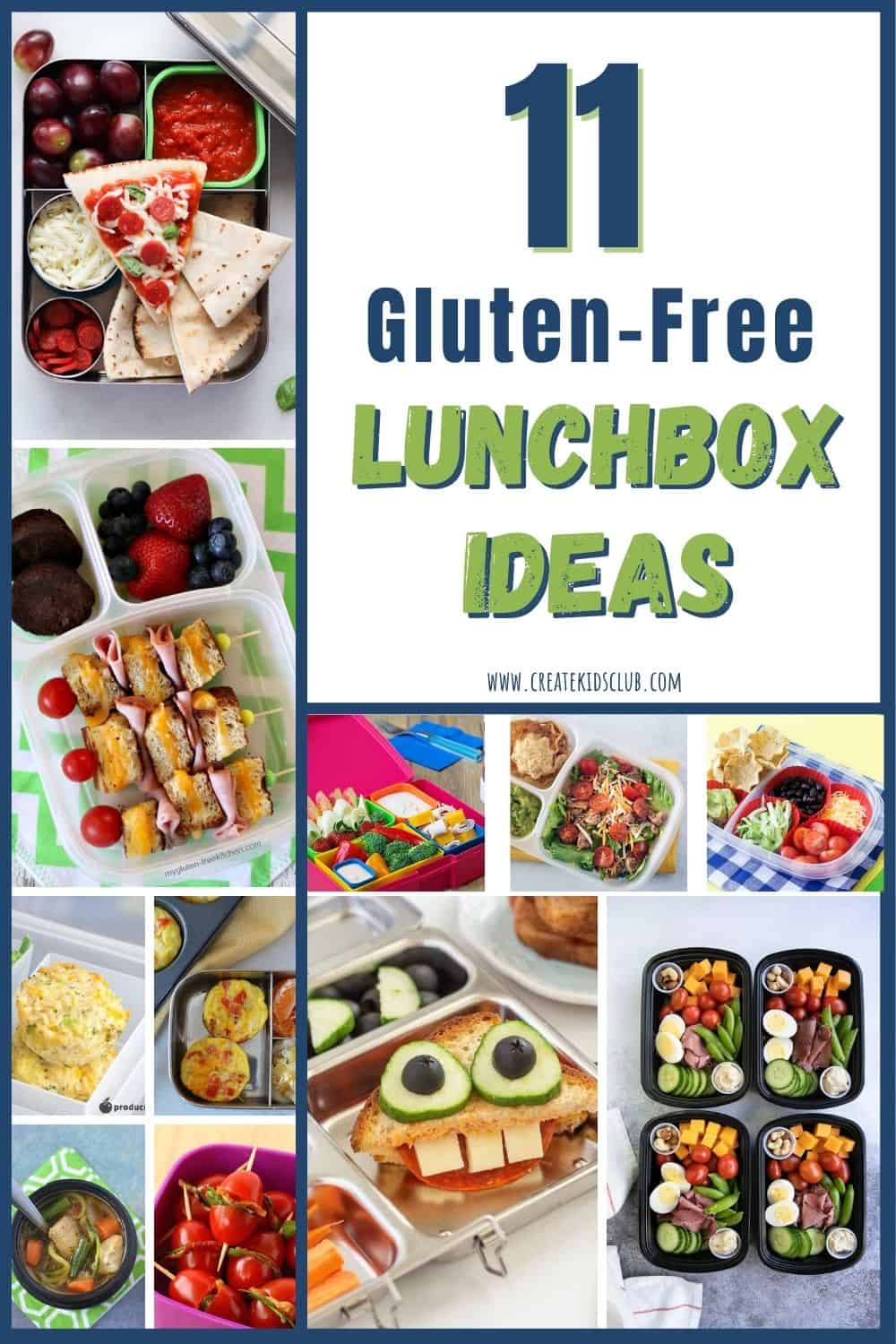 These easy gluten-free lunch ideas are perfect for any school day, whether your kids are attending in-person, virtual or are being homeschooled this year. Monday to Friday you can ensure your kids are nourished and ready to learn.
The simplicity of these recipes also allows older kids to take control and make lunch all on their own. It not only creates independence within the kitchen but creates healthy habits of encouraging kids to include produce at meals. Gluten free meal prep for the win!
To get started, gather a lunchbox, Bento box or reusable containers along with the ingredients.
Photo Credit: healthyfamilyproject.com
Need some inspiration for the kids lunchbox this school year? This "fondue" recipe is a great way to add some fun to lunchtime. Kids will love to get hands-on and dip their fruits and veggies. This Fun Bento Fun-Due is perfect for the kids (or even adults) who like to dip and snack versus a heavy meal.
Photo Credit: healthyfamilyproject.com
Classic chicken noodle soup gets a veggie-packed makeover with zucchini noodles (zoodles)! Make a batch of this Chicken Zoodle Soup for a delicious lunch or dinner idea to change things up. Want to take this soup for lunch? Grab a thermos and fill it up for a nice warm lunch.
Photo Credit: healthyfamilyproject.com
These Southwest quiche muffins are a great meal prep recipe packed full of protein and veggies. Make a batch for easy breakfasts all week, or these fun breakfast theme bento boxes!
Photo Credit: healthyfamilyproject.com
Who says lunchboxes have to be complicated? Turn last night's Taco Tuesday dinner into a delicious taco salad for lunch the next day with your leftover taco meat. This Turkey Taco Salad Bento Box is perfect when you have leftover taco meat or great if you want to make a batch for meal prep for the week.
Photo Credit: healthyfamilyproject.com
These DIY Lunchbox nachos are easy enough to prep that the kids can definitely help preparing them. Kids will love assembling this fun DIY Nachos lunch with black beans, cheese, lettuce, tomatoes and guacamole!
Photo Credit: healthyfamilyproject.com
These savory muffins require just 6 ingredients - eggs, brown rice, chicken, broccoli, cheese and Sazon seasoning - and 15 minutes of baking time. Just mix everything together, add to your muffin tin and bake! They're like miniature versions of chicken and rice casserole.
Photo Credit: mygluten-freekitchen.com
Fun for the lunch box, these gluten-free grilled cheese kabobs are easy to make and easy to customize. These lunch skewers are fun for kids!
Photo Credit: cookathomemom.com
Easy and gluten free healthy lunch box ideas for kids are here to help just in time for the near school year! These gluten free and gluten friendly kids lunches will have your kids excited about (and actually eating!) their packed lunch.
Photo Credit: www.thisvivaciouslife.com
This pizza grilled cheese sandwich is a delicious twist on a typical grilled cheese sandwich. Pizza and grilled cheese are the ultimate comfort foods, so this easy recipe is the best.
Photo Credit: theforkedspoon.com
Protein snack packs filled with hard-boiled eggs, almonds, hummus and crunchy veggies. An easy and delicious lunchtime meal-prep solution perfect for any protein lover, these fantastic little protein snack packs are perfect for school lunches, post-workout snacks or picnics in the park.
Photo Credit: raisingwhasians.com
Looking for a healthy back-to-school option? Power Your Lunchbox with these Sandwich-Free BLT Bites for Kids Dipped Two Ways! This post is sponsored by Produce for Kids. All delicious opinions are my own.
More Gluten-Free Recipes For Kids
Meal time creativity doesn't have to stop at lunch. These breakfast and dinner recipes are also simple, delicious and nutritious! Add Gluten Free Breakfast Muffins, Dairy Free Breakfast Casserole or Gluten Free Breakfast Sandwich to your breakfast menu and Gluten Free Chicken Nuggets, Gluten Free Meatballs or Instant Pot Meatloaf and Mashed Potatoes to the dinner menu. Enjoy!
If you enjoyed any of the recipes make sure to leave a comment below! Then follow me on social media and tag #createkidsclub if you make the recipe. I love seeing what you come up with!