Gluten Free Chicken Casserole is a quick and easy dinner idea that the whole family will enjoy. Packed with chicken, frozen broccoli, shredded cheese, and cream cheese baked into a super creamy casserole.
Prepped in just 10 minutes and on the table in a half hour, our chicken casserole will quickly become a family favorite. This is one of those recipes that can be served anytime of the year but especially once the weather turns cool. Living in the Midwest, it is a necessity to have ingredients to create comfort dishes like this one on hand.
Looking for more easy gluten free casserole recipes? Check out Baked Chicken and Brown Rice Casserole, Taco Casserole with Pasta, Kid-Friendly Tater Tot Casserole and Chili Mac Casserole. All kid approved and complete meals that can be served any night of the week!
Tips
Before you get started on this recipe, check out our tips and tricks to a successful casserole dish!
Substitutions
Opt for the gluten-free Italian breadcrumbs or crumble gluten-free crackers or cornflakes on top instead.
Swap the Greek yogurt with sour cream.
While we have not tried, the dairy ingredients can be substituted with dairy free alternatives if needed.
Double the recipe if feeding a crowd by increasing the cooking time by 10-15 minutes or splitting the recipe between two 9 x13 pans. When making this recipe, we will make a double batch with one batch served immediately and the one frozen for later.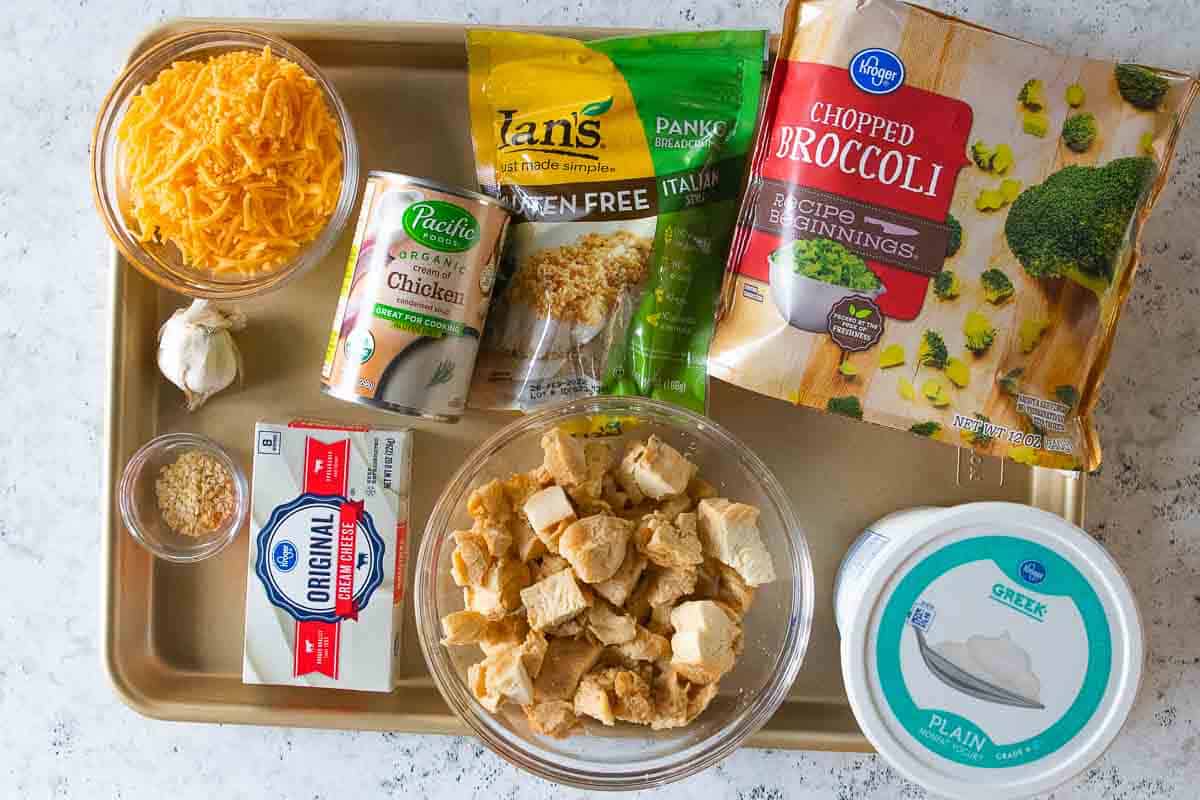 Gather a 9×13 baking pan, the remaining equipment and the ingredients then follow the instructions below!
Equipment
9 x 13 baking pan
large mixing bowl
stir spoon
measuring cups and spoons
Ingredients
2-3 cups chicken, diced ✅
12 ounce bag frozen chopped broccoli
10.5 ounce can gluten-free cream of chicken soup
1 cup plain Greek yogurt ✅
1 cup shredded cheddar cheese ✅
4 ounces cream cheese, softened ✅
3 cloves garlic, minced
1 teaspoon dried minced onion ✅
1/2 teaspoon salt
1/4 cup gluten-free bread crumbs
Gluten-Free Guide: If you're new to eating gluten-free we understand it's overwhelming trying to figure out which foods may contain gluten and which ones don't. All of our gluten-free recipes marked with this symbol ✅ represent foods that need to be checked for gluten.
How To Make
Preheat the oven to 350°F.
Blend the ingredients together
In a large bowl combine the chicken, broccoli, cream of chicken soup, yogurt, cheddar cheese, cream cheese, garlic, minced onion, and salt. Stir well then add to 9 x 13 inch pan.
Add bread crumbs and bake
Sprinkle the gluten-free breadcrumbs on top then bake for 30-40 minutes.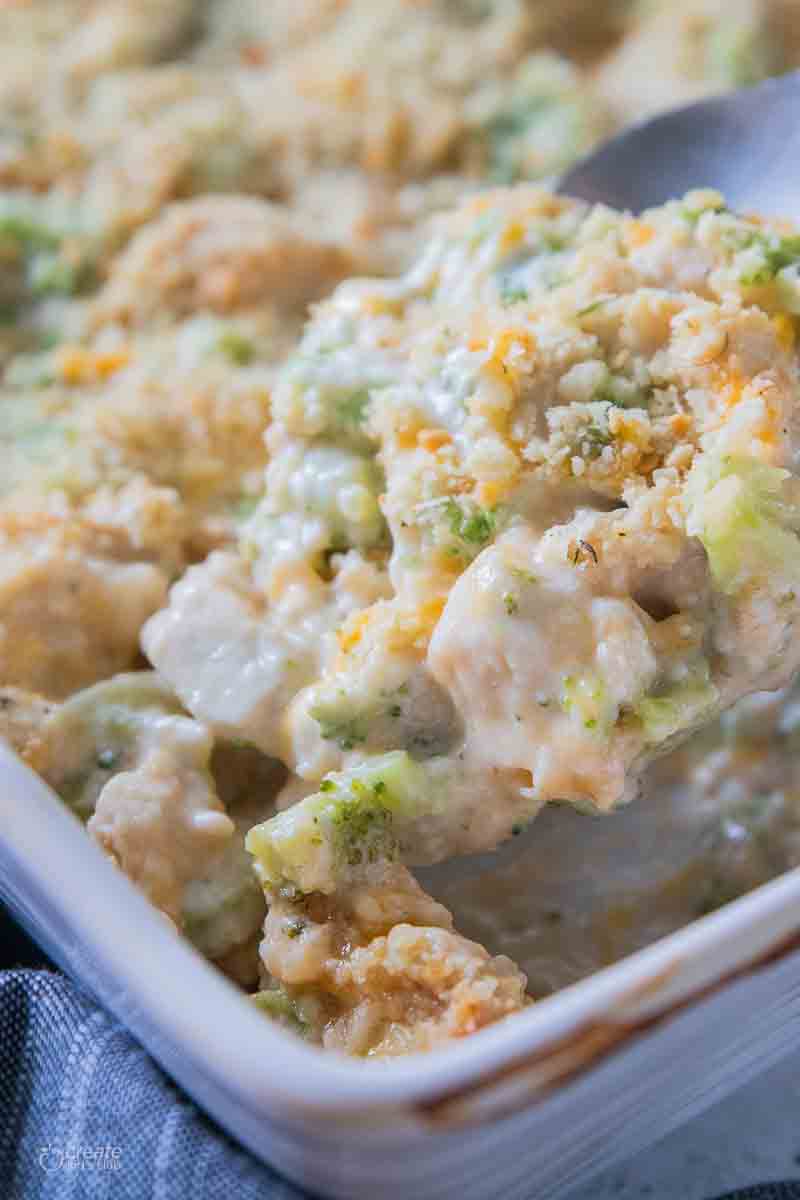 Frequently Asked Questions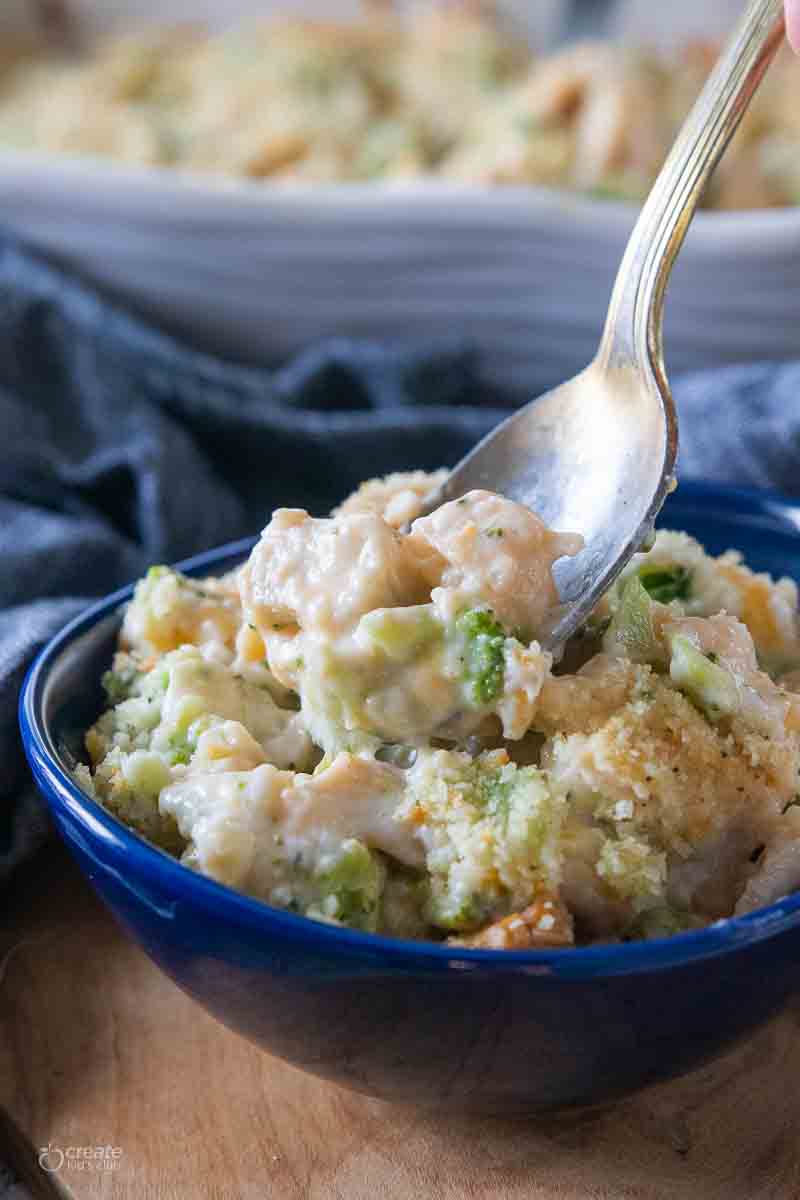 More Easy Chicken Recipes
With the versatility of chicken, we could list recipe after recipe to make. Here are our top ten favorites to add into the menu rotation!