Homemade healthy snacks for school or summer. This one ingredient homemade fruit rollup is the recipe to try. Perfect for lunch boxes, homemade Fruit Roll Ups can be made with fresh or frozen fruit. Simple enough for kids to make on their own.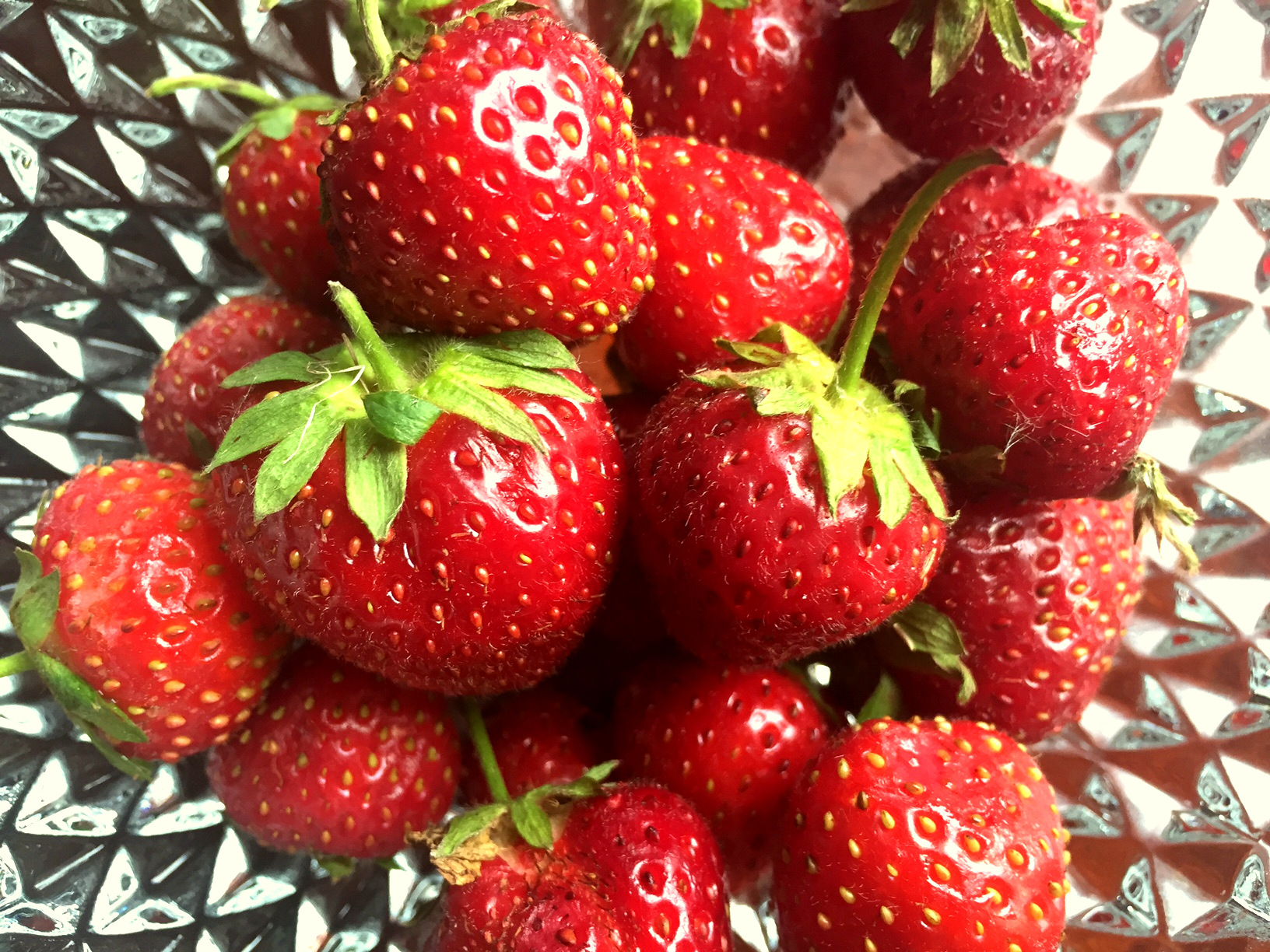 My daughter loves fruit roll ups. I, however, am not a fan. Have you ever looked at the ingredient list on a box of those babies? No? Well, let me fill you in on a secret. In a box of Strawberry Sensation Fruit Roll Ups there are no strawberries. None. Zip. Zilch. Nada. Keep reading for a simple solution.
I know you are short on time and it is much easier to grab a box of fruit roll ups from the store. BUT- this recipe is SIMPLE. The only hard part is being around to let them cook all day. Keep reading to find out why you should give up the store bought kind and make them at home with your kiddos.
It is Recipe Redux time and the July theme is:
Get Your Fruits and Veggies in Shape

With produce galore, now's a great time to enjoy lots of fruits and vegetables. Show us how you're serving the bounty of gardens and orchards in shapes like ribbons, noodles, cut-outs, or other creative cuts.
After a trip to the strawberry field I had a refrigerator full of fresh strawberries. When I asked my kids what we should make the answer was unanimous – fruit roll ups – then freeze the rest for smoothies. Lucky for me, fruit roll ups fit perfectly with the July theme.
Due to packaging and advertising, fruit roll ups are often mistakenly thought of as a healthy snack.
Processed foods of the unhealthy variety seem to always have fabulous marketing – so buyer beware.
Let's take a look at the nutrition label of Strawberry Sensation Fruit Roll Ups:
Strawberry Sensation Fruit Roll Ups Serving Size: 2 Rolls
Calories: 104 Fat: 1 g Carbohydrates: 24 g Sugars: 11 g Fiber: 0 g
Ingredients: Corn Syrup, Dried Corn Syrup, Sugar, Pear Puree Concentrate, Palm Oil, Citric Acid, Sodium Citrate, Fruit Pectin, Monoglycerides, Malic Acid, Dextrose, Acetylated Monogycerides, Natural Flavor, Color (Red 40, Yellow 5 & 6, Blue 1).
Ingredient labels work by listing ingredients by weight, the greatest listed first.
The first three ingredients are all sugar.
The only fruit in Strawberry Sensation Fruit Roll Ups is pear purée concentrate – as the 4th ingredient. When buying a fruit based product, you want fruit listed as the 1st ingredient.
Let's fix this.
You can easily make homemade fruit roll ups at home in a couple of simple steps. The perfect homemade healthy snack for after school.
The only ingredient – strawberries!
These Fruit Roll Ups are so simple, an 8-year-old can easily make them. Watch the step by step recipe video as my 8 year old shows you how:
Homemade Fruit Roll Ups Serving Size: 2 Rolls
Calories: 49 Fat: 0 g Carbohydrates: 11 g Sugars: 7 g Fiber: 3 g
In these roll ups, you get 100% fruit, zero chemicals, and 3 grams of fiber as an extra bonus!
You will find some fruit roll up recipes use plastic wrap as a liner, but after a little research, I found plastic wrap manufacturers do not recommended plastic wrap be used in the oven. I would recommend silicone baking sheets instead.
Fruit Roll Ups are so easy to make an 8 year old can do it. 100% real fruit and sugar free.
Click To Tweet
Print
Homemade Fruit Roll Ups
Author:

Yield:

6

Category:

Snack

Cuisine:

American
---
Description
Avoid all the added sugar and additives in store bought fruit roll ups by making them at home with only one ingredient- fruit!
---
---
Instructions
Preheat oven to lowest setting – about 150-170 degrees.
Line 2 baking pans with silicone liners.
Place fruit into blender and puree.

Pour fruit puree onto lined baking pan.

Bake on your ovens lowest setting for 6-8 hours or until middle is set.
Cut into strips or fun shapes.
---
Notes
If added sweetness is desired, add a bit of maple syrup or honey to blender before pureeing.
Adapted from mommymusings.com.
Click for more HEALTHY SNACK recipes and KIDS COOKING ideas and recipe videos.
It you enjoyed this recipe and would like to get all the latest recipes, grocery lists, and blog posts weekly, sign up for our newsletter HERE!
I'd love to hear if you make these fruit roll ups and see pictures of your kids in action cooking!
Stay in Touch & Get Cooking!

Looking for ways of using up your farmers market purchases? Check out amazing fresh produce recipes below:
FREE Kids Cooking eBook!
Do you want your children eating a more varied diet, but wonder how to get more fruit and veggies into their meals & snacks? This eBook is a fun filled way to get kids eating better while having age appropriate fun!