This Cheesy Chicken Enchilada recipe is a healthy dinner recipe that's simple to make and tastes amazing. A simple healthy family meal that the whole family will love.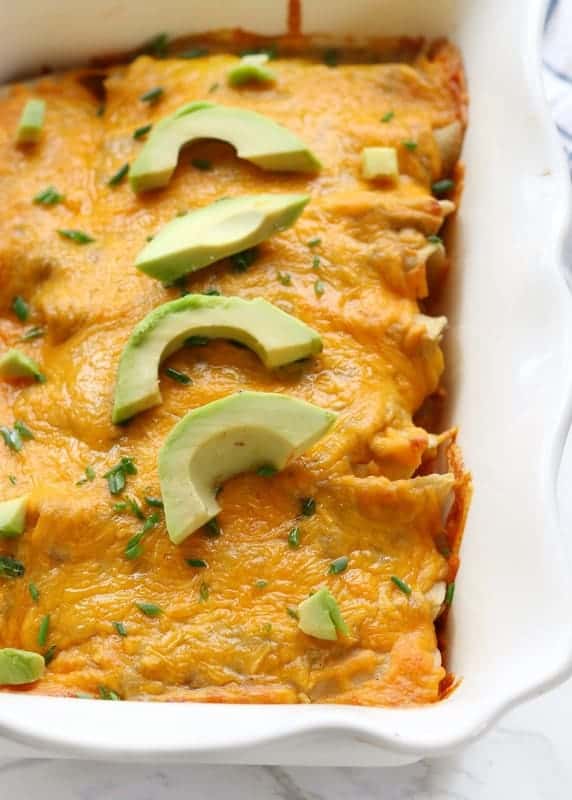 Healthy family meals don't have to be complicated. Today I'm sharing an easy healthy dinner recipe that's so delicious you should be sure to print the recipe to have it on hand at all times. 🙂
This recipe works great with leftover chicken, canned chicken, leftover turkey, or rotisserie chicken works great too.
Can this Family Meal Be Make Ahead of Time?
For sure! You can make these enchiladas the night before for a delicious warm healthy family dinner that just needs to be baked after getting home.
This family dinner recipe uses corn tortillas which my kids don't like for tacos. However, they do like them in this recipe so you might want to try them to see what your family thinks.
Keep reading for written step by step instructions or watch the video to see how smoothly this recipe comes together.
Is this a healthy dinner recipe?
It sure is! Using Greek yogurt rather than sour cream helps cut fat and calories. The shredded chicken is lean meat, and the cheese is cut back when compared to other enchilada recipes. The flavor of this recipe shines through with the use of green enchilada sauce, green chilies, and spices.
Substitutions You Could try for this Creamy Chicken Enchilada Recipe:
Flour tortillas instead of corn
shredded beef or pork instead of chicken
red enchilada sauce instead of green (the green is sooo good though!)
sour cream instead of greek yogurt
shredded Mexican cheese blend or queso instead of cheddar
Check out more healthy dinner recipes:
How To Make Creamy Chicken Enchiladas, a Healthy Family Meal
These chicken enchiladas come together quickly, even though there are a few steps to follow. Let's walk through step by step how to make them so your family can enjoy them as much as mine.
In medium-sized sauté pan, sauté onions
Place half of the sautéed onions into a medium-sized mixing bowl, leaving the other half in saute pan.
To saute pan, add enchilada sauce, Greek yogurt, half of the cheese, cumin, and salt. Stir well.
In a medium-sized mixing bowl with sautéed onions, combine cream cheese, green chilies, beans, and garlic powder. Mash, then stir in chicken.

Spoon chicken mixture onto a corn tortilla, roll up, and place in prepared pan.

Pour on sauce and sprinkle with remaining cheese.
Bake for 30 minutes
How To Make Easy Chicken Enchiladas with Green Sauce
This recipe begins by making the creamy green sauce that will end up being drizzled on top of the enchiladas before they head to the oven.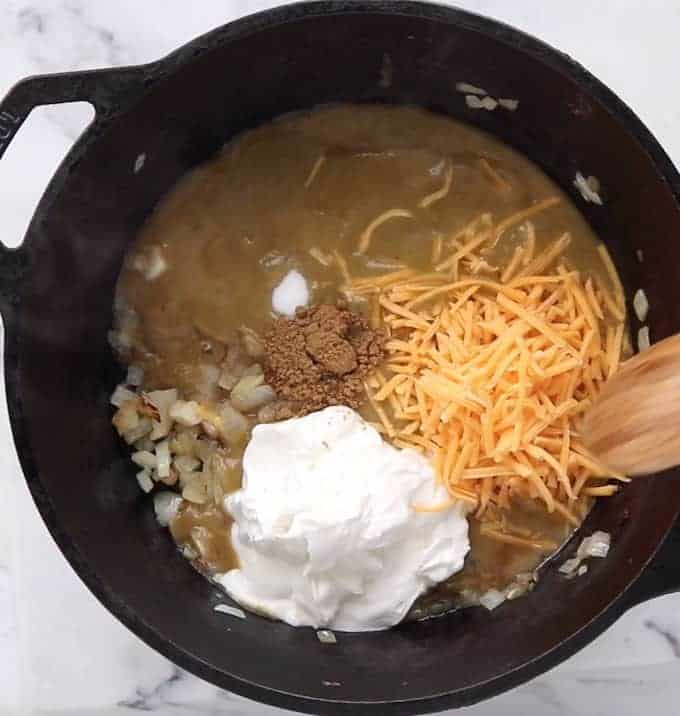 First, saute onion in a little olive oil and cook until translucent. Remove about half of the onions, placing them into a medium-sized bowl. You'll use these onions inside the chicken enchilada.
Kitchen Tip: If you're feeling lazy and don't want to separate the onions, they can all go into the sauce, no worries!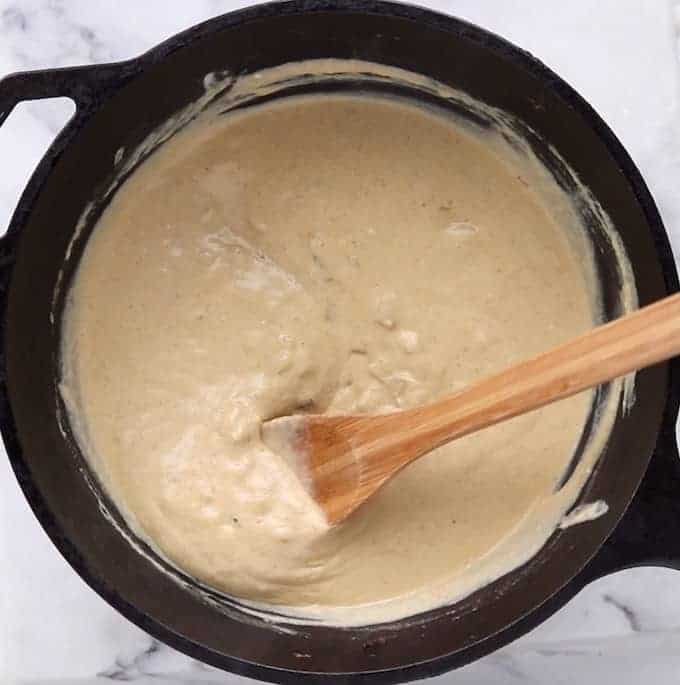 Add the green (or red) enchilada sauce, greek yogurt, shredded cheese, and spices.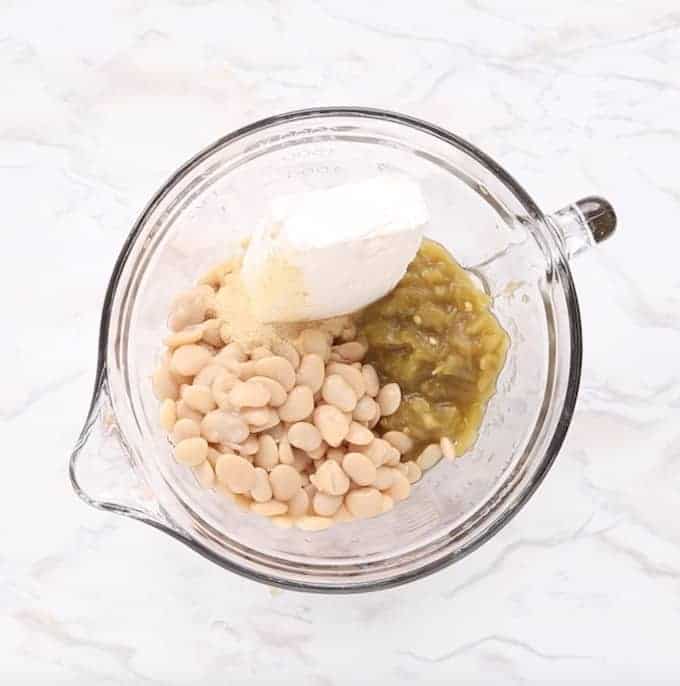 Mix until the cheese is completely melted into the sauce. You might want to try a test taste to make sure it's properly seasoned, and because it's delicious.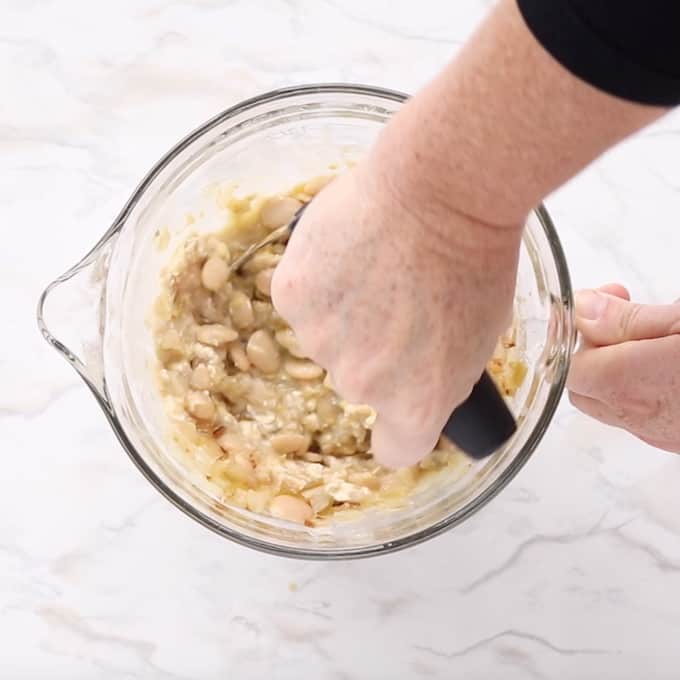 To the bowl with the onions, add white beans (whatever variety you prefer), green chilies, cream cheese, and spices.
Use a potato masher or a fork to mash it all together. You could just stir it together, but I like to mash the beans so they are less noticeable (helps with those kiddos who may not love beans yet!).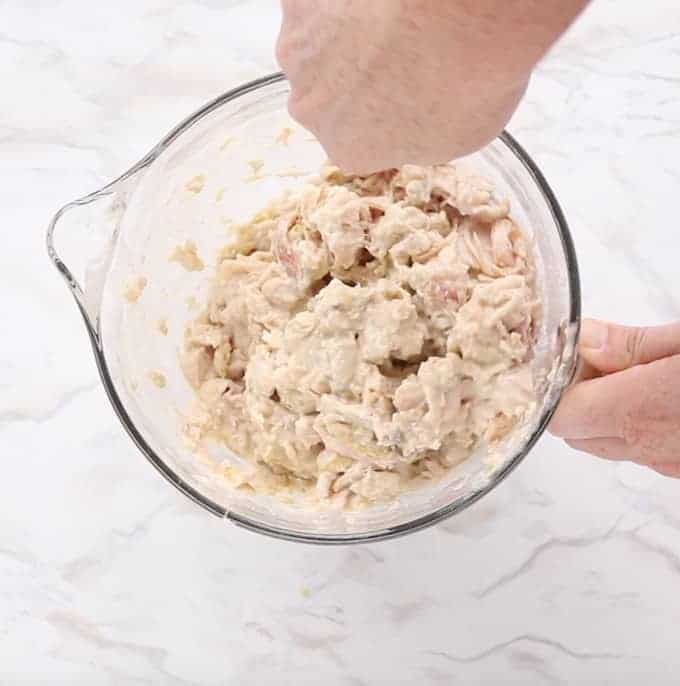 Stir in chicken. You can use rotisserie chicken or leftover chicken. I buy the Costco rotisserie chicken in the bags then divide that into individual ziplock bags and freeze it so I always have leftover chicken on hand. Works great!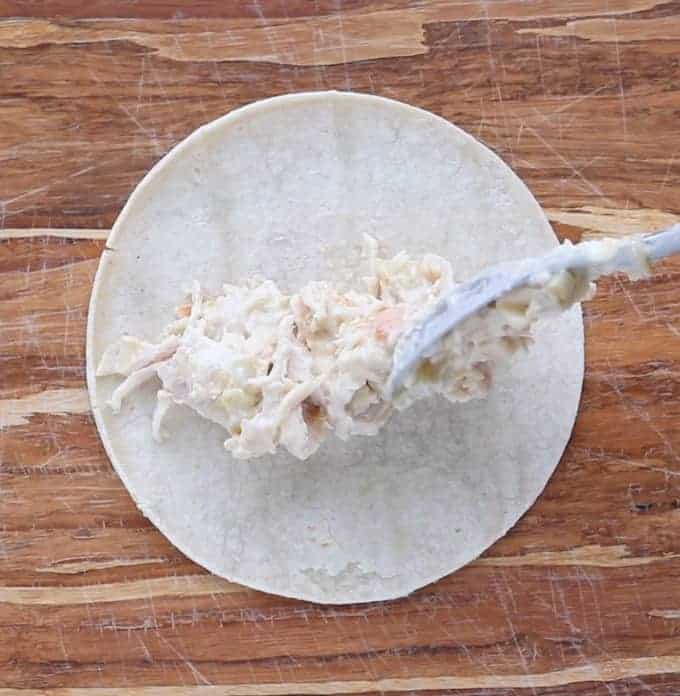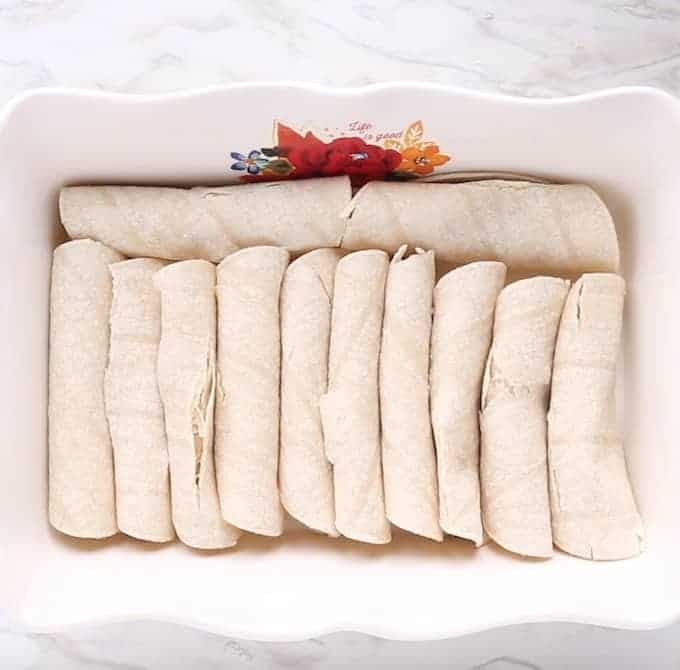 For gluten-free enchiladas use corn tortillas. My family does not love corn tortillas, but they do like them in this recipe. You can always swap them out for flour tortillas if desired!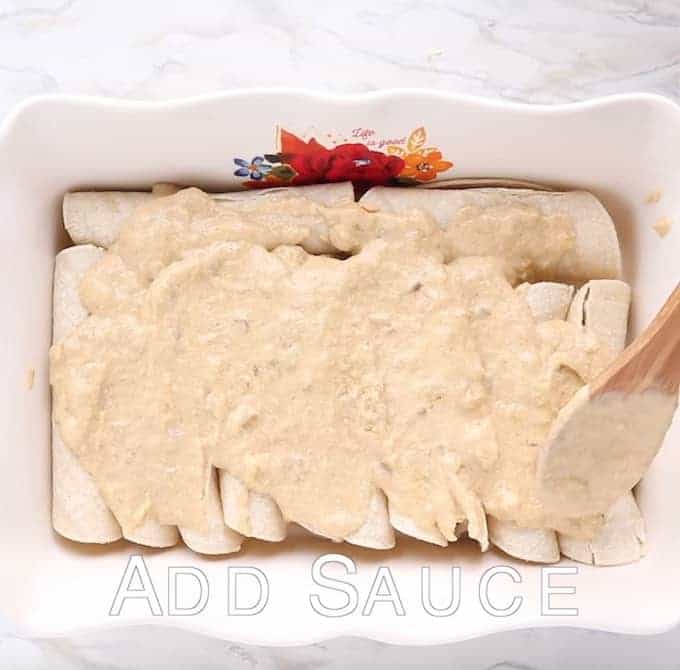 Roll up all enchiladas until you use all the mixture. Place them into a baking pan sprayed with non-stick cooking spray.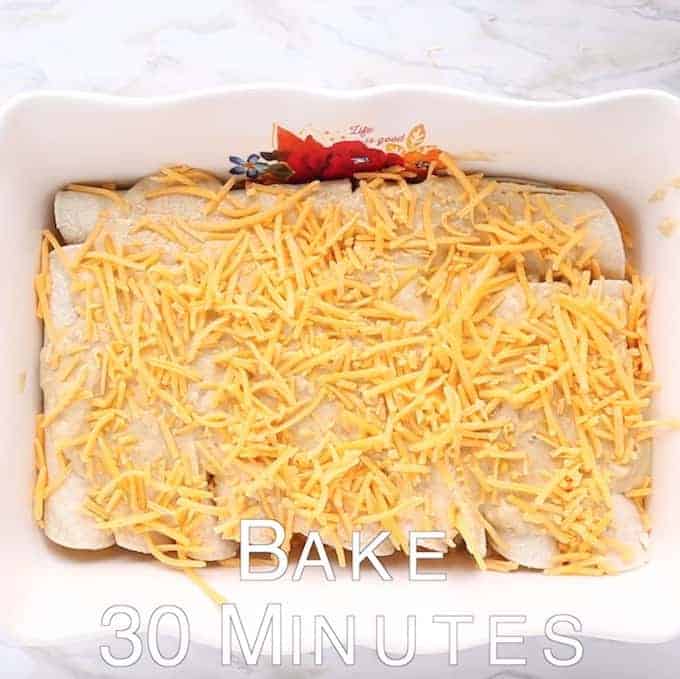 Drizzle the creamy green enchilada sauce you made in the first step on top of the rolled-up enchiladas.
Top with shredded cheese and bake for 30 minutes or until golden brown. Serve right away.
Topping suggestions: Top with sliced avocado, green onion, black olives, or tomatoes for delicious flavor and a pop of color.
Can Creamy Chicken Enchiladas Be Frozen?
Yes! You can freeze the whole recipe prior to baking, after baking, or as leftovers. If you are freezing leftovers, place the chicken enchiladas into an individually sized microwave-safe container. To reheat you can microwave the enchilada, or for a higher quality end product, reheat using the oven or a toaster oven.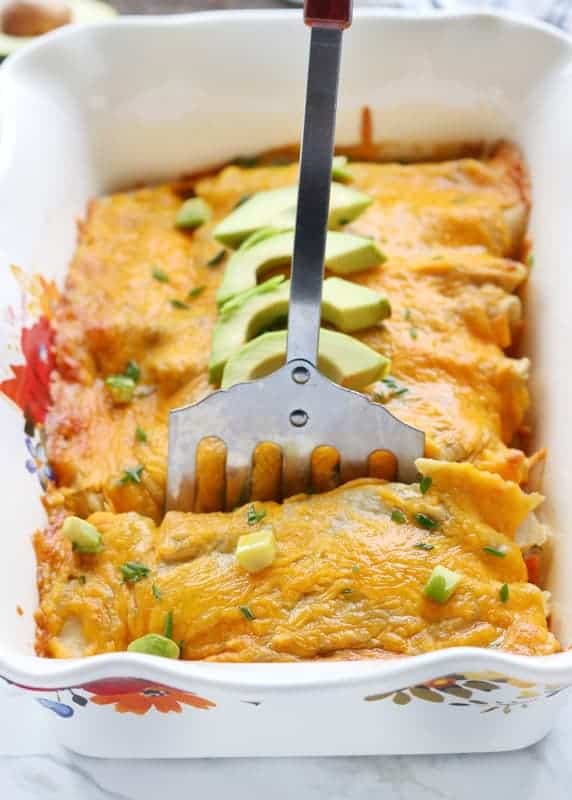 How To Reheat Creamy Chicken Enchiladas
Chicken enchiladas can be just as good the second day if you reheat them properly. The best method is to reheat them in your oven set to 350 degrees for about 20-30 minutes or until the enchiladas are warmed through.
You can reheat enchiladas in the microwave as well, they just won't be as crisp as they get in the oven. I have reheated this recipe in the microwave and put it into a warm thermos for my kid's lunchbox and they love it (even though it doesn't look to pretty!).
How To Serve Enchiladas
I like to serve this dish by attempting to cut across the pan finding the individual enchilada shells. Sometimes it works, other times it doesn't, but it doesn't really matter, You could cut it into squares if you'd like too.
I like to serve chicken enchiladas with Crockpot Refried Beans and a side salad.
Do you use corn or flour tortillas for enchiladas?
You can use either corn or flour tortillas for enchiladas depending on your families preference. You can always swap one for the other.
Is it OK to make enchiladas ahead of time?
You can make enchiladas ahead of time then cover with plastic wrap or foil. Add on 10 minutes to the cooking time to account for the cold enchiladas. You might find that the tortillas are a bit soggy after sitting overnight so I recommend cooking them right away.
How long are leftover enchiladas good for?
Enchiladas are good for about 3-5 days. Reheat in the oven, toaster oven, or air fryer for best results.
Check out more healthy dinner recipes:
If you enjoyed the recipe make sure to leave a comment and a star rating below! Then follow me on social media and tag #createkidsclub if you make the recipe. I love seeing what you come up with!
Creamy Chicken Enchiladas
A creamy chicken enchilada recipe made with rotisserie chicken, Greek yogurt, green chilies, great northern beans, and green enchilada sauce, this is a must try gluten-free recipe!  The perfect healthy family meal.
Pin Recipe
Print Recipe
Ingredients
1

small onion

diced

Olive oil

4

oz.

cream cheese

softened

2 4

oz.

can mild chopped green chilies

1 15

oz.

can Great Northern beans

undrained (or favorite white bean)

2

cups

chicken

cooked and shredded (rotisserie works well)

1

tsp.

garlic powder

14

oz.

can green enchilada sauce

3/4

cup

plain Greek yogurt

1

cup

shredded sharp cheddar cheese

divided

1

tsp.

cumin

1/2

tsp.

salt

12-14

corn tortillas
Instructions
Preheat the oven and prep your pan. Preheat oven to 350 degrees. Prepare a 9 x 13 inch pan with non-stick cooking spray.

Saute the onions. In medium-sized sauté pan, drizzle a small amount of olive oil in a pan and sauté onions on medium-high for about 5 minutes, or until translucent. Place half of the sautéed onions into a medium-sized mixing bowl, leaving the other half in the saute pan.

Make the sauce. To saute pan with half the onions, add the enchilada sauce, Greek yogurt, half of the cheese, cumin, and salt. Over low heat, whisk until well blended and cheese is melted.  Do not boil.

Combine the chicken mixture. In the mixing bowl that you added the sautéed onions to, combine the cream cheese, green chilies, beans, and garlic powder. Mash with potato masher or fork until well blended. Stir in chicken.

Assemble. Spoon a small amount of the chicken mixture onto a corn tortilla, roll up, and place in a prepared pan. Repeat until all tortillas are filled.

Add sauce and cheese. Pour the sauce over the top of the tortillas. Sprinkle with remaining ½ cup shredded cheese.

Bake. Bake for 30 minutes, until the cheese is melted and sauce is bubbly. Serve immediately.
Notes
*Nutrition information based on a serving size of 2 enchiladas per person.
Nutrition
Calories:
403
kcal
|
Carbohydrates:
43
g
|
Protein:
21
g
|
Fat:
17
g
|
Saturated Fat:
9
g
|
Trans Fat:
1
g
|
Cholesterol:
55
mg
|
Sodium:
1048
mg
|
Potassium:
495
mg
|
Fiber:
8
g
|
Sugar:
8
g
|
Vitamin A:
922
IU
|
Vitamin C:
7
mg
|
Calcium:
265
mg
|
Iron:
3
mg
Delicious Simple Family Recipes
Join Create Kids Club & get our 10 Favorite Crockpot Recipes ebook!