Mini Spinach & Sweet Potato Frittata, the perfect breakfast recipe for kids to make in advance and freeze for busy mornings.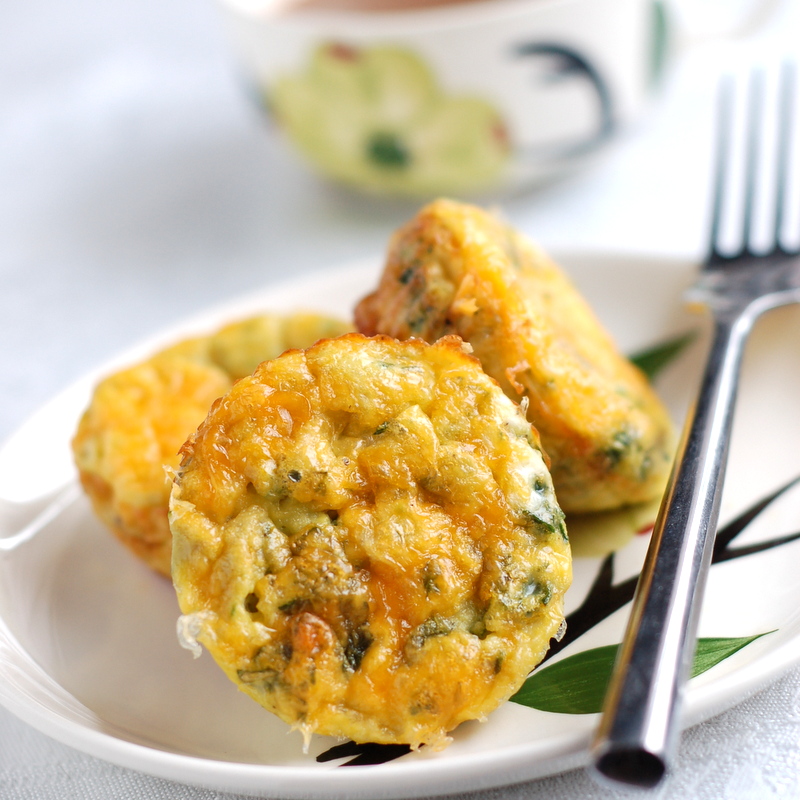 Are you a morning person?
I wasn't always, but I do enjoy getting up to a quite house and having that peaceful cup of coffee. However, you won't find me cooking in those morning hours.

While I don't like to cook in the morning, I will make simple things like eggs and pancakes. My kids eat their fare share of Kix and Special K and lots of oatmeal.
Talking pancakes, check out the video I recently did on tips for back to school breakfasts and snacks, it includes a delicious pancake cooking demo as well!
Because my kids are getting sick of Kix, I was excited for the Recipe Redux challenge this month:
Cooks aren't always pressed for time in the mornings – they just need new ideas. Think mug cakes, smoothie bowls, breakfast cookies and more. Show us the healthy way you wake up your breakfast – or wake up just for breakfast!
My goal was to develop a recipe for those of us who won't be found cooking in the morning, but would like more variety. I wanted a recipe I could make ahead of time, be frozen, then reheated in the morning hours.
This got me thinking about a recipe a friend sent me not long ago. She was looking for a healthier take on a breakfast souffle. She knew that with the puff pastry crust and half and half, it would certainly be tasty, but not so healthy.
I pulled up the recipe she had sent me, Breakfast Souffles, and got started working on my Redux. The end product is this clomid Mini Spinach & Sweet Potato Fritatta. At first I worried that no one would eat the frittata after they spied the sweet potato in this breakfast egg muffin. I am happy to report that the orange color of the sweet potato blends in perfectly with the sharp cheddar cheese, and the flavors blend work together perfectly.
Let's take a look at sweet potatoes – they offer a great nutrition punch.
Sweet potatoes are high in vitamins C and B6 (pyridoxine), minerals potassium, calcium, magnesium, and manganese. They are a great source of fiber and beta carotene, which give the potato its bright orange color.
Sweet potatoes have anti-inflammatory properties potentially decreasing the risk of chronic disease.
By replacing the puff pastry with sweet potatoes you save about 150 calories and 10 grams of fat per muffin!
This warm, cheesy, and breakfast recipe for kids is easily reheated from both the refrigerator and freezer.
Add variety to your #breakfast. Mini Spinach & Sweet Potato Frittata recipe. #kidfriendlybreakfast
Click To Tweet
Find more great BREAKFAST RECIPES HERE. For Back to School Snack Ideas check these out!
My kids favorite back to school snack? It's a toss up between these Fruit Waffle Cones…
And my easy Mini Zucchini Bread Muffins!
Mini Spinach and Sweet Potato Frittata
These sweet potatoes egg muffins are the perfect breakfast recipe for kids to make in advance and freeze for busy mornings.
Ingredients
1

small

sweet potato, shredded or spiralized

6

large

eggs

3/4

cup

sharp cheddar cheese, shredded and divided

1/2

cup

spinach, chopped

1/4

cup

skim milk

1/2

tsp.

ground mustard

1/4

tsp.

garlic powder

1/4

tsp.

onion powder

1/4

tsp.

salt

1/4

tsp.

pepper
Instructions
Preheat oven to 375 degrees.




Prepare muffin pan with muffin liners.




Divide shredded sweet potato evenly between 12 muffin cups.

Bake for 10 minutes, then remove from oven.

While baking, whisk eggs, milk, and spices.

Add spinach and 1/2 cup cheese to egg mixture.

Pour egg mixture on top of baked sweet potatoes.

Top with the rest of the shredded cheese.

Bake 20-25 minutes or until eggs are set.
Recipe Notes
Additional add in ideas include: chopped or mashed avocado, fresh mozzarella chunks, chopped peppers, or diced green chilies.
What is your go to breakfast recipe?
If you enjoyed this recipe, sign up for our newsletter to make sure you don't miss any of the latest recipes! SIGN UP NOW!

Don't Forget To PIN For Later!
For more great recipes, check out these fellow Recipe Reduxers:
No Time To Cook?
Make dinner a breeze with these 10 Kid Favorite Crockpot Recipes! Get your FREE eBook Now!