Crockpot Mulled Cider, is a spiced cider recipe perfect for any seasonal gathering. The combination of mulling spices and apple cider makes a warm and delicious drink.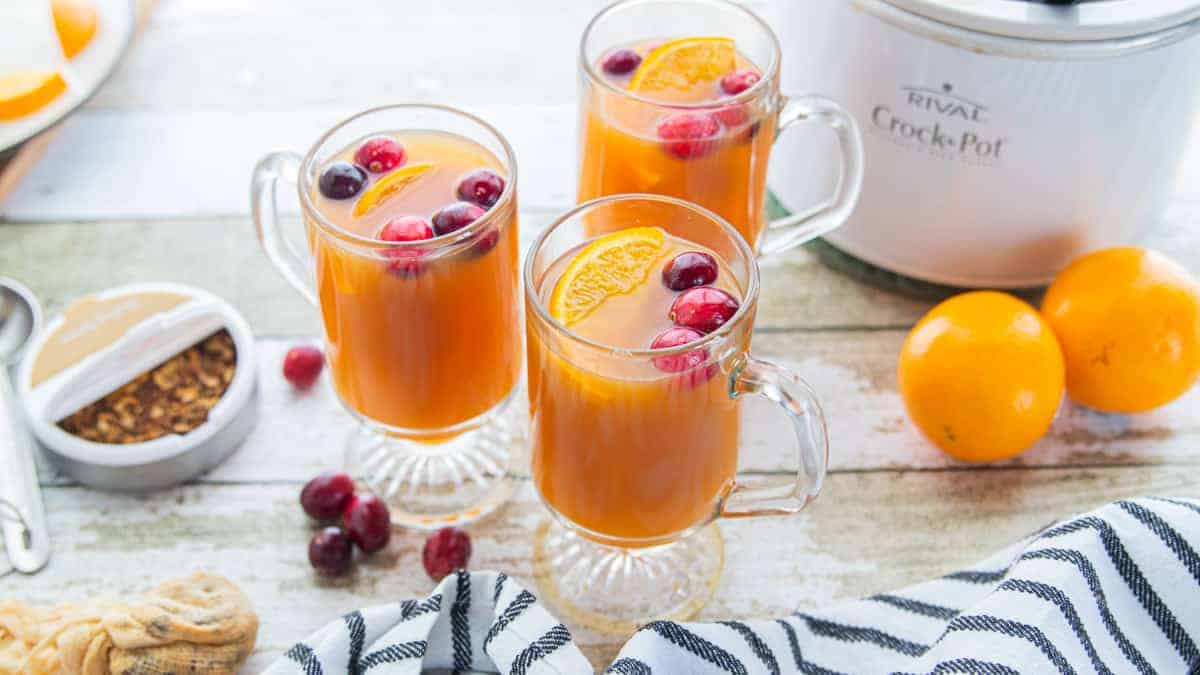 I hope you and your guests enjoy this apple cider recipe at your next event. With all the hustle around the holidays, it is nice to have a simple recipe to make. And remember, you can always turn this recipe into an alcoholic hot apple cider 🙂
Mulled cider is apple cider with flavor that has been added through the process of heating. In this mulled cider recipe, a combination of spices have been added to the apple cider and heated with a slow cooker.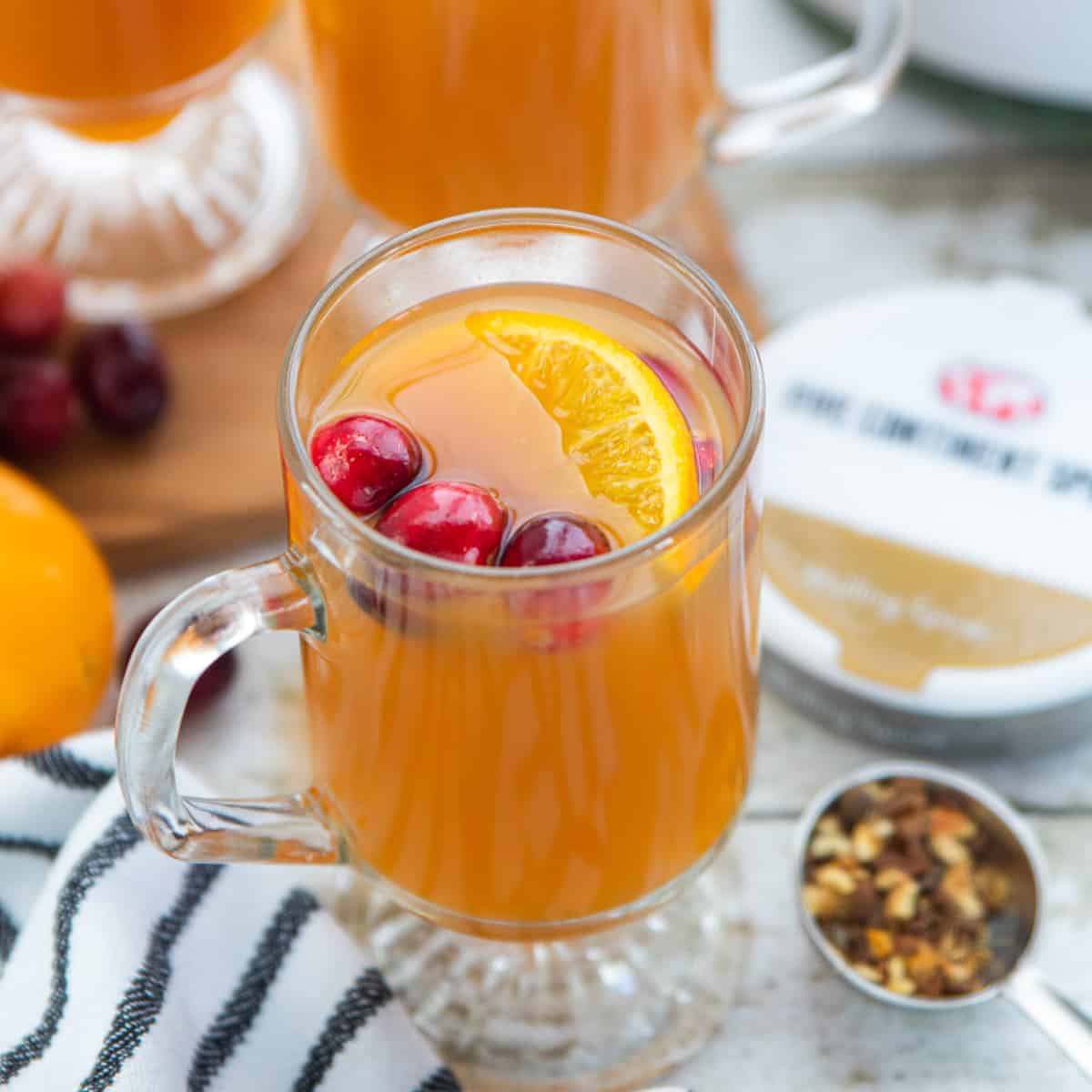 I love to use the crockpot to make this spiced cider recipe because not only will the slow cooker take care of mulling the cider, it also keeps it warm.
Plus, you can use any size crockpot based on your event. For example, I will use a mini crockpot if I am making a batch for my family and use my large slow cooker if I am making hot apple cider for a crowd.
HOW DO YOU SEASON MULLED APPLE CIDER? Feel free to use your favorite blend or make your own mulling spice blend.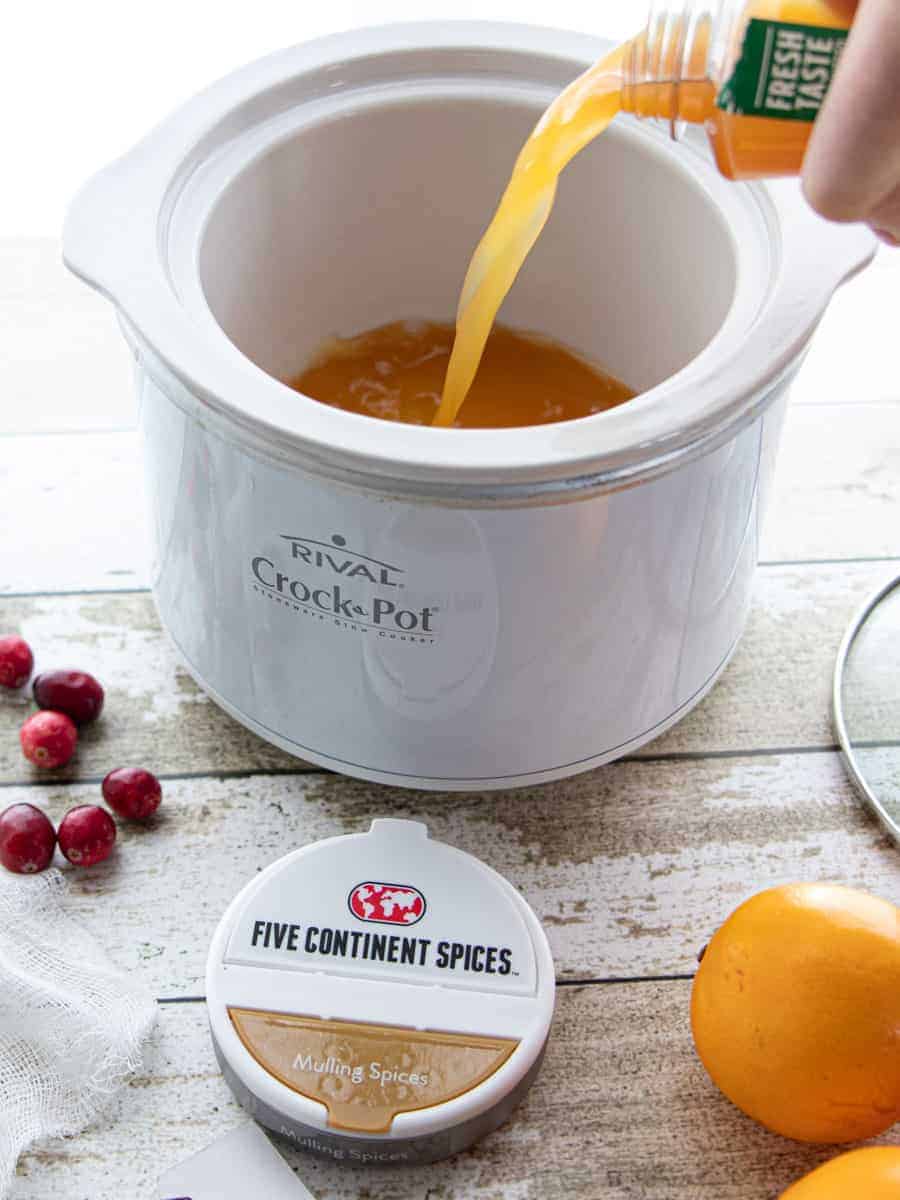 HOW to MAKE
You can make crockpot mulled spiced cider in 3 easy steps.
Add 1 quart of apple cider to your crockpot.
Add 2-3 tbsp. of mulling spices into the crockpot.
Turn on low for 2-4 hours.
Once you pour the apple cider into your crockpot, it is time to add the mulling spices.
I recommend wrapping the mulling spices in cheesecloth to avoid the spices floating around in your cup as you are trying to drink the cider, or having to strain the cider.
Once the spices are wrapped up, tie the cheesecloth as tight as possible and set into the crockpot filled with apple cider. Cook on low for 2-4 hours.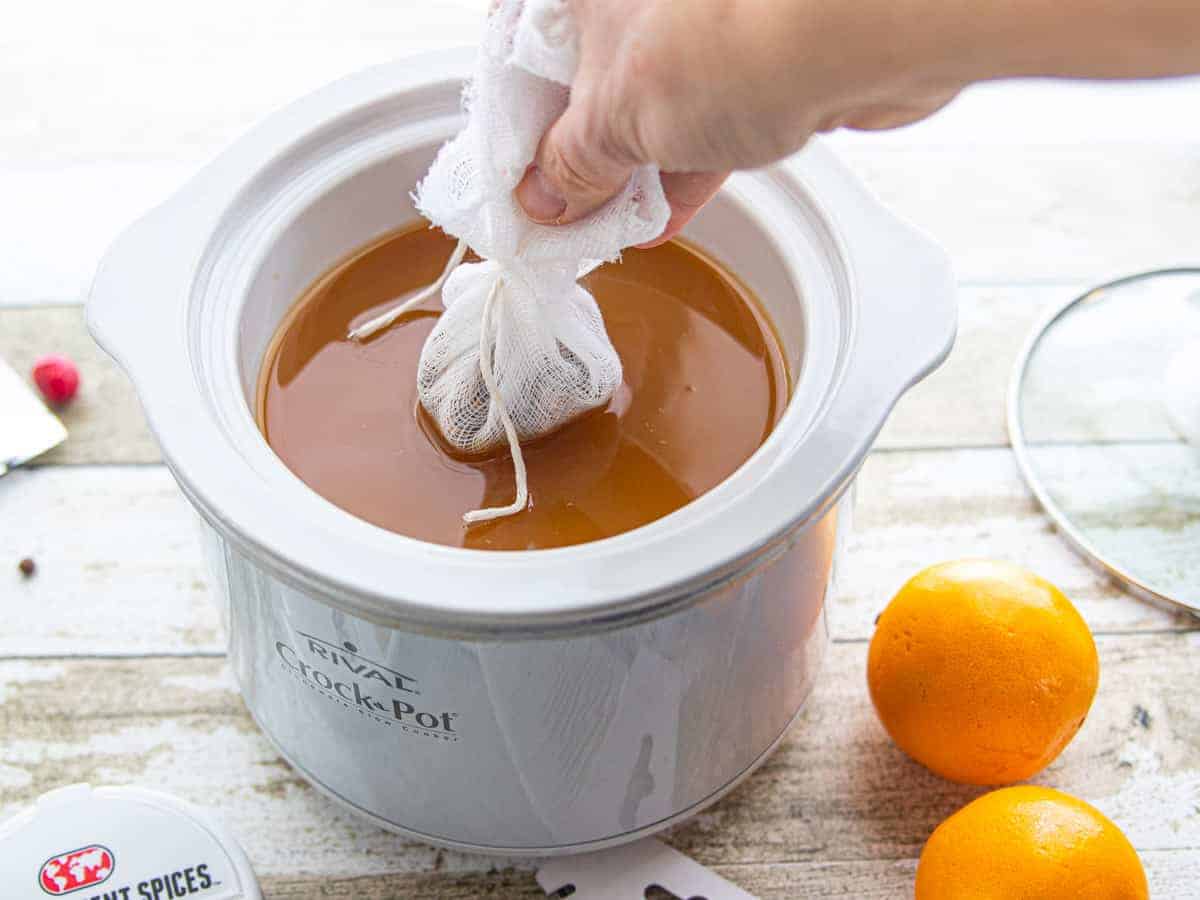 FAQ
CAN YOU HEAT UP COLD APPLE CIDER TO MAKE HOT APPLE CIDER?
Absolutely, I recommend buying cold fresh apple cider at the store then adding to the crockpot to heat. Typically, the apple cider will be available in a refrigerator at your local grocery store. However, make sure you are grabbing apple cider – not apple juice.
CAN YOU MICROWAVE APPLE CIDER?
Yes, you can microwave apple cider. I recommend making this recipe for mulled cider first and storing it in the fridge to reheat in the microwave if there is some leftover. The flavor comes from the process of heating over time which is hard to replicate in a short time.
Learn more: What is the Difference Between Apple Juice and Apple Cider?
HOW DO YOU SERVE APPLE CIDER?
I typically serve my apple cider in mugs. I will set out whole cranberries and orange slices for my family and friends to add once they pour the cider into their mug for a burst of color and flavor. I have also sliced red apples, green apples and pears in the past as options.
If I am serving a spiked cider, I will lay out cinnamon sticks. Guests can use the sticks to stir the drink while adding flavor. Plus, guests will love the smell of cinnamon as they enjoy the warm glass of cider.

Enjoy this delicious apple cider recipe! Once you make homemade mulled cider, it might just become a tradition. Your guests will request "Christmas or Thanksgiving crockpot cider" year after year.
Looking for other drink recipes to make this holiday season?
Here are a few family favorites:
CKC Features both Gluten-Free Guidance and Kids Cooking Instructions: If you're new to eating gluten-free we understand it's overwhelming trying to figure out which foods may contain gluten and which ones don't. All of our gluten-free recipes marked with this symbol ✅ represent foods that need to be checked for gluten or cross-contamination.
The ⭐️ symbol in the recipe below denotes the steps in which kid cooks may need a helper (depending on age). If there is no ⭐️ symbol, that step (or recipe) doesn't require a helper.
Crockpot Mulled Cider
Crockpot Mulled Cider, is a spiced cider recipe perfect for any seasonal gathering. The combination of mulling spices and apple cider makes a warm and delicious drink.
Pin Recipe
Print Recipe
Equipment
cheesecloth and kitchen twine
Ingredients
1-

quart

high-quality apple cider

2- 3

tablespoons

mulling spices

✅

Optional: sliced oranges, cranberries
Instructions
Place the ingredients into the crockpot. Pour apple cider into your slow cooker. Place spice packet into cider.

Cut a peice of cheesecloth (about a 4×4 inch square). Place mulling spices onto cheesecloth and tie with kitchen twine.

⭐️ Cook. Cook on low for 2-4 hours. Remove spices and turn to warm to keep the cider warm.

Granish with orange slices and cranberries if desired.

For an alcholic version, add a shot of brandy, whiskey, or apple schnapps
Nutrition
Calories:
39
kcal
|
Carbohydrates:
10
g
|
Protein:
1
g
|
Fat:
1
g
|
Saturated Fat:
1
g
|
Sodium:
3
mg
|
Potassium:
80
mg
|
Fiber:
3
g
|
Sugar:
6
g
|
Vitamin A:
14
IU
|
Vitamin C:
1
mg
|
Calcium:
51
mg
|
Iron:
1
mg
If you enjoyed these recipes make sure to leave a comment and a star rating below!
Then follow us on social media and tag #createkidsclub if you make the recipe. We love seeing what you come up with!