These Crock Pot Pork Tacos start with a shredded pork base that can be made into 3 different meals for the week.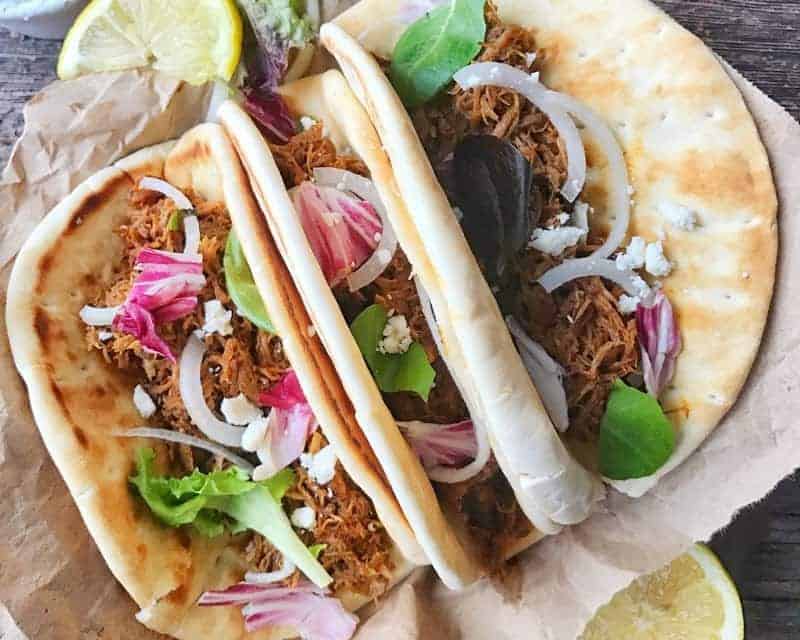 To make meal planning as easy as possible, find several recipes that use the same starting base (baked chicken, shredded meat, marinara sauce etc.).
This post highlights Crock Pot Pork Tacos and 2 other recipes that work perfectly with the same meat base recipe. Cook once and you can quickly make meals using the leftovers. There is no waste which saves money and saves complaints about repeated meals. This also makes you Mom of the Year – well, mom of the week at least! 🙂
This months Recipe Redux is one you are going to love. The challenge this month was a TACO TUESDAY Theme:
Show us your healthy, creative take on the taco.
I sure love me some tacos, so this one was easy. 🙂
While writing my Baked Taco Cups Recipe post earlier this month, I found some really fun facts about tacos. If you'd like to entertain your family with this fun trivia, be sure to check it out!
Did you know pork is the worlds most popular type of meat? I was surprised to learn this fact. This summer I had a chance to visit one the the largest pork producers in the US, and let me tell you, I learned A LOT about pork. If you would like to read about my experience on the Iowa pig farm, make sure to check out THIS POST.
1 Pork Recipe - 3 Ways To Use including Crock Pot Pork Tacos Gyro Style!
Click To Tweet
Just look at this goodness!
Let's talk about healthy cuts of pork.
I will be the first to say Pork Shoulder is a delicious cut to use for pulled pork, however, it is not your best choice as it is high in fat. It is an inexpensive cut of meat which sometimes is necessary so if you use this cut of pork, make sure to trim away excess fat to help cut the fat content in the cooked generic clomid canada product. Leaner choices include sirloin roasts or pork top loin. To see a comparison chart comparing pork to chicken and beef check out Pork Be Inspired.
We are going to start with a simple recipe for cooking the pork roast in your crock pot.
Put the roast in, and top it with the spices and let it cook all day. How simple is that?
Per the USDA Website, always thaw meat before putting it into a crock pot.
I admit, I am guilty of using frozen meat into my slow cooker, but this is not a good idea as the slow cooker may take several hours to reach a safe, bacteria-killing temperature.
Print
Crock Pot Pulled Pork
Author:

Prep Time:

5 minutes

Cook Time:

480 minutes

Total Time:

485 minutes

Yield:

15 people

Category:

Main Course

Cuisine:

American
---
Description
A simple crock pot pulled pork recipe that can be used in many different recipes and ways.
---
Ingredients
3 lbs. pork top loin, or sirloin roast, thawed
1 tbsp. cumin
1 tbsp. chili powder
1 tbsp. onion powder
1 tbsp. granulated garlic
1 tbsp. paprika
salt & pepper to taste
---
Instructions
Place meat in slow cooker.
Top with spices.
Cook low 8-10 hours or high 6-8 hours.
Shred with two forks, removing any excess fat or bones.
---
Notes
Serve over mashed potatoes, on a bun, or use in your favorite recipe.
Now that the meat is cooked, let's make tacos!
Print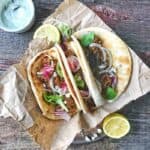 Pork Tacos Gyro Style
Author:

Prep Time:

10 minutes

Total Time:

10 minutes

Yield:

6 people

Category:

Main Course

Cuisine:

American
---
Description
A simple gyro style taco that is a simple dinner meal the whole family will enjoy. It is a great way to use leftover pulled pork.
---
Ingredients
2 cups prepared pulled pork
6 whole flat bread rounds, warmed
Tzatziki Sauce:
1/3 cup Greek yogurt
1 tsp. minced garlic
1 tsp. lemon juice
1/2 tsp. dried dill weed
1/4 tsp. salt
---
Instructions
Blend all ingredients for Tzatziki Sauce together.
Place pork on flatbread.

Cover with toppings of choice and tzatziki sauce.
---
Notes
Topping Suggestions: feta cheese, arugula or shredded lettuce, sliced tomato, sliced onions, diced cucumber, or olives.
Two of my other favorite ways to use the basic pulled pork recipe are in a plain old pulled pork sandwich:
Or mixing the meat with refried beans, Mexican spices, and roll it all up into a delicious enchilada.
Check out my EASY ENCHILADA SAUCE post to find the simple recipe to make these fantastic enchiladas that take no time at all.
So there you have it. 3 super easy recipes to using pulled pork for a week of meals easily prepared and kid friendly.
Which one will you try first?
Don't Forget To PIN For Later!
Looking for more DINNER RECIPES? Click the link to find delicious ideas for your family.
If you enjoyed this post, click and Sign Up For Our Newsletter so you don't miss the latest posts and recipes! If you would like more one on one help with planning dinners, be sure to check out our One More Meal Challenge!
Stay In Touch & Get Cooking!

Make sure to check out other TACO TUESDAY recipes from my fellow Recipe Redux members here:

No Time To Cook?
Make dinner a breeze with these 10 Kid Favorite Crockpot Recipes! Get your FREE eBook Now!