Crockpot Minestrone Soup made in the slow cooker using dry beans. This delicious soup recipe is nutrition-packed, easy to make- the perfect comfort food in a crockpot.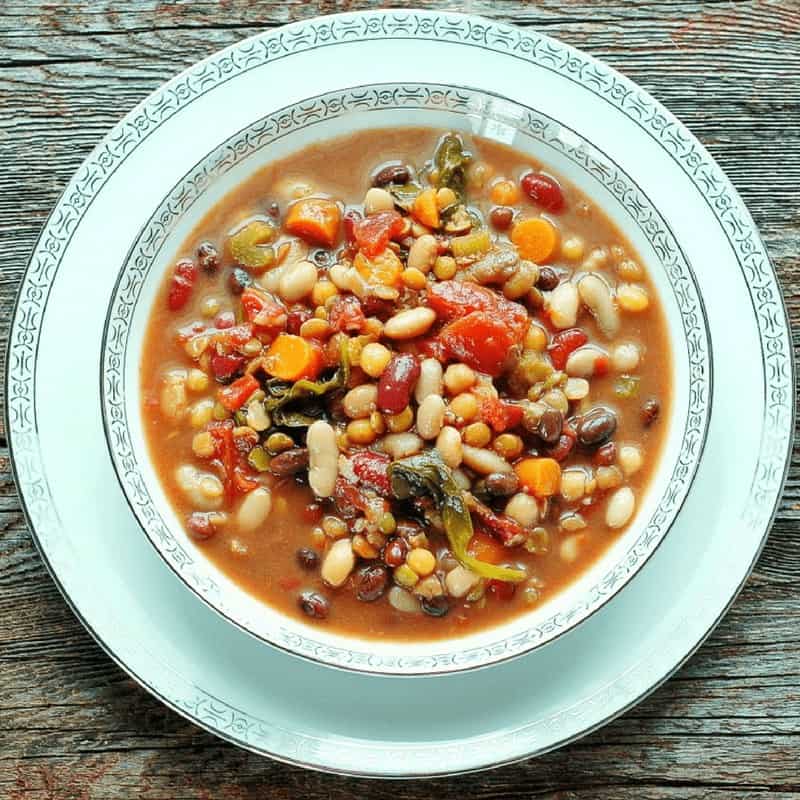 Minestrone is so versatile in ingredients. There is just one main ingredient that is a must. A good quality stock.
Due to my interest in trying new products and ingredients, I was pretty excited to get to try this brand new chicken stock. I use broths and stock quite often, and I also enjoy making homemade stock. Progresso's product claims "Its made like homemade". I couldn't wait to see if this claim was accurate. I admit at one point, I thought, ok, another stock. Is there really a difference? Well, the answer is yes, yes there is…
While broth is the star of minestrone soup, the second runner-up is certainly the beans. With beans high nutrient density, they are both tasty, and nutritious. A single serving of beans provides nearly 1/2 of the recommended daily allowance for fiber. Dry beans -also known as pulses, which are: dry beans, lentils, chickpeas, and dry peas, are considered both a vegetable and a protein. Double score. This soup is chock full of antioxidants, vitamins, minerals, fiber, and zero artificial flavors or additives.
Have you avoided dry beans because you were not sure what to do with them? I have great news.
There is no need to soak dry beans. I avoided dry beans for years due to the pre-soaking step of these little buggers. Come to find out, not necessary. Pour the dry beans in and let them cook. Awesome. Dry beans are inexpensive, nutritious, and easy to use. I have made them a staple pantry item.
Minestrone is like the dumping ground of soup. Besides the stock, you need beans and veggies. And it doesn't really matter what kind. Give it a try. Open your refrigerator and take a look around.
There is a good chance you can add quite a few things to the soup that are lingering around in there. Those carrots shoved to the back of the crisper drawer? Add them. How about the celery next to those carrots? Perfect. Leftover shredded meat? Why not? Last night's rice? Add it at the end of the cooking time along with that spinach you have meant to eat.
Once I had my ingredients picked out, I was ready to get started. The first thing I noticed when pouring the stock into my crockpot was the dark, rich color of this chicken stock.
In my experience, most stocks are pretty much clear. Not this one. Second, I noticed the wonderful aroma. I was hungry already. I added the rest of the ingredients and let my crockpot do its work.
My children walked in after school to the wonderful aroma of this crockpot minestrone soup cooking. They wanted to have a bowl right then. The soup was not ready, but that didn't stop them. My daughter was the first one to dive in with her spoon. She thought it was delicious, even with not yet cooked beans. Those of you who follow my blog, know my daughter is a bit on the picky side, so that is saying something.
This CrockPot Minestrone Soup, whose flavor comes greatly from the stock component, is delicious.
It is rich, robust, and the chicken flavor stands out even with all those veggies and beans cooking in it all day. I was wrong in my initial assumption that all stocks are created equal. This one certainly gave my soup the flavor boost needed to elevate it to a new level.
How to make Slow Cooker Minestrone Soup with dry beans: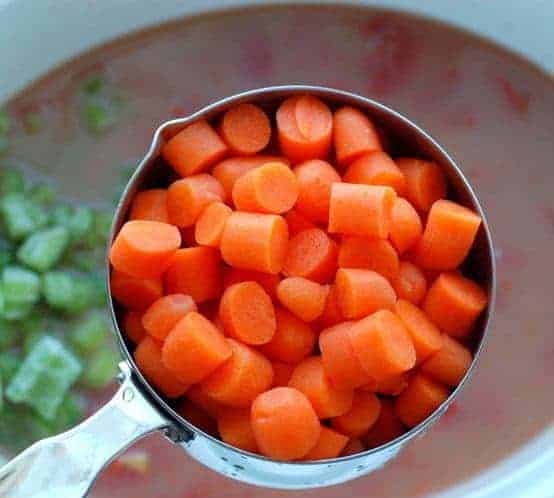 To your crockpot or slow cooker, add the stock, diced tomatoes, and veggies.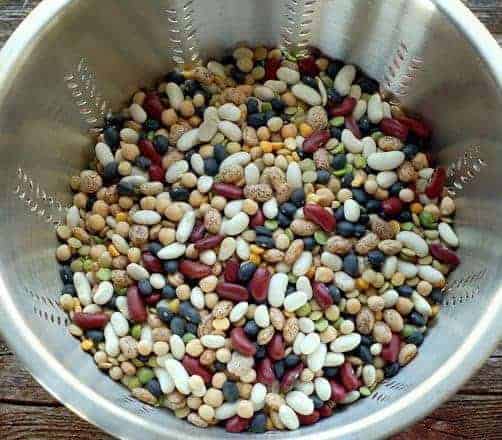 Rinse the dry beans, removing any small stones that may be mixed in.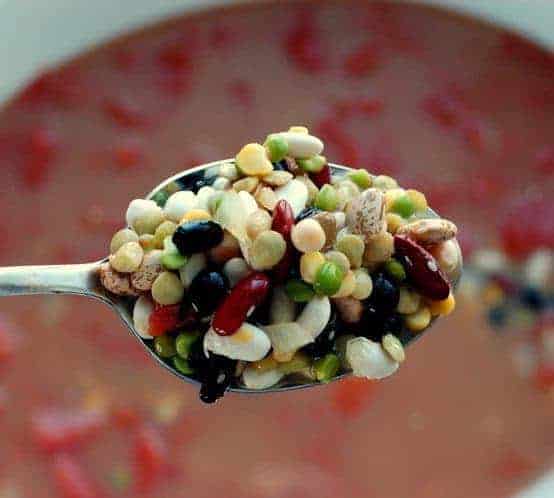 Add beans, I like using a blend of dry beans, but you can use any kind you like best. Cook on high for 6-8 hours.
Add spinach or cooked pasta just before serving.
Additional vegetable suggestions:
diced potatoes
corn
peppers
mushrooms
diced sweet potatoes
diced squash
add leafy green vegetables 1/2 hour before serving
cooked pasta or rice before serving
Make sure to check out other great CROCK POT RECIPES:
Crockpot Minestrone Soup
The perfect comfort food for a cold winters night. Both delicious and nutritious. A win for every family.
Pin Recipe
Print Recipe
Ingredients
8

cups

chicken stock

4

cups

variety dry beans

29

oz.

diced tomatoes with onion

2

cups

chopped carrots

2

stalks celery

chopped

2

tbsp.

minced garlic

1

whole bay leaf

1 1/2

tsp.

salt

1

tsp.

onion powder

1/2

tsp.

pepper
Instructions
Rinse dry beans under water and discard any small stones or shriveled beans.

Place Progresso cooking stock, diced tomatoes, rinsed beans, vegetables, and spices in crock pot. Stir.

Cook on high for 6-8 hours, or until beans are soft.
Notes
Alternative vegetable suggestions: diced potatoes, corn, peppers, mushrooms, diced sweet potatoes, or diced squash.
If desired, add leafy green vegetables 1/2 hour before before serving.
May add cooked pasta or rice before serving.
Nutrition
Calories:
202
kcal
|
Carbohydrates:
33
g
|
Protein:
12
g
|
Fat:
3
g
|
Saturated Fat:
1
g
|
Cholesterol:
6
mg
|
Sodium:
698
mg
|
Potassium:
743
mg
|
Fiber:
9
g
|
Sugar:
7
g
|
Vitamin A:
4385
IU
|
Vitamin C:
11
mg
|
Calcium:
99
mg
|
Iron:
3
mg
Delicious Recipes Sent Weekly
Subscribe to get our latest content by email.