Crockpot chicken thighs are a simple dinner recipe that can be made in less than 5 minutes. Slow cooker bone-in chicken thighs cook all day and are ready for dinner whenever you are.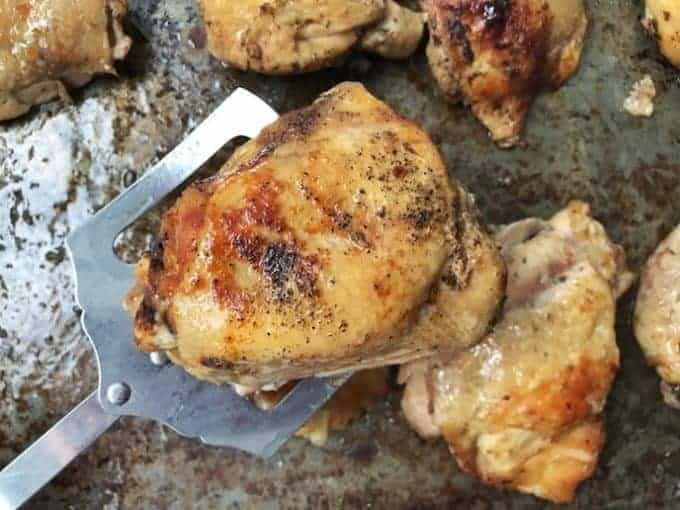 We are a participant in the Amazon Services LLC Associates Program, an affiliate advertising program designed to provide a means for us to earn fees by linking to Amazon.com and affiliated sites.
When you know you're going to be gone all day and need a quick dinner, crockpot recipes come in handy.
Healthy chicken crockpot recipes that taste great become family favorites. Kids tend to like chicken and if you watch for sales, you can grab bone-in chicken thighs for a great price. I like to keep chicken thighs frozen in my freezer for quick meals.
If your family prefers to not have chicken on the bone, go ahead and make this as a boneless chicken thigh crockpot recipe using boneless chicken thighs and following the same instructions.
Forget about dried out chicken breasts. These slow cooker chicken thighs with the bone in & skin on, make this recipe juicy and delicious.
Watch the video for step by step instructions or keep reading!
How Do I cook Bone-In Chicken Thighs In The Crock Pot?
What you'll need:
1 beer
chicken thighs
3 spices of choice, such as garlic powder, onion powder, and paprika
salt and pepper
Directions:
Lay chicken thighs into the bottom of a 4-quart crockpot or slow cooker
Pour 6 oz. of beer into the crockpot on top of the chicken
Add 1 tsp of each spice
1 tsp salt, and 1/2 tsp pepper
Cook on low for 6- 8 hours or high for 2 -4 hours
If using frozen chicken, increase cooking time to 8-10 hour on low, or 4-6 hours on high
Can I Cook Frozen Chicken Thighs In A Crock Pot?
Per the USDA, it's not recommended to put the frozen chicken into the crockpot, but rather thaw chicken first.
Here are some quick ways to properly defrost chicken thighs: CLICK HERE FOR INFO.
That said, I have cooked frozen chicken thighs in my crock pot often. Make sure to cook them in a single layer. This ensures they simmer in their own juices all day providing delicious flavor, helps keep the chicken moist, and brings the chicken thighs up temperature more quickly.
The safest bet is to cook frozen chicken thighs in an instant pot. Learn how to cook Instant Pot Frozen Chicken Thighs here.
Don't own an instant pot? Check out my favorite instant pot and purchase one here.
Let's take a closer look at how to make crock pot chicken thighs.
Start by arranging your thawed or frozen chicken thighs into the bottom of your crockpot. 8 chicken thighs fit perfectly in mine.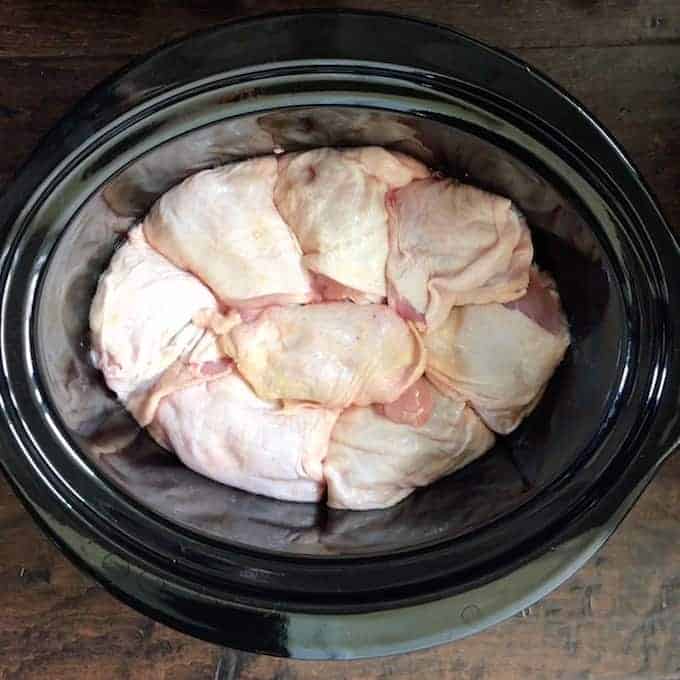 Next up is adding the spices.
Choose pretty much any 3 spices you like. My favorite combo for this method of making chicken thighs in the crockpot is garlic powder, onion powder, and paprika. Add salt and pepper as well.
I like to season liberally without measuring, but if you're someone who really likes to have an amount, use 1 tsp. of each spice and 1/4-1/2 tsp. of pepper.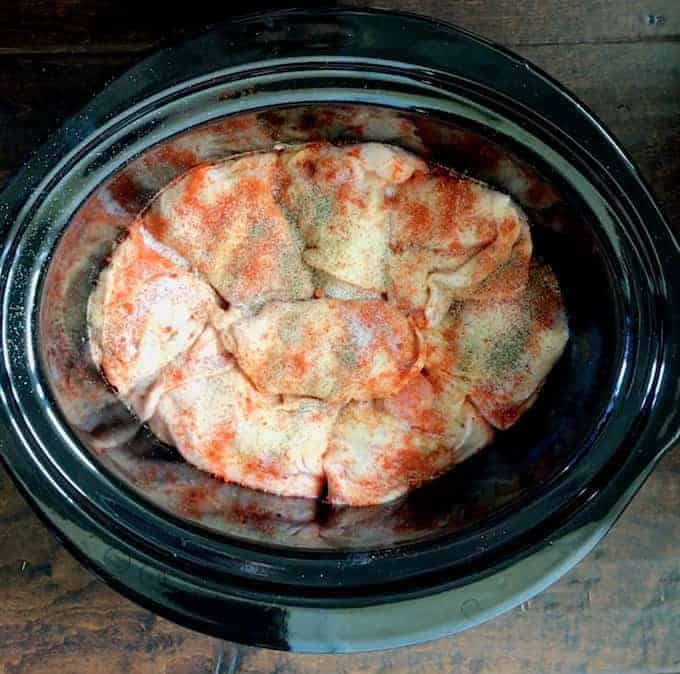 Next up is the beer. You can use any variety, but darker beers do add a different flavor to the chicken.
Kitchen Tip: Don't worry about the alcohol, it cooks off!
What Can I Use Besides Beer For Crock Pot Chicken Thighs?
If you're just not into beer and want an alternative, try the following:
Skip the beer altogether and let the chicken simmer in its own juices
Replace beer with chicken broth
Replace beer with a gluten-free beer like Omission Lager for a gluten-free recipe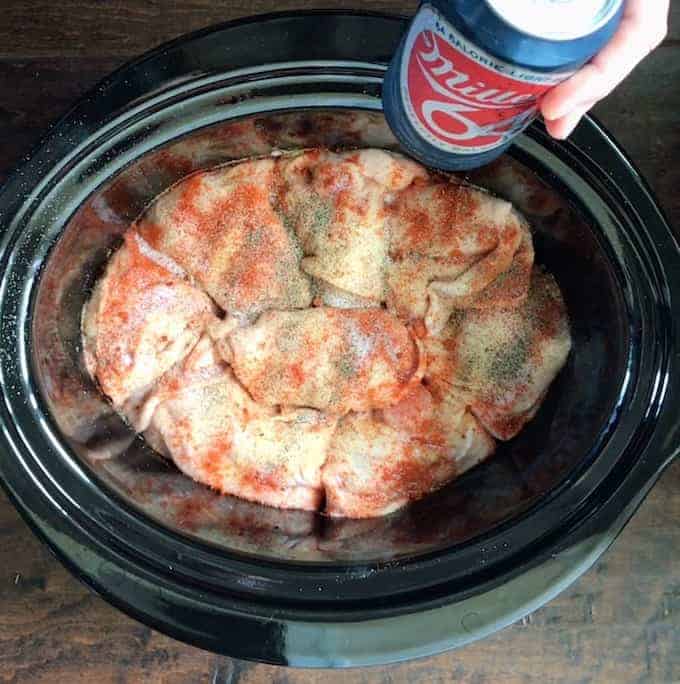 You can store the fresh or frozen chicken thighs in the crockpot overnight or cook them right away. Cover the slow cooker with the lid. Cook until the chicken registers an internal temperature of 165°F.
How long to cook chicken in a slow cooker on high?
Cook chicken thighs on high for 2 to 3 hours.
How long to cook chicken thighs in the slow cooker on Low?
Cook chicken thighs 4 to 5 hours on low.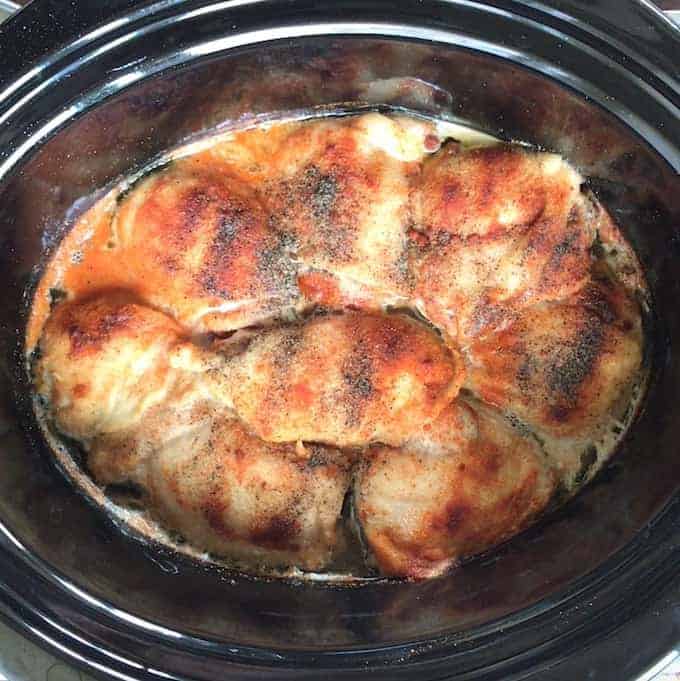 When the chicken comes out of the crockpot it's ready to be served.
How To Make Crispy Bone-In Chicken Thighs In The Crock Pot
Crockpot cooking and crispy might be words that don't normally go together, but with one simple step, you can transform your not so crispy chicken thighs into super crispy yet still moist chicken in just 3 minutes.
After the chicken thighs are cooked, simply place them onto a baking sheet and broil them for 3-4 minutes or until the skin starts to brown up and get crispy.
Pro Tip: For crispy skin, place the chicken on to a baking sheet an broil for 3-5 minutes, or until golden brown!
Want to make this dinner even faster? Learn how to cook chicken thighs in your instant pot here.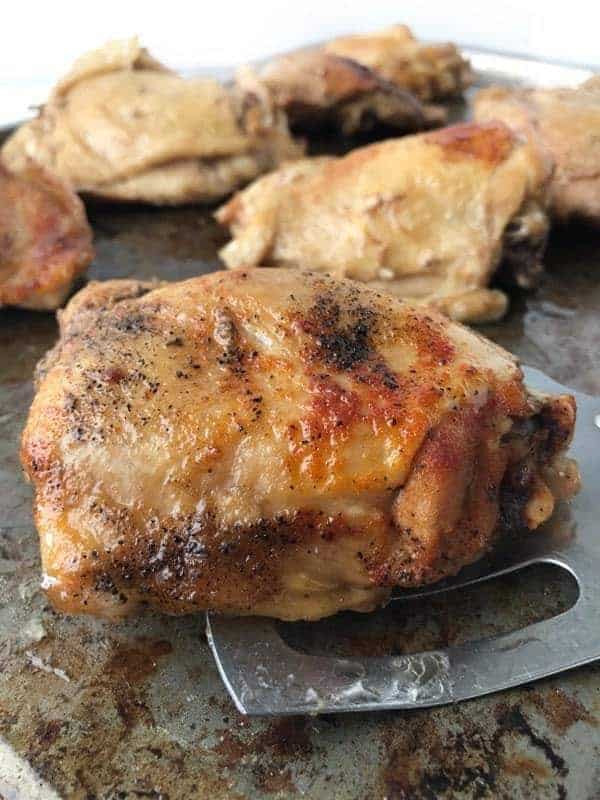 Need a good, reasonably priced crockpot?
Check out more slow cooker chicken thigh recipes:
5 Must-TryCrockpot Chicken Thigh Recipes
If you enjoyed the recipe make sure to leave a comment and a star rating below! Then follow me on social media and tag #createkidsclub if you make the recipe. I love seeing what you come up with!
Simple & Delicious Crockpot Meals
Make dinner a breeze with these 10 Family Favorite Slow Cooker Recipes!
Print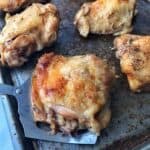 Crock Pot Chicken Thighs
Author:

Prep Time:

5 minutes

Cook Time:

365 minutes

Total Time:

370 minutes

Yield:

6

1

x
Category:

Main Course

Method:

Slow Cook

Cuisine:

American
---
Description
This simple slow cooker chicken thighs recipe can be put together in less than 5 minutes using ingredients from your pantry.
---
Ingredients
8

bone in chicken thighs

6 oz

. beer, any brand (about a

half a

bottle of beer)

1 tsp

. garlic powder

1 tsp

. onion powder

1 tsp

. paprika

1 tsp

. salt

1/2 tsp

. pepper
---
Instructions
Place the chicken thighs into the crockpot, pour the beer in, sprinkle spices on top.
Cook on high for 4 hours or low for 6-8 hours if frozen, or high for 2 hours and low for 4 hours if using thawed chicken thighs.
---
Notes
To get crispy skin, simply place the chicken thighs onto a baking pan and broil for 2-3 minutes!
Use any spices your family enjoys to create a whole new meal.
* This post contains affiliate links. If you were to make a purchase using these links, it does not cost you any more, but I would receive a small commission. Thanks for helping to support Create Kids Club.
Simple & Delicious Crockpot Meals
Make dinner a breeze with these 10 Family Favorite Slow Cooker Recipes!