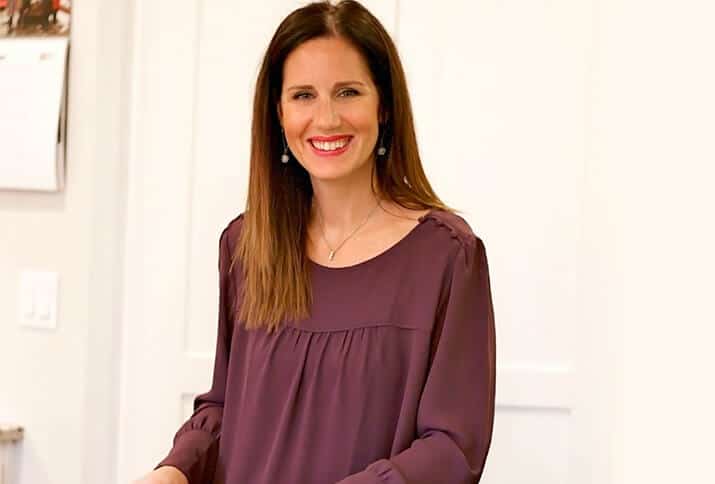 As a registered dietitian, Create Kids Club founder, Jodi Danen has a lot of experience with kids and nutrition. From teaching pre-teen and teenage kids healthy eating habits at summer camps, to menu planning and food service management at an elementary school, and certainly in raising her own children. Create Kids Club is all about providing tools to both kids and parents helping build a strong foundation for healthy habits.
Create Kids Club Products
We are proud to offer our kids cooking cookbook, Super Simple Cooking For Kids, featuring simple recipes for beginner chefs of any age along with our very own lunch box notes for kids, Lunch Bites™.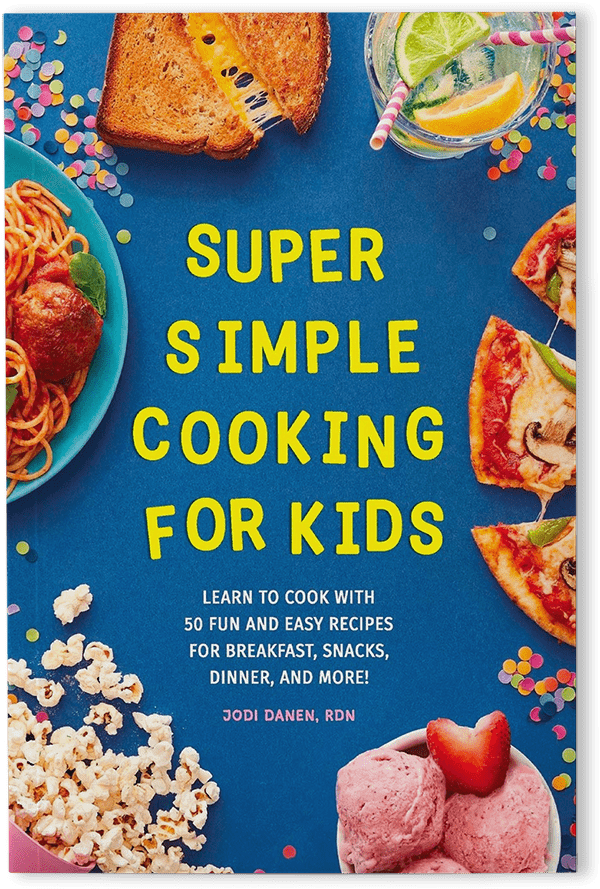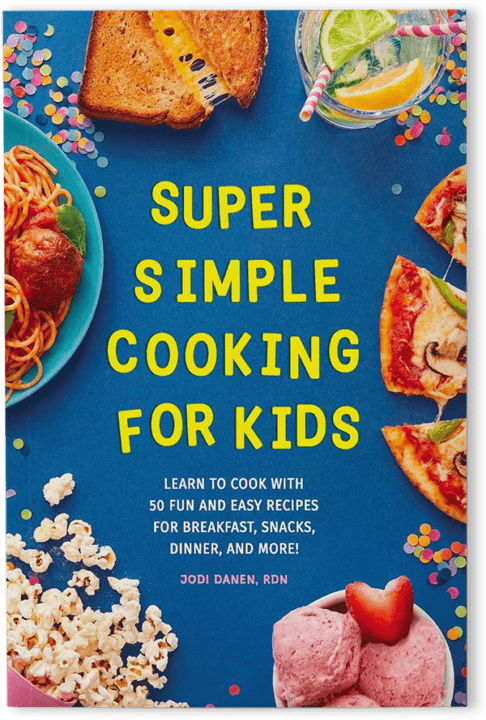 50 Simple recipes to build kids' confidence in the kitchen―for ages 8-12
Learning to cook should be as easy and fun as enjoying the final product
Super Simple Cooking for Kids gives kids a taste for kitchen independence (and their own delicious food!). With 50 simple recipes designed specifically for beginners, this kids cookbook requires no previous experience, pricey ingredients, or specialized equipment.

Kids will start with the basics by learning how to follow a recipe, kitchen safety essentials, and when to ask for help. Then, pint-size chefs can try simple, delicious recipes for every meal, including Pumpkin Pancakes, Chicken Taquitos, and Baked Ravioli―many of which they can accomplish all on their own. Handy indicators of the recipe's level of difficulty make it easy to pick dishes that work for you.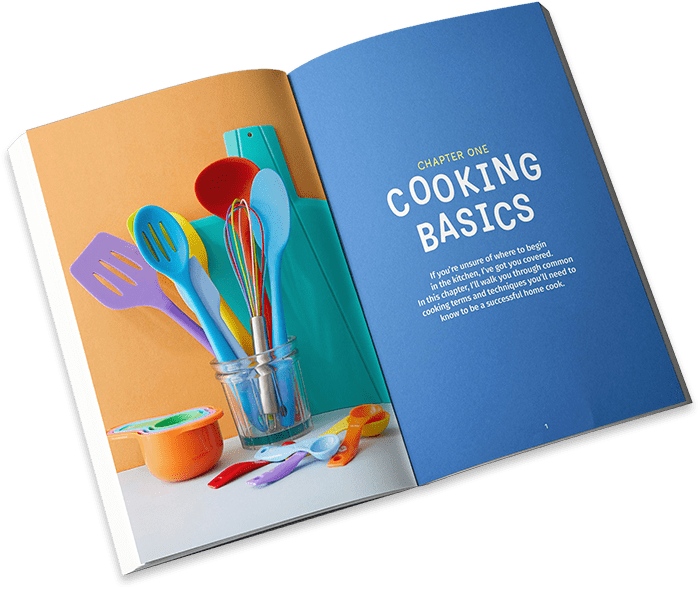 Inside this kids cookbook you'll find
Fewer ingredients, more flavor―50 super simple kids cookbook recipes that use 5 to 10 ingredients―tops.
Picky eaters rejoice!―Familiar foods will appeal to even the pickiest of palates, without compromising on nutrition.
Cooking fun―This kids cookbook is filled with fun food facts that will pique their minds as well as their appetites.
Discover a kids cookbook that teaches the basics in the kitchen with delicious results!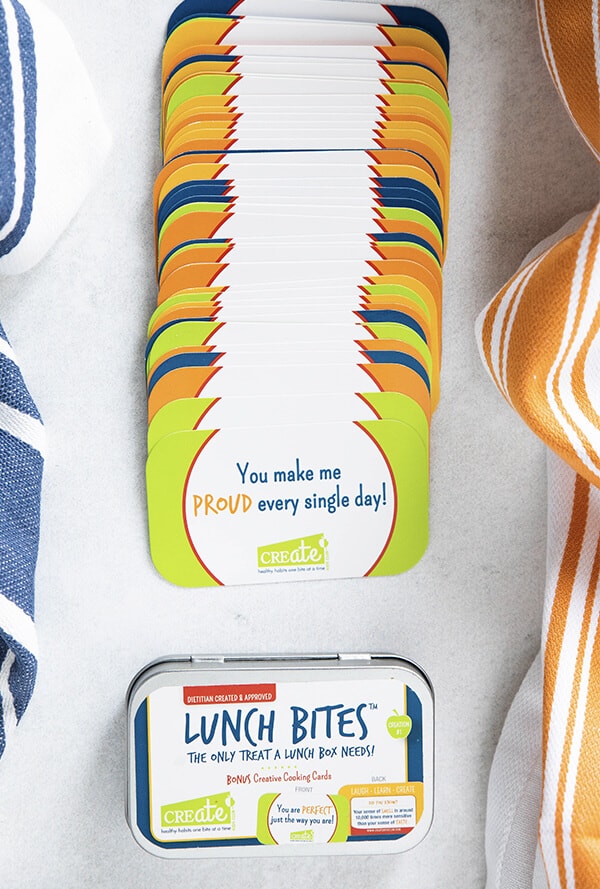 Lunch Bites™
Learning to cook should be as easy and fun as enjoying the final product
Lunch Bites™ lunch notes for kids were developed with the belief that a school cafeteria can, and should, be used as a learning vehicle – just as a classroom is for other studies.
While it might be impossible to teach a real lesson during the lunch hour, Lunch Bites™ work to continue the learning process while connecting parents to their children in a positive, feel-good way. When you purchase Lunch BitesTM you are helping your children form healthy habits one
"bite" at a time.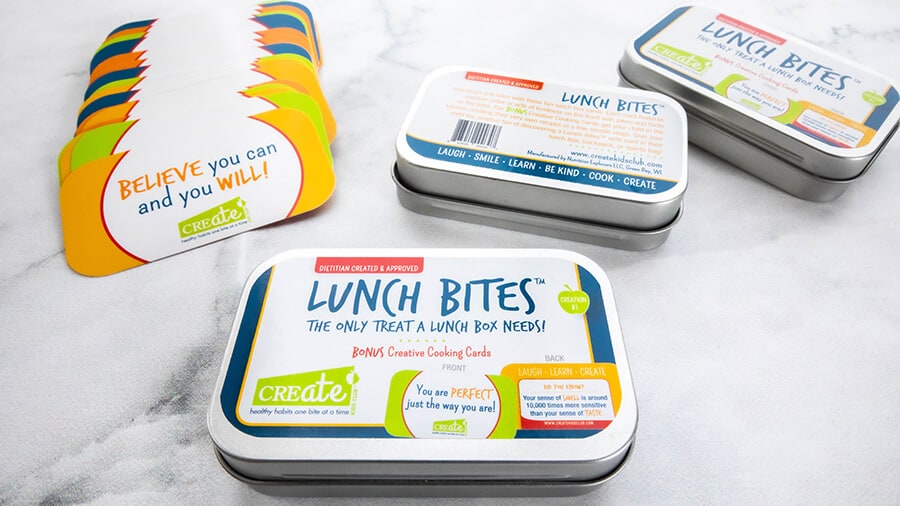 In Every Pack Of Lunch BitesTM You'll Find:
8 weeks worth of notes
40 Unique Note Cards
Spread happiness
Positive Notes & Acts of Kindness On The Front Side
Make your kids laugh
Jokes, Riddles, and Facts On The
Back Side
8 BONUS Creative Cooking Cards
Get Kids In The Kitchen Creating Their
Very Own Recipes
Reusable Cards
Reuse Cards For Other Children
RDN + Mom Approved
Dietitian Created & Approved
Get rid of that guilt and be the parent who gives their child a fun treat in their lunch box each day! Order your lunchbox cards today!