No need to look further for chicken recipes for your New Years Eve party! Here are 31 gluten free chicken recipes your guests will love! Create a flavor filled New Years Eve menu featuring the best of the best chicken recipes.
Whether you are planning a dinner party, family gathering or enjoying the evening at home, you'll find all you need in this chicken recipe collection. From baked chicken wings and breasts to dips and salads and so much more. Enjoy selecting your favorite chicken recipes to ring in the new year!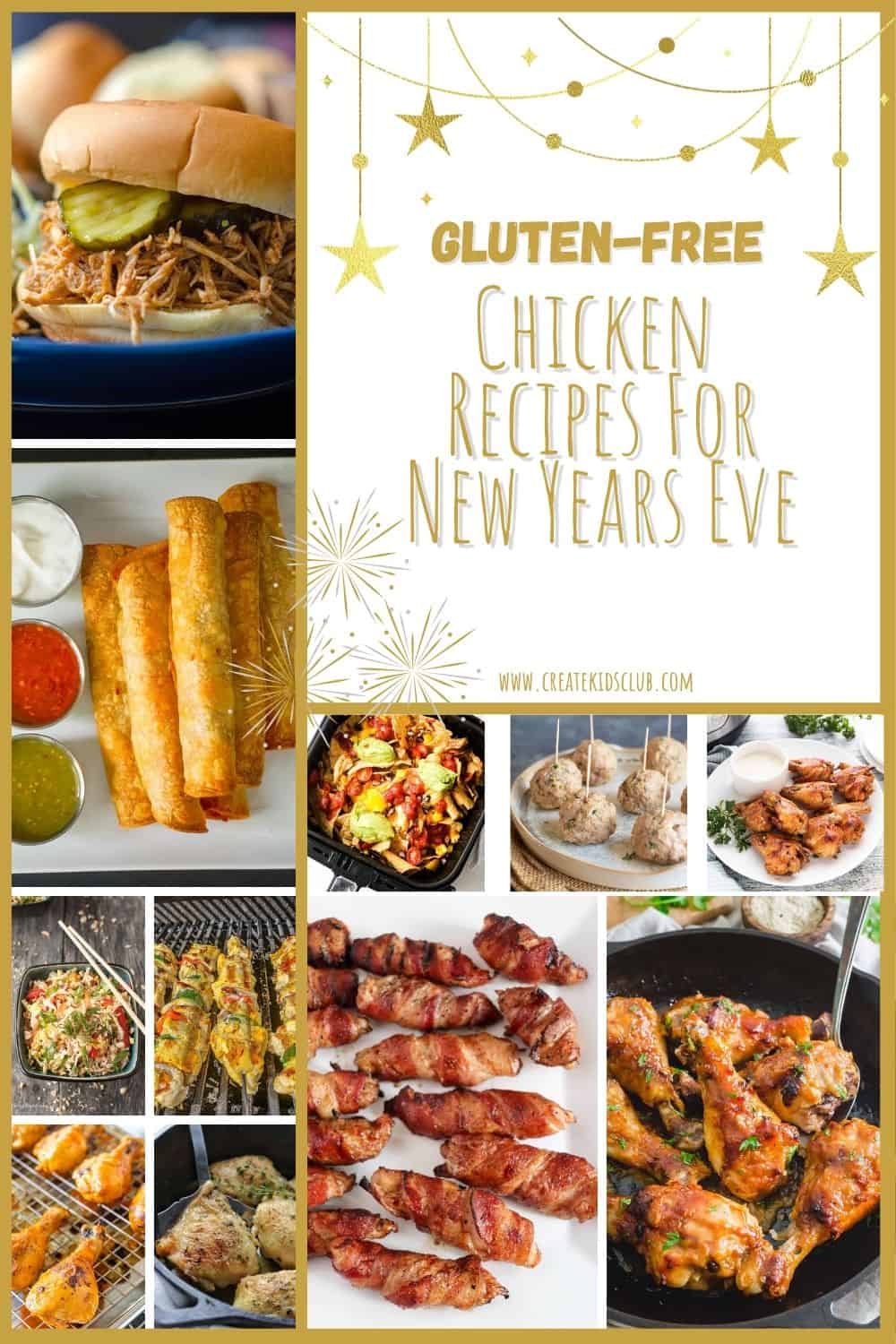 More New Years Dinner Ideas
Looking to incorporate more than just chicken on your dinner menu? Check out these festive dinner ideas perfect for the new year celebration: Steak Skillet Nachos, Par Baked Pizza, Taco Quesadilla, Mexican Shells with Ground Beef, Pork Chop Sheet Pan Dinner, Pulled Pork Roast Instant Pot Recipe, Easy Pork Loin Recipe, Whole Beef Tenderloin Steak Recipe, Instant Pot Beef and Noodles, and Easy Swedish Meatballs (Crockpot).
New Years Appetizers
Kick off the evening with tasty appetizers for guests to enjoy before bring out the main entrée(s). Caramelized Sweet Onion Dip, Velveeta Cheese Sauce Dip, Greek Yogurt Spinach Dip, Biscuit Pretzel Bites, Ranch Hummus Recipe, Pork Sausage Wonton Bites and Cheesy Mashed Potato Bites are all popular picks!
New Years Eve Desserts
Now, the night isn't complete without a spread of delicious desserts. All crowd favorites, you'll have to check out these decadent desserts. Mini Flourless Chocolate Cake, Gourmet Chocolate Bark, No Bake Marshmallow Fudge, Easy Peanut Butter Fudge Recipe, Frozen Cheesecake Bites, Christmas Pretzels, Gluten-Free Apple Cake, Lemon Poppy Seed Pound Cake, and Nutella Marshmallow Cookies.
If you enjoyed any of the recipes make sure to leave a comment below! Then follow me on social media and tag #createkidsclub if you make the recipe. I love seeing what you come up with!