Healthy Cheesy Potatoes are a lighted up version the traditional dish.  These cheesy potatoes cut fat and calories, not flavor.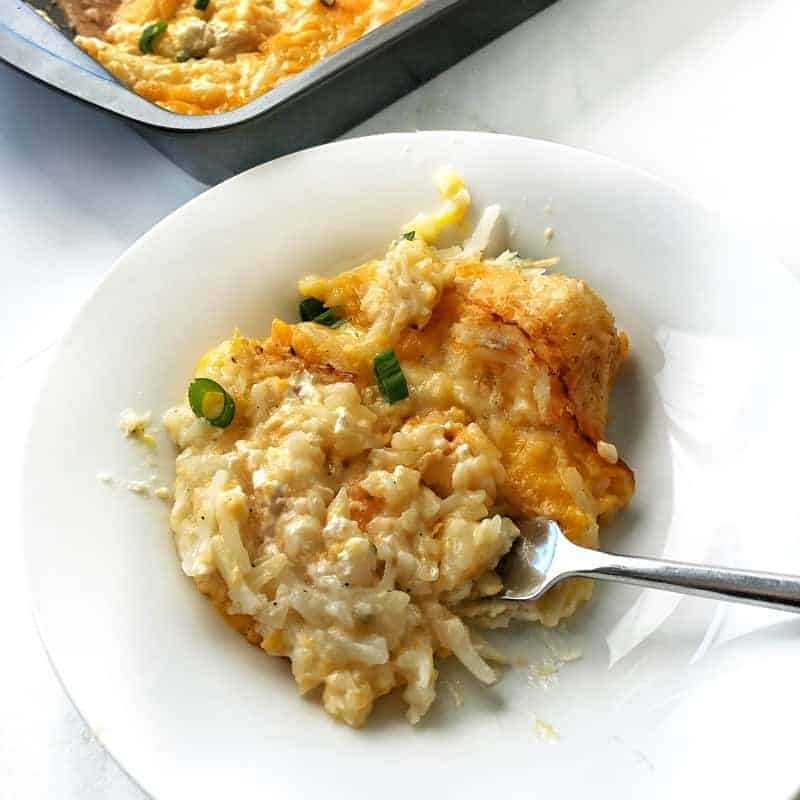 If you're trying to watch your weight, holidays and family gatherings are a challenge.  You don't need to fail at your goals, a little planning in advance goes a long way.
Leave the party feeling good about your choices, partake in all the good food, and still stay on track.  Keep reading to find out how.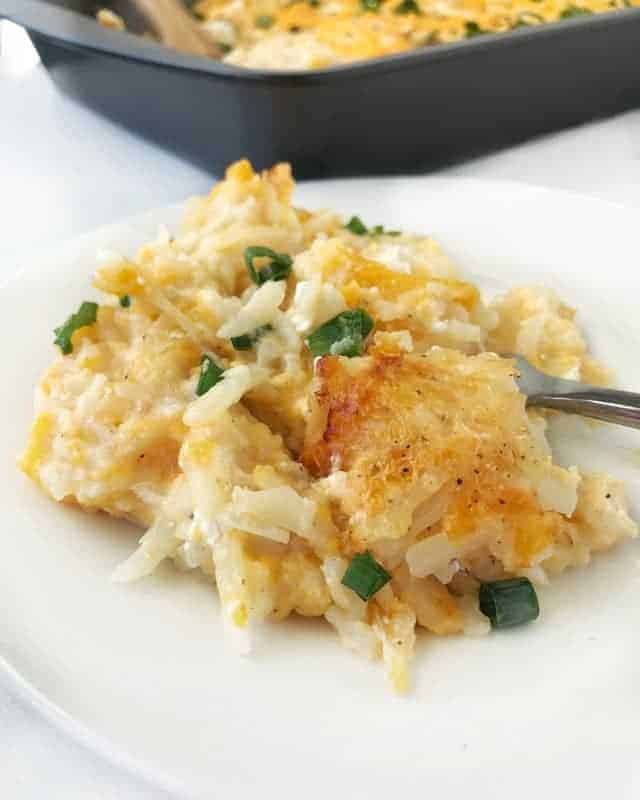 When you think of holidays, what comes to mind?
Maybe family, friends, good conversations, food.  Always food.  Food is the glue that ties the day together.
Food can also be a source of stress when you are watching your weight.
It doesn't need to be.
Follow these 3 simple tips and set yourself up to succeed.
Don't go hungry.  Don't save all your calories for one meal. Eat a healthy breakfast, drink plenty of water, and have a snack, one that includes both protein and carbohydrate (like an apple with peanut butter) before you head to the party.  It's much easier to avoid overindulging when you are not starving.
Have a plan. Before heading to the party, decide which food you are looking forward to the most and enjoy a serving.  Whether it's a helping of your favorite mashed potatoes or a slice of grandma's famous pie, go ahead and have it.  Then plan to cut out those foods that you don't need.  For me, I could take or leave mashed potatoes, so I leave them, saving the calories for a food I like better.  Start by filling your plate full of the healthy options before taking the higher fat and calorie items. Plan smart and you'll enjoy your favorite foods without going overboard.
Bring a healthy option.  Ensure there is something healthier on the dinner table by simply bringing it yourself.  You also won't be returning home with sweets or high-fat food that sit in the fridge calling your name.  Consider making a lower calorie version of your favorite holiday recipe to help cut calories and fat while still enjoying the traditional dish.  
A healthier option to bring this Holiday Season: Healthy Cheesy Potatoes
Every family has recipes that show up at the holidays year after year.  Cheesy Potatoes is a staple dish that stars at all holiday meals in my family.  Who doesn't love potatoes?!
Here in the Midwest, everyone knows what cheesy potatoes are.  I recently learned that in the South and West, this beloved casserole is referred to as funeral potatoes. I guess that means they are the ultimate comfort food.
There is one downside to this dish.  With lots of butter, sour cream, and canned soup, it is full of fat and calories.
I have been working on a lower fat recipe for a long time, tweaking it to make it just like my families favorite – and I finally got it right.  Healthy Cheesy Potatoes is full of flavor without all the fat and calories.
While sampling this last night over dinner, my husband, the biggest cheesy potato fan on earth, told me he really couldn't tell much of a difference.  Baked perfection.
Cut calories and fat, not flavor: Healthy Cheesy Potatoes #cheesypotatoes #potatorecipes
Click To Tweet
Need a festive drink to go with?  Cranberry Spritzer can be served with, or without alcohol and is perfect for spring. Don't forget to sign up for weekly recipes!
Print
Healthy Cheesy Potatoes with Greek Yogurt
Author:

Prep Time:

10 minutes

Cook Time:

55 minutes

Total Time:

65 minutes

Yield:

10

Category:

Side Dish
---
Description
A delicious side dish recipe that is healthier than the traditional full fat version, yet just as tasty.
---
Ingredients
32 oz. shredded hash browns
8 oz. bag shredded sharp cheddar cheese
1 cup plain Greek yogurt (such as Fage)
1 cup 1 % milk
1 cup chicken broth
3 oz. reduced fat cream cheese
1 tsp. minced garlic
1 tsp. salt
1/4 tsp. black pepper
green onions (optional garnish)
---
Instructions
Preheat oven to 350 degrees.

Mix all ingredients in a large mixing bowl.
Pour into 9 x 13 baking pan.
Bake 55 minutes or until lightly browned.
I'd love to hear your tips for not overeating at parties! 
PIN for Later!

SaveSave
Learn How To Stock A Healthy Pantry - The Easy Way!
Join the club & get your FREE Pantry Staples checklist. You'll receive our weekly updates on quick, healthy recipes.