I have been compensated by Collective Bias, Inc. and its advertiser for contents of this post. All opinions are mine alone. #ReimagineYourCereal #CollectiveBias
Do you have as much cereal in your pantry as I do?
Mornings are hectic.
Mine goes a bit like this: 10 year old gets out of bed, no problem – he is my early bird. 8 year old has a lot to say in the morning, most of which is not good news. Cue the puppy (yes, we recently got a new puppy!) I let him wake her up. Works like a charm every time.
I head downstairs to pack lunches and attempt to get kids off to school, while trying to get myself ready for the day. Oh, and feed the dog, clean the kitchen, start the laundry, pick up the dirty socks laying EVERYWHERE… all the wonderful things mothers try to shove into 30 minutes 😉
But we never skip breakfast.
I am a huge proponent of breakfast.
Due to the fact you won't find me cooking more than scrambled eggs on weekday mornings, I stock my pantry shelves with lots of cereal choices.
Why is breakfast important?
Studies show that those who skip breakfast have a hard time making up nutrients throughout the day.
Studies also suggest that eating breakfast can offer benefits that range from improved concentration to a reduced risk of obesity and diabetes.
Despite the benefits breakfast provides, this meal isn't a part of the daily routine for many children – it is skipped more than any other meal.
Those who skip breakfast have a hard time catching up nutritionally.
Click To Tweet
Data from the National Health and Nutrition Examination Survey (NHANES) 2001-2002 indicate that 13% to 14% of children aged 6 – 11 skip breakfast. Don't become be a part of this statistic.

Quick breakfast ideas
If you rush in the mornings, fill your house with easy breakfast options. Include things like smoothies, fruit, pre-made breakfast options, and cereal.
My kiddos prefer cereal. The problem is they never finish the whole box – they leave the bottom of the bag behind. I have a lot of nearly empty cereal boxes taking up valuable space, but I don't want to waste and throw away perfectly good food.
Don't let the bottom of the bag go to waste
I am happy to show you a way to use up those boxes of almost empty cereal and turn it into a delicious breakfast or snack idea. Save money, clear your shelves, and repurpose your cereal!
No More Bottom Of The Cereal Bag Waste! Cereal Granola!
Click To Tweet
Good news! Select large sized Kellogg cereals are on sale now both in-store at Target and online at Target.com for just $2.99. After you clear shelves you'll have room to stock up!
You can find these cereals right on the end cap in store. For this Cereal Granola Recipe pick up the following sizes which are on sale – Rice Krispies, 18 oz, and Shredded Wheat, 24 oz.
Grab the Rice Krispies, Shredded Wheat, and oatmeal from your panty. Make sure to use the bottom of the bag cereal first.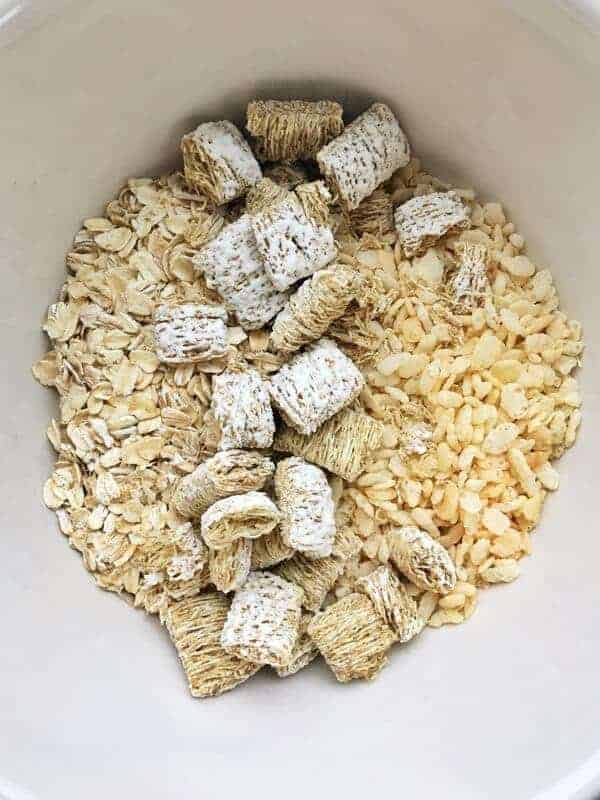 Cereal granola is sweetened with maple syrup and unsweetened applesauce.
Next are add in choices. The options for add ins are endless. Dried fruit, coconut, chopped nuts, flax seeds, chia seeds, the list can go on and on. I chose to add ground flax seed and chia seeds because they blend in easily and don't add much flavor – but do add a boost of nutrition.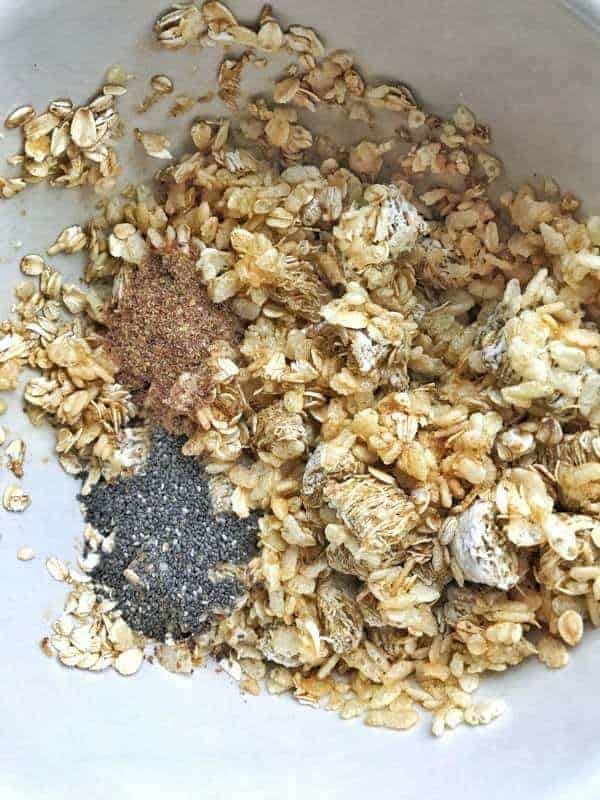 Stir the cereal granola, spread it on a parchment lined baking sheet, or use non- stick cooking spray. The parchment paper helps with sticking and makes for easy clean up.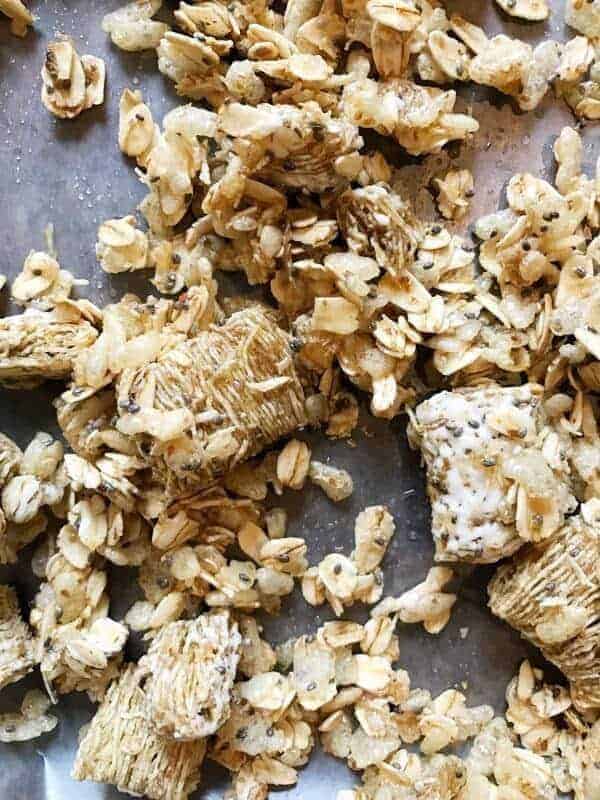 Bake for 15 minutes, stirring every 5 minutes. Stirring helps distribute the maple syrup evenly, and helps with even baking.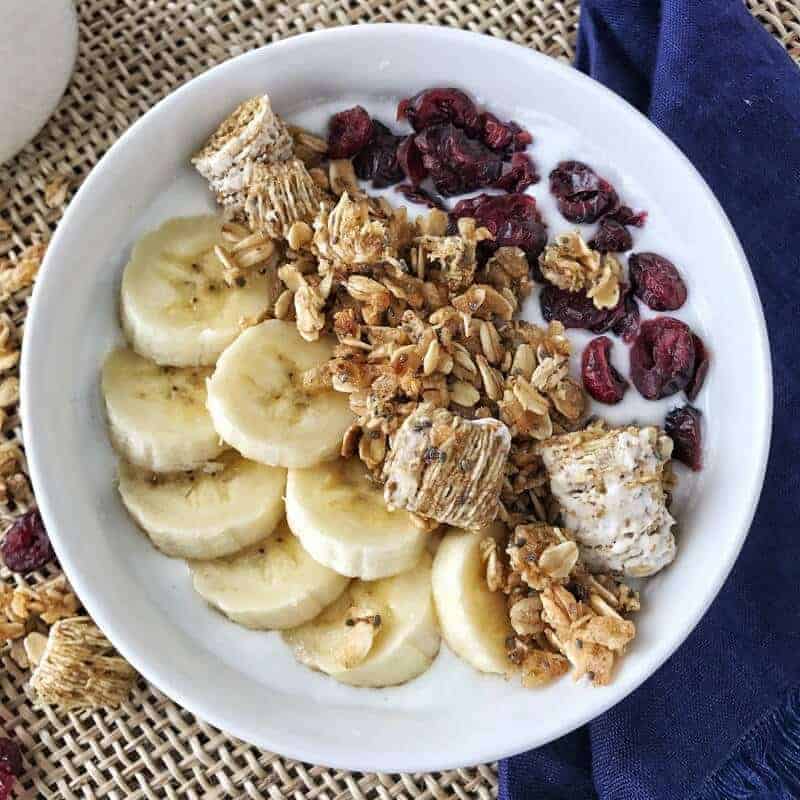 Serve cereal granola with yogurt and fresh or dried fruit, eat the granola plain, or top it with milk. The perfect way to repurpose your cereal, avoiding waste along the way.
Say goodbye to those extra cereal boxes, and hello to snack time!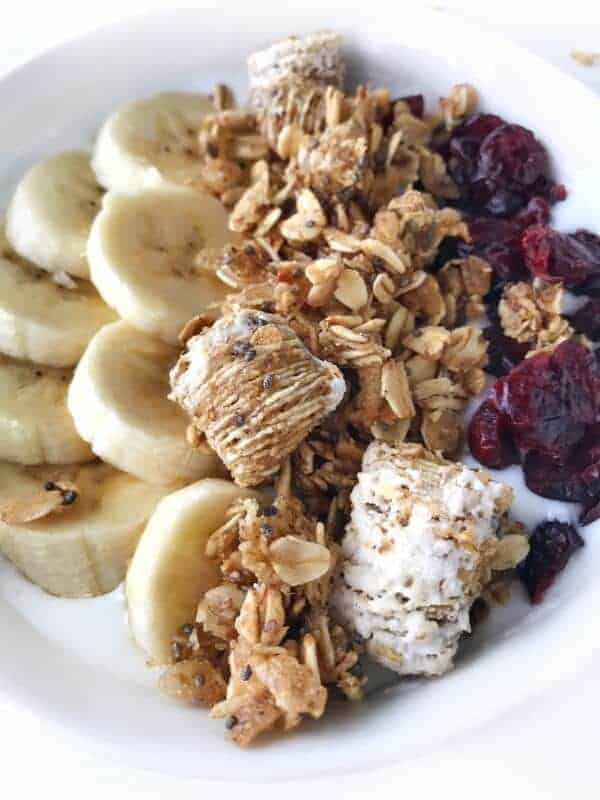 Print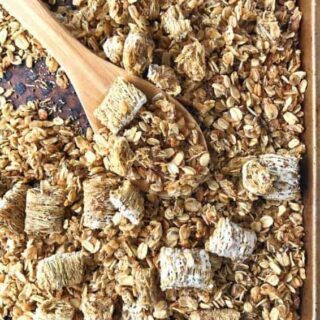 Homemade Cereal Granola
Author:

Prep Time:

5 minutes

Cook Time:

15 minutes

Total Time:

20 minutes

Yield:

9 people

Category:

Breakfast

Cuisine:

American
---
Description
This granola is sweetened with maple syrup and applesauce, is baked in just 15 minutes, and can be served on top of yogurt, with milk, or eaten plain. A great way to repurpose your cereal!
---
Ingredients
1 cup Rice Krispies
1 cup Shredded Wheat
1 cup quick cook oats
1/2 cup maple syrup
2 Tbsp. unsweetened applesauce
1 tsp. vanilla
Optional:
1 Tbsp. ground flax seed
1 Tbsp. chia seeds
---
Instructions
Preheat oven to 325 degrees.
Place parchment paper on 9×13 in baking pan, set aside.
In medium size bowl, combine cereals, and optional ingredients if using.

In a small bowl, combine maple syrup, applesauce, and vanilla.
Pour liquid into cereal mixture, mix well.

Pour mixture onto parchment paper.

Bake 15 minutes, stirring every 5 minutes.
Let cool, then store in air tight container.

---
Notes
Nutrition Information Per Serving:
Calories: 114 kcal
Fat: 0.5 grams
Carbohydrates: 38 grams
Protein: 1.3 grams
---
What do you do with leftover cereal? I'd love more ideas!

For more great Kellogg cereal inspiration, check out the social hub here!
PIN for LATER!
How To Make Tasty Crockpot Meals
Make dinner a breeze with these 10 Kid Favorite Crockpot Recipes! Get your FREE printable eBook Now!