Knowing how to properly use and calibrate a thermometer will improve your cooking skills immediately.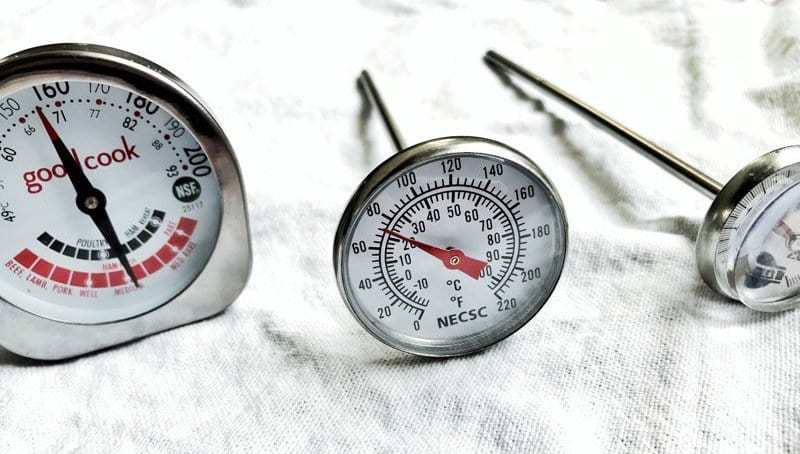 Are you frustrated that you took the time to cook a dinner meal including chicken breasts, only to have your family push them around their plates? Are you unsure of how long to cook pork chops? Maybe you're concerned about e-coli or other food bourn illnesses?
Then stick around because you are going to fix these problems TODAY!
I need you to open your kitchen drawer, the one with all the utensils you never use.
Now go ahead and pull out the long stick like object with numbers on it. Yep, the thermometer.
If you don't have one, head to the store and grab a stick thermometer. They cost about $4.00.
This is your life saver. This tool is what will fix your dinner disasters.
Watch this short video to learn more about how to use a thermometer and also how to easily calibrate a thermometer that has been sitting in your drawer for ages.
It's simple, I promise!
Simple, right?
There are two main reasons to use a thermometer.
A thermometer ensures you are cooking your meat to a high enough temperature to kill any potential bacteria in the food, avoiding food bourn illness. A thermometer also ensures you do not over cook food, which makes meat much less flavorful, juicy, and can ruin a meal quickly.
Beef, pork, veal, and lamb (steaks, chops, and roasts): 145 degrees

All ground meat: 160 degrees

All poultry: 165 degrees

Fish and shellfish: 145 degrees

Leftovers: 165 degrees

Casseroles: 165 degrees
I hope these tips help you in your kitchen TODAY!
I would love to hear your stories on using (or not using!) thermometers to see if there is an other questions you might have, comment below.
PIN for Later:
If you enjoyed this post, consider joining the club to get all the latest recipes and blog posts delivered to your inbox weekly! It's free! Create Kids Club Newsletter Sign Up

Get Your FREE Crockpot Cookbook Now!
Get 10 tried & true Kid Approved Crockpot Dinner Recipe favorites!