The best way to cut a mango - 2 quick hacks. Learn to quickly cut a mango two ways along with how to make refreshing mango water.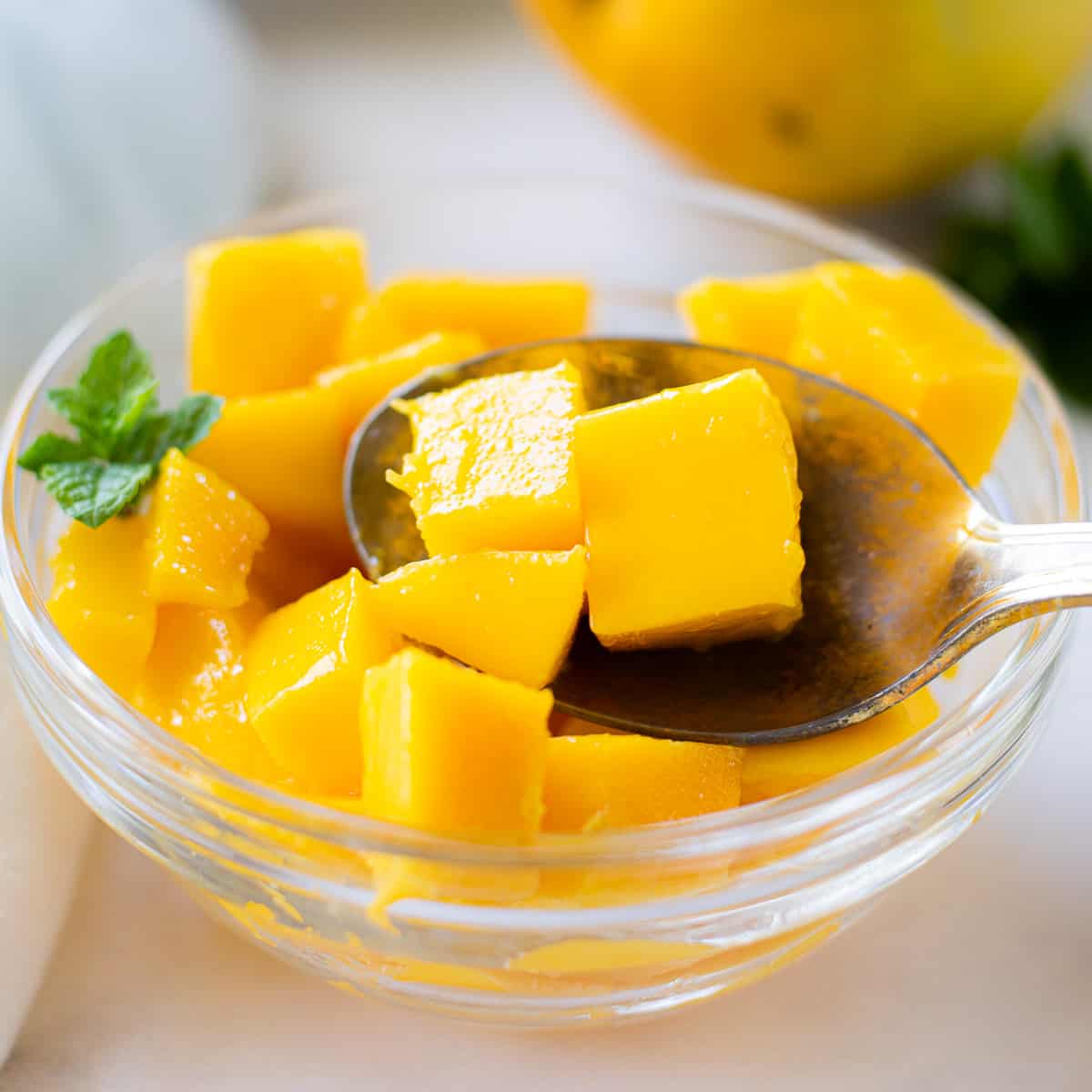 If you're looking for a quick and simple way to slice a mango I'm here to help. I didn't grow up eating mango so I was clueless on how to attempt to eat this delicious fruit. Once you see how easy it is, this fruit doesn't seem so intimidating.
Related: How To Cut Watermelon Sticks & How To Cut A Pineapple
There are so many delicious ways to enjoy mango. Here are some of my favorites:
Fish Tacos With Mango Guacamole
Looking for Fruit Dips? Try these:
How to tell if mango is ripe?
A mango is similar to a pear or avocado in that you can test for ripeness by giving it a gentle squeeze. A mango is ripe when it gives slightly, signifying the inside is starting to soften.
How to tell if a mango is bad?
You can tell if a mango is bad, or past it's prime when it is very squishy when you push on it. Another sign is if it has lots of bruising or an off smell. A fresh mango should have a pleasant aroma.
How to ripen a mango?
You can ripen mango like you can many fruit, by placing it into a brown paper bag on your counter. Do not refrigerate an unripe mango.
Can you eat mango skin?
While it's safe to eat the skin on a mango, the flavor is quite unpleasant so there is no need to eat the skin on a mango.
What can you do with the mango seed (pit)?
Don't just through the seed out - there is oftentimes quite a bit of tasty fruit left on there! This can be used in cooking or simply nibbling on it to get all the fruit off. My favorite use is to use it to flavor water. In some countries it's used as a teether for babies.
My favorite use for the mango seed that's in the middle of a mango is to use it to flavor water. All you need to do is let the seed soak in water for at least 30 minutes. The flavor the water picks up from the juicy seed is delicious and refreshing!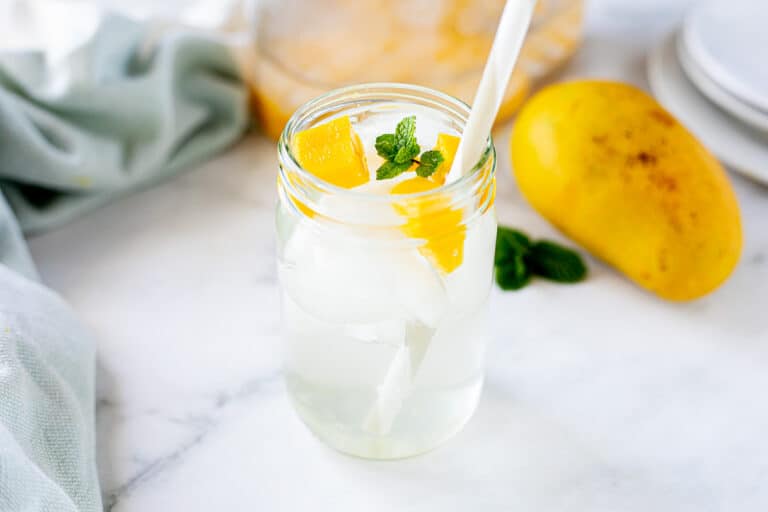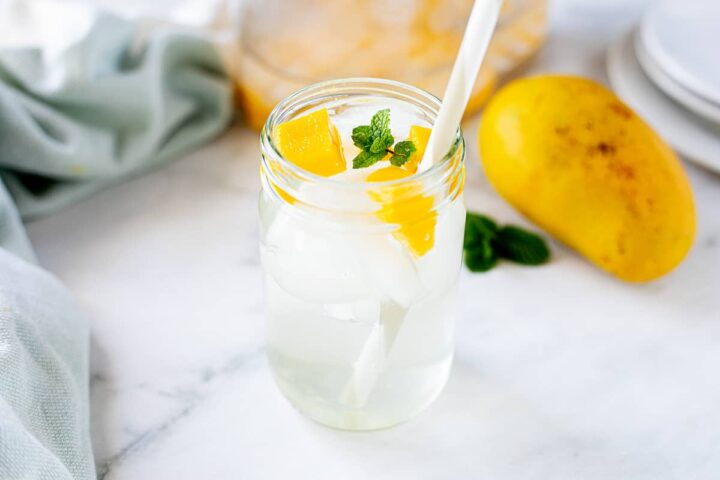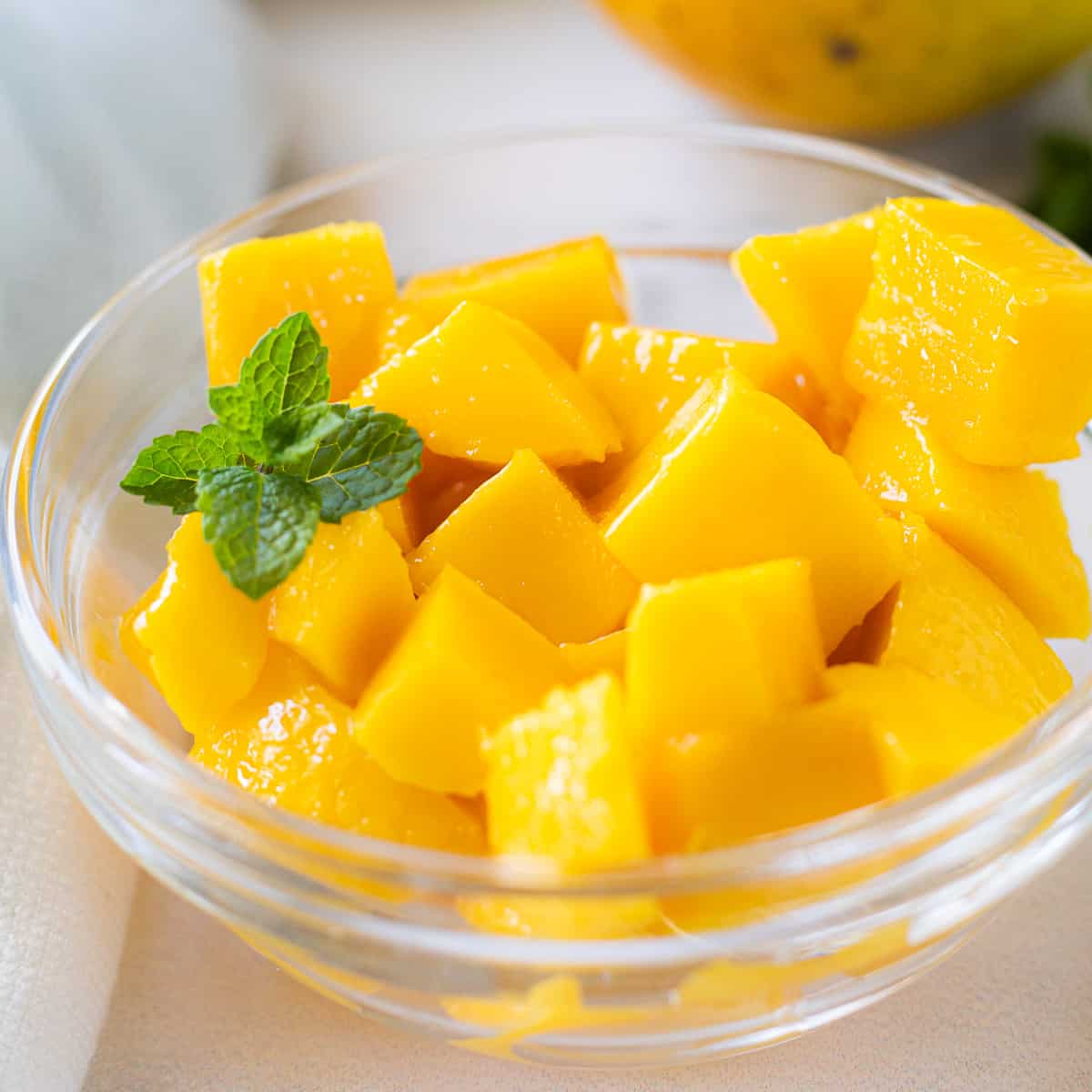 Instructions
Wash fruit under running water.

Slice the cheeks, or large sides off of the mango then slice around the pit on the smaller sides. Set pit aside.

Take one large side of the mango and slice both vertically and horizontally into a grid pattern, but don't slice through the peel.

Using a large spoon, scoop the diced mango cubes from the peel. Repeat for the other pieces.
Notes
To make infused water, add the mango pit and peel to a pitcher. Add about 3-4 cups of water and refrigerate for at least 30 minutes.
Optional: add fresh herbs such as mint or other fruit like blueberries or lime to create different flavors.
Nutrition
Calories:
62
kcal
|
Carbohydrates:
16
g
|
Protein:
1
g
|
Fat:
1
g
|
Saturated Fat:
1
g
|
Sodium:
1
mg
|
Potassium:
174
mg
|
Fiber:
2
g
|
Sugar:
14
g
|
Vitamin A:
1120
IU
|
Vitamin C:
38
mg
|
Calcium:
11
mg
|
Iron:
1
mg