This Best Gifts for Kid Chefs guide includes great ideas for kids of all ages from beginners to advanced. This year, give the children in your life gifts that they won't grow out of.
Kids love spending time in the kitchen if given the opportunity. If you're struggling with a fresh gift idea for a special child in your life, check out our suggestions below.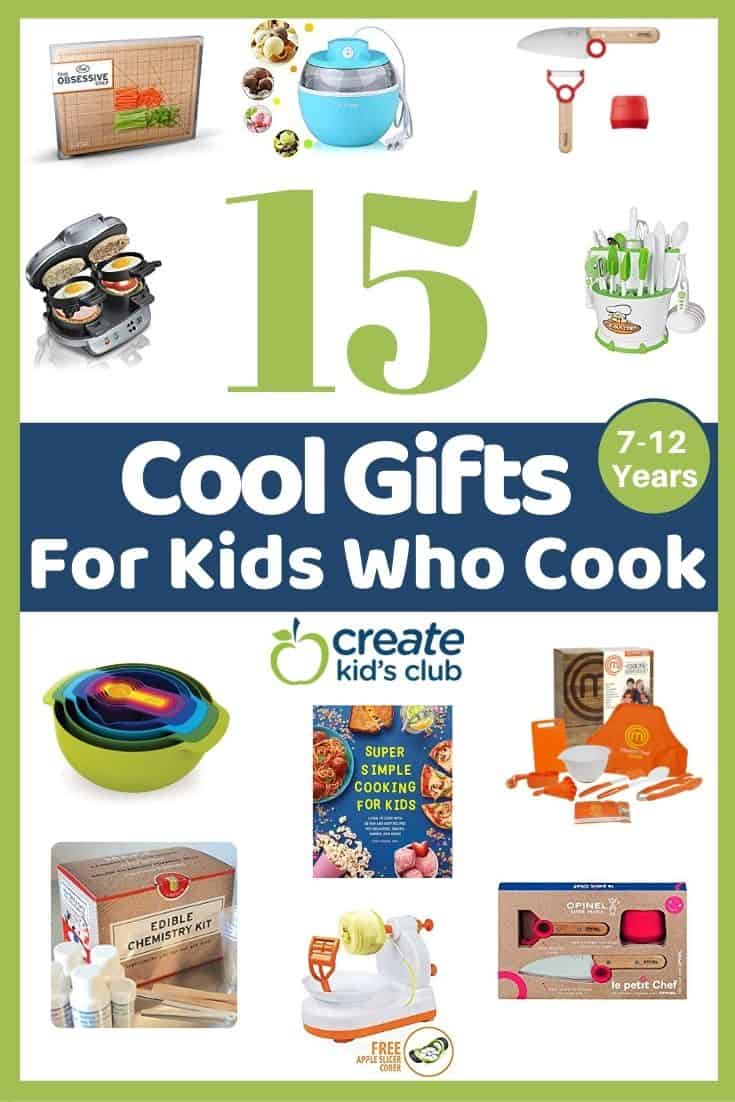 Create Kids Club is a participant in the Amazon Services LLC Associates Program, an affiliate advertising program designed to provide a way for websites to earn advertising revenues by advertising and linking to Amazon.com.
This guide is for you if you're looking for the best gifts for young cooks that allow kids to be creative, learn their way around the kitchen, and make real snacks and meals.
Related: 12 Best Gifts for Mom's Who Cook
Start building a kitchen toolkit for the little chefs in your life. They will learn lessons that will stick with them forever and have fun too!
This cooking essentials kit comes with everything needed to get started from a child sized cutting board to an apron. The orange color appeals to all kids.

What It Has: This Cooking set comes with an apron, cutting board, mixing bowl, measuring cups, measuring spoon, spatula, spoon, and tongs along with 3 unique recipe cards for all levels of experience.
What To Make: Oatmeal Peanut Butter Bites are a favorite that is super easy for even young kids to make using a mixing bowl, measuring cups and a large spoon or take it a step further with our Vanilla Mug Cake and bake an individual cake in the microwave!
Buy It Now:

We love that this set comes with a handy kitchen tool holder for storage when kids are not busy in the kitchen. Making cooking easier when you simply can pull out the handy caddy and get started. Great for organization and storage. We love the gender neutral colors too.
What It Has: This cooking toolset includes a rolling pin, pizza cutter, whisk, measuring cups and spoons, and more. BPA free and dishwasher safe.
Related: 50 Random Acts of Kindness For Kids
What To Make: Get even the youngest of chefs chopping, scooping, and having fun with our easy Fruit Parfaits. Take it to the next level and try our French Toast Muffins.
Buy It Now:
Every chef needs lots of bowls, why not have them easily stack along with the measuring cups? Great color scheme and easy for storing.

What It Has: This cooking set includes 9 pieces: 1 large mixing bowl, 1 colander, 1 steel sieve strainer, 1 small mixing bowl with measurements, 1 cup, 1/2 cup, 1/3 cup, 1/4 cup measuring cups and 1 tablespoon measuring spoon. All pieces (except for steel sieve) are dishwasher-safe.
What To Make: Kids will have fun stirring and measuring using their new bowls when they make some delicious Chocolate Chip Banana Bread or Chocolate Chip Pumpkin Bread.
Buy It Now:
If you have a child interested in learning how to use a kitchen knife this is the board for them. The board is marked with a guide to teach children how to make many different cuts.
What It Has: This one is for kids who want to learn chopping skills. This board features guides for medium dice, small dice, brunoise, fine brunoise, bat allumette, julienne, and fine julienne.
What To Make: Kids can practice their slicing and dicing with our delicious Chicken Pinwheels or Turkey "Sushi" Rollups.
Buy It Now:
This beginner knife helps guide kids on the proper finger placement helping them quickly learn safe knife skills and improve their technique.

What It Has: This beginner knife features a rounded tip and an 'educational ring' – designed to promote proper finger placement when using the knife. The vegetable peeler also has the ring to help position fingers for easy peeling. The plastic shield protects the hand that holds the food to be cut.
What To Make: Peel apples, then chop them with a yummy Homemade Applesauce recipe or make dinner chopping the veggies for Rainbow Buddha Bowls.
Buy It Now:
Making breakfast is a lot more fun when you can make eggs or pancakes into all different shapes!
What It Has: This kitchen cooking set includes 8 different shaped molds. Kids can make pancakes or eggs with novel and fun shapes.
What To Make: Animal Pancakes are a super fun meal idea for breakfast, lunch, or dinner or try our yummy Pumpkin Pancakes.
Buy It Now:

This handheld slicer makes cutting round fruits and vegetables much easier (and safer!) for little hands!

What It Has: Kids can create perfect slices every time. Great for cutting potatoes, tomatoes, onions, and more.
What To Make: Hasselback Potatoes are a delicious side dish and fun to make, or let kids help make Scalloped Potatoes for some extra cutting! 
Buy It Now:
Kids love to use gadgets and are always intrigued with this fruit or vegetable peeling machine! Quickly peel apples or potatoes for all different types of recipes.
What It Has: This super fun kitchen tool peels potatoes, pears, apples or whatever else you'd like peeled. It's dishwasher safe for easy cleaning and safe to use by kids.
What To Make: Easy Baked Apples are simple to make and kids love the bright flavor of cinnamon and sugar or try your hand at Cheesy Mashed Potatoes.
Buy It Now:
Making pancakes gets a lot less messy when you use a handy batter dispenser. This kitchen gadget can also be used to portion cupcake or muffin batter into muffin tins.

What It Has: This cooking tool has a pulley handle that makes it easy for small hands to use and a fail-safe valve that doesn't leak. Use it for pancakes or for filling muffin tins.
What To Make: Blueberry Muffins and Apple Muffins are always a hit with family members of all ages. 
Buy It Now:
Kids can easily make everyone breakfast in bed or help make their own lunch with this handy sandwich maker.

What It Has: A kids cooking set where kids can make 2 sandwiches at a time that are ready in just 5 minutes. Kids choose their bread and layer on the fixings: egg, cheese, precooked meat, or the ingredients of choice. All removable parts can go in the dishwasher.
What To Make: Black Bean Quesadillas would be delicious or try one of these 9 Sandwich Ideas for Kids.
Buy It Now:
Who doesn't love French fries? Now kids can make them at home. This tool can slice many different fruits and veggies for many different options.
What It Has: This cooking tool for kid chefs has a curved shape in the bottom to easily fit potatoes, cucumbers, zucchinis, radishes, yams, apples, and more. Makes french fries a breeze.
What To Make: Super Crispy Homemade French Fries is a recipe all kids will be excited to make – and eat!
Buy It Now:

Science is brought to the kitchen with this super fun kitchen chemistry kit. Now you can make science experiments – and eat them too!
What It Has: This cool gift for kid chefs lets them experiment… and eat it too! It's recommended for ages 10 and up.
What To Make: This cooking kit has the "recipes" all inside the box. Use cabbage to make fizzy drinks, color changing foaming jelly, polymer pudding, and much more.
Buy It Now:
You'll be surprised at how excited kids are to watch popcorn pop in an air popper for the first time. Turn corn kernels into popped corn in no time at all.
What It Has: A fun gift for kids is this Air Popper, which cooks popcorn faster than a microwave. It's cheaper as well and there is even a butter melter on top.
What To Make: Pop the popcorn and have your kid chefs make one of these delicious Popcorn Seasonings. They make great gifts too!
Buy It Now:

The Easy Bake Oven has been a hit for kids for year after year. No need to buy all the pre-made packages, there are lots of recipes available online for kids to create at much less cost.

What It Has: This gift for kid chefs is electric, no light bulbs are needed. It includes a baking pan, pan tool, chocolate brownie mix, vanilla frosting mix, rainbow sugar crystals, and instructions.
What To Make: You don't have to buy mixes for your child's easy bake oven. Let them mix up their own creation or try one of these Homemade Easy Bake Oven Recipes.
Buy It Now:

Kids are fascinated by watching liquid ice cream ingredients turn into a delicious frozen treat. Homemade ice cream is the best and kids will love giving this a try!
What It Has: A cooking gift for teenagers and small kids alike. This ice cream maker makes a half pint with the ease of the push of one button.
What To Make: Start with a basic Vanilla Ice Cream and work your way from there!
Buy It Now:
Don't forget to add a cookbook to this gift!
Our suggestion for Children Ages 6 – 11 years:
We are super proud of our book Super Simple Cooking For Kids. This cookbook compliments every gift idea above. The cookbook has 50 super simple recipes kids can make all on their own. Buy it below or right here on the website.
Be sure to check out all of our Kids Cooking Recipes for more fun and simple ideas!
Looking for ideas for the adults in your life? Check out these gift ideas:
If you enjoyed this post or made any of the recipes, make sure to leave a comment below! Then follow me on social media and tag #createkidsclub. I love seeing what you come up with!