Did you know you can eat the tops of beets?The best use for beet tops? Beet Green Pesto Pasta. It's a nutrient packed meal that utilizes plant parts that typically get thrown away.
Do beets arrive every year in your CSA box, but sit forgotten in the back of the refrigerator? If so, this recipe is perfect – it's simple, delicious, and reduces waste. This flavorful pesto shines with the addition of fresh garlic and shredded parmesan cheese. It is the perfect use for beet greens.
In honor of Earth Day on April 22, the Recipe ReDux challenge is to show how to reduce food waste, taking items that would normally be tossed, and using them up.
I was making my Sheet Pan Pork Loin With Roasted Root Vegetables for dinner one night, and was about to toss the beet greens.
Now, I don't toss them into the garbage, I toss them into a ziplock freezer bag to keep them for making chicken stock the next time I roast a chicken. To do this, take the chicken bones, add the saved vegetable scraps from the freezer, put it all into the crock pot, fill it with water and let it cook all day. Then simply strain, flavor with salt and pepper, and you have fresh chicken stock to either use right away or freeze for later!
I was motivated to use those greens fresh, due to the ReDux challenge. I decided to turn the beet greens into a nutrition packed, delicious pesto.
What exactly are beet greens?
Beet greens are young, leafy tops of the beetroot plant. Beet tops carry more minerals, vitamins and health benefiting antioxidants than its root, yet they are one of the very low calorie leafy-greens.
You can eat beet greens at any stage of plant growth, but they are at their best while the plant is young and its stems are soft and tender.
De-stemming beet greens, or any other green, is super easy. Simply place your hands around the stem and firmly pull, separating the greens from the stem.
This recipe is wonderful to make with children.
Kid get to see first hand how all parts of a plant can be utilized. They get to play with the food while de-stemming the greens, and can press the buttons to puree the pesto. Older children can help boil the pasta, while younger children can stir the pesto and pasta together for serving. Getting your children involved in preparation of meals is one of the best ways to get them trying new foods.
Toss the greens into a food processor or blender.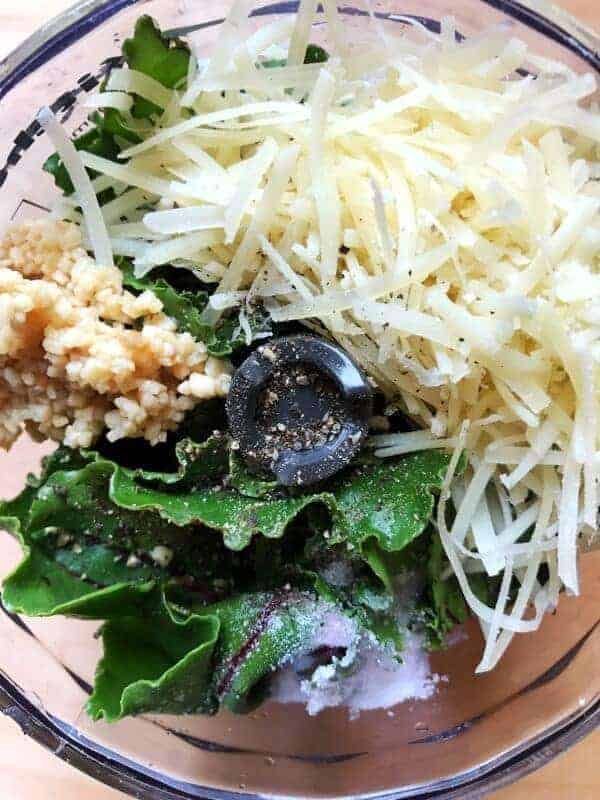 My favorite blender for blending small quantities is an attachment to one of my fav kitchen gadgets – the immersion blender!
Add the rest of the ingredients and puree.
Simply toss the pesto with the cooked pasta and serve either hot or cold! If you haven't used the bottom of the beet plant yet, consider peeling, dicing, tossing with a bit of olive oil and roasting them. The beetroot (beets) are delicious in this pasta!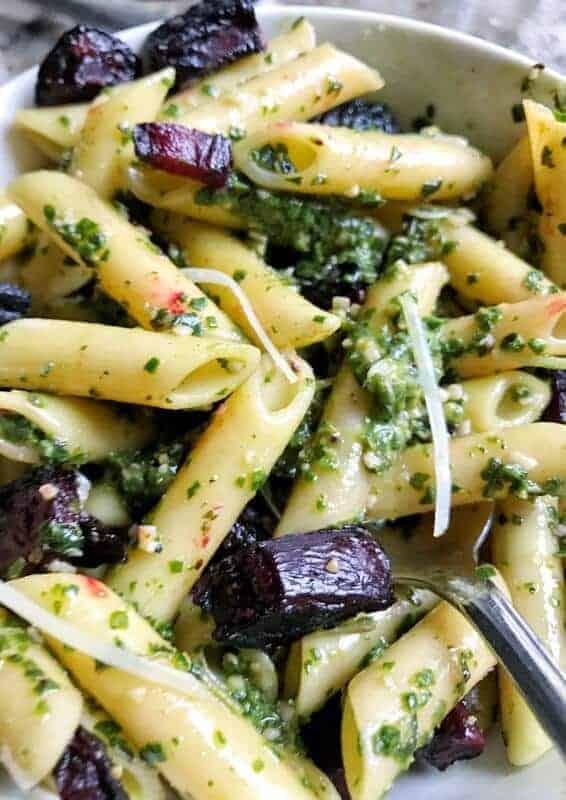 Beet Green Pesto Pasta
Ingredients
8 oz.

box

whole grain penne pasta, cooked

1 bunch

beet greens, de-stemmed

1/3

cup

shredded parmesan cheese

1/3

cup

olive oil

1/4

cup

fresh or frozen basil

optional

1

tbsp.

fresh minced garlic

1/2

tsp.

salt

1/4

tsp.

pepper
Optional: diced roasted beets
Instructions
Add all ingredients to blender
Have you ever thought about using the tops of beets before? I'd love to hear if you have suggestions on other things to do with them!

PIN for later:
Make sure to check out other ways of reducing food waste in the link below!
Get Your FREE Crockpot Cookbook Now!
Get 10 tried & true Kid Approved Crockpot Dinner Recipe favorites!