Learn to make juicy baked pork chops every time with just a few simple steps. The perfect pork chops for kids.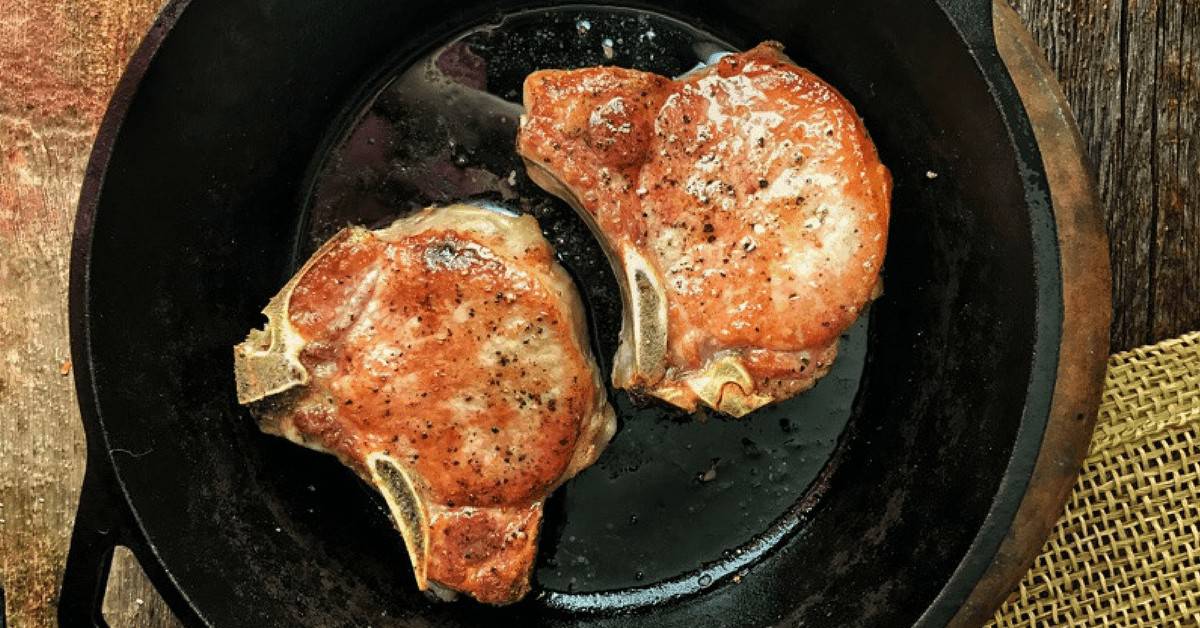 When you think of pork chops, what comes to mind?
If it's shoe leather or grandma's house, this recipe will forever change your thinking.
I used to avoid cooking pork chops like the plague because I didn't know how to properly cook pork. Then I ended up with a freezer full of pork after purchasing some fresh meat from a farmer friend. I needed to figure out how to turn this pork into something edible.
Watch to see how easy these Kid-Friendly Pork Chops are to Make:
After some research, I felt prepared to give a baked pork chop recipe another shot. I brined, I seared, I baked. And wow, it paid off.
My kids (who am I kidding, the hubby, too) were unsure the first time I re-made pork chops, it seems memories of shoe leather don't fade fast.
This time it only took one bite and they were sold.
3 Simple Tips to use in all recipes for Pork Chops
Buy thick, bone-in, chops – at least 1- 1 1/2 inch thick
Brine the chops
Use a calibrated thermometer. Don't overcook. 140-145 degrees
Brined Pork Chops
Why in the world do we need to do this, you might ask. Brining comes in handy for pork, a lean meat. Lean meats, such as shrimp, chicken, and pork are easily overcooked, and end up tough. Brining helps ensure a juicier end result.
It's a pretty simple concept, one that our kiddos may be learning about in school right now. Brining works by osmosis. By sitting in the saltwater solution, the meat will absorb water in order to equalize the salt levels.
The higher water content of the meat is a good thing because moisture is lost during the cooking process. In simple terms, by starting off with a higher water content, you end up with a higher water content, equating to juicier pork chops.
Not only does the meat absorb water, but it also absorbs the salt.
Salt plays another role. It helps break down proteins in the meat. Have your kids gotten into the putty craze? Mine have.
You can think of the chop starting as a piece of Crazy Aaron's Thinking Putty. Right out of the tin it's kind of hard. As it's squeezed in their hands, it warms up and becomes malleable and workable.
This is what salt does to meat. It makes the proteins in the chops relax – which translates to a more moist product. This pork recipe for kids just got more fun!
If you enjoyed the recipe make sure to leave a comment and a star rating below! Then follow me on social media and tag #createkidsclub if you make the recipe. I love seeing what you come up with!
Print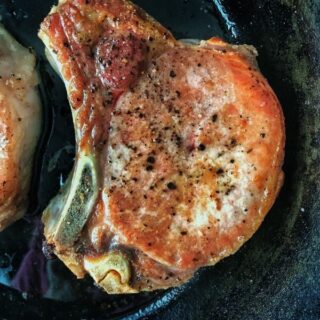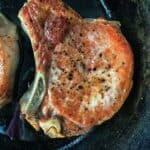 Baked Pork Chop Recipe
Author:

Prep Time:

60

Cook Time:

10

Total Time:

1 hour 10 minutes

Yield:

4

1

x
Category:

Main Course

Method:

Baked

Cuisine:

American
---
Description
Baked pork chop recipe is one that will quickly become a family favorite. Chops are brined then seared for the most tender pork chop. 
---
Ingredients
4

1 inch thick bone in pork chops

3 Tbsp

. salt

1 Tbsp

. whole peppercorns (such as Penzeys)
Olive oil
Salt & Pepper
water
---
Instructions
2 hours before dinner (or in the morning), place pork chops into a deep bowl with lid.
Mix 3 tablespoons salt into 1 cup hot water, stirring to dissolve.  Add peppercorns.
Pour salt solution plus another 2 cups water over chops. Add more water if needed to fully cover pork chops.
Cover and refrigerate for at least 1/2 hour.
Preheat oven to 400 degrees.
Place oven-safe skillet into preheated oven.  Make sure to heat enough skillets for chops to all fit flat.
Remove chops from brine solution, pat dry.
Using a silicone pastry brush, brush chops with olive oil on both sides.
Season both sides with salt and pepper.
Using oven mitts, remove skillets, place over high heat.
Place chops into the hot pan(s), searing.  Don't poke or flip until chop releases itself from pan, about 3 minutes. It should be golden brown.
Flip pork chops using tongs, immediately place in hot oven.
Cook about 6 minutes or until internal temperature reads 140- 145 degrees in the largest part of the chop. Don't overcook!
Let chops rest 5-10 minutes before serving.
---
Notes
Note: The pork will look pink in the center, it is fully cooked at 145 degrees.
Click to check out Penzeys Peppercorns.
Brine Options: Add fresh garlic or your favorite herbs
For side dish options make sure to check these out.
CONSUMER NOTICE: I may receive a small compensation for the goods and services mentioned on this website when you purchase from a provider. Thank you for supporting Create Kids Club.