For your next taco night, try this Baked Cod Fish Taco recipe.  The best part?  The sauce for this fish taco recipe – a creamy guacamole.
I was asked to participate in the Yoplait® More Fruit Campaign as a member of the Healthy Aperture Blogger Network.  I was compensated for my time, but as always, all thoughts are my own.
Or as I like to call the guac -> Holy Moly Guacamole! I think your kids will like this name better too! 😉
Growing up, my mother would serve baked cod that we'd dunk in butter.  I didn't enjoy this meal very much.  Looking back, I'm thankful my mother continued attempting to get me and my 3 siblings eating more fish, it's certainly a food that we all can benefit from due to its high content of Omega-3 fatty acids.
The Many Health Benefits of Omega-3s
Omega 3's are essential for brain health and some studies suggest they reduce the risk of heart disease.  The 2015-2020 Dietary Guidelines for Americans recommends adults consume at least 8 ounces of seafood per week.  Aim for two 4-ounce servings of fish each week.  At my house, I eat plenty of fish each week, but my children (and husband) do not.  It's a goal of mine to work to improve this to a solid 4 ounces each week and go up from there.  I have to start somewhere, right?
Working towards this goal, I decided to try my hand at the very tasty —> fish tacos.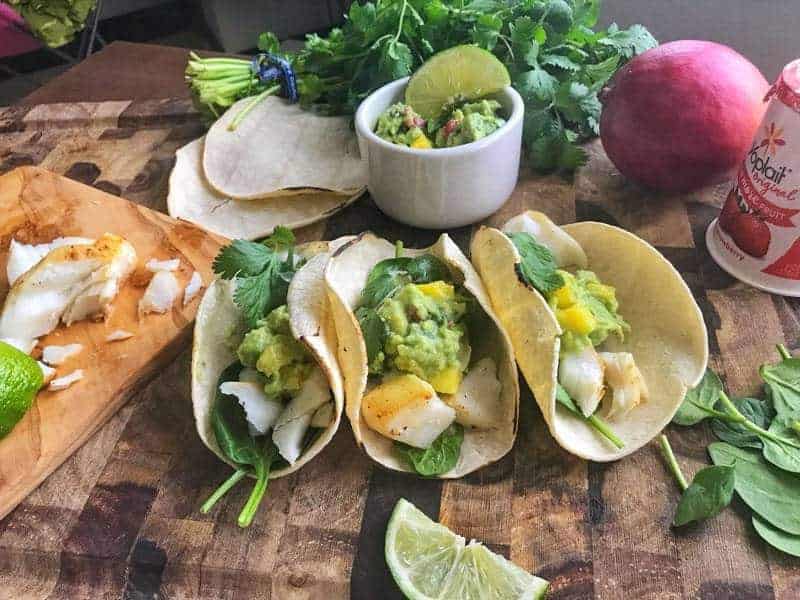 I have to back up for a moment here – if you're like me in my earlier years, you may be thinking fish has no place around tacos. Let me share my first experience with this food combo…
I was working in California during the summer between my sophomore and junior year of college at a camp for kids in the beautiful city of La Jolla, which rests right on the coast of the Pacific ocean.
I was living in the dorms at the University of California, San Diago where the camp was held for the summer.  Anyway, I found that fish tacos were a big deal out there in California, 2,000 miles from home.  Me, being a girl from the heart of the Midwest, had no clue.  My experience up until that point with fish was that baked cod my mom served – and I certainly didn't want that anywhere near my tacos!
So popular were a particular restaurants fish tacos, one family had their daughter shipping fish tacos to them in another state!
Now, I am sad to say, I never got the courage to try fish tacos while out in La Jolla, but I did a few years later when visiting northern California.  Let's just say, they were so delicious, I have looked for fish tacos on menus across the U.S when traveling, and now even here in the Midwest, we have some pretty amazing options on menus. But up until now, I haven't made them at home – I'm so glad I did!
The tacos I'm sharing today are not just any fish tacos – they are a Baked Cod Fish Taco with Holy Moly Guacamole – a delicious strawberry, mango, and cilantro lime yogurt sauce that is perfect for fish tacos.  And let me tell you, it is amazing, and nothing like the cod of my childhood. Or it's exactly like the cod of my childhood, I've just grown into appreciating this fish (sorry mom for putting you through that!).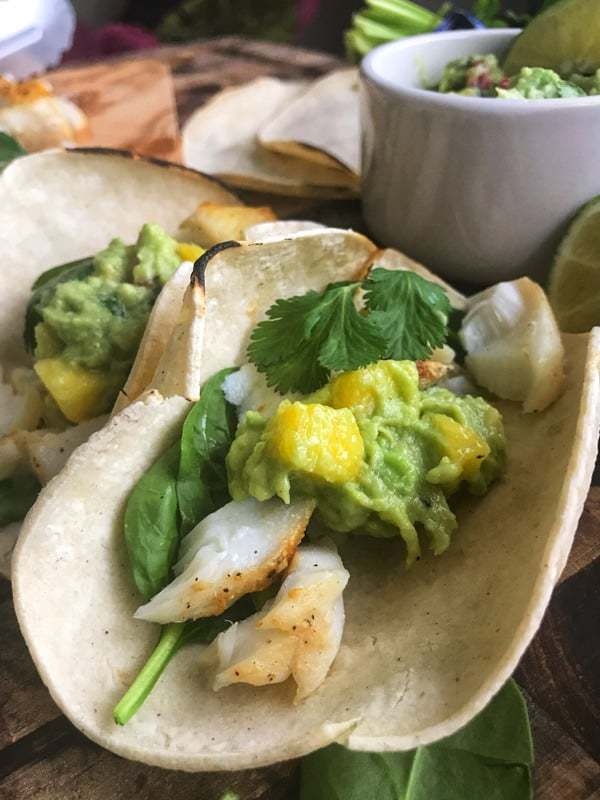 When I was asked to participate in the Yoplait® More Fruit Campaign I was excited.  I already use yogurt in a lot of recipes, so I was happy to be able to share how to use yogurt in recipes with you.  But recipe idea after recipe idea I suggested was already taken and turned down.
I started to get worried.  What in the world was I going to make with yogurt that I hadn't already suggested?!  Then it came to me.  It was a bit of a stretch, but it could work…
As I sat pondering how to get more fish into my family, I started looking up sauce recipes. That's when the idea hit.  Make a delicious sauce for my fish tacos recipe, I'd use ingredients that are not too spicy (my son is not a fan) along with yogurt to make it creamy and delicious. I learned a Yoplait® tagline is "Your favorite yogurt just got better.  Yoplait® Original Strawberry, now with more fruit". As I experimented, I learned how spot on this was tagline was —> more fruit indeed!
My plan was to make a strawberry mango guacamole. I was surprised by the delightful strawberry flavor the yogurt alone gave to the guacamole.  It has such a wonderful strawberry flavor, I opted to save money on additional strawberries and keep it simple: avocado, mango, cilantro, salt, lime, and the Yoplait® Original Strawberry yogurt.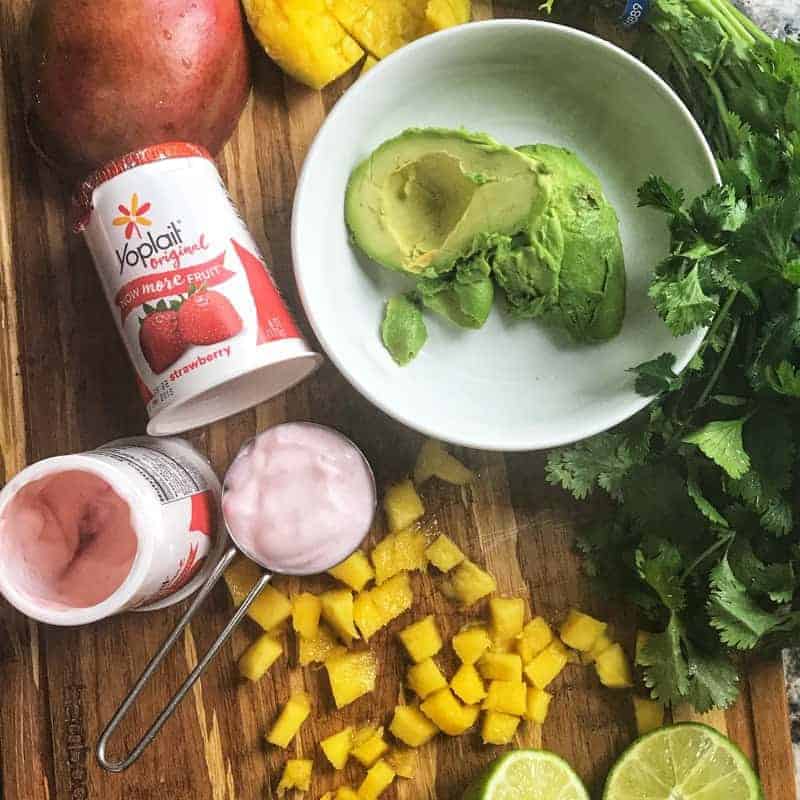 How To Make Easy Guacamole
To make this sweet, yet savory, guacamole, start by mashing one avocado with the strawberry yogurt.
Once it looks like the photo above, add the mango, avocado chunks, cilantro, lime juice, and salt.  Blend with a fork.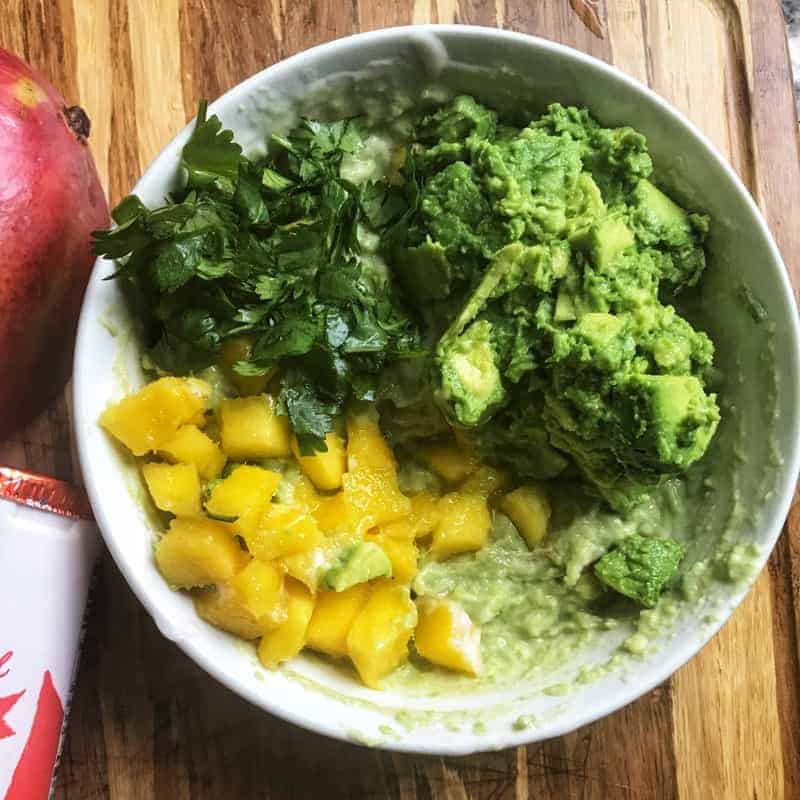 I made this easy fish taco recipe with Wild Pacific Cod, but you could use any white fish.
Not sure how to cook fish?  Check out this handy baking guide.  Broiling is another simple way to bake fish.  Check out this easy method for broiling fish by CLICKING HERE.
All that is left is assembling the tacos.  Fish tacos are traditionally served with a slaw, but that would have pushed my family a bit too far.  I settled for a spinach base, topped with baked cod, the guacamole, then drizzled with lime juice once served.
Easy to make and even better to eat 🙂 The best part?  I have leftover Holy Moly Guacamole waiting for me in the fridge for a late night snack…
Print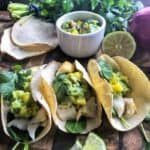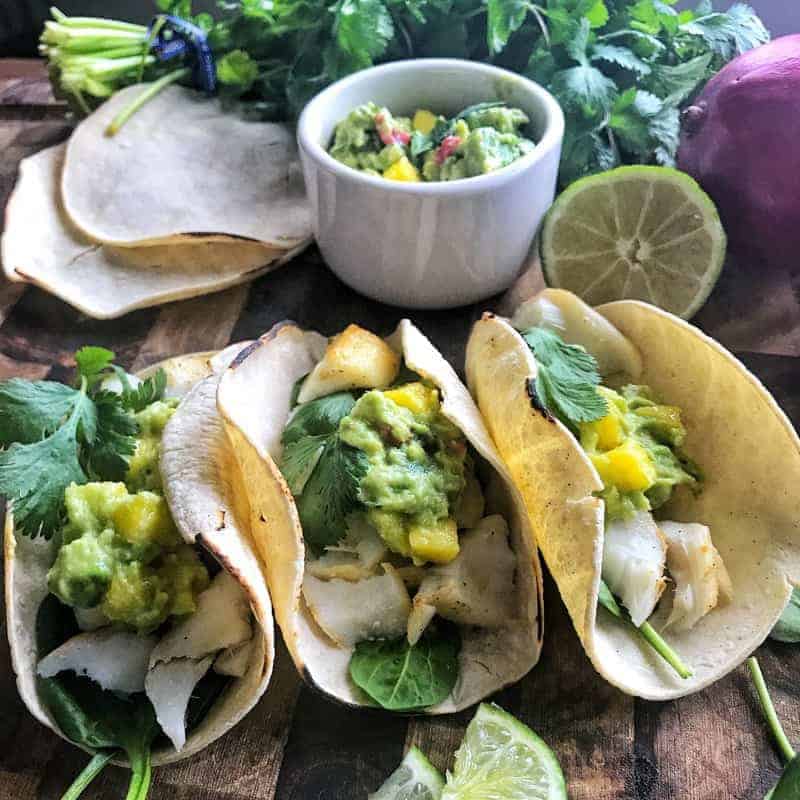 Baked Cod Fish Tacos W/ Creamy Mango Guacamole
Author:

Prep Time:

10

Cook Time:

10

Total Time:

20 minutes

Yield:

8 tacos

Category:

dinner

Method:

baked

Cuisine:

Mexican
---
Description
A simple baked cod fish taco recipe with a creamy mango guacamole sauce.
---
Ingredients
12 oz white fish, such as cod
8 corn tortillas
2 ripe avocados, remove pit from both & cut one into chunks
1/2 mango, cut into chunks
1/4 cup Yoplait Original Strawberry yogurt
1/2 lime, juiced, plus additional lime wedges for serving
1-2 Tbsp. cilantro, chopped, plus additional cilantro for serving, if desired
2 Tbsp. olive oil
1/4 tsp. salt, plus additional to taste
pepper to taste
---
Instructions
Preheat broiler
Place fish fillets on to a baking sheet, season with olive oil, salt, and pepper.
Place fish on the top rack of the oven.
Cook for about 10 minutes, or until fish hits an internal temp of 145 degrees.  Set aside.
In a medium-sized mixing bowl, mash the whole avocado along with the yogurt.
Add in the cubed avocado, mango, lime juice, salt, cilantro, and pepper to taste.  Mix with fork.
Place fish on the corn tortilla topped with guacamole.
Serve immediately.  Top with additional lime juice and cilantro if desired.
---
Notes
For full instructions on broiling fish, check out the link in the post.
Have you tried fish tacos? What's your favorite topping for them? 
Looking for more taco night ideas?  Check out these fabulous recipes:

SaveSaveSaveSave
SaveSave
SaveSave
SaveSave
SaveSave
SaveSave
SaveSave
SaveSave
Looking For Help With Your Picky Eater?
These simple tips will help bring peace to mealtime & enjoyment back to family meals.